Showing top

0

results

0

results found
Showing top

0

results

0

results found
8 Things I Would Love to See in Every Affiliate Program
12 min read
Jan 20, 2021
These days, most well-established companies want to start an in-house affiliate program to reap even more profits from their products and increase their bottom line by several percentage points. While not everyone has a partner program yet, there is already a plethora of affiliate programs for marketers to choose from. Such a broad choice of programs allows you to be selective and sign up for just the right ones for you.
While reviewing the terms and conditions and features of affiliate programs, I recognized some best practices. Now, I can draw conclusions about what the perfect affiliate partner program should look like.
Let me share what features to look for and what conditions each affiliate partner program should embrace. So, if you keep asking yourself how to identify a perfect web-based affiliate program, you are at the right place.
What do best affiliate programs have in common? Let's go through all the pro features of affiliate programs.
1. Fixed, Recurring Commission
Needless to say, high commission rates are a must in a perfect affiliate program. It's even better if such a lucrative commission is fixed and recurring.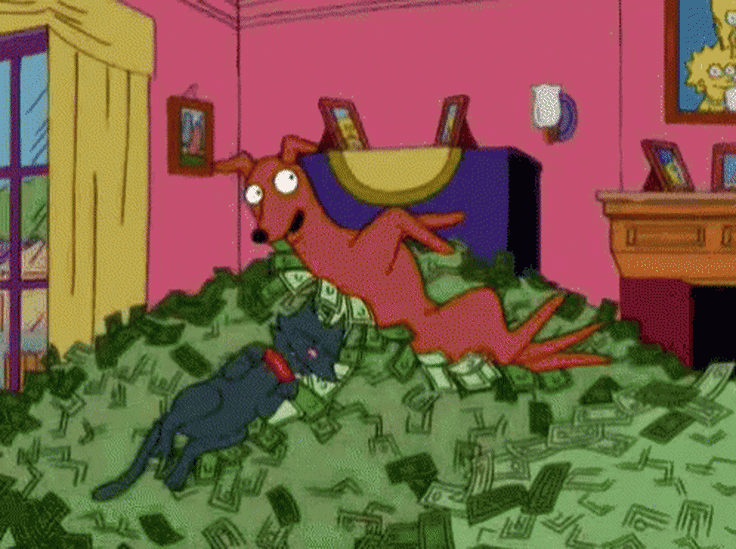 Therefore, it makes sense to join and market SaaS affiliate programs. Especially that SaaS products are in high demand lately. Increasing numbers of entrepreneurs are transitioning their businesses to on-demand cloud software.
Being an affiliate marketer who operates in the SaaS industry can be a profitable way to get a solid stream of revenue on the regular for even a few years.
To give you a good example, let's look at the LiveChat Partner Program. The average customer lifetime reaches approximately three years here. This average sounds like a pretty good guarantee of stable and predictable revenue, doesn't it?
So, depending on the particular product or service sold through the affiliate link, your income can vary and potentially get significantly higher.
As for LiveChat — your commission depends on the number of seats* a prospect adds to their plan and on the payment frequency. A customer can go for month-to-month or year-to-year billing.
*Just to let you know, seats are nothing else than the number of agents that can be logged in simultaneously and have active chats.
Promote top
recommended products
Gain competitive advantage.
Easy money withdrawal
Open APIs
Promotional materials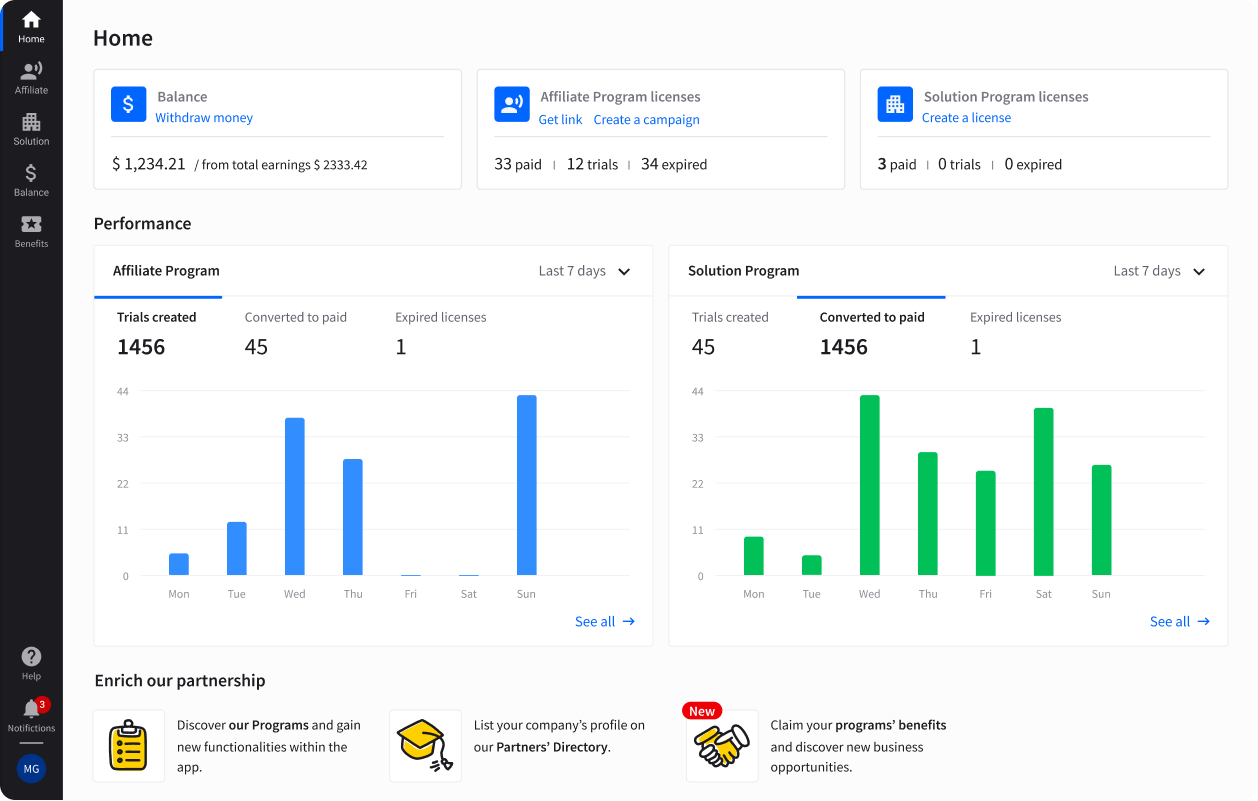 2. Affiliate Cookie Duration
Another crucial detail you have to pay attention to while reviewing affiliate marketing programs is affiliate cookie life.
Let's first define what an affiliate cookie is exactly.
To put it simply, a cookie is a small file stored on the user's computer. It's used to identify the site's visitors. In affiliate marketing, cookies are used to track affiliate referrals.
And, most importantly, such cookies have their expiration date.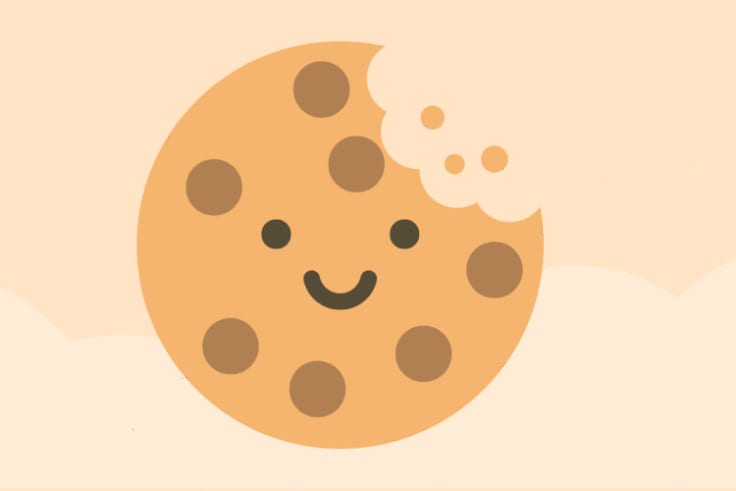 Basically, a cookie's lifespan reflects how long the prospective buyer who clicks through your affiliate link might make you a profit through a given campaign.
For instance, let's say a seller sets the cookie duration to 30 days. This means that affiliates have exactly 30 days to seal the deal, once a link has been clicked. Once this time is up, that's it — no profit for you.
However, if a purchase is made within this period, it qualifies for a commission. This also applies to all recurring commissions. Remember: it's the cookie expiration date that decides if it's "deal or no deal."
Thus, the longer the expiration date, the better for the affiliate marketer.
As a result, the optimal cookie lifetime becomes a frequently asked question for sellers and affiliates alike.
Sellers choose the optimal cookie expiration date according to their needs.
For instance, it can be based on the average duration between the first visit and purchase. Also, they sometimes worry that a longer cookie duration may result in much higher (perhaps too high) payouts for affiliates. That's why they often limit the cookies' lifespan.
On the upside, research conducted by AM Navigator suggests that it doesn't really matter for you whether the cookie expiration date is set to 30, 45, or 120 days if you're the service provider. On the other hand, it does matter to affiliate marketers. Therefore, it makes sense to opt for a longer cookie expiration date to encourage cooperation and to secure mutual interest.
The longer the affiliate cookie's life, the more partner-friendly the affiliate program is.
Since the shortest acceptable cookie duration is 30 days for affiliates, I strongly recommend you look for affiliate programs that offer a really long cookie life.
Here the LiveChat Partner Program serves as a good example again because we understand how important it is to adjust the terms and conditions of affiliate programs to meet the affiliate partner's needs. Therefore, we've decided to meet you halfway and extend the cookie duration to 120 days.
A 120-day cookie life is a more than fair expiration date. I would love to see it in each affiliate partner program.
By the way: Check out LiveChat Affiliate Marketing Program now and see for yourself.
3. High Brand Recognition
This aspect is absolutely crucial, especially for an affiliate marketing newbie who wants to have a smooth start.
Make sure you also read this: The Ultimate List of Affiliate Marketing Pros and Cons.
Brand recognition determines how easy it is to sell a given product. Naturally, it's much more effortless to become a successful affiliate if you promote well-established and highly trusted brands and products.
So how to gauge brand recognition when you are new to a specific niche?
Well, it depends on the business model as metrics can vary greatly between B2C and B2B companies.
Anyway, before you join any affiliate program, do your best to thoroughly investigate who your seller is and if their reputation can skyrocket or hamper your results.
Customers and Revenue Scale
First, check out how many customers the company of interest has and how many countries they operate in. Then, confront these numbers with the market standards and see how much a particular merchant is above or below the norm.
This will separate the wheat from the chaff.
Social Presence
Also, take a look at the vendor's social media profiles and study their social presence in niche-relevant communities. Find out how strong a social following the merchant has amassed and how active these followers are.
Testimonials
Pay attention to testimonials and reviews — does this product and its brand generate any strong sentiment or engagement? The more testimonials, favorable mentions, and sentiments appear in the community, the better.
Testimonials and positive reviews are indicative of the product's quality and reputation. This is exactly what you — as an affiliate marketer — should be looking for when evaluating each and every affiliate program on the table.
4. Approach to Transparency
When choosing the perfect affiliate program, you have to pay attention to the vendor's approach to transparency regarding the terms and conditions of cooperation This includes crucial information — how revenue is calculated. From a business perspective, transparency can strongly boost conversion rates of any affiliate program and build trust between the merchant and affiliate.
The rule of thumb is simple: never join an affiliate program that seems unfinished or underdeveloped. Moreover, know what to expect and know your rights as an affiliate. Don't hesitate to state them openly before you commit to any affiliate agreement.
What do you risk? Your revenue is a significant concern. Faulty agreements can work to your disadvantage. Worst case scenario — you might get tricked as an affiliate.
Unfortunately, transparency is not always easily understood. What is it in the first place?
There are a few best practices the vendor can implement to enhance transparency of the in-house affiliate program.
Transparent Affiliate Policy
If the merchant creates a clear affiliate program policy, you can easily find out what the requirements and expectations are. Such cooperation guidelines should be formulated in simple terms so that both parties are on the same page.
If possible, the affiliate policy should also include how-tos, screenshots, and examples to illustrate how exactly things should be done. It's great if the affiliate program policy is also open for discussion.
Access to a Relevant Dashboard with Reports
A user-friendly panel that features comprehensive reports based on Google's UTM campaigns will let you monitor your month-to-month performance, so you always know what the status of your account is.
Of course, more advanced affiliates are going to track this data on their end, but it's still an excellent idea for a merchant to be transparent here and enable access to various insights to all affiliates.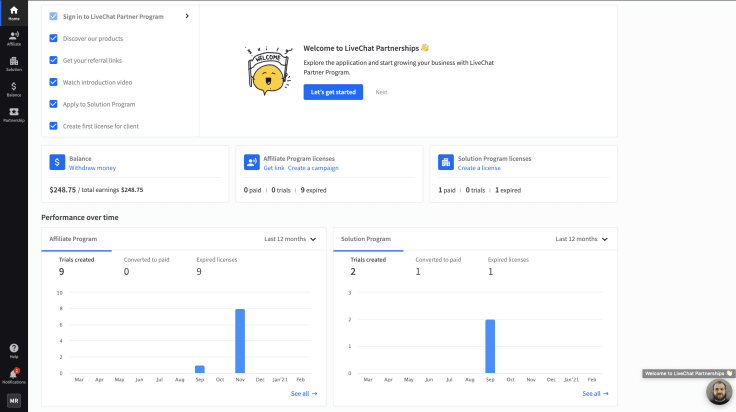 The dashboard will keep you informed about your earnings in real-time. You'll see how your commission rates have progressed over the last few months or years, you'll see the number of times your affiliate links are clicked and you'll learn about the number of paying customers you referred.
A side benefit is a fact that charts and figures subconsciously strengthen your motivation and challenge you to improve on your past outcomes month after month.
And what can you do to act transparently as an affiliate marketer?
Set up an affiliate links disclosure section on your sites. This way, you will be transparent with your visitors. No one is going be in the dark or complain about your methods.
An affiliate links disclosure section can be written up along these lines:
Disclosure of Material Connection: Some of the links in the post above may be "affiliate links." This means if you click on the link and purchase the item, I will receive an affiliate commission. Regardless, I only recommend products or services I use personally and believe will add value to my readers. I am disclosing this in accordance with the Federal Trade Commission's 16 CFR, Part 255: "Guides Concerning the Use of Endorsements and Testimonials in Advertising."
Disclose your links properly and always follow FCT requirements.
Again, make sure, such a statement is clear and straight to the point. Don't try to hide the fact that you earn money on affiliate links.
Finally, make sure you are consistent, use the same disclosure message throughout your affiliate site. This will make its contents familiar to your visitors and decrease confusions that may otherwise arise.
Transparency is always welcome in the affiliate business. What's more, it is a win-win solution for the vendor and the affiliate.
Seek out affiliate programs that are transparent about their business and introduce best practices in transparency into all your actions. This will never hamper your growth and reputation.
5. Top-Notch Marketing Materials
We are all visual creatures. Namely, we buy with our eyes.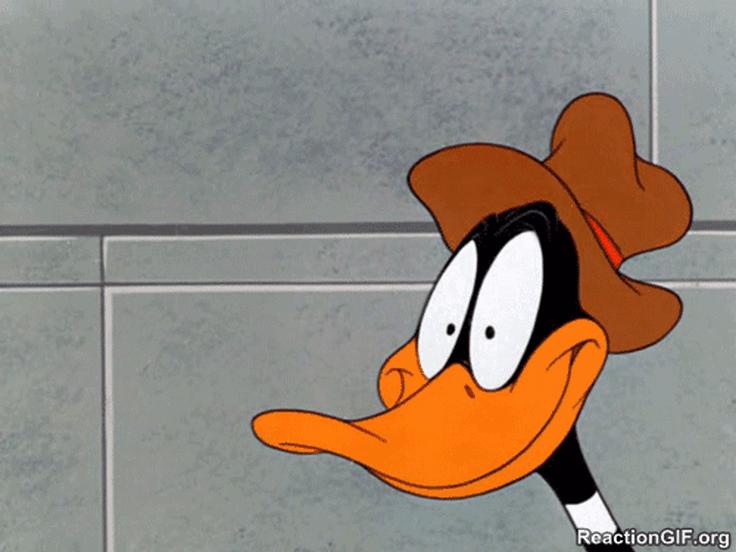 This simple fact makes it imperative to use only high-quality, flawless marketing resources in your affiliate campaigns. As a result, top-notch marketing materials constitute another crucial element of a perfect affiliate program.
The responsibility to create a repository of marketing materials rests on the vendor. They should provide you with all the tools and visual aids to help you hit the ground running.
A good affiliate program provider should streamline the process and make work easier on the affiliate's end.
And what resources does the affiliate usually need to be successful?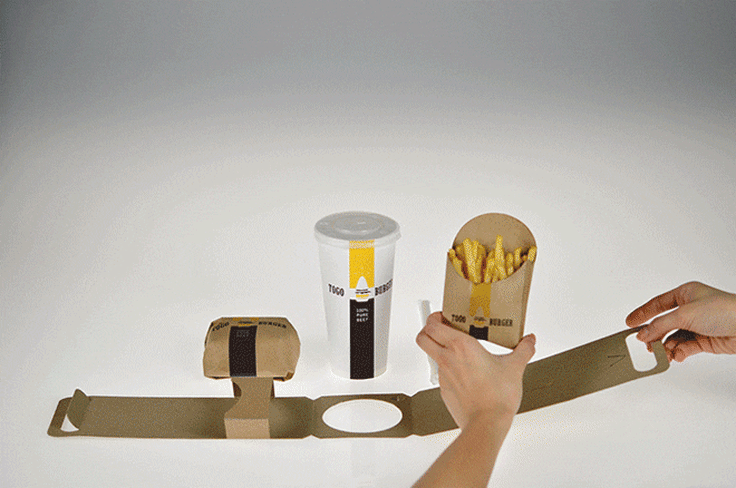 While the affiliate marketer's input is essential and there is usually a lot of work involved in creating and promoting powerful affiliate marketing campaigns, vendors should meet their partner's halfway by providing an excellent marketing framework.
And affiliate marketing resources include:
Content - well-crafted product descriptions and CTA copy.
Guidelines - that state how the affiliate can operate, promote a particular product and advertise the brand (this includes using logos, fonts, widgets and brand colors).
Creatives - visual materials such as well-optimized banners, email templates, screenshots, widgets and more resources, approved for affiliate use.
Affiliate Program Updates - affiliates should always be up-to-date about any changes made to the partner panel, the affiliate program itself as well as current promotions or contests.
Automation Tools - such as API or data feed to ensure affiliates they're advertising the latest products and offers on their website
No matter if you leverage widgets, logos, banners, screenshots or copy in your affiliate marketing activity, they should all be of excellent quality and wide variety in each and every affiliate program.
6. Dedicated Affiliate Manager
A dedicated affiliate manager is absolutely indispensable to any project of this kind. An affiliate manager is usually responsible for managing and supervising the affiliate program and operates in following areas:
Setting up the in-house affiliate program
Recruiting and approving affiliate partners
Helping affiliates get pro-active
Processing commissions
Communicating with affiliates on a daily basis
Resolving issues related to affiliate programs
Dealing with any other operational and marketing aspects related to the project
Needless to say, when looking for the best affiliate programs to work with, you should always have a contact person who would help you with all your issues. Without a dedicated affiliate manager, an affiliate partner program cannot be successful.
7. Campaign Builder
Campaign builder makes it easy to create and manage links with unique parameters in one place. Such a tool automates the process of generating affiliate links and makes it much more convenient directly in a partner panel.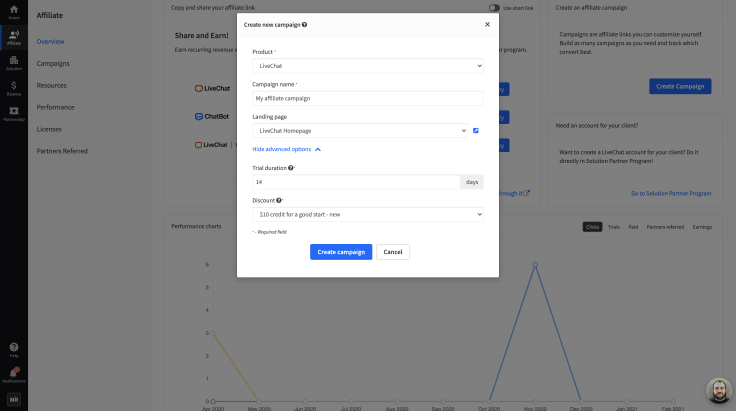 Though rarely seen elsewhere, we have included a campaign builder in the LiveChat Partner Program. It makes setting your campaigns much easier. This is one of the strongest benefits that make our affiliate program stand out. Sign up for free and see how the campaign builder works.
8. Educational Aspects
As I've mentioned in the introduction, a growing number of companies are offering in-house affiliate partner programs. However, only a few provide training material about it.
Affiliate partners need training in how to promote a specific product and brand, so it's best practice to share know-how with them or even provide certification in online marketing in the specific industry.
By the way, take a look at 5 Savvy Affiliate Marketing Techniques to Boost Your Business in 2021
This makes partner education a unique and valuable argument in favour of signing up for the affiliate program in question.
The Bottom Line
That's all for now. Let's have a quick look at the factors discussed in this article again:
fixed, recurring commission
long cookie life
high brand recognition
approach to transparency
top-notch marketing materials
dedicated marketing manager
campaign builder
educational aspects
All of them form the essential foundation of any solid affiliate program. Make sure that the affiliate program you are about to join meets these standard market expectations.
For now, let's keep an eye on affiliate marketing and see how it develops. As soon as the landscape changes, we will update the list, so make sure you bookmark this article.
How do you like this article? Am I missing on something? Feel free to get in touch with us on Twitter.
Inspire your audience
Spread the word about our products and increase your revenue.
Easy money withdrawal
Open APIs
Promotional materials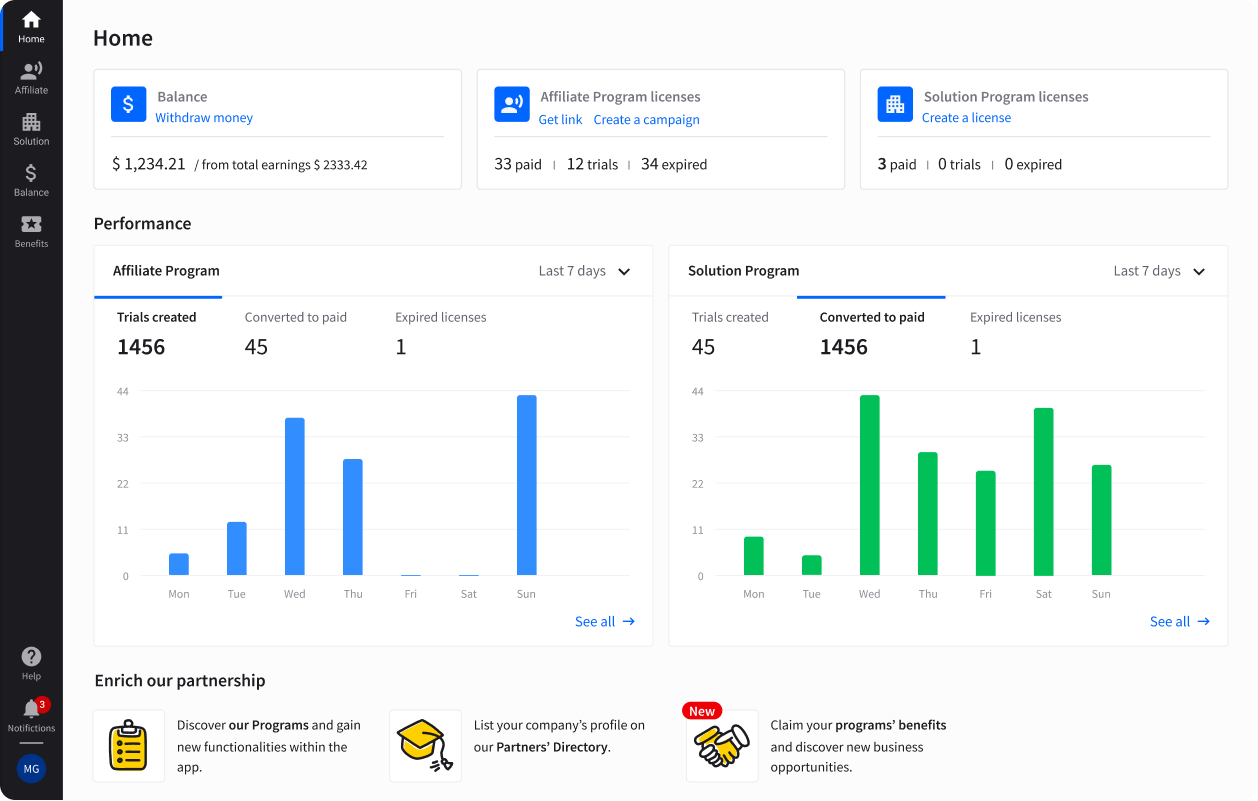 Happy Marketing!