Showing top

0

results

0

results found
Showing top

0

results

0

results found
How to Use Live Webinars in Affiliate Marketing
9 min read
Mar 6, 2018
Although affiliate marketers employ various tactics to strengthen and diversify their campaigns, they should constantly seek for new ways of product promotion to streamline their work and maximize the opportunity of getting a higher commission.
Here's where live webinars come into play.
What is a Live Webinar
Simply put, webinars are a smart way to increase your bottom line sales (and they may be the best form of content for your business).
They can be used to interactively engage with your prospects and educate them on topics and products. Webinars work essentially as an online lesson, where the host plays the role of a teacher.
What's super-convenient is the fact that webinars happen without having to leave home or the office, so that both a host and attendees can fit these lessons into their schedule wherever they are and regardless of the device they use.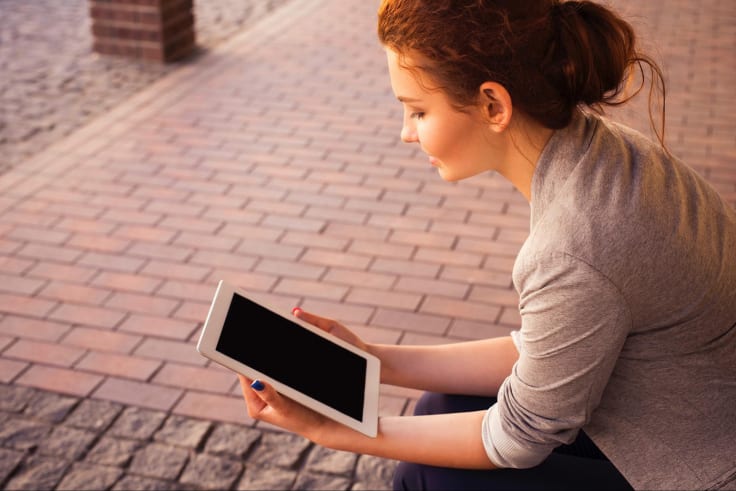 From the attendee point of view, webinars offer a unique experience to connect directly with professionals who represent the niche of interest. That's an opportunity to hear first hand about a topic from an expert and ask questions about things that may seem confusing.
Webinars introduce a deeper connection with your prospects and take it to a new level. As the host of a webinar, you can get into the discussion with your audiences and get an understanding of who they are in person. This level isn't accessible with the other marketing tactics such as blog posts, YouTube videos, emails or even social media.
Moreover, webinars are optimized for selling! Since they are live, people are forced to pay attention as they don't want to miss a thing. Therefore, webinars are converting well. Neil Patel says that 22% of people attending his webinars are turning into high-quality leads. This makes webinars incredibly lucrative even with small audiences.
Of course, live webinars shouldn't be a standalone marketing technique, rather they need to be supported by other techniques within an actionable multichannel strategy.
Let's dig deeper and explain how you can certainly use live webinars when you are an affiliate marketer.
How to Prepare for a Live Webinar
Marketers often refrain from live webinars because they (or at least most of them) don't usually connect directly with their audiences. However, it's just a case of getting used to such an activity. If you want to get your hands on video marketing, you can warm up by recording videos for your YouTube channel or your website.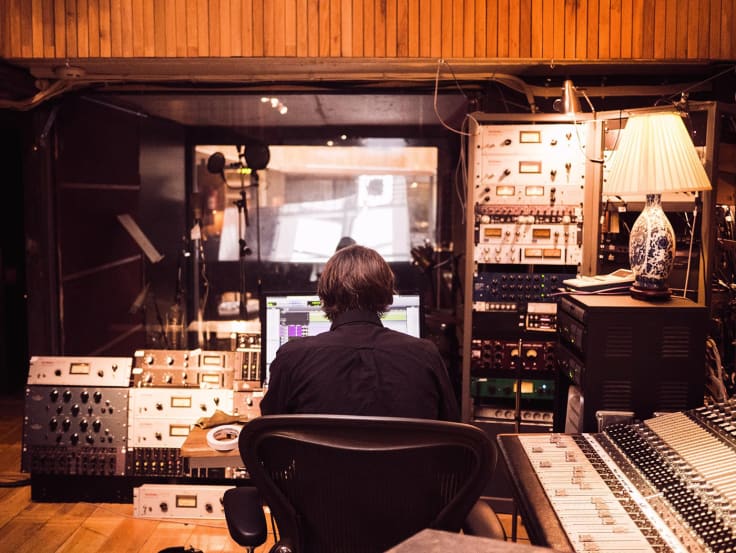 When doing so, please remember to add a transcription to your on-site video. This way you'll supplement your content in two directions.
You'll make your site more interactive and engaging to your visitors.
You'll boost the search rankings and visibility of your website.
Recording videos will let you have some practice in speaking to the camera and hereby make you more familiar with your new role.
On the other end, as a host of a live webinar you're becoming a, so-called, 'brand advocate'.
Therefore, make sure your expertise about a given brand is impressive and you know the answers to all the frequently asked questions. Hence, read the documentation of products you're going to market and check up with the merchant about your grade of knowledge before you go live.
Vendors sometimes offer online courses and how to guides on products that will let you pick up all the required information such as:
key selling points,
product-specific marketing best practices.
This way you can learn, understand and double check if you have already gathered the complete knowledge and if you're ready to become a brand expert.
Remember, it's better to spend more time on preparation for the role of the host than it is to start too soon and get easily taken aback by the least expected question.
Beware that live webinars can't be cut in the middle just because you're not ready. You're putting your authority at risk and your authority, once broken, cannot be restored easily. So better be ready!
How to Create a Webinar
I'm sure you wonder how you could organize your first live webinar when you're promoting a product.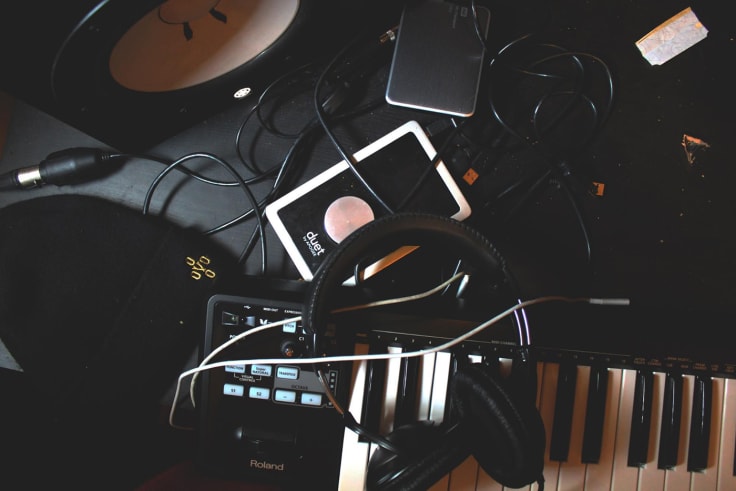 The structure itself is a simple thing.
There are basically two options:
You'll be probably hosting a product demo,
You'll be showing a Powerpoint presentation.
These two formats can be combined and go together or used separately, so it's your call on it. Also, you can split your screen, enabling a webcam recording and screen sharing at the same time. This way you'll appear in ⅓ of the screen - next to your presentation - giving it a more personal touch and credibility.
Another must-have element of a top-notch webinar is a live chat that allows discussion with your attendees. Guests should be able to contribute, occasionally speak out and ask nurturing questions during your presentation. Through the chat, you can receive all the queries and provide instant information or reply as soon as you finish talking over a given slide or a view.
You can also throw instant polls into your live webinar; this way you're getting immediate feedback for nurturing issues that come in during your presentation and gather some interesting data that can be recycled in the future in a different form. For instance, you can refer to such a survey in a blog post.
An excellent idea to attract more people to your webinar is to offer free post-webinar handouts exclusively to your attendees. Such a free handout can be, for instance:
a how to guide based on your webinar,
a recording of your webinar,
a transcript of your webinar,
a product specific comparison that will cover the intent of your audience and fit into the topic of your webinar.
By the way: What tools will provide all those features?
There are several tools to allow you run full-featured, custom webinars:
Webinar Best Practices
Remember that despite the fact that webinars are optimized for sales doesn't mean they shouldn't work as a sales pitch. It's the opposite that guarantees you success here. Hosting a webinar, you should preserve a neutral and authoritative voice. Its content style should resemble your blog posts. This means your webinar should be:
highly-educational,
high-quality,
entertaining,
engaging,
based on data,
present value,
rich media,
come without asking for anything in return.
You should place your subtle pitch somewhere, closer to the end of your webinar. But make it unique by offering a special discount for the webinar viewers explicitly. However, expect that most of your attendees will leave the webinar once you start pitching. The good thing about it is → those who are going to stay are really interested in this solution, and these guys are your high-quality leads.
On the day of your webinar, join it at least 15-20 minutes earlier to see if you aren't facing any technical issues that may ruin your performance. Also, there are usually a few people who join a webinar earlier, so you can engage with them and see why they are here, this will show you some of their pain points that may be shared by the others.
Prepare a few polls/surveys upfront. Your webinar is also your opportunity to drive some unique statistics. Therefore, think your questions over and ensure they will bring value by revealing something useful about your attendees. Polls can be used in your introduction to warm up your viewers.
Start by introducing yourself. Don't expect that your viewers know you. Most of them will be newcomers so you should explain who are you in the first place, what your webinar is about and why you are hosting it. This will build up some trust at the beginning.
Also, without an intriguing topic, people won't show up to your webinar, nor will they last long if your overall content happens to be boring. Therefore, work on your headline writing skills to provoke curiosity and make it as powerful as it gets.
Finally, it's not just the topic alone staying behind your webinars' success. You need to keep up engagement throughout the webinar as your viewers can leave at any minute. Make your presentation to the point, packed with exciting data, sprinkle it with light storytelling and a sense of humor. Another thing is the quality of your performance - it also needs to be top-notch and user-friendly.
Easier said than done, right?? :)
Once you're a skilled online marketer, you'll figure it out.
Are Webinars Always Live?
In fact, today's webinar technology allows you to host:
live webinars,
pre-recorded videos acting as webinars that can be played on-demand or on some type of pre-determined schedule.
While live webinars offer this genuine connection between the maker/product representative and your user base that we've been talking about, prerecorded ones also have their advantages.
Automated webinars can pretend to be live, and they indeed look similar. Here, the real live interaction happens in the chat and not on the screen. While the webinar is just being played, your task is to follow up and react to the upcoming questions.
This can be an excellent idea for you if you still feel unsure about presenting it live. The truth is that many marketing experts go for both methods and are A/B testing them out.
With automated webinars, you'll make your webinars evergreen and accessible for any users who want to join them over time. And the best part is that nobody can be late for this type of webinar, so you're getting more total attendees compared to live webinars. Of course, automated webinars lose out on the interactivity and personal touch, so that the conversion rate is lower here.
Try yourself and see what type of webinars are more profitable to you.
Promote Your Live Webinars Properly
As mentioned at the beginning, webinars shouldn't work as a standalone affiliate marketing tactic, but they should make up a singular part of a multichannel campaign.
Of course, you should use your online presence and your online marketing skills to spread the word about the webinar to encourage as many attendees as you can. Therefore, create a dedicated landing page promoting your webinar. This can be done, for instance, with the Unbounce landing pages creator. See the example of a webinar landing page created with the use of Unbounce: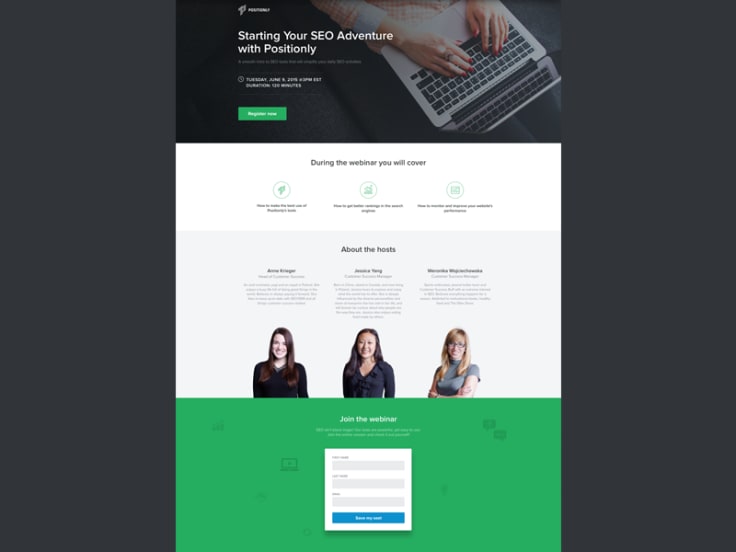 Credits: Positionly
Once you've got a beautiful landing page ready and optimized for strategically chosen keywords, promote this landing page with your social media channels, support it with a topic-related article on your blog or guest post for a popular platform in your industry and invite your subscribers with an email campaign. All attendees need to register for a webinar through the email and also post-webinar handouts will be sent that way.
Webinar promotion doesn't have to be just organic. Go ahead and invest a few pennies into paid promotion. Whether you go for AdWords or Facebook Ads, you can attract even 2,000 - 5,200 extra people with a relatively low budget, like $10 a week.
Also, if you're trying to raise more interest in your webinar, you can invite topic-relevant guests. These can be representatives of a brand you promote or just an influencer from a niche you're holding your webinar about. All in all, it depends on the strategy you decide to take.
Okay, that's all for today folks!
Hope now you understand what webinars are all about and you'll be able to introduce them to your organization. Do you have any further questions? Feel free to throw them in in the comments below.
Happy marketing!