Showing top

0

results

0

results found
Showing top

0

results

0

results found
Affiliate Marketing: The Ultimate List of Pros and Cons
14 min read
Apr 11, 2023
Aaah, affiliate marketing. With a market value of over $17 billion in 2023, it's no wonder this darling of the digital world is a popular choice among marketers. Not to mention, it's estimated that affiliate marketing spending will reach around $13 billion this year alone!
Did you know that 16% of online orders in the United States are made through affiliate marketing? Talk about impressive! And it's not just about the sales – 83% of marketers use affiliate marketing to raise brand recognition.
So, here's to you, dear affiliate marketing. Thank you for being a trusted friend to businesses big and small, and for helping to connect them with the right audience. We raise a glass to your continued success!
Further reading → How to succeed in affiliate marketing
These facts validate that affiliate marketing is in good health and continuously evolving.

 But what is it all about?

 Let's first put it: what is affiliate marketing, and how does it work?
Affiliate marketing is also called performance-based marketing. The revenue is generated by independent marketers called affiliates who earn a fixed commission paid only when sales are made, leads are confirmed, or any qualified action occurs. This idea is based on revenue sharing - read more about it: Affiliate Marketing for Dummies: 5 Tips to Help You Start From Scratch
Becoming an affiliate
As an affiliate marketer, you become an independent promoter of a chosen product or range of products from a selected niche, on behalf of the vendors. Being an affiliate publisher means having absolute freedom to build your online presence.

 It's your independent call on when or where your job gets done, how you reach your customers, and optimize the whole marketing process. Sounds good? I bet it does.
An affiliate marketing business is the easiest way to earn passive income online. It's a low-cost, high-profit industry. On the other hand, it also might happen to be a tough one. All the challenges are on you, and performance relies on your determination, approach, and the affiliate strategy you choose to follow.
Overall, the whole game is about earning a satisfying cut of sales. Like everything under the sun, affiliate marketing involves both advantages and disadvantages. 
If you're wondering how to start with affiliate marketing and explore opportunities and challenges, this business enables a smooth start.
But first, a couple of words of explanation of how you become an affiliate marketer.
Looking for a perfect affiliate program?
Search no more, check out our products and join!
20% commission
ready to use promo materials
easy money withdrawal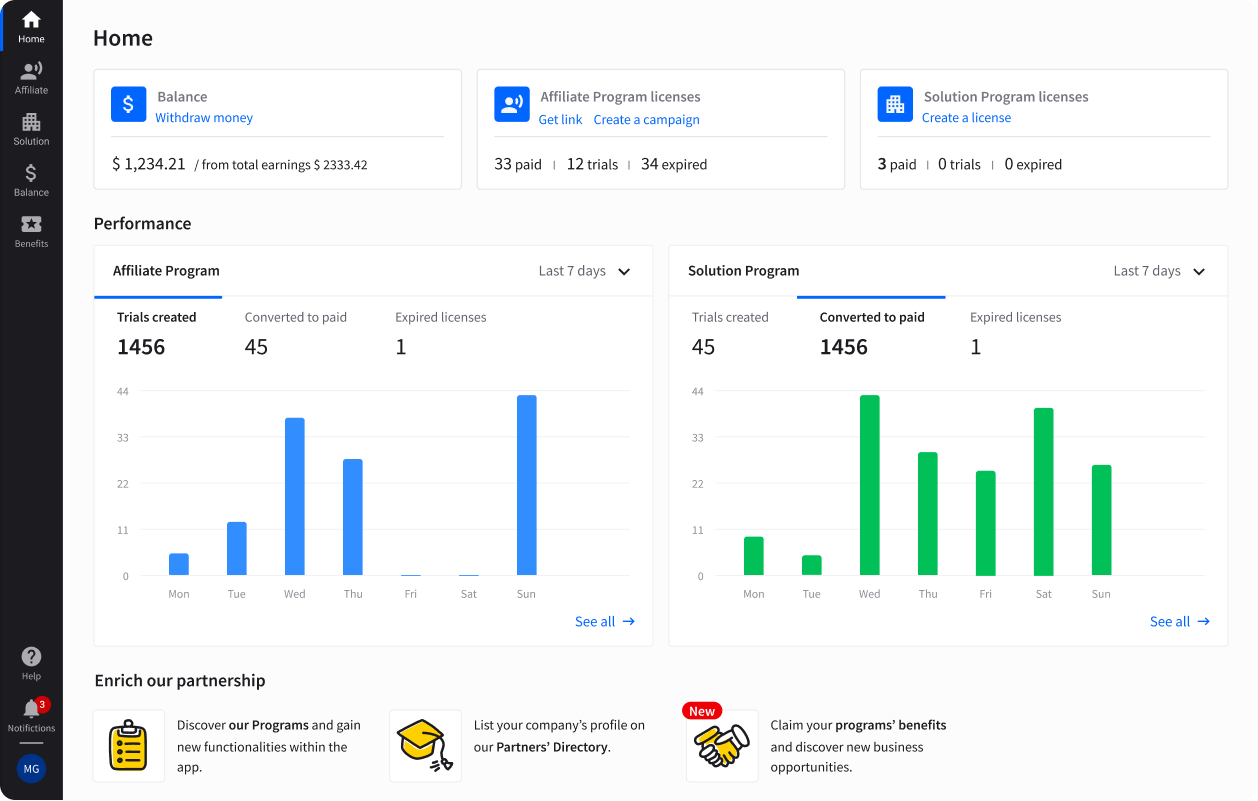 Affiliate marketing program in a nutshell
1. Choose a niche: Identify a niche or industry that you are passionate about or have expertise in. This will make it easier for you to create content and promote products that you believe in.
An example: by joining the LiveChat Affiliate Program, you join the online communication / ecommerce market.
2. Find affiliate programs: Research affiliate programs that align with your niche and interests. Look for programs that offer high commission rates, good customer support, and quality products or services.
An example: we offer 5-star products used by 38k businesses and offer over 20% commission rate.
3. Build an online platform: Create an affiliate website, blog, or social media profile where you can promote your affiliate products. Build a following by creating valuable content that attracts your target audience.
An example: you can create your Youtube channel and talk about communication and tools helping to communicate better, and share your affiliate link in its description.
4. Promote affiliate products: Once you've joined an affiliate program, promote their products by creating content that highlights their features and benefits. Use your affiliate link to direct traffic to the merchant's website.
5. Track and optimize: Use tracking tools to monitor your performance and optimize your strategies for maximum results. Keep testing and refining your approach to improve your earnings over time.
An example: within the LiveChat Partner Program you are given access to the Partner App. The app allows you to track your performance real-time and adjust your campaigns accordingly, helping you to earn significant income.
Now, are you ready? Let's dive into my affiliate marketing pros and cons list!
The Objective Benefits of Affiliate Marketing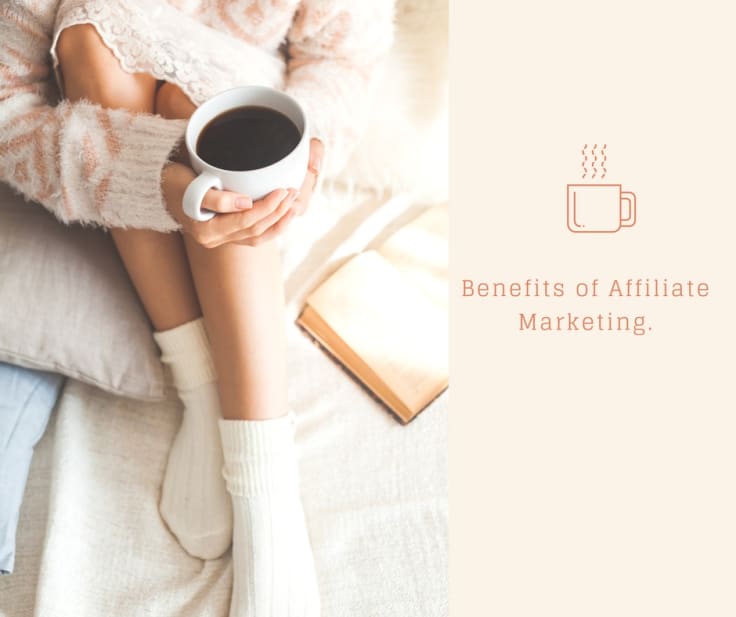 1. Billion-dollar business
As I've already mentioned in the introduction of this post, affiliate marketing is a billion-dollar industry that is lately prospering pretty well, and this seems to be its primary advantage of it. It's a big incentive to get your share, isn't it?
2. Low-cost business idea
The definitive advantage of affiliate marketing is that it is a pretty easy industry to join because there are no barriers to entry. It's just a matter of your decision. All you have to do is to create an affiliate marketing website (but you can also become an affiliate marketer without a website), choose a compelling niche and finally, a particular product or products (goods) that are relevant for you to market. Then you sign up for a selected affiliate marketing program and are ready to start.
3. No expertise needed
You don't need to be a marketing expert immediately to become an affiliate. The great thing about affiliate marketing is that you can learn along the way, testing various organic or paid campaigns. Also, many ways exist to run and manage affiliate marketing programs. Leverage any of your marketing experience gained before and try to identify what performs best and brings the most profits. Then optimize and repeat the successful patterns to get results.
4. Low investment costs
In the beginning, the operating expenses of the affiliate business were almost non-existent, compared to other industries. You work online so that you can do it from your home well enough, and then you only have the basic electricity and ISP subscription costs to cover. Optionally, there are additional expenses related to setting up a domain, web hosting operator, and also some minor costs about designing the layout, etc. - Provided that you decide to establish your affiliate marketing website.
Over time you can think of renting a desk at a co-working space, but this is your decision after all and depends on whether you will miss the office environment. All in all, you are a freelancer, so there are no costs for hiring staff, customer service, or inventory costs involved. You need to focus on promotion on social media or via email marketing - and it doesn't cost much, right?
5. Secondary source of income
Starting up as an affiliate marketer doesn't require you to leave your current job.

You can do it as a side project and see what you can squeeze out of it over the first few months.
6. Convenience and flexibility
Practically, you can continuously create multiple campaigns on different affiliate websites and landing pages to market your affiliate links so that you can abandon the poorly performing ones and optimize the successful ones.
Also, you don't need to stick to one affiliate marketing program. Select a few products from a chosen niche (or you can even test various niches if you aren't sure which one) and promote them daily.
For instance, you can join our Affiliate Partner Program and start promoting this super straightforward and useful tool within your campaigns, then also enrich your portfolio with MailChimp, plus add some other online marketing tools on top of that, such as Mention, provided that they offer an affiliate marketing program.
While each tool belongs to the same business niche, they serve to manage different online marketing activities, so they complement each other. This way, you add beautifully diversified software products to your portfolio, and one can outperform another.
If one product proves challenging to sell, the other might be much easier, more profitable, and a solid backup. And no one tells you to stay on a sinking ship; if a single program doesn't work for you, drop it.
Such an approach will mitigate the risks of failure and maximize the opportunity to earn a favorable income. Be careful, and don't put all your eggs in one basket to keep your affiliate marketing portfolio diversified.
7. You don't have to worry about customer service
Retaining customers and managing customer service-related issues get problematic at times. Fortunately, as an affiliate, you don't need to bother about that. All you care about is your commission, so anytime you get a post-sale query, you pass such requests on to the merchant's customer service team and wash your hands clean of the entire matter.
Of course, if you care to create user-generated content under your reviews - which can significantly boost your SEO, you should comprehensively (and quickly) reply to product-related questions that appear under your posts.
Besides that, customer service is your call, and no one will impose this on you or expect it from you.
8. Independence
The flexibility of making your working environment on your own and according to your will is also a strong incentive.

Whether it's in the Bahamas or a picturesque Italian village - you decide where your office is located. You can work everywhere as long as you - obviously - have an Internet connection. Does this concept speak to your imagination?
Moreover, the bureaucracy is limited. As a freelancer, you don't need to follow company regulations according to monthly or weekly reports or manage other people from a team, which can also be problematic to handle at times.

Here you don't have to worry about company relations because it's only you and yourself who sets all the rules, decides about the proper dress code (so that it can even be in your Pajamas), and other small things and habits that otherwise might be distracting at a loud and crowded office.
9. Marketing kit at right your disposal
Usually, all marketing materials are provided by vendors, so you don't often need to produce any banners or any promotional materials. You are all set.
10. Passive income - earn money while you sleep
The other strong pro feature of becoming an affiliate marketer is the general idea of getting a passive income. Yeah, that's right, this is a widely promoted motto by Neil Patel "Make $$$ while you ZZZ". The opportunity to make a passive income means earning money while you sleep.
Wouldn't it be great to wake up in the morning, open your laptop and discover additional revenue in your account? The fruits of your hard work.
It's accessible for you to wake up in the morning like this once you get a deeper understanding of what affiliate marketing is all about.
Get a steady stream of passive income
Join our Affiliate Program, promote our top-notch communication products, and get 20% commission for a lifetime!
Partner App
ready promo resources
simple money withdrawal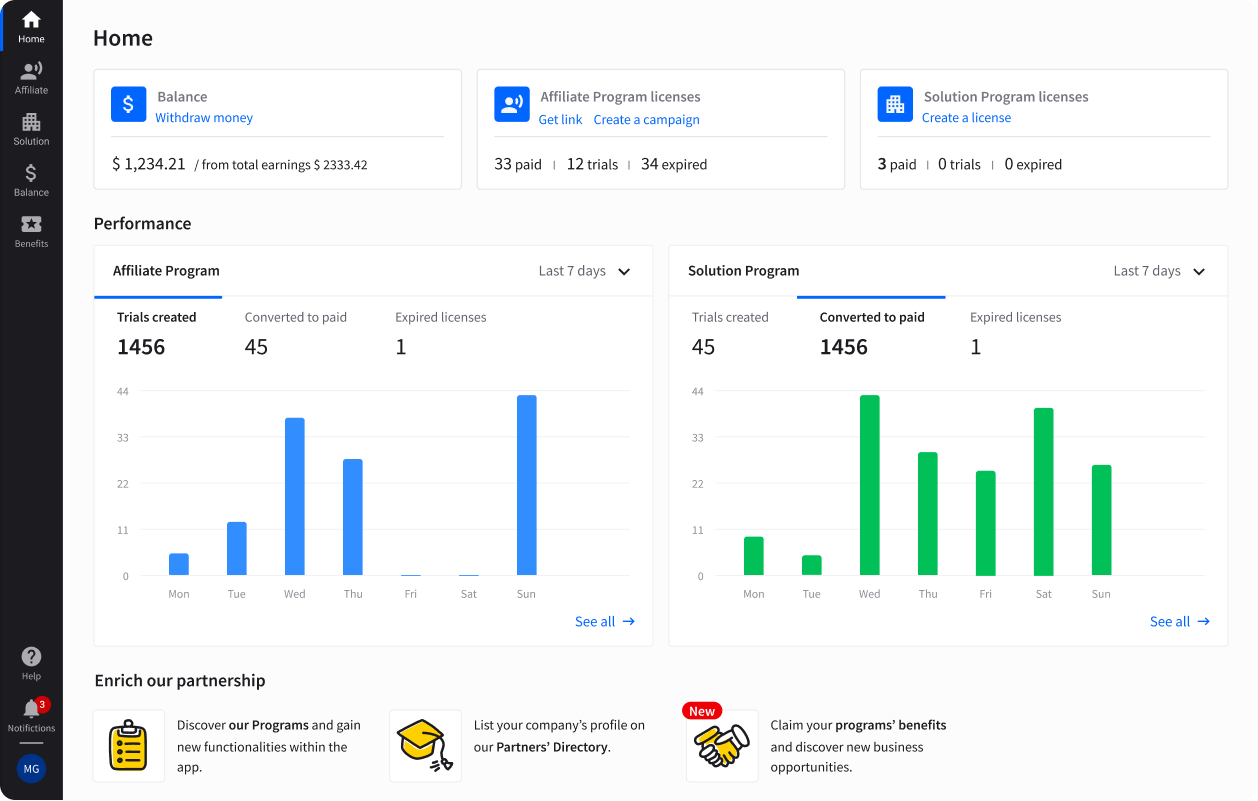 11. The sky's the limit
There are many ways to market your affiliate programs.

You can set up an affiliate blog and post regularly about a given niche, come up with affiliate emails, or create PPC campaigns. You can even use social media and platforms like Quora for marketing your affiliate products.

Furthermore, you can combine all your organic and paid marketing activities into a cross-channel campaign if this suits you best.
12. Own business - sole proprietorship
As an affiliate partner, you usually work as a freelancer and have to establish your business activity. The best part is the costs, such as laptops and mobile phones, which can be claimed as tax write-offs.
13. Flexible working schedule
An at-home business means you are making your framework and daily working schedule. So if anything unexpected comes up, like, your friend's birthday or family errands, you can always make time for it.
Also, you decide when you go on vacation and how many days off you take.
14. Performance-based income
This can be perceived either as a benefit or a disadvantage.

 Joining the affiliate program will verify if you are good at online marketing and, specifically what campaigns. Are you an online review master? Are you more successful at writing articles or recording videos for YouTube? Or perhaps paid campaigns to bring you more revenue?
This will be tested over time. Success comes to those who work hard and are persistent.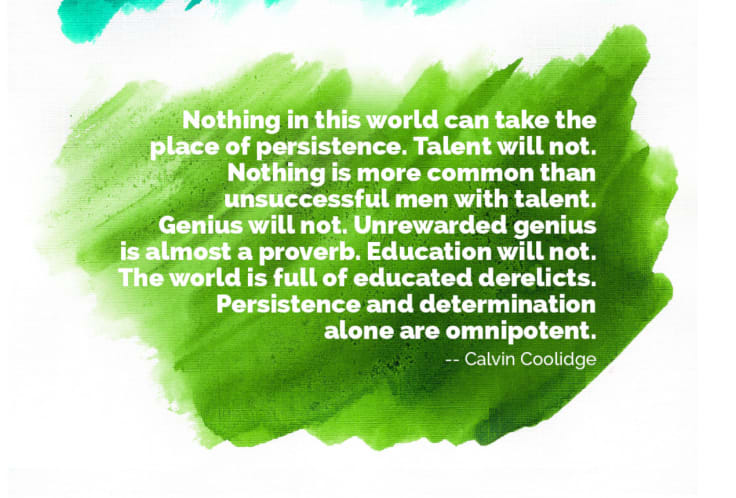 Persistence here is essential - it takes time to amass enough traffic to make money. Once you start with affiliate marketing, give yourself about six months or up to one year to see if it works for you and brings satisfactory commission.
The Disadvantages of Affiliate Marketing
1. You don't have control over the rules
As an affiliate, you entirely depend on your merchant's rules and must respect their conditions.

 A program that may look appealing at times later can become less and less competitive, but you won't be able to adjust the terms yourself; all you can do is communicate the need for further adjustments regarding discounts on the given products, etc.
And then wait for the merchant to implement changes.
2. You don't control your competition
Competition varies depending on the industry. As there are strong benefits of joining an affiliate business, such as low costs of investments, high-profit opportunities, and no expertise needed, many people try their hand at affiliate marketing. Practically anyone can join and be successful.
Highly talented affiliate marketers from the same niche make up fierce competition, which is an obvious danger to your performance and a significant disadvantage.
However, this shouldn't scare you. Remember that the obligatory factors of success are hard work and persistence
3. You can't establish your customer base
Another disadvantage of affiliate marketing is that once a referral is made, a repeat customer won't ever purchase from you again.
Of course, he will do it directly to the affiliate vendor to repeat the purchase. That's the nature of affiliate business. You commit to driving new leads repeatedly unless you engage in marketing affiliate programs that provide recurring commissions.
Some SaaS affiliate marketing programs offer recurring licenses and, because of this, fixed recurring commissions.

To give you an example of such an approach, take a look at the LiveChat Affiliate Program
You will find out that the 20% commission is paid monthly or yearly as long as the customer stays with the company. This makes the cooperation fair and also easy to calculate.

 And the best part is that statistically, the customer stays with LiveChat for about 2,5 years. Whoa!!!
4. No guarantee of revenue
Pay-per-performance can be a tremendous opportunity as well as a significant risk. No one promises that working as an affiliate marketer will be easy and that you will earn the expected revenue immediately. It's a challenge you have to face and put all your efforts into maximizing the opportunity, but it's difficult to predict how much money you will make on it in the end.
5. Freelance jobs are not for everyone
It takes a particular personality to feel comfortable with such a working style. Sometimes, it can result in feeling blue, like loneliness or stagnation. But there are ways to minimize and overcome such a mental condition. Just don't close yourself away from people at your home. Find your working space somewhere outside and go there every day.
I bet there are many coffee shops designed primarily for remote work in your city, so look around and discover one that suits you best.
Lately, coworking spaces are becoming more and more popular. Consider this idea: you can rent a desk at a space established just for people like you - for other freelancers. And if you're a social butterfly, you will build new connections quickly.
6. Quantity approach
Affiliate marketing is sometimes associated with spammy marketing campaigns, and there is some truth to that.

Some short-sighted affiliate marketers produce spammy and misleading content everywhere and expect quick and small wins.
Beware, once you step into black hat affiliate marketing methods and false advertising, your days are numbered.

By entering this shady path, you'll eventually lose credibility, and even worse, you'll put your merchant's reputation at risk.
Furthermore, spammy affiliate campaigns lead to a cooperation breakup from the vendor's side, and then you are done and can't expect any commission at all. Better focus on the long-term affiliate strategy and invest in quality instead of quantity - this will bring you sustainable and recurring revenue.
Be legit and act legit; that's the only way to gain the trust that will let you cooperate with the best vendors.
7. It's possible to hijack affiliate links
Although this doesn't come often, and most affiliate marketers won't do it, there are cases of hijacking affiliate links so the fraudster gets someone's commission.

 Then it's hardly possible to get it back. So you can hope that such an affiliate scam won't target you.
Conclusion
It looks like we're done with the affiliate marketing pros and cons. I hope that after reading my article, you'll have a better and deeper understanding of the nature of this business and will be capable of evaluating this business model better to decide if it's your job.
Noticeably, there are more benefits than disadvantages. So if you are ready to start making money with affiliate marketing, I strongly encourage you to join the LiveChat Affiliate Partner Program, one of the best affiliate programs available.
Hope you all have a great start in affiliate marketing!