Showing top

0

results

0

results found
Showing top

0

results

0

results found
How to Start an Affiliate Marketing Blog [Step by Step Guide]
12 min read
Jul 18, 2023
So you're here because you want to jump into the affiliate marketing industry? You're a beginner who wants to turn content creation into smart passive income? That's great! I guess you already know that having your website and a blog is imperative in today's marketing reality.
Why is this so important to have a website or a blog for affiliate partners?
Most companies that introduce affiliate programs will expect you to provide your website or blog address before they let you join an affiliate marketing program. Vendors require it of you because they want to verify you as a marketer and make sure you live up to their quality standards.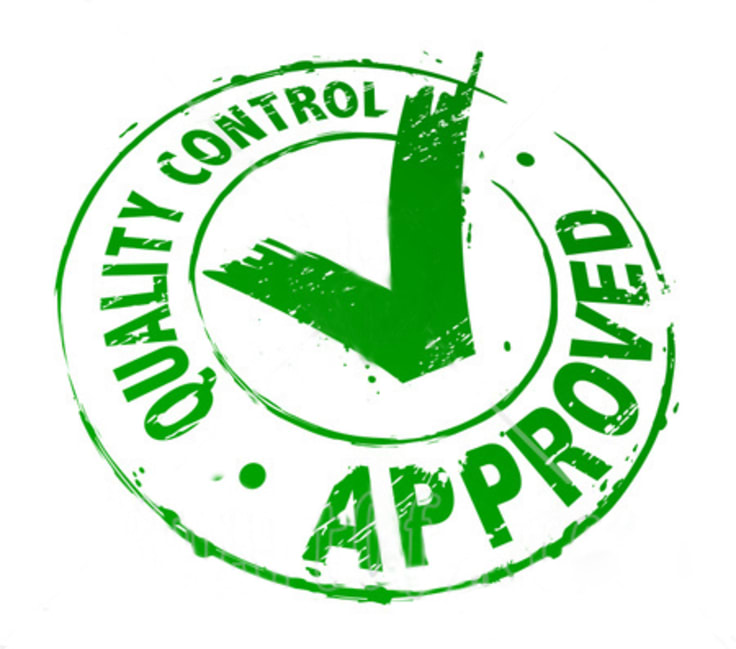 So, if you don't have any affiliate website or blog set up yet, keep reading because I will shed some light on this topic today.
Further reading → Affiliate Marketing Without a Website: It Really Is Possible
Further reading → How to Succeed in Affiliate Marketing
Where every affiliate marketer has to begin
First things first. Before you start affiliate marketing efforts, you have some technical decisions to make, like picking the right content management system, hosting service provider, domain name, website theme, and other necessary details like defining the appropriate information architecture of your site.
Then, you should determine what design goes best with your content so the most important copy is emphasized right and conversions are encouraged as much as reasonably possible.
And honestly, at this point should already have your ideal affiliate program in mind. Or at least your niche! That's because if you're going to make your affiliate revenue from the promotion of time management apps, you will name your website differently than if you choose to promote the levitating Bluetooth speakers.
Your blog will be the main page of your affiliate campaigns. Sure, you can post your referral link on social media platforms too, but having your affiliate website will make you independent of Zuck's moods ;)
Promote top-notch communication products
Join our Affiliate Program and earn 22% revenue share!
Free membership
Partner App
Easy money withdrawal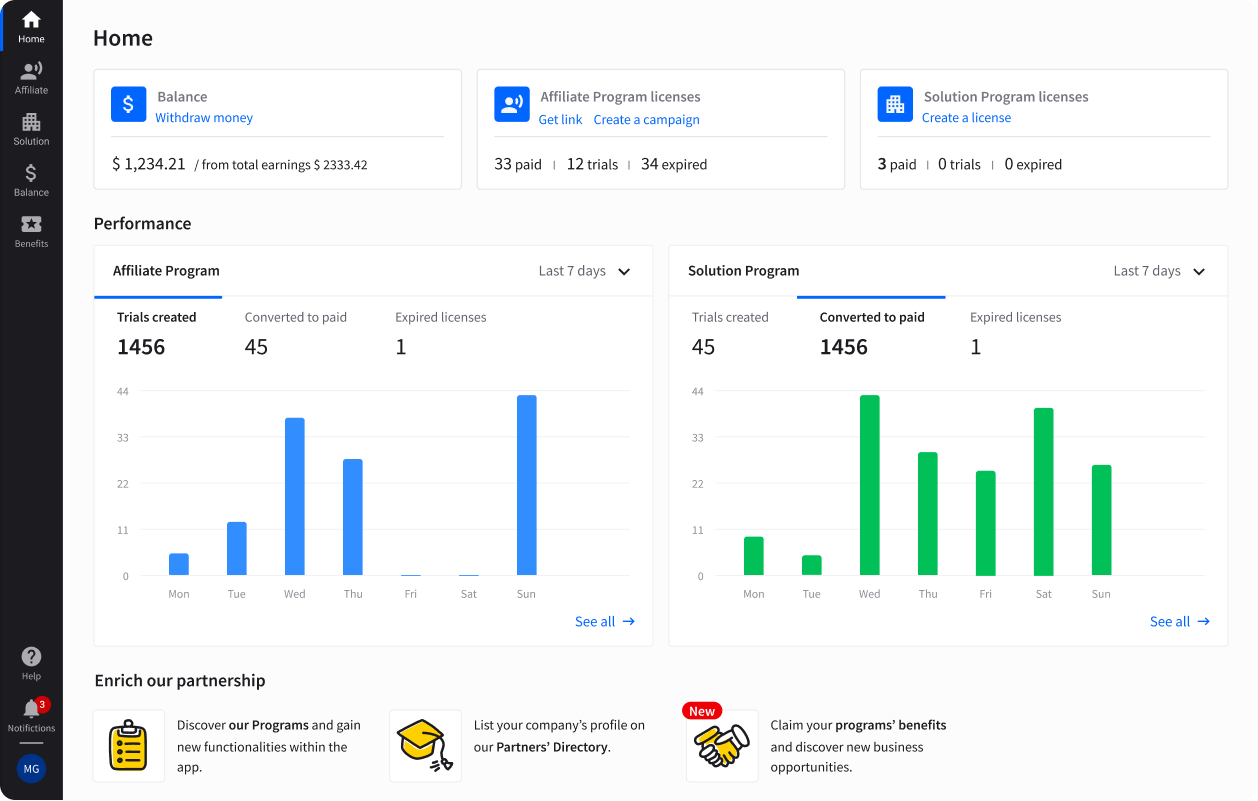 How to choose your blogging platform
In the beginning, you should make up your mind about the blogging platform that will fit you best. According to this study by Pingdom, the most popular blogging platform among the top 100 blogs by now is WordPress.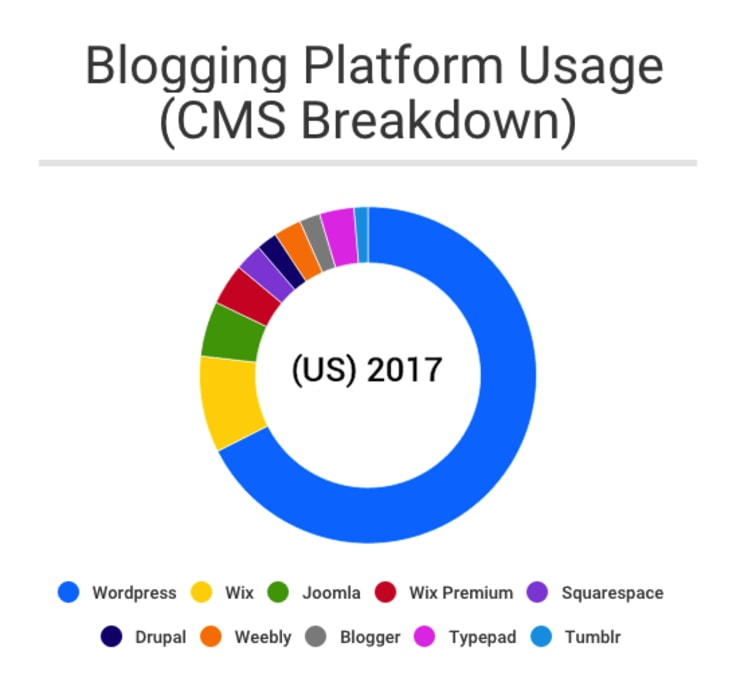 The graph above shows blogging platform usage by popularity in the US. More than half of bloggers go with WordPress. This is a solid choice I can get behind as a content creator. Currently, I'm working on WordPress.org CMS for our company blog and I deploy WordPress.com for personal use.
Surprising as it may seem, WordPress.org and WordPress.com are two entirely different blogging platforms. Let me explain.
What's the difference between the WordPress.org and WordPress.com?
WordPress.org
WordPress.org is called the "real WordPress," and this is the platform you've heard so many good things about. It's open source and 100% free for anyone.
However, WordPress.org is a bit more technically demanding since it's self-hosted and you need to get the hosting service and the domain name on your own and fit into its setup.
WordPress.org includes unlimited plugins and themes created by the individual designers and devs. As a result, it lets you fully customize your site and adjust it to your needs.
WordPress.com
Then there is WordPress.com. This is a version offered in three pricing plans. There is also a very limited free plan for hobby bloggers. However, depending on what you need it for, the free version can work for you just fine. Otherwise, you can go with a paid plan and then make recurring payments.
The advantage is the fact that the service gives you both website hosting and domain name hosting in one platform. Bear in mind these two need to be arranged and paid separately in the other scenario.
At WordPress.com you might hit some limits as you have to fit into a particular plan. On the other hand, the service is easy to handle, and anything can be done in one place. You don't need to worry about remembering to backup and update as they'll handle it all for you.
According to expert opinion, WordPress.org is hands down the better (and the cheaper) platform. That's the platform which every professional blogger, small business owner, and even big-name brands - like Disney - use.
As a content writer that deploys CMS daily, I can recommend both WordPresses without batting an eye. Need a more detailed review? Go to WPBeginner and see what pros and cons both services embrace.
How to choose your hosting provider
Once you get the blogging platform out of the way, it's time to take the next step and choose a domain name and a hosting service provider - unless you chose the easy way and went for WordPress.com.
If you choose to use WordPress.org for your CMS, you need hosting. WordPress is a truly light-weight framework, and most hosts have no problem with running it on their servers.
Because of WordPress's popularity, the installation process is usually simplified as most hosting service providers often offer a one-click installation button for your convenience.
Some recommended WordPress dedicated web hosting providers include:
BlueHost
HostGator
SiteGround
InMotion Hosting
DreamHost
What's important when choosing a hosting service provider? Crucial factors to consider before you make up your mind include:
The cost (plus, does it include a free domain?)
Loading time (speed)- the average loading time for users in the US, Europe, and Asia over the period of 12 months
Uptime - what is the average uptime over the period of 12 months
Customer support - do they have a live chat, help desk, what is the overall experience and their average response time
Security
Choosing the right hosting provider is without any doubt an essential decision to make before you start a website or a business blog. Choosing the wrong one can undermine any benefits even the perfect CMS might have.
A bad web host can have negative effects on your search rankings, end up wasting your money, hard work and other resources. It can also ultimately affect your online authority.
Therefore, before settling on a specific web host provider, you should think twice and analyze all the factors speaking for or against a given solution. For instance, you should, by all means, avoid free hosting providers.
Often, such a free service is offered in exchange for the promotional link in your website's footer. This may initially sound fair enough to you, but I would recommend you take no risks here.
The reason behind it is pretty simple - free web host providers aren't reliable. If you are serious about your business activity, you shouldn't economize by this case. A free hosting provider may exist now, but you can't expect it to exist forever so one day you might just wake up to an empty 404 page.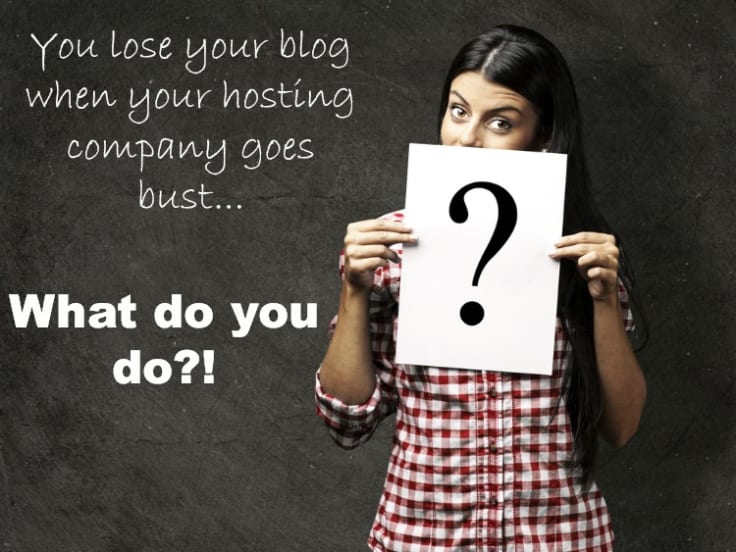 This is one situation you don't want to find yourself in. Trust me. Here is a cautionary tale of a writer who lost a beloved blog because of a wrongly chosen hosting company.
WebsiteSetup.org tested over 30 different web hosting companies over a period of 24 months. They gathered the necessary data and examined all these companies across the most important features and came up with an informative review.
Let's now discuss choosing your domain name.
How to choose a domain name
Selecting a domain name is a vital question when starting any website or blog. Especially that a lot of bloggers refer to their blogs as if they were their babies. So, choosing a domain name is like choosing a name for your baby. It's a BIG THING.
A good domain name:
gives people a strong idea of what a website is about,
has to be good enough for you to want to identify with it,
defines your business identity,
should be brandable- In other words, it should be your brand name or at least correspond to it.
However, many bloggers find it difficult to come up with the right name for their site.
There are a few rules that will surely help you act more efficiently. Remember that your domain name should be short, wrapped around a primary keyword, and memorable.
This means that you should find a balance between being unique and simple. Your brand name shouldn't be complex and difficult to remember. It should be easy to type and pronounce.
This doesn't take a neuroscientist to figure out that the simpler and more specific the name, the easier it is to remember. You want to be searchable. So, avoid business slang, abbreviations, numbers, and hyphens as they make your domain name look lame or suspicious.
Now, let's talk domain extensions - those short suffixes such as .com, .io, .org, .edu, .net and sometimes even whole words like .travel.
Although there are some new trends to attach your domain names with some extravagant endings such as .blog; .live; .guru; .nyc; or .marketing… I would advise you to stick the old school ".com" - not only because it is the most recognized and most accessible TLD but also because it possesses the greatest ranking power in comparison to other extensions.
Design your blog

Ok, so now that we've got those technical issues out of the way, it's time to choose the best layout to showcase the content most accurately. Choose WordPress, and you get a whole plethora of themes of all kinds to choose from. And if the built-in theme browser is not enough for you, you can find the right one on ThemeForest or Mojo Marketplace.
No matter what theme you eventually use (no matter if it's a premium or a free template), bear in mind some basic design tips:
Keep your website design simple - as simple as it gets. The simplicity lets your words stand out and make a stronger impression on a reader. That's why you should also embrace white space.
Use simple and standard fonts - the weirder the font, the lower readability; plus, fancy; obscure fonts don't always display correctly.
Contrasting colors - limit your palette to a few colors and use them only when you want to drive significant attention to something and highlight a specific element on your site like CTA for instance.
Goal - driven design - remember that each page on your website should have a purpose. What's more, it should be a single purpose. Define this goal and make sure that the design embraces it.
Use visuals - like videos and images to polish up the look of your blog and make it more visually appealing. Visuals made in-house work best - because they're authentic. Just make sure they look professional.
Once you upload your files, make sure they are high-resolution and not too heavy at the same time. Otherwise, they might bump up your page load speed.
Remember that user attention span is limited these days. If the page load time exceeds 3 seconds, it's highly possible that they'll abandon your website.
Leverage ImageOptim that makes images load faster; removes the bloated metadata and most importantly is free. This software lets you save your disk space & bandwidth by compressing images without losing quality.
Add posts, pages and set your SEO
Next, define the architecture of your information on your blog. Decide what categories you need to include on it and what tags are necessary. However, back it up with solid research first so that categories and tags are not a mere result of your expectations and preference, but they correspond to your primary keywords and follow your content strategy.
Learn more about SEO-friendly Site Architecture from Adam Tanguay, Weebly.
Mind that a healthy website architecture follows the Three Clicks Rule, meaning that "users should be able to find any information within a site using no more than three mouse clicks."
Moreover, remember to add a sitemap and robots.txt to improve the indexation of your site.
robots.txt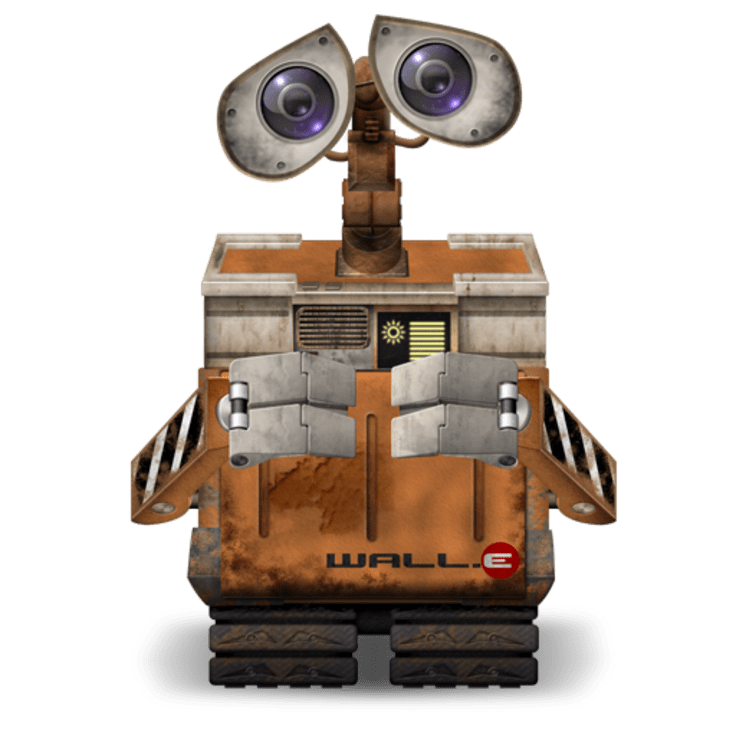 Just for the record, robot.txt is a little plain text file that stored on your server to instruct search engine bots what pages should be crawled on your site. You can also specify what pages should be excluded from indexing. You can dive into robot.txt details in the MOZ SEO Learning Center.
Site Map
A sitemap is also an imperative file that needs to be included on the site. It's pretty self-explanatory: it's a list of all the pages of your site that are accessible to your visitors. And these pages should be organized and segregated according to a predefined hierarchy.
SEO
Now it's time to optimize all your pages for SEO using content and keywords strategically.
Remember to fill in title tags and meta descriptions all around so that you don't have bare category pages. Also, remember that title tags and meta descriptions will display in search engine results, so it makes sense to craft them in a catchy way, so they encourage more clicks and boost your CTR.
Add pagination or a 'load more' button and a search box that will allow your visitors to navigate through your blog posts and easily find even the oldest write-ups from each category that you embrace.
Start growing your blog
Once the technical side of your project is done and you are ready to publish content on the blog, create a thoughtful strategy for the next quarter and set achievable yet challenging goals. This way, you will be able to review your results frequently and see if you are making desired progress and evaluate its pace.
Quarterly strategies are the best idea to judge your blogging results because they are not too long-term. On the one side, this makes them more flexible and easier to adjust as you go, especially, when you see that some approach is not performing as expected, on the other side, the research for it is not that demanding and laborious as creating an annual blogging strategy.
Wrapping up
Starting the affiliate marketing business might seem challenging at first, but hey, the passive income is worth it! And it's easier to earn affiliate income when you have a website or a blog. That's because social media posts are time-sensitive. If you posted something a week ago, there's a small chance that anyone will find it (and use your affiliate link).
On the other hand, SEO-optimized affiliate blogs never lose traffic: so once you publish an article with your affiliate link, there's a chance that even after a couple of months, someone will use it.
And the last tip: remember that you don't have to belong to only one affiliate program! You can be a member of many of them! For example, if you have your Youtube channel, you can join the Youtube Program and record videos about affiliate products you'd like to promote too!
Further reading → How to make the most of the YouTube Partner Program – and the LiveChat Partner Program too!
Remember: build your affiliate marketing strategy wisely, place your affiliate links carefully, and you'll become a successful affiliate marketer. Good luck!