Showing top

0

results

0

results found
Showing top

0

results

0

results found
Affiliate Marketing Without a Website: It Really Is Possible
11 min read
Feb 28, 2023
Imagine you're scrolling through Instagram, and you see a post from your favorite influencer. They're raving about this awesome new product, and you think to yourself, "Hey, that sounds pretty cool. I might want to check it out."
Now, imagine that the influencer has a special link in their post that takes you directly to the product page. If you end up making a purchase after clicking on that link, the influencer earns a commission. That's affiliate marketing in a nutshell!
As an affiliate marketer, you can earn money by promoting other people's products. You don't have to create your own products, handle customer service, or deal with any of the other headaches that come with running a business. Instead, you simply promote the product using your affiliate link and earn a commission for any sales that result from your efforts.
Sounds great, but what if you're just starting and don't have your affiliate website or don't own a blog? Does it mean you can't succeed if you don't have an audience or can't benefit from organic traffic?
Nothing can be further from the truth! Hopefully, this guide will introduce you to the art of making money online - even when you're just starting.
Have you already chosen your niche?
As we already explained in the "How to succeed in affiliate marketing" guide, choosing your niche is probably the most important factor determining your future success.
Why is it so important? Think about it this way: if you try to promote products from a niche you're not an expert in, you're not going to get very far. People will quickly realize that you're just trying to make a quick buck, and they'll tune you out.
On the other hand, if you focus on a niche that you're passionate about, you'll quickly draw the attention of people that are passionate about it too. You'll be able to build trust with your audience, and they'll be more likely to take your recommendations and make purchases through your affiliate links.
The most important questions a successful affiliate marketer needs to answer are: what topics do you enjoy writing about? What products do you use and love?
Having answered these questions, you're ready to find your perfect affiliate program.
Thinking about joining the online communication market?
Try the LiveChat Partner Program!
20% commission for a lifetime
Easy money withdrawal
Free membership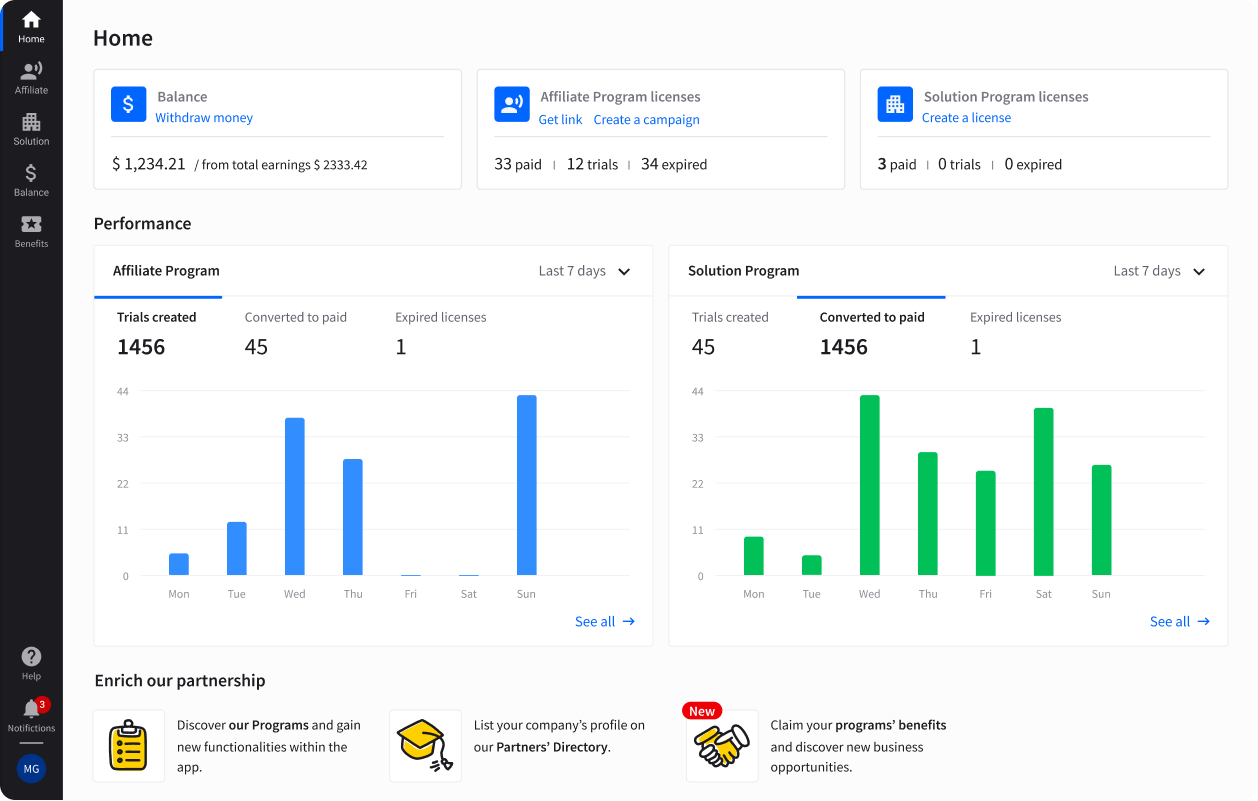 1. Affiliate marketing pros are community leaders
The very first strategy allowing one to start affiliate marketing without a website is joining online communities.
The main benefit of joining such a community is that it lets you connect with like-minded people who share your interests and challenges. By participating in discussions and providing value to the community, you can build relationships with potential customers and partners who may be interested in your products or services.
This way, you're not just promoting affiliate links - you're also providing value to your audience. By sharing helpful tips, advice, and resources related to your niche, you can position yourself as a thought leader in your community. People will start to see you as an expert and turn to you for guidance on a variety of topics.
Find places where people talk about certain products and participate in those conversations. Not only Reddit and other online forums with hundreds of business-related subreddits but also e-commerce-oriented pages like Digitalpoint or UK Business Forums, are all perfect to share the good word about your affiliate marketing business.
This way you can also talk to many affiliate marketers who often share knowledge about how to promote links effectively, how to find a good traffic source, or what affiliate products to choose.
Here is a list of communities you might want to check out to create your affiliate network:
2. Befriend social media marketing
Social media sites like Facebook, Twitter, and Instagram can be powerful tools for promoting your links and driving traffic to your affiliate offers. By sharing compelling social media posts that include your affiliate links, you can reach a large audience and potentially earn commissions on any resulting sales.
Plus, social media platforms often have built-in targeting options that allow you to reach specific audiences based on factors like age, location, interests, and more.
In addition to promoting your affiliate links, social media platforms can also help you build relationships and connect with potential customers and partners. By participating in online communities and engaging with your audience on social media, you can establish yourself as a trusted authority in your niche and build a loyal following of fans and supporters.
Here are the types of high-quality content that you can create:
informative product reviews (of course, you also post links to your offer),
instructional videos (e.g., if your niche is B2B software, you could do tutorials or product comparisons and publish them on a YouTube channel),
topical discussions, e.g., how can one gather leads or enhance online conversion with LiveChat (for more about it, check this blog post).
Once you start creating and sharing your content, you'll see the stream of visitors increase.
If you're not sure how to take advantage of YouTube's capabilities, this video should help you catch on with the basics of earning with affiliate marketing. You don't even have to stand in front of the camera. Tools like Camtasia empower you to make amazing videos by recording your computer's screen. You can, of course, enrich it with your own footage.
So, if you're an affiliate marketer without your own website, don't underestimate the power of social media - it can be a valuable tool for building your business and making passive income.
Make money with us!
Promote our excellent customer service products and earn 20% commission of every sale.
Ready-to-use-resources
Easy money withdrawal
24/7 support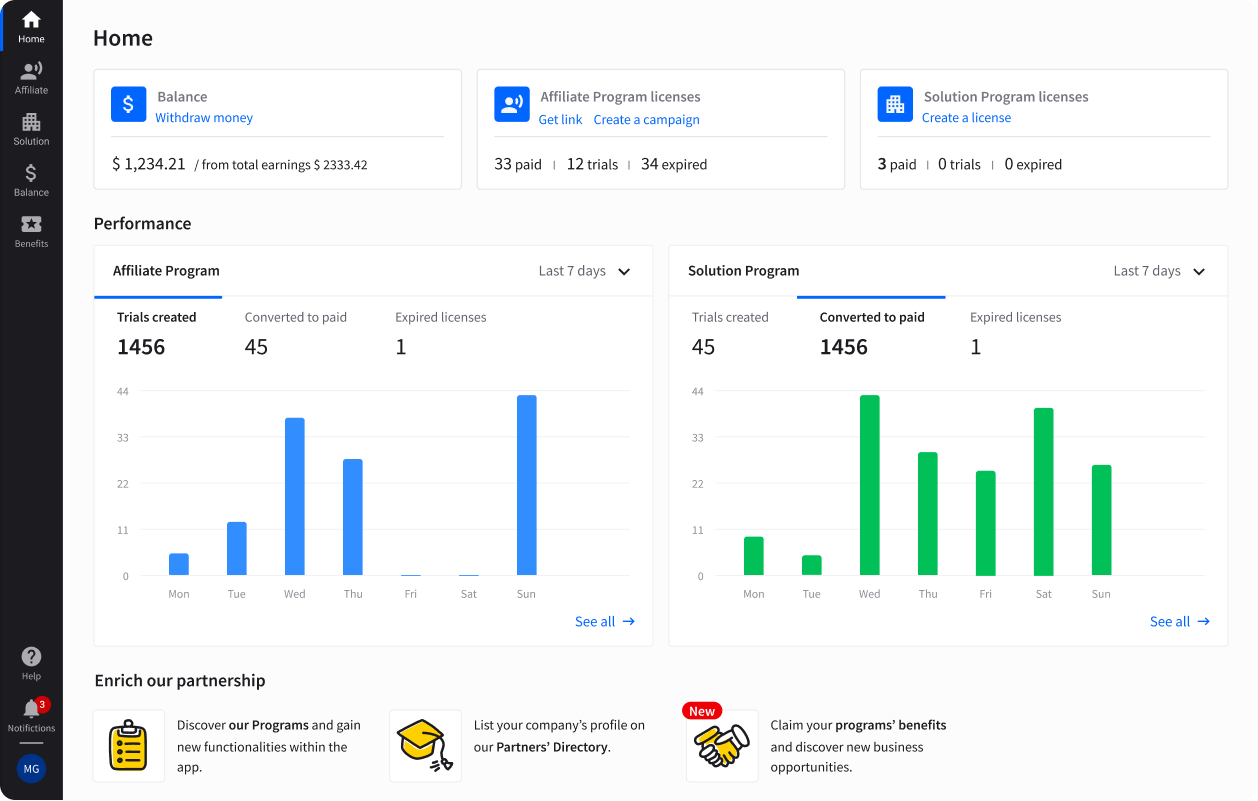 3. Jump on a content publishing platform
The next way to do affiliate marketing without a website is by publishing your articles and offers on content publishing platforms.
Such a platform is a website or app that allows users to create, publish, and distribute their own content to a larger audience. But, contrary to social media, it's not just about writing short posts. Such platforms allow you to publish longer forms of content, proving that it's possible to do affiliate marketing without a dedicated landing page.
Medium, LinkedIn Pulse, and - of course - Quora are just a few examples of popular platforms.
Quora is a perfect place to share your experience as a professional and benefit from it (e.g., by promoting affiliate links in your answers). Thousands of questions asked there just await to be answered!
To reach a wider audience with your content, focus on building your profile first and answer as many questions as you can. Once your profile is fairly established (over 30k total views, 50+ unique followers), it's time to answer questions that are ranked high in Google Search. As always, try to keep the quality of your content high and avoid spamming.
The Quora moderation team works restlessly to get rid of spammy content and will not hesitate to ban your account indefinitely if they conclude that what you publish does not meet their standards. Note that at Quora, standards are definitely on the higher side.
Pro tip: leverage built-in promotion tools.
Many content publishing platforms have built-in tools and features that can help you promote your content and reach a larger audience. For example, you might be able to tag your content with relevant keywords, share it on social media, or even participate in groups and communities related to your niche.
4. Get into paid advertising
Paid ads can be a powerful tool in your arsenal. PPC ads (pay-per-click) allow you to create targeted ads that are shown to people who are likely to be interested in your products or services. Here's how they can help you:
Reach a wider audience. Paid ads, such as Google Ads, allow you to target specific keywords and demographics, which can help you reach a larger and more targeted audience than you might be able to with other traffic sources. By reaching a wider audience, you increase your chances of finding people who are interested in your offers and clicking through to your affiliate links.
Get fast results. Unlike other traffic sources, such as SEO or content marketing, paid traffic can generate results quickly. As soon as your ad is approved, it can start driving traffic to your offers. This can be especially useful if you're looking to generate sales quickly or need to hit a specific revenue target.
Control your spending. With paid ads, you only pay when someone clicks on your ad. This means you have more control over your spending and can set a daily budget that works for you. You can also track your results and adjust your ads as needed to improve your ROI.
5. Kick off your email marketing campaigns
Another way allowing to promote affiliate links without a dedicated website is email marketing.
Conducting an email campaign is directly related to two main activities. You have to gather leads and create content that recipients of your emails should find tempting (as always, we remember to promote affiliate products we work with).
Lead generation has recently become as effortless as it gets. Nobody spends long hours searching for e-mails anymore. That's what automated tools are for! Here, you can find a list of efficient lead-generation tools that come also in free (freemium) versions.
It's also a good idea to join an affiliate marketing program that allows building your custom email marketing campaigns. For example, in the LiveChat Partner Program, you can build your affiliate marketing strategy based on the tools you are given: access to the Partner App, and a campaign builder that lets you create custom offers and generate traffic that has a high chance of bringing you revenue.
It's not that difficult to start affiliate marketing without website!
As you see, jumping into affiliate marketing without a landing page really is possible.
As always, it's up to choosing the right strategy for you. The most crucial part is finding your niche so you can work with products you really like working with. Then, you need to find an affiliate program that makes it easy for you to create a compelling offer. Once you're in, you can start your affiliate marketing activities: with PPC, on social media or content platforms, or via email marketing.
Don't have a website? It's not a problem!
Join our Partner Program and get all the tools and resources you need to start earning.
24/7 support
Ready-to-use-resources
20% lifetime commission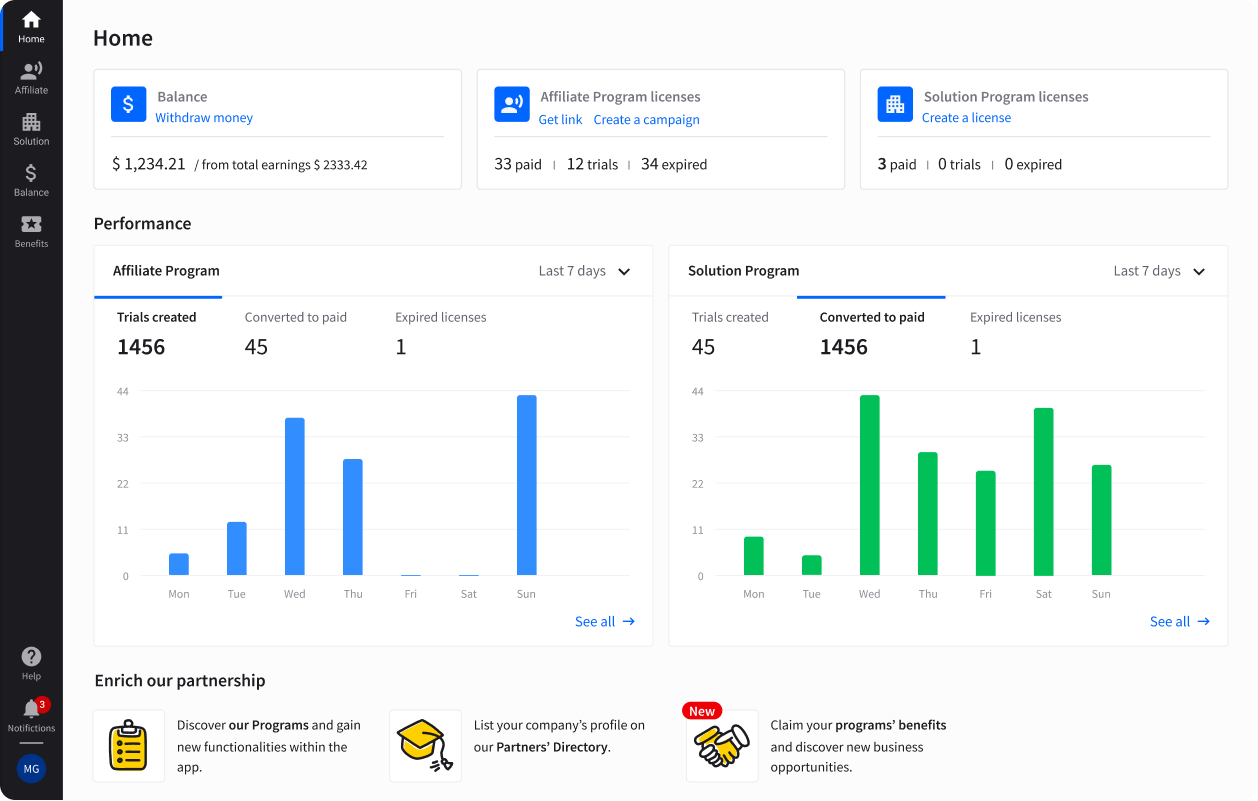 Last but not least, here are a couple of tips on how to succeed in your affiliate business:
Don't try to sell your product straight away. Affiliate marketing professionals focus on explaining what needs recipients of their emails might want to meet. They don't sell solutions before properly introducing problems, explaining the reasons behind them, and the consequences they may bring. That is why you should not link directly to the product you promote but rather to your profile on Facebook, Quora, or Hubpages where more information about the issue you refer to can be found.
Adjust your email campaigns both to the specificity of your target audience and the type of communication you want to establish. Like for example, if you expect to reach the group of software marketplaces' executives, don't bother creating state-of-the-art, picture-heavy emails. Try to keep it as generic and personalized as possible. All the pictures, colorful themes, and shiny CTAs can easily be used in campaigns targeting different audiences.
Make use of email marketing software. There are a lot of products available in free pricing plans or on the cheap. Including Mailchimp that we often use at LiveChat. MailChimp's' 'Forever Free' plan enables you to send 12,000 emails to 2,000 subscribers per month. No expiring trial, contract, or credit card is required to make use of it. For many affiliate marketers, that's more than enough.
While running affiliate marketing activities without a website is not an easy task, it's entirely possible to succeed at it. You may not be able to get rich overnight, but with some dedication and a strategic approach, you'll find ways to earn consistently. What you have to remember, though, is not to rush things. Instead of posting your promotional content directly, focus on gaining recipients' interest.
Note the existence of a given problem, provide an in-depth explanation of it, and suggest ways to solve it. All the presale content you create should ultimately lead to your offer but none should look like a direct promotion. The more genuine and insightful content you create, the better results you'll achieve.
Good luck!