Showing top

0

results

0

results found
Showing top

0

results

0

results found
Affiliate Marketing for Dummies: 5 Tips for Starting From Scratch
9 min read
Jun 5, 2023
Picture this: It's a typical morning, and like every responsible adult, you roll out of bed, shuffle into the kitchen, and stumble upon the heavenly aroma of freshly brewed coffee. As you take that first sip, your mind starts wandering, contemplating life's greatest mysteries... and finances. Ah, yes, the sweet symphony of caffeine and contemplation!
But then, like a lightning bolt from the caffeine gods, an idea strikes you with the force of a triple espresso shot: "Why not become an affiliate marketer?!" It's the kind of idea that both excites and terrifies you simultaneously.
Now, you might be wondering, "What in the world is an affiliate marketer anyway?" Fear not, my friend! We're about to embark on a wild journey through the world of online entrepreneurship, where clicks turn into cash and dreams turn into digital reality. Buckle up and prepare for a wild ride!
An affiliate program of your dreams
You're probably reading this post as you're thinking about a job that requires a laptop, an internet connection, and a comfy chair. Then, my friend, I'll assure you that jumping into the affiliate marketing business is a good idea to earn passive income.
However, before you sign up for any program, let's take a look into what should be on your radar.
High commissions: Let's face it, we're in this for the money. A good affiliate program showers you with commissions that'll make your piggy bank squeal with joy. While the average commission differs, in our niche (business communication) up to 25% commission is a good revenue share.
Ready-to-use resources: No one has time to reinvent the marketing wheel! A trustworthy program equips you with resources: from eye-catching banners to persuasive product descriptions.
Easy money withdrawal: Look for programs that offer hassle-free money withdrawal options, ensuring that your earnings find their way into your pockets without a hitch.
Free membership: Best affiliate programs won't burden you with hefty upfront fees or hidden costs.
The best thing about being an affiliate marketer is that you don't need to be a member of just one affiliate program. You can join two or even three and make money even more efficiently.
For example, you can become a member of the LiveChat Partner Program and the Youtube program too: in such case, you can create videos and promote our products at the same time! Here's more about this opportunity if it sounds good to you. But now, let's jump into the basics of the affiliate business.
Join the online communication niche!
Promote our top-notch products for business communication and see the money coming it.
25% commission
Ready to use promo assets
Free membership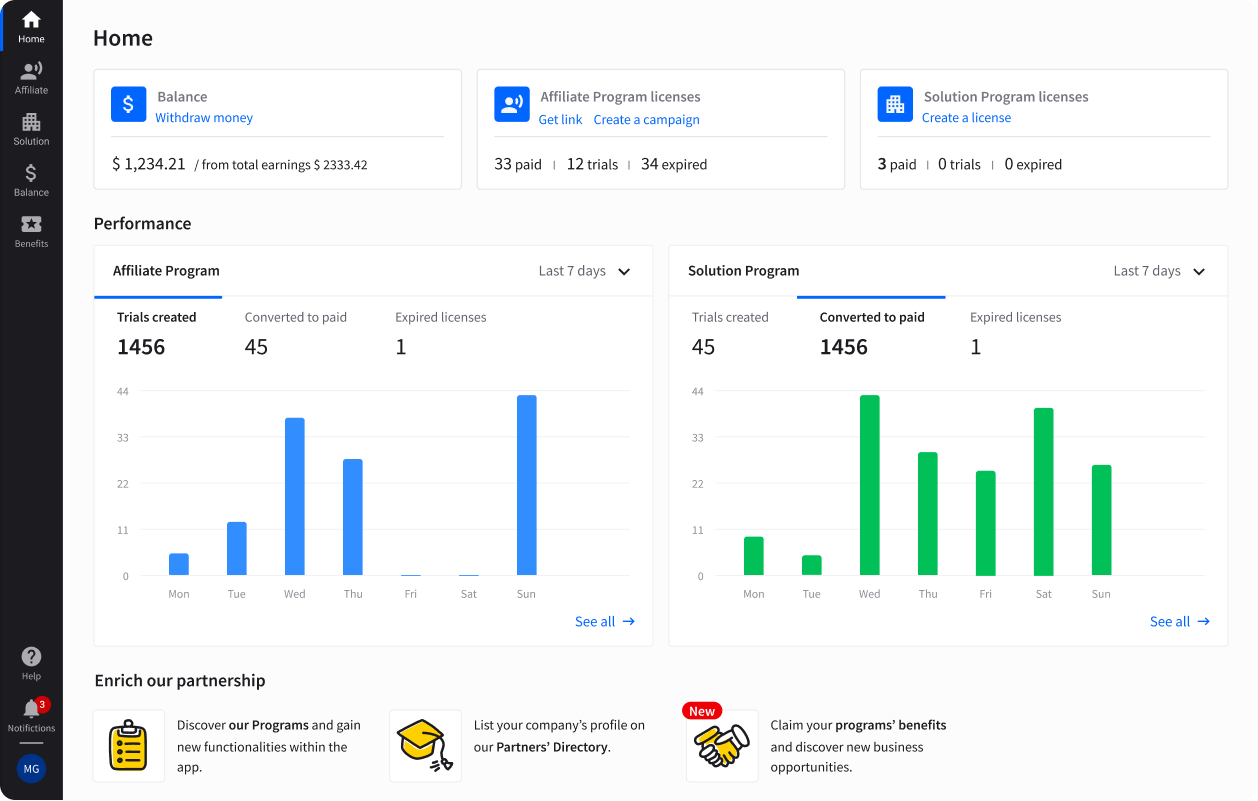 Affiliate marketing for dummies tip no. 1: Find your niche
When you separate proven affiliate programs from those fake ones, it's time to consider what niche you would like to be active in. Firstly, choose topics you already feel passionate about. Just don't forget to verify whether there is money in the niche, you want to get engaged to: do your market research (e.g. reach out to other affiliate partners).
What's equally important, you have to decide whether it's better for you to work with independent affiliate programs or with large affiliate networks. Both approaches have pros and cons, but it would be hard for you to combine your activity in both of them efficiently.
While affiliate networks (like Shareasale) are suited for affiliates with no particular strategy, I'd suggest you choose SaaS affiliate programs (software as a service) if you want to work independently on a large scale. SaaS affiliate programs are usually much higher paying, due to the software's value, so it offers better pay for your efforts.
While it may take a bit more effort to find a customer for B2B-oriented software, revenues from closed deals are incomparable. What's even more enticing, some SaaS affiliate programs sell monthly recurring licenses and - therefore - offer fixed recurring commissions!
In fact, that's the approach we took at LiveChat Partner Program.
Affiliate marketing for dummies tip no. 2: Create a website
While former points considered your overall approach to affiliate marketing, this one is about taking action. Don't hesitate to take it! There is of course a number of ways to become a successful affiliate marketer without a website but I'd definitely recommend you creating one. It will just make your work a lot easier.
Creating a website is easier than you might think. The whole process is quite convenient and can be summed up in 4 basic points:
buy a domain,
buy and set up hosting
install WordPress
install an attractive WordPress theme.
Many companies like GoDaddy offer bundle deals in which you can get domain and hosting services immediately and cheaply. All you have to do is install WordPress CMS (Content Management System) and pick a dedicated theme for it. Fortunately, that's not hard either. You can get both 100% free of cost. With the support of amazing tutorials on wpbeginner.com, you'll be able to get your website ready within an hour. Your affiliate marketing-related efforts will get a bit more professional with it. :)
Further reading → Best Affiliate Programs to Fill Your Wallet
Affiliate marketing for dummies tip no. 3: SEO is the key
This point largely depends on an affiliate marketing niche you chose to get yourself involved in. Various approaches would involve various techniques and promo strategies. What I can suggest you to do regardless of the specificity of affiliate marketing program you chose, is to focus on: valuable content creation & SEO optimization,
Once you find your niches and create a website, you need to fill it with valuable content. Whatever you publish on your website, it should not only be helpful to your readers, but also optimized for SEO. Yes, SEO! You know: keywords, search engines, websites rankings, etc.
Rings any bell?
As an Affiliate Marketing Dummy, you might feel a bit confused now. This post about SEO from LiveChat's blog will make the concept pretty obvious while this article from Yoast will help you avoid all the mistakes, rookie affiliate marketers tend to make. You have to remember to search for RIGHT keywords related to your niche, instead of for the best ones. How to search for them?
You'll find Adwords Console Keyword Planner extremely useful here. Try to optimize your website for phrases with min. 500 and max. 15,000 monthly organic searches. Those are usually relatively easy to get your content to rank high in Google. That strategy won't bring you millions of visitors overnight, but it can attract the attention of a few potential customers every day.
Affiliate marketing for dummies tip no. 4: add value and promote
SEO optimization is important to rank high on Google and draw attention of potential customers. However, the content you fill your website with must maintain this attention and turn visitors into customers of products/services you sell as an affiliate. Popular ways of promoting affiliate offers include writing honest product reviews, using in-text referral links, email marketing activities and offering unique discounts and special offers.
What's crucial, is not to be too pushy with your efforts. Intrusive promotion is one of the most common mistakes, 'dummies' make. In brief, you don't want it to look like a regular ad.
Ads don't sell products themselves.
They are usually the final element of the whole strategy, focused on explaining a problem in-depth and suggesting ways to solve it. Affiliate marketing professionals call it: presale content. This is what you should focus your efforts on. Make your content as genuine and insightful as possible, then use various promo channels and techniques to promote it.
Affiliate marketing for dummies tip no. 5: When you already have a website
Honestly, it's much easier to do successful affiliate marketing if you're already a channel or a website owner. That's because in order to promote products, offers, and services, you'll have to reach a certain type of audience. So for example, if you decide to promote LiveChat, you'll have to reach the B2B audience. It's much easier to draw attention to your offer when you already use the assets you already have instead of starting from scratch.
So if you already have your website/audience, as yourself:
what are my audience's pain points?
how can I address them with promoted products?
how can I drive website traffic to my offer?
what kind of engaging content I'll be able to create to draw attention to my promotions? Will I have space to create in depth blog posts, product reviews or videos? Or should I rather use organic traffic?
However if you don't know your website, you can still go into PPC advertising. It requires a little bit of upfront investment, but it pays out! Don't forget to include in your unique affiliate link in the ad!
Affiliate marketing is known for its convenience but does not offer a shortcut to making money overnight. You should remember to stick to affiliate programs of companies with established positions on the market (and LiveChat, with over 37,000 customers worldwide might be what you are looking for).
Join our Affiliate Program
Become the online communication / customer service expert and monetize your efforts!
25% commission
Dedicated Partner App
Customizable promo offers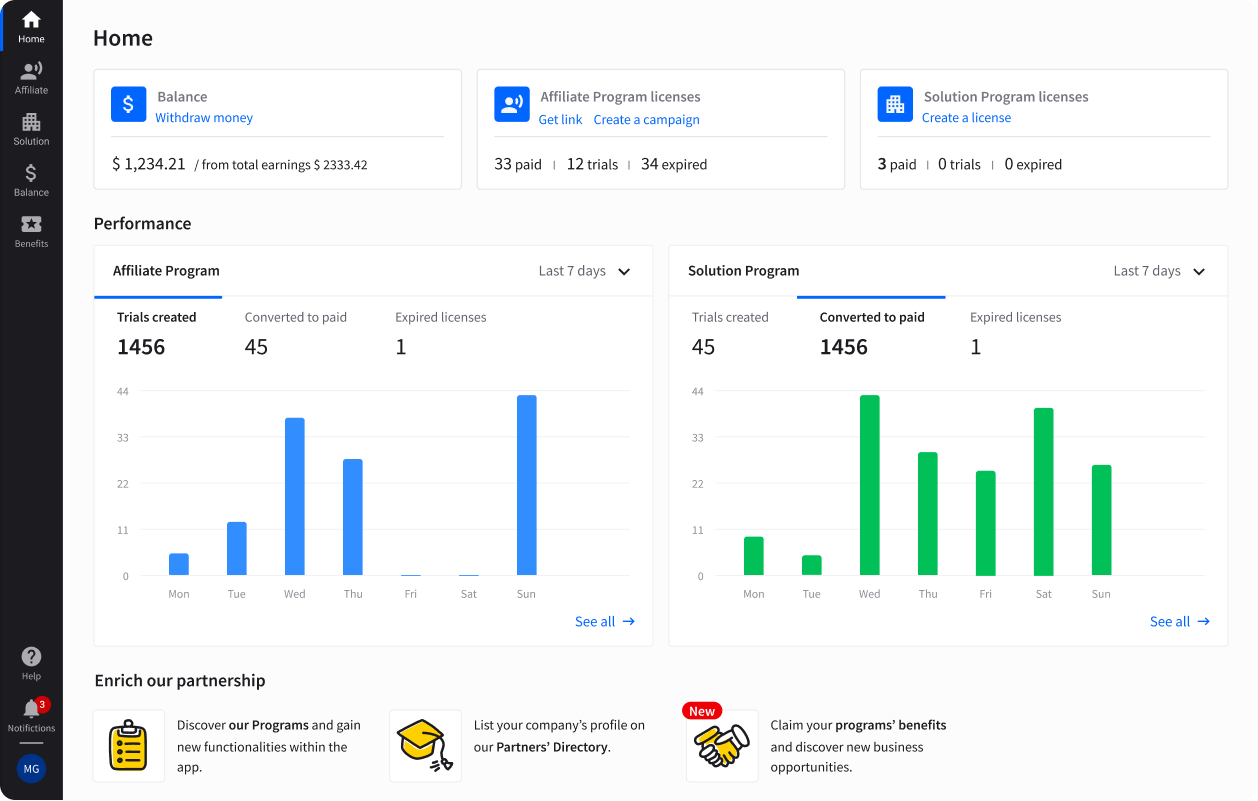 Join the community of affiliate marketers!
Affiliate marketing is one of the fastest-developing online industries now. The business is clearly large enough for everyone to get their share. With a proper approach and dedication, even affiliate marketing rookies can earn a nice affiliate income.
So, to sum it up, here are the steps you ned to do to earn money online:
Before you start affiliate marketing efforts, do your research. Check what affiliate programs are trending, which have the best reviews, join an affiliate network and don't be afraid to ask questions.
Find affiliate programs that reward you with high commissions and additional perks (like ready-to-use resources or the ability to customize your affiliate link).
Create your website and unleash the power of SEO! And of course, you don't want to create average content; in most affiliate programs you need to squeeze the best of your writing.
Include link building in your affiliate marketing strategy to give your website more credibility (and SEO visibility). And if you're new to backlinks strategy, here's a nice Udemy course.
Good luck!