Showing top

0

results

0

results found
Showing top

0

results

0

results found
Benefit From Joining Our Program!
5 min read
Oct 30, 2023
Have you been thinking about earning extra income while sitting in your favorite armchair? If so, then the LiveChat Partner Program might be right for you.
We offer excellent communication products for online businesses. By joining our program, you'll work with products that are recognized as the best in their categories. It will help you to:
gain an additional stream of passive income (our Affiliate Partners earn $400/month on average, and our highest-paid Partner has earned over $4,100,000 so far).
boost your online presence by promoting trusted products.
All you have to do is write about our products to your audience and include your affiliate link in it. You can also invite others to our program and get a commission based on their revenue.
As all your earnings are commission-based, there's no limit to how much you can earn in our program.
But let's start from the beginning.
Why you should join our Partner Program
As much as our products are built with customers in mind, our program is designed to make our Partners succeed. Here are the benefits you can expect from the program once you join us.
Recurring lifetime commission
When you join the program, you're offered a 20% commission for the lifetime (!) of every paid LiveChat or ChatBot subscription you bring.
This is how the process works:
you bring us a potential customer who starts their trial,
they become our paying customers,
and you earn your revenue share for every payment made by the customer (for as long as their subscription is up and running).
Once you bring us 5 paying customers, your commission rate will rise to 22% for all new licenses.
The average customer lifetime = 3 years
The average lifespan of our customers is three years. This means that upon bringing us one customer, you have a great chance of earning a steady stream of passive income for a couple of years.
120-day cookie lifetime
Your affiliate link includes a 120-day tracking cookie. This means that your visitors have 4 months to register from your link so you can be credited with the referral.
No keyword limitations
It's up to you how you want to promote our products, as we don't block any keywords. It gives you creative freedom and flexibility in testing different versions of your ads.
Ready-to-use resources
When promoting our products, there's no need to reinvent the wheel. In the Partner App, you'll find ready-to-use articles, posts, videos, screenshots, and banners - all that to make your job easier.
Trusted, established products
We can proudly say that if you're looking for a trustworthy company, you just found one. During our 20-year history, we've built a suite of products for online communication from scratch.
Now, we're used by over 36,000 businesses in 150 countries, and over 200,000 agents handle 75,000,000 chats monthly.
Join our Affiliate Program!
Spread the word about our products and fuel your business with addional source of revenue.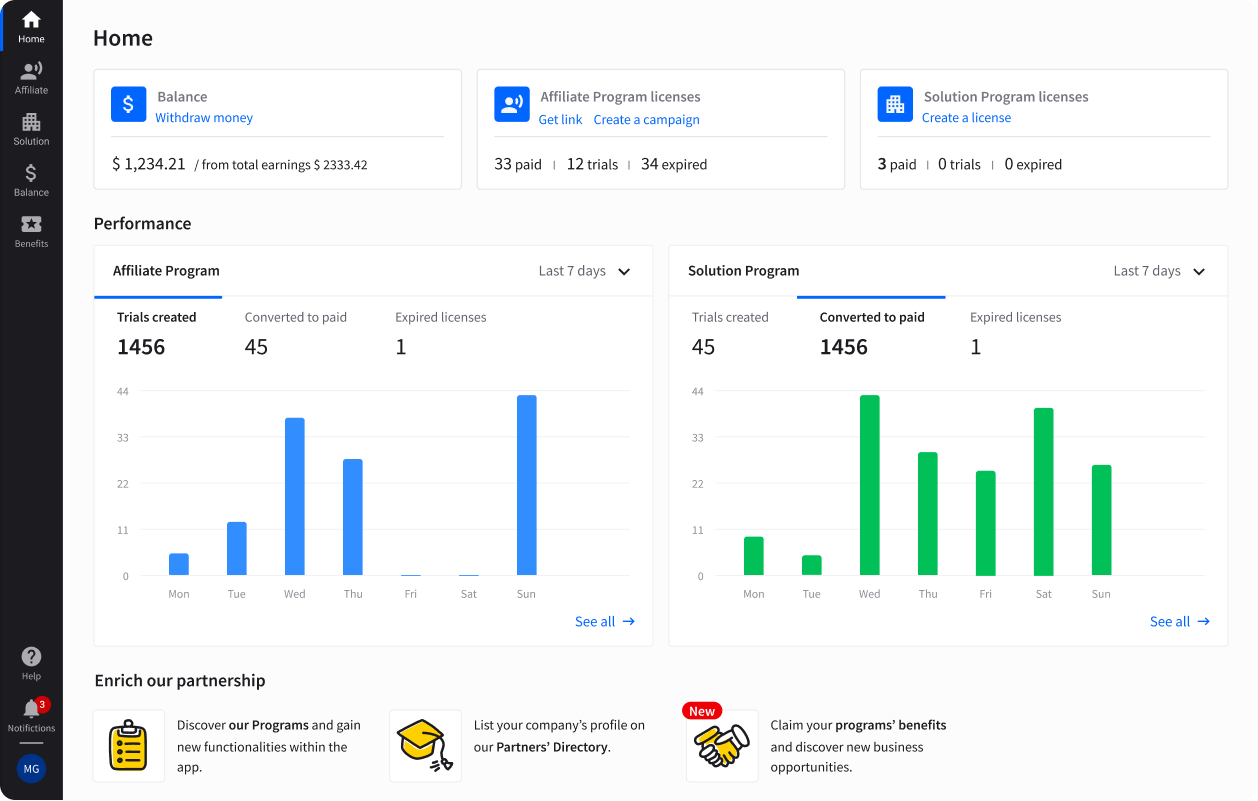 The products you'll work with
We're a company that created a suite of excellent communication products. Currently, there are two available within our Partner Program, but very soon, we're going to expand our offer.
LiveChat
As simple as it may sound, LiveChat isn't just a tool for chatting. It offers a wide range of features that benefits every online business. Live support, lead gathering, boosting sales - just to name a few of the benefits. Thanks to the free trial and 24/7 support along the way, giving LiveChat a try is safe and - we're not afraid to say - delightful.
It's the perfect solution for companies that want to deliver amazing customer service and, at the same time, turn website visitors into customers.
ChatBot
Built for automating customer support, ChatBot is a platform that creates a bot and adds it to a website. Thanks to its intuitive interface and lots of educational resources, everyone can build a chatbot, even if they have a master's degree in philosophy and completely lack technical skills.
ChatBot can bring 30% more leads and chat with hundreds (yes!) of customers at the same time, so it's the perfect solution for companies that don't have a dedicated support team but still want to engage their website visitors.
HelpDesk
HelpDesk offers a clean and smooth way to resolve customer issues and improve customer happiness at the same time.
It allows to handle all support tickets from one place and be faster and more organized as a result. Thanks to clear dashboard and easy to read reporting, no customer inquires will be left on "read" again.
Join the consistently growing B2B market
The online communication market is growing rapidly and offers immense opportunities for businesses to connect with their customers and partners. Here are some reasons why joining the online communication B2B market is profitable:
1. The online communication market is vast and growing.
There are billions of people using online communication tools such as email, chat, and video conferencing. This provides a huge potential customer base for businesses that offer online communication solutions.
2. Online communication is convenient and efficient.
It allows businesses to reach their website visitors quickly and easily, which translates into more sales. That's why customers stay with us for so long - because we bring real value to their businesses.
3. Online communication is flexible.
Businesses can choose from a variety of communication tools to suit their needs. They can also tailor their messages to specific audiences, making it easy to target potential customers.
4. Online communication is cost-effective.
Additionally, online communication can be automated, which can further reduce costs.
5. Online communication provides rich data about customers and prospects.
By tracking customer interactions, businesses can gather valuable information about their preferences and behavior.
Sound like a good opportunity? Then don't wait and join us today!