Showing top

0

results

0

results found
Showing top

0

results

0

results found
Best Affiliate Programs to Fill Your Wallet in 2023
21 min read
Jun 16, 2023
Affiliate marketing is a popular way for individuals and businesses to earn money by promoting products and services from other companies. However, choosing the right program can be challenging, with many options available in the market. To help you make an informed decision, we prepared a checklist to help you choose a great affiliate program.
Here are the top ten criteria to consider when evaluating affiliate programs:
1. Product Quality: Succeeding in an affiliate marketing program largely depends on the quality of the product or service being offered.
2. Commission Rate: The commission rate offered by the program is a crucial factor in determining your earnings. Check what's the average affiliate commission in the given niche.
3. Recurring Payments: Programs offering recurring commissions for subscriptions or memberships can provide a steady income stream over time. Look for programs that offer recurring payments or lifetime commissions for the customers you refer.
4. Clear Cooperation Terms: A good program should have clear and fair terms and conditions that outline the responsibilities and expectations of both parties. Look for programs with transparent payment schedules, clear product promotion guidelines, and fair dispute resolution processes.
5. Cookie Lifetime: A longer cookie lifetime means you have a greater chance of earning a commission even if the user doesn't make the purchase immediately after clicking on your link.
6. Reputation and Trustworthiness: Choosing an affiliate program from a reputable and trustworthy company with a good track record of paying affiliates on time and providing excellent customer service is important. Look for programs that have positive reviews and testimonials from other affiliates.
7. Affiliate Support: Look for programs that offer strong support for their affiliates, including resources like training materials, marketing tools, and dedicated affiliate managers to help you succeed.
8. Niche-Specific Programs: Some affiliate marketing programs are tailored to specific niches or industries, so it's important to find a program relevant to your target audience and that aligns with your brand and values.
9. Accessibility: Look for programs with a user-friendly interface, easy-to-use dashboard, and clear reporting and tracking tools to help you monitor your progress and earnings.
10. Payment Options: Consider programs that offer multiple payment options, such as PayPal, direct deposit, or wire transfer, to ensure you can receive payments in a way that is convenient for you.
By considering these factors when evaluating these programs, you can choose one that meets your financial goals, aligns with your values, and provides the support and resources you need to succeed as an affiliate marketer.
In the following sections, we will list the top affiliate programs worth considering for your affiliate marketing efforts and allow you to build strong passive revenue streams.
Ten best affiliate programs
What are the best affiliate programs? We might be biased, but we're confident that the LiveChat Partner Program is up there with the best of them. Okay, let's be honest; we're totally biased - you're reading this on our website, after all. But hear us out!
Our program ticks all the boxes for what you should look for in a program. We offer a top-notch product that your audience will love and find value in. Plus, you can earn some serious cash over time with our commission rates (up to 25%), recurring lifetime commissions, and 120 days cookie duration.
Need more? We also have clear and fair cooperation terms, a transparent payment schedule, and dedicated support to help you succeed. And don't forget about our easy-to-use interface and 24/7 support from a dedicated affiliate manager, ready to solve any problems you might have.
Wait a minute, I forgot to mention what LiveChat itself is. That's because the product itself seems obvious in explanation because it answers a very simple need - to communicate with users of the site. That's why it's easy to sell and can be woven into communications to marketers, business owners, sales staff, and, most importantly, customer service.
You can easily sell it to a small business wanting to reach customers faster, government organizations needing to communicate with citizens, as well as huge companies building customer service departments. Learn more here.
We offer exclusive access to ready-to-use resources and special offers that can distinguish your offer on the market. You can also promote our referral program - refer us to other affiliate partners and have a share from sales generated by them.
We might not be totally objective, but we're doing everything we can to deliver the best affiliate program in the world. Don't take our word for it - try it out for yourself! We're confident you won't be disappointed.
Join our Partner Program
Become our Affiliate and promote top-notch customer service products!
Up to 25% commission
120 day cookie
Ready to use resources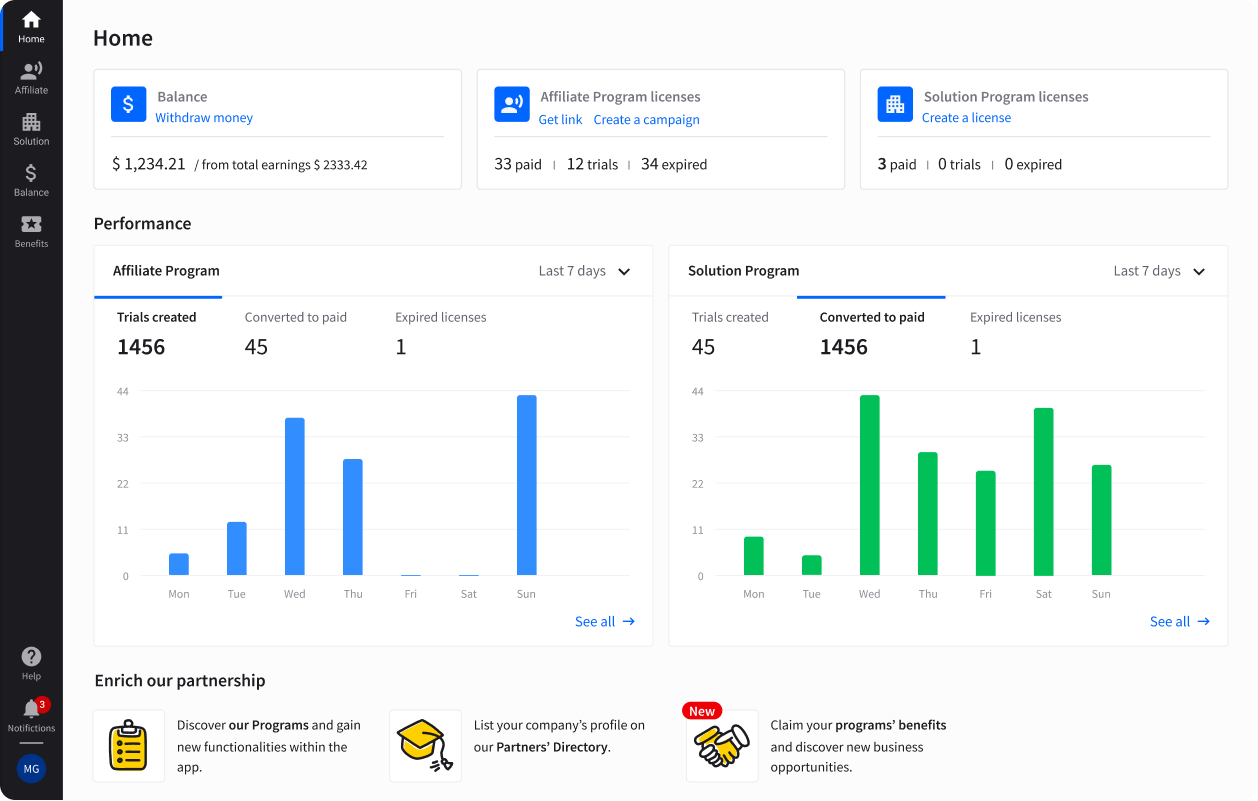 BigCommerce is a leading ecommerce platform that offers an attractive affiliate marketing program for marketers looking to earn money by referring visitors to their website. The program provides a competitive commission rate of 200% of the customer's first monthly payment or $1,500 per enterprise customer, which is a high commission rate compared to other affiliate programs.
The cookie duration for BigCommerce's program is 90 days, which is a decent duration compared to other programs. This gives affiliates a reasonable time frame to earn commissions on referred visitors who make a purchase.
BigCommerce also provides pre-made banners, emails, and other marketing materials to make promoting their product easier for affiliates. This makes it easier for affiliates to promote their products and earn commissions.
The BigCommerce program offers a competitive commission rate, a decent cookie duration, and useful marketing materials. Additionally, their reputation and product quality add value to the program.
However, it's important to note that they don't offer recurring lifetime payments. Despite this, it could still be a good option for those interested in promoting ecommerce platforms.
And the best part? You can use BigCommerce with LiveChat for a seamless ecommerce experience. You can create an affiliate package for your customers and earn commissions on both products! Bigcommerce definitely offers one of the best affiliate marketing programs.
Shopify is a leading ecommerce platform that allows individuals and businesses to create and manage their online stores. With powerful tools and features, Shopify offers a comprehensive solution for selling products online. Their user-friendly interface, 24/7 customer support, and wide range of integrations make Shopify popular for online merchants.
Shopify Affiliates earn a $150 USD fixed bounty for each qualified referral made to Shopify. This is a high commission rate compared to many other affiliate programs.
Shopify uses Impact to host its program, which provides real-time reporting, third-party tracking, and monthly commission payments. This ensures that affiliates can trust that their referrals are being accurately tracked and that they will receive timely commission payments.
To apply for the program, you must have an established audience and create original content such as online courses, blog posts, videos, or guides. This requirement aligns well with your criteria of having a targeted audience and being able to provide valuable content to them.
Another requirement for the program is to have experience with commerce, entrepreneurship, Shopify, or other ecommerce platforms. This ensures that affiliates understand the industry well and can effectively promote Shopify to their audience.
The program terms are clearly outlined and the application process is straightforward. The program also has well-defined guidelines on promoting the Shopify brand, which helps maintain a consistent brand image.
Overall, the Shopify Affiliate Program is a strong option for those looking to monetize their audience by promoting ecommerce solutions. The high commission rate, trusted third-party tracking platform, and clear program terms make it an attractive choice for affiliate marketers.
GetResponse is a comprehensive digital marketing platform that offers tools for email marketing, landing pages, webinars, automation, and more. It's a versatile platform suitable for small businesses, marketers, entrepreneurs, and content creators. With its AI-driven website builder, high-converting free plan, and flexible paid plans, GetResponse is a top choice for digital marketing solutions.
GetResponse's program looks like a great fit for affiliate marketers looking for digital products to recommend. It offers both recurring and upfront commission options, allowing you to choose the best fit for your business.
The monthly commission rate of 33% for the recurring program is attractive and uncapped, providing an excellent opportunity to earn passive income.
Additionally, the program offers comprehensive affiliate selling materials, real-time reporting, and a 120-day cookie duration. The AI-driven website builder, high-converting free plan, and competitively priced paid plans with special discounts for affiliates integrating GetResponse plans make it an attractive solution for affiliates to promote.
The program is suitable for bloggers, content creators, online marketers, freelancers, small business owners, and marketing consultants, giving you a wide audience to promote the product to.
The program is free to join and open to anyone, and you don't need to be an existing GetResponse customer to become an affiliate.
Overall, GetResponse's program is a good choice for anyone looking to earn recurring or upfront commissions by referring clients to an industry-leading online marketing platform with a comprehensive suite of tools.
HubSpot is an all-in-one inbound marketing and sales platform that helps businesses attract, engage, and delight customers. The platform includes a range of tools, such as CRM, marketing automation, email marketing, social media, and analytics. HubSpot also offers a comprehensive learning center, community forum, and support resources to help businesses achieve their marketing goals.

If you're a content creator looking to monetize your audience, the HubSpot Affiliate Program could be a great fit for you. With two commission options - a recurring 15% monthly commission for up to a year or a flat rate of 100% of the first month's revenue - there's plenty of earning potential.
Plus, the average payout of $276 could add up quickly, especially considering HubSpot's plans range from $50 to $3,000+ per month, and customers tend to purchase more than one product at a time.
The program's generous 90-day cookie window ensures you earn commissions on sales you influenced, even if the customer doesn't purchase right away. And applying is easy - choose your preferred commission rate, apply through HubSpot's affiliate platform, Impact, and wait for approval - typically within three days.
It's worth noting that the HubSpot Affiliate Program is designed for promoting HubSpot within content and isn't set up to support direct client referrals.
If you're a consultant, agency, or other service provider looking for a program that supports direct client referrals, check out HubSpot's Solutions Partner Program instead.
Overall, if you're a content creator looking to monetize your audience and promote HubSpot's software, the HubSpot Affiliate Program is a great option to consider.
Elementor is a popular website builder that lets users create professional-looking websites without coding skills. It offers a range of customizable templates and widgets that allow users to easily build their own unique website. With its user-friendly interface and powerful features, Elementor has become a go-to platform for web creators around the world.
If you have an online presence and a following interested in web creation, Elementor's program is an excellent opportunity to earn up to 50% commission on every sale.
With a comprehensive marketing kit, expansive creative library, and professional support, you'll have everything you need to maximize your conversions and build a steady stream of income.
As part of a fast-growing product that powers 8% of all websites globally, you'll have early access to news and updates, making it easier to market Elementor and generate revenue.
Semrush is a popular all-in-one digital marketing tool used by over 7 million marketers worldwide. It provides a comprehensive suite of features such as SEO, PPC, social media, content marketing, and competitor analysis tools to help businesses optimize their online presence. SEMrush is a valuable asset for any digital marketer with its user-friendly interface and powerful insights.
Semrush's affiliate program is a great option for those in the marketing and business industry. One of the pros of the program is the $200 commission for every new sale, which is a high affiliate revenue compared to other affiliate programs.
The last-click attribution model and 120-day cookie life are also appealing features for affiliates.
Additionally, Semrush is a well-known brand with over 7 million users, including 1 in 4 Fortune 500 companies. On the downside, the program does not offer recurring commissions, which could be a disadvantage for some affiliates.
Nonetheless, with the support of an experienced account management team and promotional materials, the Semrush affiliate program can be a lucrative opportunity for marketers, content publishers, agencies, and other all-around marketers.
Amazon is one of the most recognizable global brands and a household name for online shopping. With a wide selection of products and competitive prices, Amazon has become the go-to online marketplace for many consumers. In addition to its massive retail business, Amazon also offers an affiliate program for individuals and businesses to earn money by promoting products on their website, blog, or social media channels.
The Amazon affiliate program, also known as Amazon Associates, is one of the world's most popular and reputable affiliate programs.
As an affiliate, you can earn commissions on millions of products sold on Amazon by placing unique affiliate links on your website or social media channels. The program offers competitive commission rates, ranging from 1% to 10% depending on the product category, and the ability to earn advertising fees from purchases made within 24 hours of clicking your affiliate link.
One of the biggest advantages of the Amazon affiliate program is the sheer volume of products available for promotion. With millions of products across dozens of categories, affiliates have plenty of options.
Additionally, Amazon offers a range of helpful tools and resources to assist affiliates with tracking and analyzing their performance and optimizing their promotional efforts.
That being said, one potential downside of the Amazon program is the relatively low commission rates on certain product categories.
For example, commissions on electronics and video games are capped at just 2.5%, which can make it difficult for affiliates to earn a substantial income in those areas. Also, Amazon's strict policies and guidelines can make it challenging for new affiliates to get started and maintain their accounts.
Overall, the Amazon affiliate program is a good choice for anyone looking to monetize their website or social media channels through affiliate marketing. With its wide selection of products, competitive commission rates, and robust tools and resources, it's no surprise that Amazon Associates is so popular.
Awin, formerly known as Affiliate Window, is a global affiliate marketing network offering various affiliate programs for various industries. Their vast network of advertisers and publishers makes it an excellent platform for affiliate marketers looking for diverse opportunities. Awin boasts over 15,000 advertisers, including some well-known brands such as HP, AliExpress, Etsy, and Forbes.
The main advantage of Awin is its wide variety of programs available in different niches, allowing affiliates to choose the ones that align with their audience's interests. It's one of the top affiliate networks thanks to the many partners and products participating in it.
They also offer competitive commission rates, with some programs offering up to 50% commission on sales. On the flip side, some of their partners complain about the difficulty of navigation in their offers and deal accuracy.
Additionally, their customer service can be slow to respond, which can be frustrating for affiliates who need assistance.

Another potential downside of Awin is that they have a $5 sign-up fee, which may deter some potential affiliates from joining. And their payment threshold is $20, which may take some time to reach for smaller affiliates.
Overall, Awin can be a wonderful option for experienced affiliates who are willing to put in the effort to find the right programs to promote and have a clear understanding of the fees involved. However, better options are available for beginners or those looking for a more straightforward affiliate program. Also, when you want to monetize a certain niche, it might be better to reach out directly to the affiliate program manager and strike a better deal that way.
Fiverr is an online marketplace that connects freelancers with clients from all over the world. It offers a wide range of services, from graphic design and content creation to programming and marketing. The platform allows freelancers to create profiles, set their own rates, and showcase their portfolios to potential clients. Clients can browse through various categories and hire freelancers for one-time or ongoing projects. Fiverr has become a popular destination for freelancers and clients with millions of users and diverse services.
As an affiliate of Fiverr, you can earn commission by promoting the platform to your audience. Fiverr offers CPA and revenue share plans.
The CPA plan pays a fixed amount ranging from $15 to $150 for every first-time buyer who purchases a service on Fiverr through your affiliate link, depending on the service category or subcategory. For instance, whiteboard and explainer videos offer a CPA of $50, while logo design offers $1512.
The affiliate program revenue share plan rewards you $10 for every first-time buyer who purchases a service on Fiverr through your affiliate link, plus 10% of every purchase made by the same buyer for 12 months. This means you can earn recurring commissions from repeat buyers who order multiple services on Fiverr.
You can also promote other Fiverr products and services, such as Fiverr Business, Fiverr Learn, Fiverr Logo Maker, and Fiverr Workspace, each with its own commission rate and code.
The advantage of the Fiverr affiliate program is the wide range of services on the platform. From graphic design to programming and writing, Fiverr offers a broad selection of services that cater to various industries and niches. This diversity makes it easier for affiliates to promote the platform to their audience.
However, a potential downside of the Fiverr affiliate program is the $100 high payout threshold. This means that affiliates need to earn at least $100 before receiving their commission. This may be discouraging for smaller affiliates who generate low volumes of traffic or conversions.
Overall, the Fiverr affiliate program is a good option for affiliates looking to promote diverse services and earn high commission rates. Its broad selection of services and promotional tools makes it a good fit for marketing bloggers and agency owners looking to monetize their content.
However, the high payout threshold may deter smaller affiliates from joining the program, and the lack of reliable recurring revenue might discourage larger affiliates from investing in it.
Bonus: The best affiliate marketing programs that launched in 2023
In being a successful affiliate marketer good product is the most important part. But except that, it's also valuable to be first to promote and establish a presence in an affiliate program.
Be it may by positioning reviews or guides, or maybe by reaching out first to certain communities with an offer. To give you that chance, we've compiled a list of the best affiliate programs for beginners launched in 2023 or by the end of 2022.
HelpDesk affiliate program
We're biased again, but it is true - this affiliate program offers, lifetime recurring commission, and just launched its affiliate program with us. Check it out here.
HelpDesk is a fast-growing simple ticketing system that lets teams manage all customer messages in one place. You can collaborate faster with your team, automate tasks, and send ready messages to provide excellent customer service. They also include AI in their product.
As an affiliate, you can earn a 20% recurring lifetime commission for each client you bring. We allow you to use PPC campaigns in promoting HelpDesk and bid on any keywords (of course, within reasonable guidelines, excluding scams, etc.).
Join HelpDesk affiliate program here and take advantage of one account to promote LiveChat, ChatBot and HelpDesk in one affiliate program.
Copy.ai affiliate program

CopyAI is a platform that offers powerful AI copywriting tools to help marketers and business owners write all the copy they need for their business, such as product descriptions, blogs, social media copy, and landing pages.
They just launched an interesting alternative to ChatGTP, allowing for scraping and summarizing website data. As far as tools for improving writing, they are on fire.
The CopyAI affiliate program allows affiliates to earn a 45% commission on all payments within the first 12 months of a paying user's subscription.
Their affiliate marketing program has been available since 2021 and is suitable for all ecommerce businesses (as every online store needs copy). The limited time of commission earning is a strong disadvantage, but they might be a nice addition to other offers.
Notion affiliate program
If you are looking for a tool to help you manage all your marketing tasks, projects, and content in one place, you might want to check out notion.so. Notion is a platform that lets you create, organize, and collaborate on various types of content, such as wikis, docs, and projects.
You can use Notion to plan your marketing campaigns, write your copy, track your metrics, and more. Whether you are a solo marketer or part of a team, Notion can help you streamline your workflow and achieve your marketing goals.
Have you heard the buzz about the latest edition of Notion AI? This cutting-edge technology has taken the internet by storm and for good reason! Notion AI is a revolutionary tool offering unparalleled benefits for content creators, entrepreneurs, educators, and media networks.
One of the most exciting aspects of Notion AI is the accompanying affiliate program that was recently re-opened in the middle of 2022. This program offers up to 50% in commission rates, making it an enticing opportunity for those looking to earn some extra income.
However, it's important to note that the commission length is only 12 months. While this may seem like a reasonable amount of time, it's worth considering whether this makes Notion AI a viable long-term investment for passive income.
Overall, Notion AI and its accompanying affiliate program are exciting developments in the tech world. If you're a content creator, entrepreneur, educator, or media network looking to stay ahead of the curve, it's definitely worth looking into. Just be sure to weigh the potential benefits against the commission length before deciding.
Softr affiliate program

Softr is a no-code platform that allows you to build web apps and websites powered by your data sources, such as Airtable or Google Sheets. You can use Softr to create different types of apps, such as client portals, CRMs, inventory management, and more. You can customize your app with pre-built and functional blocks like lists, charts, forms, tables, and maps. Softr also integrates with popular tools like Zapier, Google Analytics, Stripe, and Mailchimp. With Softr, you can build and launch your app in minutes without developers or coding skills.
Mobile apps have become an essential part of our digital lives. With the recent launch of mobile app builders, the market for low-code and no-code builders is hotter than ever. These builders allow even those without coding experience to easily create their own mobile apps.
However, as with any opportunity, there are also some drawbacks. One of the cons of this particular mobile app builder is the limited time frame of the commission, which lasts for only one year.
Furthermore, the commission percentage offered within this short time frame may seem low to some, as it stands at 20%.
Despite these potential drawbacks, the allure of creating your own mobile app with minimal coding knowledge is a prospect that shouldn't be overlooked. With the right approach and strategy, one can make the most of this opportunity and create a successful mobile app.
A word about your affiliate link
One perk that doesn't appear in all affiliate programs is the ability to customize your promo offer (and therefore add custom UTMs to your affiliate link).
Here's an example.
Upon joining our Partner Program, you get access to our Partner App where you can create custom offers for your audience. Using the campaign builder, you can:
add a custom name to your campaign to track its effectiveness,
add a discount for your audience ($10 credit for a start or 10% off the first payment),
change the trial length,
choose a landing page,
and add the custom parameters (allowing you to track affiliate links).
Once you create such a campaign, your links will differ from the generic ones, just like in the example below.
Thanks to having the ability to customize your offer, your promotions will gain more interest from your audience. That's why it's a good thing to look for while looking for a perfect program for you.
Choose your affiliate marketing program wisely!
In conclusion, joining affiliate marketing business can be an excellent way for bloggers, content creators, agencies and review sites owners to earn extra income by promoting products and services to their audience. Many of them are also suitable for beginners, so if you're just starting, you still have a great chance to succeed (especially if you read our guide, Affiliate Marketing for Dummies).
Many affiliate programs are available, each with its own advantages and disadvantages.
When choosing from best affiliate marketing programs, it's essential to research and consider factors such as commission rates, program selection, and fees. Picking programs with a lifetime recurring revenue is a great long-term investment in your passive income.
So, to sum it up, best affiliate marketing programs should:
give every affiliate marketer an opportunity to earn decent money,
give you a good affiliate marketing platform so you can easily monitor your progress,
have ready-to-use resources you can download and publish on your affiliate site,
should have a dedicated account manager or at least a good affiliate program faq,
and give you access to their affiliate networks.
Sure, not all affiliate program offers contain these perks, but it's worth choosing the ones that have them.
Our list of the top ten affiliate programs includes a variety of options, from niche-specific programs like LiveChat and Elementor to broader networks like Awin and ShareASale. It's important to remember that each program is unique, and what works for one affiliate may not work for another.
We encourage you to explore these programs and find the ones that align with your brand and audience.