Showing top

0

results

0

results found
Showing top

0

results

0

results found
What are Affiliate Links and How to Use Them Correctly
9 min read
Mar 9, 2023
Affiliate links may sound like a complex concept, but they're actually pretty simple.
An affiliate link is a special web link that allows someone to earn a commission for promoting a product or service. When someone clicks on a such link and buys something, the person who shared the link earns a percentage of the sale. It's a way for people to earn passive income by recommending products they like.
Affiliate marketing, because that's what we're talking about, is a win-win situation for everyone involved. Companies get more exposure, affiliate marketers promote affiliate links and get paid, and customers get to discover awesome products they might not have found otherwise.
So now, let's talk about the most crucial thing: how to use affiliate links. Contrary to appearances, it's not just about copying and pasting. I'll also explain what you should look for in your perfect affiliate program and what link customization opportunities it should give you.
The structure of an affiliate link
The basic structure of an affiliate link looks always the same: apart from the destination URL, it contains your unique affiliate ID. As easy as that.
However, if you find a good affiliate program, it'll allow you to customize your promo offer - you'll be able to create your own unique affiliate link.
Here's an example.
Upon joining our Partner Program, you get access to our Partner App where you can create custom offers for your audience. Using the campaign builder, you can:
add a custom name to your campaign to track its effectiveness,
add a discount for your audience ($10 credit for a start or 10% off the first payment),
change the trial length,
choose a landing page,
and add the custom parameters (allowing you to track affiliate links).
Once you create such a campaign, your links will differ from the generic ones, just like in the example below.
By choosing additional perks (like a longer trial period or a discount), you increase the chance that your audience will be interested in your offer. By adding custom names to your offers, you can track the effectiveness of a given campaign. And by choosing the right landing page for your campaign, you're increasing your chance of convincing your audience to give our products a try.
Earn with the LiveChat Partner Program
Build your custom offers, engage your audience and get 20% commission for a lifetime!
Easy money withdrawal
Dedicated Partner App
24/7 support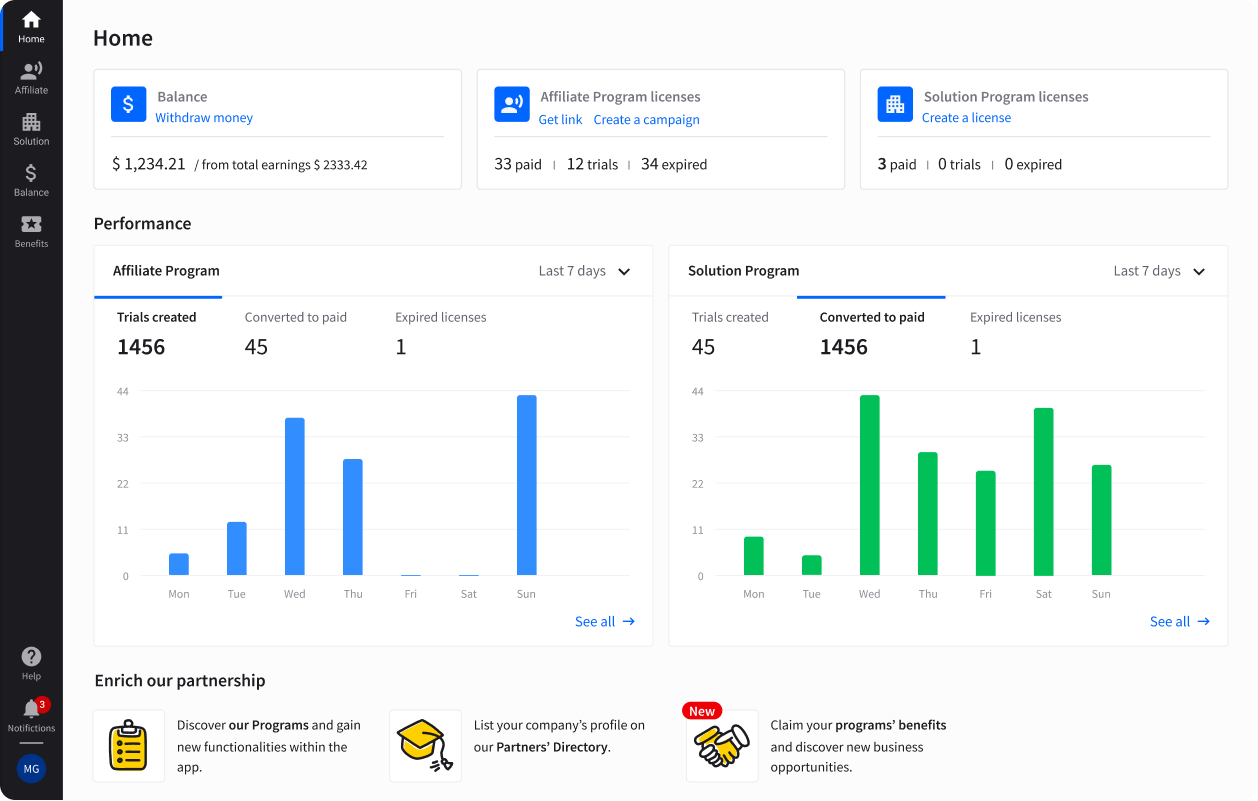 How to use affiliate links - properly
As soon as you have your exclusive affiliate link, you are practically all set to sprinkle it evenly throughout your content.
However, before you go ahead pasting links all over the place, better learn the best practices by heart. Here are some tips for you to optimize your own affiliate website and reap some SEO benefits.
1. Add anchors to affiliate links
Put affiliate links in the body of the article by making certain words or phrases clickable. Such a hyperlink would look much better than a bare link added to a page:
Which link looks better to you? I bet that's the second one!
The contextual anchor is much more appealing — it's clear, user-friendly, and looks nice, in contrast to the bare link (especially since the latter contains dynamic parameters and looks messy).
Make the anchor text of your link descriptive and relevant to the linked source. Your users should instantly understand where they will go once they click through.
How to add affiliate links in WordPress
In WordPress, adding links is quite easy. Just log in, add a new post, and click on the "Insert link" button in the WordPress editor.
Then, add your link and specify what description to use as the clickable text.
You can also just match the part of your copy before you click on 'insert link' and then this part will become your anchor by default.
Once you do your edits, decide whether you want the affiliate link to open in a new tab or in the same tab. Remember that if you set it to open in the same tab, a user will leave your site. Therefore, I would suggest you always set the links to open in a new tab to avoid breaking up the session.
Then just click on the blue 'add link' button below, and you are done here.
2. Affiliate links density
Balance your link density.
One method of balancing the number of links you paste in your copy is to include one affiliate link per piece of content (page, article, or review). Although this is the best solution when it comes to promoting your affiliate campaigns, this is also more time-consuming and work-demanding than adding various links to one lengthy post.
No matter what approach you choose to follow, the main point here is not to go too heavy on the links.
According to Brian Dean:
"Affiliate links themselves probably won't hurt your rankings. But if you have too many, Google's algorithm may pay closer attention to other quality signals to make sure you're not a 'thin affiliate site.'"
Find a healthy balance between monetization and user experience. Make sure you bring value and educate your visitors about the chosen topics.
Join the LiveChat Affiliate Program!
Promote our excellent customer service products and monetize your efforts.
Ready-to-use resources
5-star products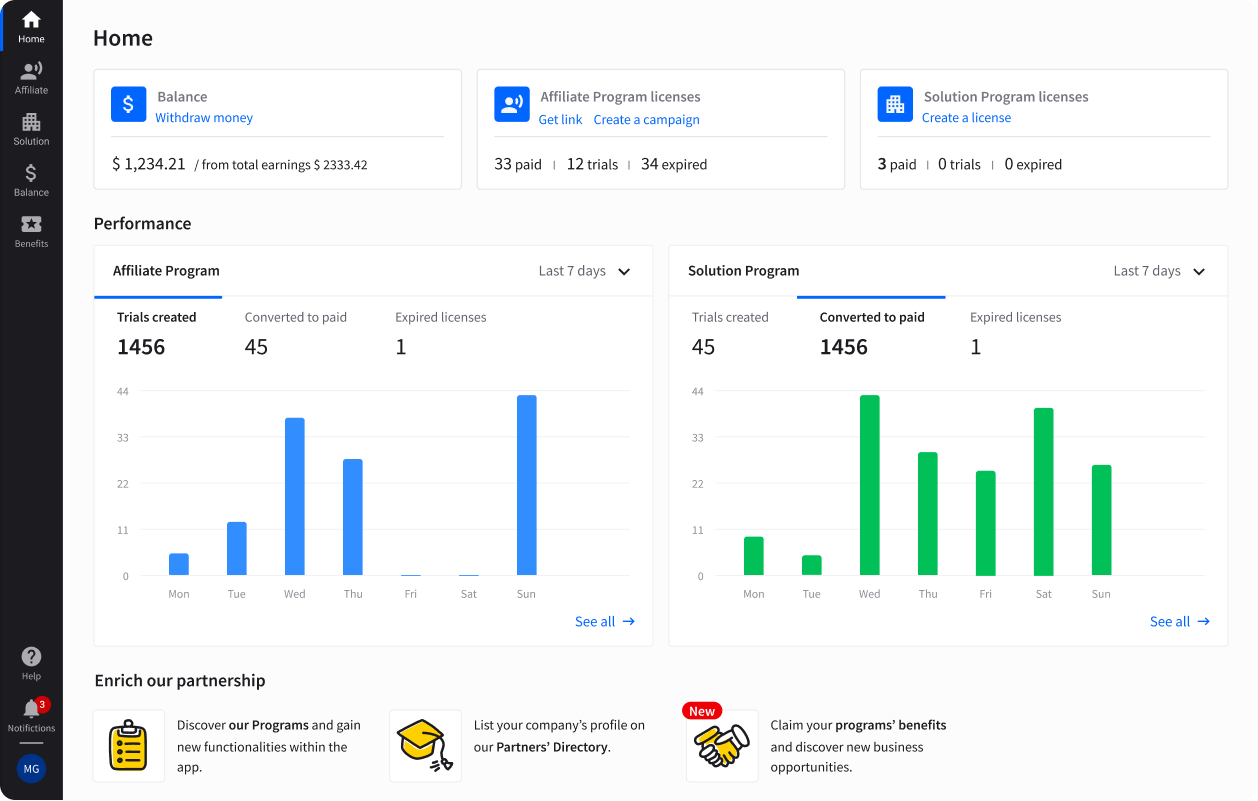 3. Tidy up your affiliate links
Make your affiliate links clean and more user-friendly. Even if your affiliate link is hidden behind a relevant and descriptive anchor, it's always a good practice to clean it up, making it even more readable and understandable for your users. Of course, you should be careful doing this because in some circumstances there is a risk that your merchant will find it harder to determine the source of traffic or the affiliate's ID.
Links containing dynamic parameters are long and often look ugly. This can deter users from clicking them. Mainly because people fear ever-present spam. They also react negatively to promotional links.
Take a look at the example provided by Sugarrae:
This is how affiliate link promotion for OptinMonster looks without cloaking:
http://www.shareasale.com/r.cfm?b=601672&u=313242&m=49337&urllink=&afftrack=
And here is a link for OptinMonster after tidying it up:
https://sugarrae.com/getit/optinmonster
Now you see the difference, right?
These two links lead to the same destination, and they both track the same affiliate cookie correctly. Which one looks more trustworthy to you? And which one would you prefer to click?
If you use WordPress, there is a pretty helpful plugin that makes your links more beautiful right away.
Pretty link lets you use tidy links and describe them according to your preference.
Typical link shorteners such as bit.ly shrink your links, but don't make them more readable. They still appear spammy to the visitor.
Apart from masking your links, Pretty Links features a hits tracker and a reporting interface where you can see a configurable chart summarizing clicks day by day - so you can use it to measure clicks from various campaigns- including emails, social media, etc.
You'll find more information about affiliate link cloaking here: How to Cloak Affiliate Links (& Why You Should)
4. Nofollow affiliate links
Another good practice that you can and should use is adding the rel="nofollow" attribute to your affiliate links. As Google isn't big on affiliate links, it's a good idea to nofollow them to avoid the risk of having your site penalized. How does it work? Put simply, once you add a nofollow attribute, Google will ignore the link (i.e., it won't get the upvote mentioned before).
Here is a short video, where Danny Sullivan asked Matt Cutts about using a nofollow tag for affiliate links.
How to add the nofollow attribute to an affiliate link?
Log in to your WordPress panel
Go into your new post
Switch to HTML view by clicking the Text tab
Find your affiliate link (use ⌘G)
And just add rel="nofollow" within the a tag
By default a link looks like this in HTML:
5. Implement them the right way
Where to put your affiliate links? Well, you've probably already guessed that your affiliate marketing strategy has to be tied up with your content marketing.
We've already talked about affiliate link density in a prior section, so now it's time to determine where to put your links to power up / beef up your click-through rate.
Affiliate links can technically be used everywhere, so this is your call on how to play it. Your whole strategy for links should be compelling and well-balanced. Optimize it for best results. Be subtle and contextual. Also, make sure you don't appear promotional or spammy.
Blog Posts
Insert your links into blog posts where it makes sense, and it's relevant. In general, it's up to you as long as your primary intention is to be helpful and provide information that helps users solve real problems.
Sidebar
Another option is to put your links on a sidebar within your blog. In this case, your content links shall be accompanied by clickable banners. This method can supplement the links in your copy and still look non-intrusive and user-friendly as long as your sidebar banners are limited and in number and embrace the same style.
Visuals
Another good idea is to link relevant visuals, so they are clickable. This makes sense especially if you are reviewing your affiliate products.
This way if a user clicks on an image added to your post, they'll click through to a particular product page.
Youtube video description
You can think about recording YouTube videos with an honest product review or a simple tutorial (you should - of course - post it on other social media platforms too). Make sure to mention that you have a special offer for your audience (it's important to be transparent about your being an affiliate) and place the link in the video description.
Join the online communication market
Join our Partner Program, promote our products, and change ecommerce for good!
20% commission
24/7 support
Top-notch products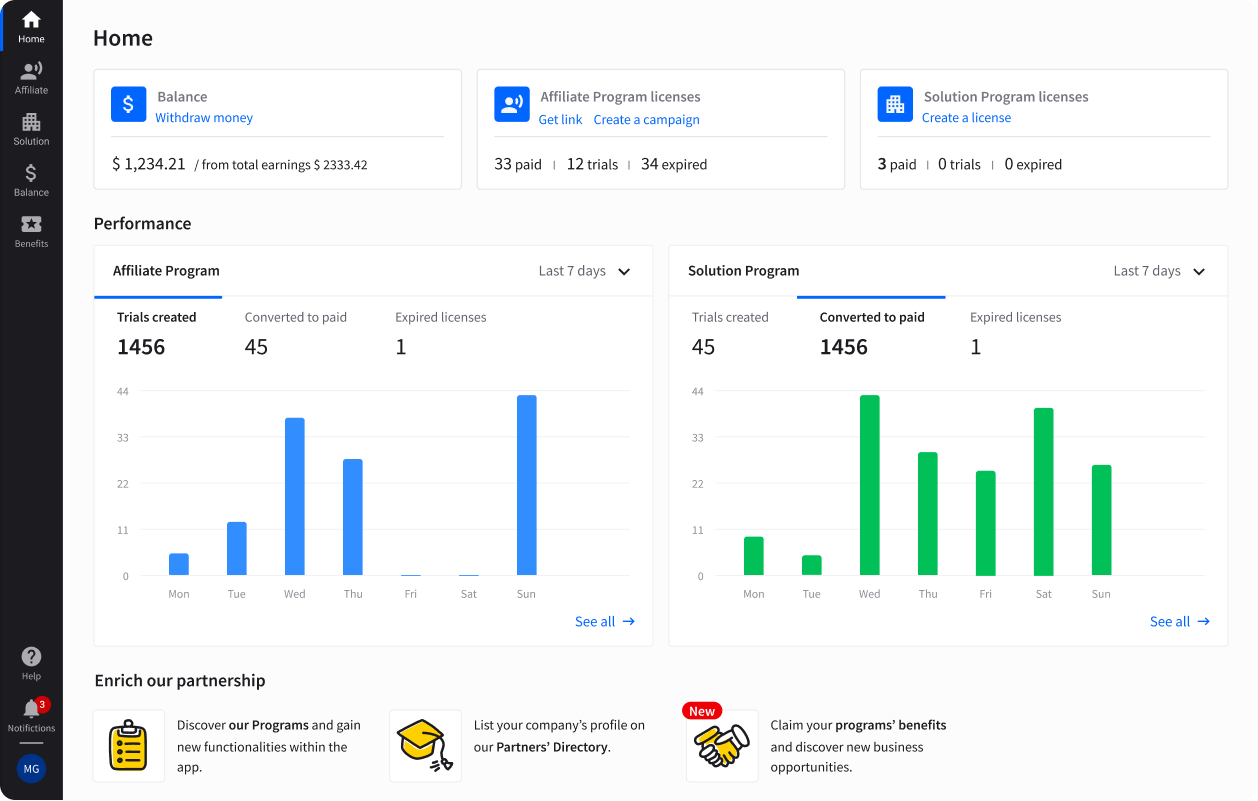 Great affiliate marketer vs perfect affiliate program
Affiliate marketing has become a popular way for people of making money online and it's not hard to see why. You don't need any special skills or qualifications – just a passion for sharing the things you love with others (and maybe a good content marketing strategy ;).
Now, you know the ins and outs of using affiliate links successfully. The next step in your affiliate marketing efforts will be choosing your niche and the right affiliate program. Choose one that operates within a niche you're passionate about, and that offers ready-to-use resources and 24/7 support.
Then, focus on link building, grow your affiliate network, get to know like-minded people, build your affiliate sites, and think about joining our affiliate marketing program of course!