Showing top

0

results

0

results found
Showing top

0

results

0

results found
How the use of Presale Content can Boost Your Affiliate Sales
5 min read
Mar 30, 2017
Affiliates don't sell. Affiliates recommend. If this conclusion is the only thing you'll remember from this article, we'll consider our job done here at LiveChat Partners. The understanding of the role affiliate marketers play in the whole sales process is crucial. It makes you acknowledge how valuable presale content is and what impact it actually has on the rise of affiliate sales.
What is presale content
Many affiliate marketers tend to focus their efforts on broad product promotion. They use their websites and social media channels to share their affiliate links and shout out loud how amazing product/service they promote is. Basic assumption they usually make sums up with the following sentence: The larger the scale, the better. Unfortunately, this barely ever works.
Of course, such activity can bring some success, but it is certainly not worth all the effort. Worse, sometimes affiliates' approach comes down to harassing potential customers with promo-oriented copy. Instead of converting leads, they lose them - forever.
The bottom line remains the same: affiliate marketing is not about selling.
It never was, actually! Apparently, successful marketers seem to understand it and base their strategy upon the whole other assumption. Instead of selling their affiliate products directly, they provide potential customers with information aimed to build their understanding of what their affiliate products really are.
This is exactly what presale content is all about! It aims at letting customers' know that:
affiliate products they offer actually exist,
affiliate products have a set of distinctive features that customers may be interested in using,
customers can benefit from using affiliate products in a very specific way,
recommended products are well-known and proven as other customers (similar to those who are targeted by presale content) have already benefited from using/having them.
Boost affiliate sales with presale-friendly approach
Instead of trying to sell your affiliate products straight away, try to focus on stuff you can actually control. Wouldn't it be better to engage customers into your communication journey by answering their concerns?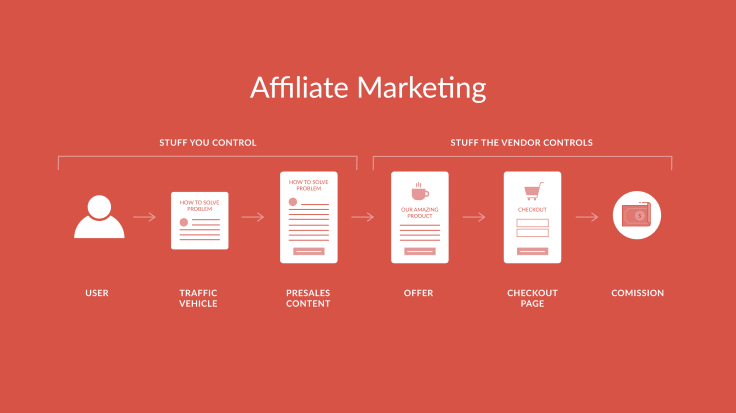 The scheme above shows the most efficient affiliate marketing strategy. It stresses the necessity of presale content use and indicates how careful and patient should affiliates be when approaching their leads.
Traffic Vehicle is something we call the first communication attempt you make to your customers. It usually explains the existence of particular issues customers should be familiar with and then, it hints possible ways of dealing with those problems. It has to be thorough, convincing and make your customers relate to it.
Traffic vehicles don't link directly to affiliate products' websites, though. CTAs they contain should rather take customers to your website (social media profiles, Quora answers, etc.), where presale content awaits them. Meanwhile, presale content provides already intrigued customers with even more comprehensive set of information about the issue that brought them on your website. It has to be persuasive enough to make customers conclude that the problem it refers to is actually worth fixing.
This is where affiliate products' recommendations step in and where CTA to products' websites occur. Still, all the suggestions refrain from being purely promotional. On the contrary, they strive to explain how exactly can customers meet their needs using your affiliate products. Clearly, there is no place for cheap encouragements.
Presale content is all about being specific, informative, and helpful. The rest is in the hands of affiliate products websites, optimized especially to turn qualified leads into happy customers. Affiliate sales depends on their efficiency.
Presale content main bullet points
There are 3 basic tips to stick to and see the results occurring faster than you'd expect.
1. Target your audience carefully
While everyone might want to purchase your affiliate product, there could be dozens of different reasons for which people find it interesting. Therefore, try to segment your target audience on the basis of key selling points that your affiliate products have.
LiveChat, for instance, can be marketed differently to salespeople (built-in lead generation features), e-commerce companies (chat invitations efficiently boosting conversion) and customer service teams (canned responses influencing productivity).
The bottom line is: you need to know your affiliate products perfectly and analyze your target audience carefully. Fortunately, tools like Similartech should help you with it effortlessly (and prospect your leads very efficiently, by the way).
2. Don't be sales-oriented — inform instead
Stay informative and very specific. It's important to underline key selling points of your affiliate products without being too pushy. Simply, let customers know the difference between what you recommend and what other products bring to the table.
ChatToolTester's activity is a perfect example of the right approach. To say that their live chat tests are extremely professional is an understatement. They pinpoint key features of various tools and explain what benefits can customers get using them.
Hence, with a high quality of presale content, ChatToolTester.com is not only a reliable source of knowledge for potential customers, but also a successful LiveChat affiliate.
3. Use Different Traffic Sources
Don't hesitate to try various tools to increase your chances of making money online. Our UTM-based performance report will help monitor the conversions to see if they are paying off. Meanwhile, Google AdWords and AdSense can drive traffic to your website by efficiently delivering your traffic vehicle content.
The beauty of presale content is that it boosts affiliate sales with patience and informative approach. What's left for you to do is to get to know your affiliate product, and prepare your own strategy. Then, implement it carefully and see how your affiliate leads convert into customers!