Showing top

0

results

0

results found
Showing top

0

results

0

results found
5 Savvy Affiliate Marketing Techniques to Boost Your Business
12 min read
Feb 15, 2021
Affiliate marketing is one of the most popular and easiest ways to make money online, and it has several pros and cons you need to evaluate to see if this kind of business works for you.
It's worth mentioning that affiliate marketing is an umbrella term covering many techniques to employ and generate profit.
If you're wondering which affiliate marketing techniques would be the best for you and what affiliate marketing techniques are the most profitable, read this post thoroughly because I'm going to x-ray this topic right now.
Affiliate Marketing in The Past
In the early days of online marketing, being an affiliate was way easier because the Internet was much smaller.

Long story short, most websites were created by small and nimble businesses and affiliate marketers.
The web wasn't as overcrowded as it is these days. As a result, driving a steady stream of revenue used to be a piece of cake.
The primary affiliate marketing process was all about: finding right affiliate products; setting up affiliate websites (or just a one affiliate site) to market your products on; identifying around 50 strategic keywords for each affiliate product; writing unique content wrapped around these keywords. And voila! The process usually did well.

In the meantime, big businesses were gradually becoming more aware of online marketing's measurable business potential and started to invest more and more effort, focus and budget into their online presence.
At the same time (in the mid-2000s) search engines were evolving, becoming increasingly smarter. Then, Google started to favor big brands in SERPs shaking up its search results.
Blogs underwent a transformation, and as a result, many personal diary-style projects (blogs) were dwarfed by business blogs with larger readership and authority.
Empower entrepreneurship
Get a steady stream of passive income.
Easy money withdrawal
Open APIs
Promotional materials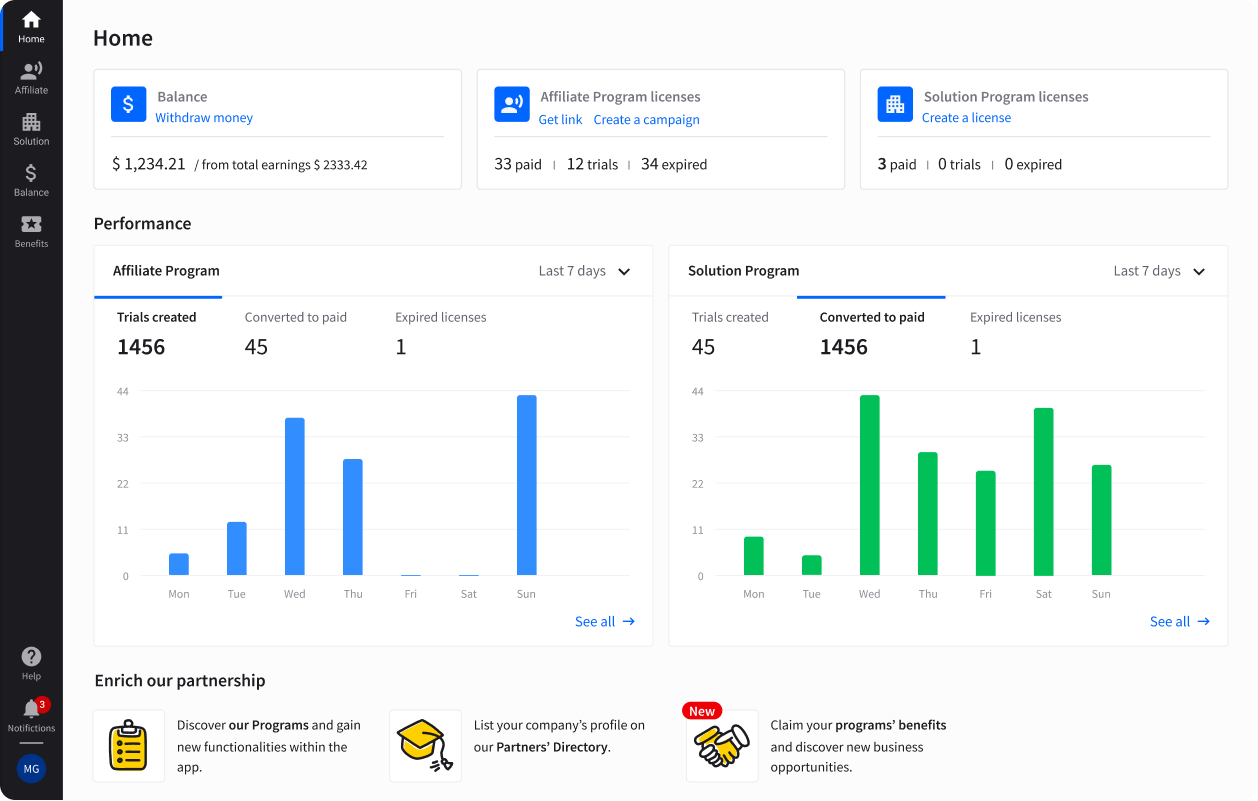 At some point, Google also started to downgrade low-quality and dated affiliate websites that didn't follow SEO best practices. This shift perfectly illustrates the essential need of adapting your product to your customers and never the other way around.
However, affiliate marketing isn't dead; marketers just had to move on and implement new and more mature online marketing techniques into their day-to-day activities and websites.
You can still be successful as an affiliate, it just takes a quality approach and embracing best blueprints.
Let's now focus on savvy affiliate marketing techniques to boost your business in 2021.
1. Coupons
Coupons used to be a huge player in the world of affiliate marketing for many years.
An online coupon business can be a profitable one. As an affiliate, you can rely on coupons to let your customers get a discount offer and a great deal on a particular product. The best part is that as long as you help people save some money, they are going to keep coming back.
Take a look at how a coupon promoting LiveChat can be applied.
The essential component of this strategy is always to share the best deals at your disposal. Even if the commission isn't going to be the highest, you are going to earn the trust of your audience and it will eventually pay back.
Users are going to keep checking back with your website anytime they want to purchase another product. You should be thinking strategically here and go for a long-term approach to your payoffs.
Coupons can be easily submitted either to external coupon and special deals websites or your own dedicated coupon site. Apart from coupons themselves, you should also add some extra value in the form of information about a product and work on user interaction.
Therefore, make sure you add some options which allow your users to get involved - comment on your offer, rate your product, join the community forum, etc. And there are specific tools to take advantage of.
Coupon affiliate marketing has many benefits:
Firstly, you provide discounts, and this is always more than welcome.
Secondly, it isn't heavy on content so if you don't enjoy writing long blog posts or copy this strategy can be a great fit for you.
Thirdly, you don't need to stick to a single niche, but mix and match more.
Next, if you know how to maintain quality and earn valuable backlinks, you're going to stand out as many coupon and deal sites are spammy.
One significant disadvantage is that competition can get intense depending on the niche and reliance on SEO. But these two challenges are inherent to all online marketing strategies.
2. Use pay per click advertising (PPC)
You can use paid advertising to promote affiliate programs and scale your growth. Specifically, to grow your mailing lists and promote webinars or YouTube videos, or to simply direct searches to the vendor website.
In simple words, pay-per-click advertising (PPC for short) is a way of leveraging search engines to drive highly targeted traffic usually to a particular landing page.
In the PPC advertising model, you won't pay for placing your ad on a search results page, but for individual clicks.
PPC is the art of purchasing and optimizing the right ads for the given phrases. For instance, when search engine users type particular keywords into the search bar - keywords you are targeting - your ad pops up in one of several ad placements (locations) of the search results page in Google, Bing, or Yahoo.
Your ad can appear:
at the top and bottom of a search results page (example from Google):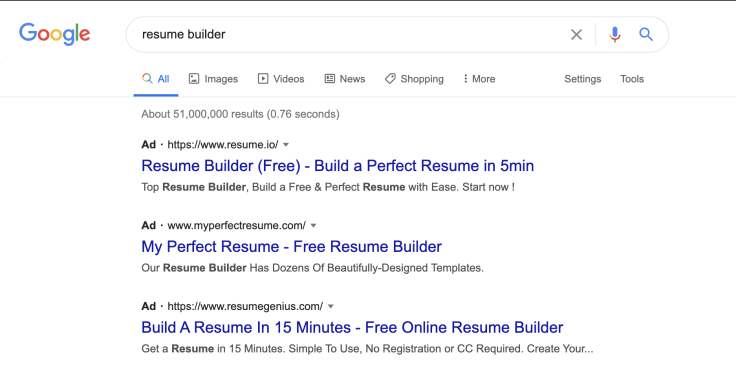 Many affiliates get instantly hooked on PPC because this channel allows you to make sales immediately. However, it requires some know-how (and funds) before you jump into this technique. So how to use PPC advertising for affiliate marketing efficiently?
First, make sure you acquire in-depth knowledge of PPC as well as the targeted market. If you want to hit the ground running, dive into a dedicated guide like The Ultimate Guide to PPC Affiliate Marketing.
PPC Affiliate Marketing - it's not as easy as it might seem.
Once you dig deeper, you'll quickly realize that it's not enough to outbid your competitors. Google evaluates the quality of the ads and favors the more appealing ones. Creatively written ads naturally generate more clicks and are listed higher.
3. Start Writing Reviews on Your Own Affiliate Blog
A review-focused affiliate blog is a great place to start your adventure with affiliate marketing.
Why? Just think about it.
As a marketer you probably use many tools on a daily basis - and these are not only marketing tools or work-related tools. I bet there are many personal products you use every day, and, in principle, you could become a spokesperson for them and market them as an affiliate (of course, if they have an affiliate program). So if you are an affiliate marketing beginner, you could start with that.
Create a website and start writing about your favorite products and release your opinion to the public in the form of an affiliate review. Such a technique of writing and publishing affiliate reviews has been called involved affiliate marketing by Pat Flynn.
According to Pat, this technique is also the most effective because using the product you're selling is the best seal of approval.

Inspire your audience
Spread the word about our products and increase your revenue.
Easy money withdrawal
Open APIs
Promotional materials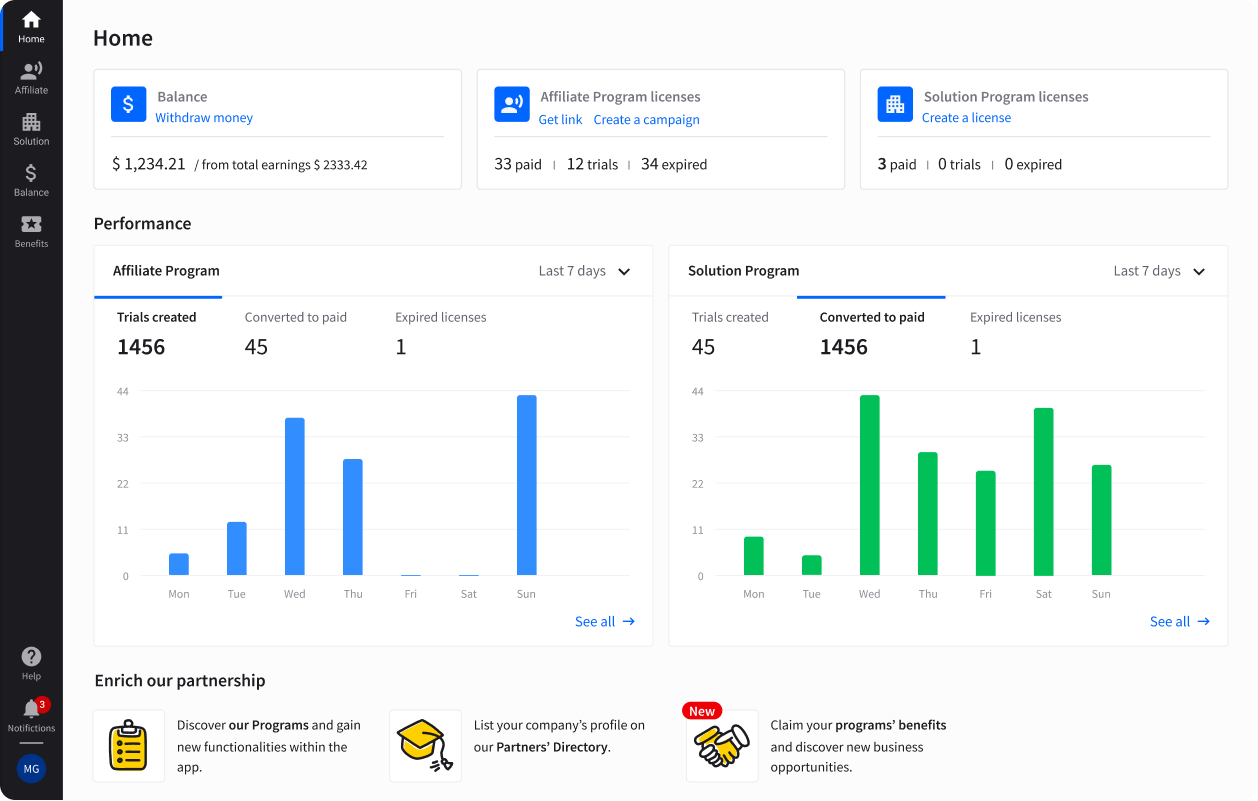 How to come up with a good product review
Make sure it's genuinely helpful and talks about a given product comprehensively. It should showcase its benefits and shouldn't hide any flaws or defects. Coming up with highly educational, honest, and in-depth product reviews will boost your authority and win you a loyal audience made up of people who trust your opinion.
Of course, this comes with a responsibility that shouldn't be taken lightly. Loyalty is one of the crucial factors for a review-focused affiliate marketer. Obviously, you should add affiliate links to these affiliate products at the right places within your review.
On the other hand, if you rely on your online reviews only to drive your affiliate income, you need a lot of organic traffic coming to your affiliate website in the first place.
Maximize your affiliate site's results by implementing SEO best practices and ensure it ranks high in search engines.
The first page might bring you satisfying results depending on the search volume for a particular phrase in the targeted industry. Running a review blog might be time-consuming - it takes time to build up a reputation, strong following, and high volumes of targeted organic traffic.
That's why I wouldn't call it a fast way to make money online, but in the long run, for a determined individual who enjoys writing content, it may generate a stable flow of passive income.
We can say that review writing as an affiliate marketing technique is the exact opposite of PPC, since in the latter the customer may not even know you exist.
Apart from writing for a review website, you can run an affiliate blog that speaks about strategically chosen topics targeting the right keywords, and just add the (related) affiliate links into it.
If you decide to become this kind of blogger, then it's all about the content strategy you choose to follow. You'll have to conduct extensive keyword research that will let you detect content ideas with huge traffic potential that are also suitable for affiliate products you are trying to market.
On the other hand, creating a website isn't essential for affiliate marketing success even though you are a content-focused marketer.
Surprised? Well, don't be. Sure, it involves implementing other kinds of affiliate marketing techniques but it's not rocket science.
It takes three steps to succeed at affiliate marketing without a website:
Firstly, research the relevant 3rd party blogs and websites and then contribute.
Secondly, become a community leader - post on Quora or Reddit and establish your authority there.
Thirdly, fall in love with social media.
Read this article to explore the topic further: Affiliate Marketing: 4 Ways to Succeed Without a Website
4. Leverage Email Marketing
Perhaps you've heard that email is the most efficient online marketing channel these days? This simple fact makes it reasonable to leverage email marketing in your affiliate strategy.
How?
If you own a website, you can add a few calls to action that will help you accomplish that.
It can be an eye-catching hello bar tied to the top of your blog or the homepage. This way, anyone who visits your site is going to see it.
Example:
Such a hello bar can promote any marketing offer (ebook, report, worksheet, checklist, etc.) that will be sent to the user's mailbox in exchange for the email address and name they provide.
Apart from the hello bar, you can install, for instance, a behavior based popup that gets triggered when the user is about to exit the tab.
Take a look at the example of an exit popup: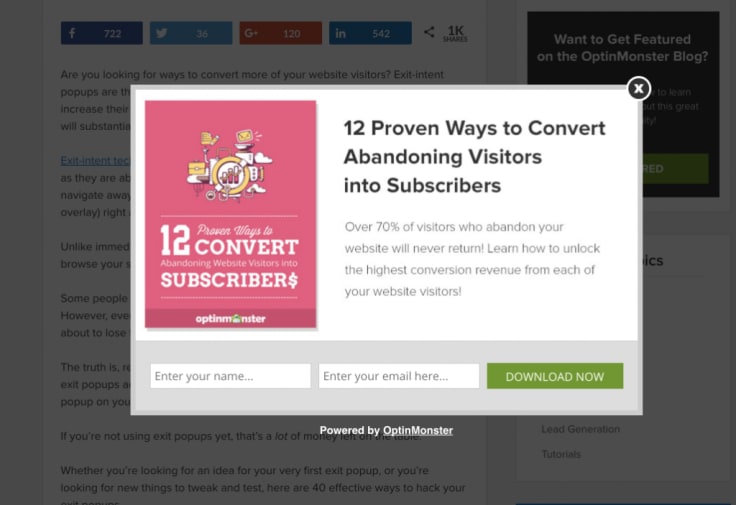 Also, you can add a sidebar widget similar to this one used by Optinmonster.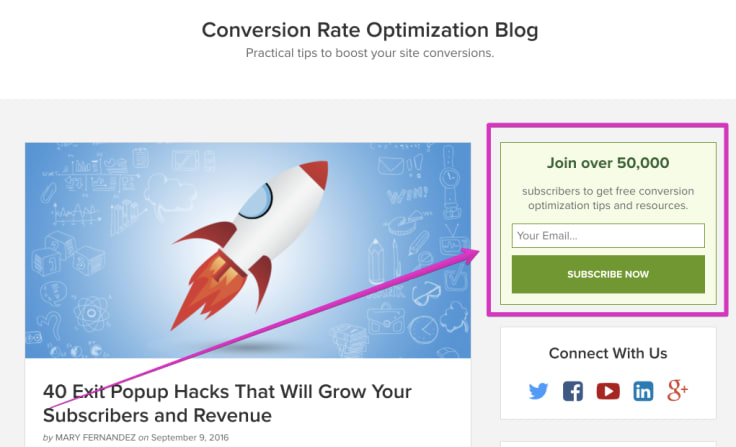 There are other creative options available to grow your email list. Add content upgrades at the end of your articles, or scroll box.
This way, you are building up your user base which you can later use for weekly newsletters or updates.
Make sure your emails are regular, engaging, and relevant to their interest.
5. Use Webinars to Promote Products
Webinars are another popular affiliate marketing method. They are becoming more and more popular because they are awesome. Webinars allow you to reach your audience on a unique level that content sites, PPC, or email marketing just can't match.
Consider this. Let's say you want to buy a pretty sophisticated product. What would you prefer to do to understand its functions and usability?
In the first scenario, you can read its documentation, product descriptions, and guides.
In the second scenario, you just join such a live webinar and the host guides you through all the possible benefits and ways of using it. You can actively ask any questions that come to mind and they get answered immediately.
What seems like a better product introduction to you?
I would go for the second option.
Webinars are a great chance to educate your audience about an individual product in an interactive and user-friendly way. You don't need to replace your content reviews with webinars. Use them as an additional promotional tactic in your affiliate marketing strategy. Research proves that live webinars are an effective way to boost conversions and - in the end - your commissions.
What are some basic rules of using webinars in affiliate marketing?
First of all, you should practice the role of the host before you start live streaming to help you get more comfortable. Prepare an outline with the most important points you would like to include in such a webinar and arrange these points in a coherent order. You can also create a few sneak peaks, upload them to Youtube, and promote them on social media.
Once live streaming is over, you can always keep the video on the site to share it with people who didn't join your webinar. This way, your work can snowball your income over time.
PS: We won't dive deeper into this topic today. However, we are going to share a comprehensive guide on how to use webinars for affiliate marketing soon, so stay tuned!
Bottom Line
As you can see from the article, there are many practical ideas and strategies to implement once you become an affiliate. All the affiliate marketing techniques mentioned are going to generate a stable stream of commissions if applied wisely.
One thing is for sure - affiliate marketing is still a viable business model these days. You just can't do it blindly by implementing dated methods and practices.
Moreover, both smaller and larger publishers can coexist in this industry. If you maintain an open-minded attitude towards online marketing trends and search engine algorithm updates, you are going to keep up with all the changes and do affiliate marketing that your customers will love.
Speak your mind
How do you like this article? Am I missing on something? Feel free to get in touch with us on Twitter.
Happy Marketing!
{{< block/signup title="Become our partner" subtitle="Build your business on excellent customer service products" buttonText="Join Partner Program" checks="Easy money withdrawal|Open APIs|Promotional materials" >}}