Showing top

0

results

0

results found
Showing top

0

results

0

results found
How to Start an Affiliate Marketing Business From Scratch
10 min read
Jul 13, 2023
So, here's a story for you.
I know a guy — a talented team leader and passionate marketer who knows exactly how to maintain a company's growth and how to improve on it with the right timing. Although he loved his job and felt firmly committed to anything he did there, being another cog in the corporate wheel was never right for him.
He felt the time was slipping away and that his life lacked excitement, travel, and adventure. He regretted not having enough freedom. He missed "the van lifestyle" — he used to be a free spirit before, a wanderer with a backpack.
So, each year he spent as a corporate drone was getting harder and harder for him. Maybe it was the routine; maybe it was the fatigue caused by the constant pressure of overworking and chasing deadlines. The bottom line was that it was time to do something about it. Finally, he took a gap year that has now lasted two years already and is unlikely to end anytime soon.
He just decided to be unsettled and transition to a full-time affiliate business so that he could finally embrace the unknown. It seems to have worked out for him very well.

Caspar David Friedrich - Wanderer above the sea of fog
Wish your life could work out this way?
The allure of living as a wanderer and leading a self-reliant life is powerful; who wouldn't want to make a living from passive income?
Nevertheless, making such extreme life changes is a great challenge, and not everyone has the guts to chase their dreams to this degree. Not everyone can flip their life upside down like that. Especially, when you turn thirty and it hits you that you'll never be younger.
But this courage and will to adapt and grasp the nettle usually pay off. And no one else but the brave gets exactly what they want.This short story touches on a frequent reason why people turn to an affiliate business at some point in their marketing career.
An affiliate marketing business is a freelance opportunity that lets marketers make money through a commission by selling third party products. And the best part is that affiliates can market from anywhere around the globe. The only requirement is just having a fast Internet connection to make this great freelancing gig work.
Your revenue is performance-based, so if you are a determined and skilled specialist in the marketing field, you'll get results fast and generate a decent stream of revenue in no time.
Anyway, before you terminate your contract and become a full-time affiliate-come-backpacker, launch it as a side project and put in some non-passive work. Supplement your income and see if and how the affiliate marketing business works for you.
And, first of all, read up on the deets in this piece to see how to get your affiliate marketing gig up and running. I've broken down this process into 5-ish actionable steps for affiliate marketing beginners.
How to Start an Affiliate Marketing Business
1. Start with What's Familiar
Are you thinking of becoming an affiliate marketer? Confused about how you can launch such a business? If your answer "yes" to both questions, you are at the right place to learn everything you need. The best answer to both questions would be this:
Start where you are. Use what you have. Do what you can.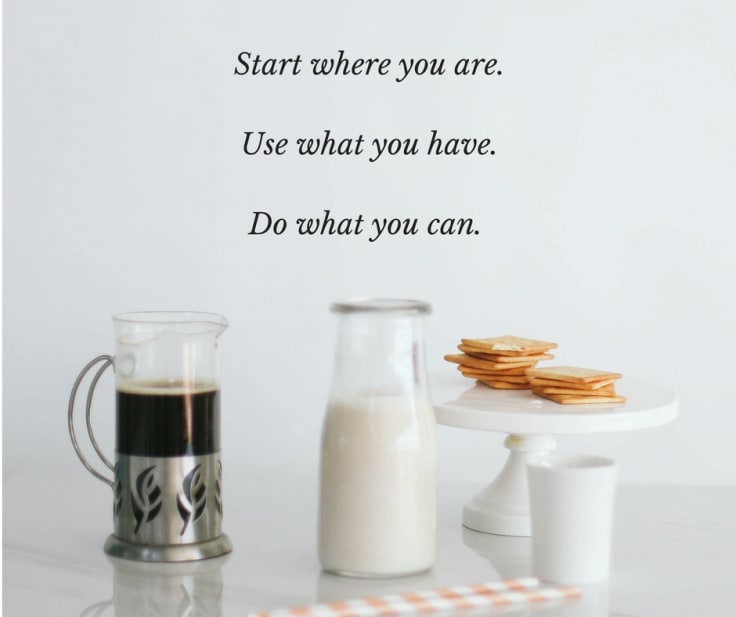 Think about your favorite products, apps, and tools you use daily. Find out if the brands behind them offer affiliate partnership programs.
If so, then...
Do a bit of research and get to know these brands, their products, and their key selling points. Once you figure out which program is right for you, join it. Next, move on to creating affiliate campaigns.
Avoid jumping into hugely popular industries. Make sure the playground you choose offers enough room for you to compete with established affiliates.
Any ideas for promoting your product might work if done right. You'll soon find out what type of products are easy for you to promote and sell. If there's a certain product you really get and appreciate, there's a chance that there are more products like that in that particular niche.
Perhaps you could hit the ground running by promoting B2B products such as LiveChat in affiliate marketing campaigns? Perhaps there are lifestyle apps such as Headspace or Spotify that suit you better?
Launch a few trial campaigns and see how they resonate with your visitors and what happens. And, of course, find out what brings money to the table.
Give it a try and learn about yourself: what skills you possess and what suits you as a marketer.
In the end, remember to look at it from a business perspective, not a question of personal preference. No matter what you choose, getting results is your primary goal.
2. Start an Affiliate Website
Once you get a clear picture of what's right for you, take the next step and set up a website.
Most affiliate programs expect you to have an affiliate site and will ask you to submit its URL before you join. This happens mainly because merchants usually want to ensure your site and content won't hurt the company's reputation.
Hence, you might be obliged to create your website right at the beginning of your affiliate journey.
Fortunately, setting up a website isn't a difficult or labor-intensive task these days. You can do everything in one place, namely at WordPress.com.
Build an Affiliate Website using WordPress
A product review site can be easily built with WordPress.
This CMS platform enables you to create a website in a few simple steps. And the best part is that you can manage the whole site from there - this includes buying a custom domain, hosting the site, choosing an appropriate theme and font — all this is done through a beautiful, responsive, and user-friendly panel.
The rule of thumb for creating a website is to deliver content of the highest quality [as always], to follow the best practices in everything you do, and to win the reputation and trust of your visitors gradually. Just follow all the best modern day practices in web design, UX, and SEO, and avoid promotional tone in your content.
3. Find the Best Affiliate Programs in Your Niche
Finding the best affiliate programs in your niche shouldn't be complicated. Invest a significant amount of time into it, however, because it's about your bottom line in the end.
The easiest way to conduct your research is to dig deep in Google or any other search engine such as Yahoo or Bing. Just search for "your keyword + affiliate" to start. This method will help you find a selection of appropriate affiliate marketing programs.
It's worth mentioning that big brands use affiliate networks, too. Therefore, if you're looking for an affiliate program of a well-known company, check out popular affiliate networks such as:
Also, if you have favorite products and brands, you would like to partner up with as an affiliate marketer, check out their website's directly.
If they run partnership programs, relevant information can usually be found among other internal links in the footer on each page of a given website.
A website's footer always features a list of all critical internal links because this helps with navigating the site.
Make sure you join the most lucrative affiliate programs only.
The best brands and products have a pristine reputation and high brand recognition, and this makes their products easier to sell.
By the way: I've just published an article about 8 Things I Would Love to See in Every Affiliate Program. Curious about those features? Read it next.
When joining affiliate programs, remember that reputable companies allow people to become affiliates free of charge.
However, don't worry if you are asked for PayPal information or your bank account number — the company needs to be able to pay you.
4. Track Your Performance
Once you join the best partnership program out there, streamline your campaign tracking and make sure you monitor your performance correctly.
First of all, set up a Google Analytics and Google Search Console account to monitor (and optimize) users' on-site behavior.You want to get a more in-depth understanding of what works and what doesn't.
Also, joining a particular performance marketing network such as ShareASale allows you to use their campaign tracking tools.
However, you can also take advantage of dedicated affiliate performance trackers such as Voluum which are quick to set up and provide extensive real-time reporting.
5. Implement Creative Strategies
If your performance tracking setup is already good to go, you can now focus on crafting compelling content for your affiliate marketing campaigns. Of course, Rome wasn't built in a day, and so your affiliate marketing efforts probably won't yield results right away either.
Whether you opt to review your favorite products, provide product comparisons, record and upload YouTube videos, submit content to third party sites or you choose to publish valuable content on your blog (you can even just use live streams on Periscope), make sure you produce educational and intriguing content of the highest quality.
However, you shouldn't get discouraged if your commission is a bit, well, sub-optimal, at the beginning of your affiliate marketing journey. Like they say — slow and steady wins the race.
A piece of good advice is to implement various online campaigns and to switch them up: you can include webinars, youtube videos, and product reviews see how they perform, and optimize their results.
Constantly improve and adjust your affiliate strategies and test out various approaches. With time, you'll begin to notice patterns in what works that will teach you what campaigns can snowball to reach massive success rates and which approaches should be abandoned altogether.
And, most importantly, remember to sprinkle affiliate links strategically throughout your content sites by following these best linking practices.
Strive for growth and expand your business. Address common problems and pain points as soon as they come up. Look for new products that people might need.
Keep a careful eye on what your buyers/prospects desire and provide them with appropriate solutions through your affiliate marketing campaigns.
Also, seek out brands from your industry that have just introduced affiliate programs. They might offer some special incentives and (innovative) advanced solutions to make your work easier.
By the way, such a fresh product might be less worn-out and get more attention from users.
Delegate and automate what's possible. It's a common mistake to perceive oneself as irreplaceable. In fact, everybody is replaceable — especially, when it comes to routine day-to-day tasks that can be easily automated.
Also, don't feel hesitant about relying on others. I know you can do some things better than everyone else but remember — sometimes better is the enemy of the good.
So, if you notice that some research or analysis-related tasks tend to loom over you, just delegate it and have it finally done.
Focus on developing a long-term strategy and let technology do the rest. Of course, marketing tools get pretty pricey at times, but skimping isn't saving. It's better to invest in your affiliate marketing business and let it soar.
Wrapping Up
It takes courage and a special kind of personality to become an affiliate marketer. Some people never take action and just do it. For some, it's a bit of extra income, while others choose adventure over routine and master the art of online affiliate marketing so they can rock this business while backpacking through the Andes.
What are you going to choose? Become a LiveChat affiliate partner now.
Thanks for reading!
Get in touch with me via Twitter.