Showing top

0

results

0

results found
Showing top

0

results

0

results found
10 High-Ticket Affiliate Programs You Need to Know
9 min read
Nov 15, 2023
Probably at this point you already know what affiliate marketing is.
➡ If you need to refresh your memory (or you were living under a rock), check out this affiliate marketing guide.
In a nutshell, affiliate marketer promote a given product using their unique affiliate link. Then, the affiliate earns a commission for each sale, lead, or action generated through their unique affiliate link.
How much do they earn? It depends on whether they're a member of a low ticket affiliate marketing program or high ticket affiliate marketing program.
The difference between these two is quite simple. High ticket affiliate programs:
typically involve promoting high-value products or services that come with a substantial price tag,
affiliates earn higher commissions per sale due to the higher value of the items being sold,
the number of sales required to generate significant income may be lower compared to low-ticket programs.
In summary, the distinction is based on the price point and commission structure, with high-ticket programs offering higher commissions for just a few sales, while low-ticket programs require more sales to achieve substantial earnings.
Which affiliate program should you engage in? It could look like a no brainer: high ticket programs bring higher revenue. However, the choice between high-ticket and low-ticket affiliate programs depends on your marketing strategy, target audience, and preferences.
I've gathered for you a list of highest paying affiliate programs with some high-ticket commissions in the hundreds or even thousands of dollars per sale.
This program is ideal for those who want to join the online communication/ecommerce niches and who are interested in promoting one (of more) of the below products:
LiveChat: a customer service platform for connecting with customers that improves sales and customer satisfaction. It allows to present product beautifully, qualify leads, and track sales. Combined with proactive customer support and AI-driven features it's a must-have for businesses that regularly get in touch with customers.
ChatBot: improves customer interactions by offering an AI-driven bot that provides instant, accurate responses by scanning your website. Easy to implement without coding, it delivers fast, human-like conversations. Additionally, it proactively engages visitors with personalized greetings, turning visits into sales opportunities.
HelpDesk: offers AI-infused features for enhanced support, centralizes customer messages for stronger relationships, and consolidates communication channels into one dashboard for streamlined interactions. The platform also includes efficient management tools to improve customer service operations.
Earning potential:
Affiliates can earn up to 22% recurring commission on subscription plans that range from $24 to $499 per month. The most successful program's affiliate marketer has already earned over $4,100,000.
Key details:
Membership is free of charge.
Affiliates benefit from last-click attribution, ensuring fair credit for conversions.
A 120-day cookie duration.
Members of the program get access to ready-to-use promo materials and the Partner App where they can monitor their progress.
Join our Affiliate Program and earn up to 22% commission
Promote our top-notch products and turn clicks into revenue!
120 cookie duration
Ready to use resources
24/7 support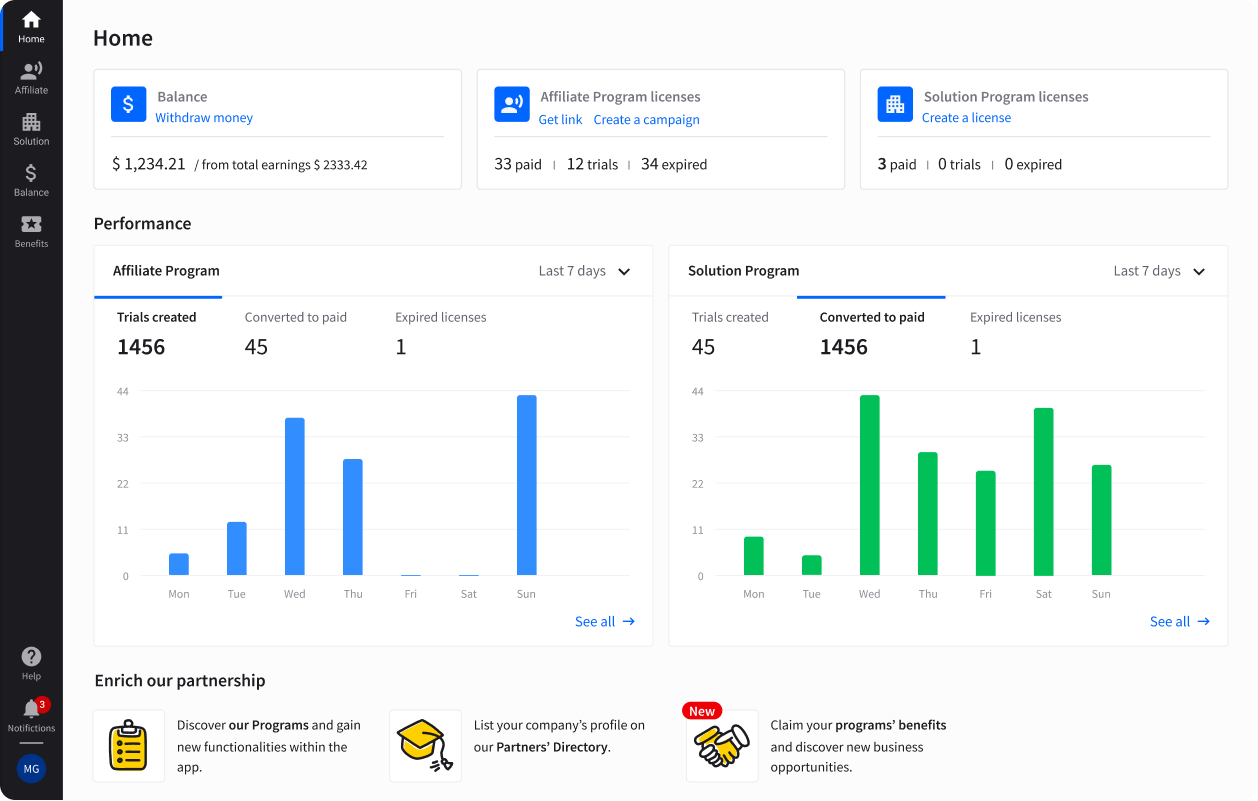 This affiliate program is designed for individuals or organizations who specialize in digital marketing, SEO, and online business growth. It's particularly suitable for those with an audience interested in online marketing tools and analytics.
Earning potential:
Affiliates earn a flat rate of $200 for each new subscription sale.
Affiliates receive $10 for each new trial activation and $0.01 for each new registration.
Key details:
A 120-day cookie duration.
Affiliates benefit from last-click attribution, ensuring fair credit for conversions.
Access to a dedicated support team and various marketing materials is provided to assist in promotion efforts.
The SEMrush affiliate program offers substantial earning potential with its diverse commission model and long-term earning opportunities, making it an attractive choice for those in the digital marketing and SEO spaces.
This program is ideal for affiliate marketers looking to promote Fiverr's digital services, catering to a wide audience including freelancers, bloggers, influencers, and website owners. It's designed to suit various promotional needs across diverse platforms.
Earning potential:
The program offers different commissions ($15-$150) depending on the category the buyer purchases from.
Fiverr CPA offers a dynamic CPA of $15-150 based on the service purchased by the first-time buyer.
Fiverr Hybrid offers a fixed $10 CPA per first-time purchase plus 10% RevShare for 12 months.
Additionally, affiliates can earn $100 CPA once the account reaches $100 in spend + 10% RevShare for 12 months, and $30 CPA for every logo maker order.
Key details:
Affiliates have access to a large portfolio of marketing tools to promote Fiverr, including custom Fiverr links, creative assets like banners and GIFs, HTML 5 banners, and video banners.
Advanced marketing tools to enhance conversions and boost earnings, including Gig Ads Widget and Search Box Widget for the affiliate's website.
The program offers smart marketing tools to capture user attention and cultivate more conversions.
The Fiverr Affiliate Program provides affiliates with a range of tools and resources to effectively promote its services, alongside a flexible commission structure that rewards different types of referrals.
The WP Engine Affiliate Program is for those looking to earn by referring WP Engine hosting and StudioPress themes. It uses ShareASale for affiliate management and offers two options: a general Affiliate Program for content-based referrals and an Agency Partner Program for development-related referrals, but let's focus on affiliate marketing for sake of this article.
Earning potential:
For WP Engine hosting plans, you will earn $200 minimum or equal to the first month's payment, whichever is higher. For example, a Startup plan at $30/mo would earn you $200 in commission, but with a Scale plan referral at $290/mo, you would earn $290 in commission. With an annual purchase, the total payment is divided by 12 to find the equivalent monthly rate, and the commission is based off that amount.
For StudioPress theme purchases, the commission rate is 35% of the theme's value per sale. For example, by referring the Revolution Pro theme at $129.95, you would earn $45.48 in commission.
Key details:
A super-long affiliate cookie window of 180 days.
The program includes customized and integrated creative tools to assist in earning commissions​​.
With our next high ticket affiliate program we're staying in the hosting industry. Liquid Web's affiliate program stands out for its high earning potential per referral and its diverse range of support and resources for affiliates.
Earning potential:
Affiliates earn a minimum of $150 per sale, with the potential to earn up to $7,000 per sale depending on the product.
The commission is 150% of the monthly hosting cost with a $150 minimum, meaning for a $29 Managed WordPress site, the commission is $150, and for a $400/month Dedicated customer, it's $600. There's also a 50% bonus for pre-paid plans.
Key details:
The program offers custom content, links, landing pages, a 90-day cookie window, and advanced notice of exclusive sales and promotions.
Affiliates have access to a library of banner ads and links to promote Liquid Web's products.
The platform used for the affiliate program is Impact Radius, providing multiple advertising campaign options, industry-leading tracking and reporting, and creative options. Web hosting credits are also offered as a payment option​.
This program is suitable for content affiliate marketers who want to monetize their content by integrating HubSpot's marketing tools.
Earning potential:
Affiliates earn a 30% recurring commission for up to one year on the sales they generate.
The program includes tiered payouts, where the more customers referred, the higher the potential earnings.
Key details:
A 180-day cookie window to maximize earnings.
Access to over 400 promotional assets, training guides, and support tools.
Reliable support and performance reports for optimizing promotions.
HubSpot Affiliate Tiers offer different levels of commission and benefits, including $80 welcome bonus, access to an Affiliate Resource Center, opportunities for website audits, guest blogging, and more, depending on the number of signups per month​.
The Shopify Affiliate Program is designed for entrepreneurs, educators, influencers, and content creators who aim to educate their audience about entrepreneurship with Shopify.
Earning Potential:
Affiliates earn commissions for each new Shopify merchant referral, with no maximum limit on the number of merchants referred.
Requirements:
Ownership and operation of an active website.
Creation of original content (e.g., online courses, seminars, blog posts, videos).
Experience with Shopify or other e-commerce platforms.
Agreement to the Shopify Partner Program Agreement.
Key Details:
Global accessibility, subject to third-party affiliate software support in the applicant's country.
Access to affiliate software for managing referral links, with a 30-day tracking cookie window.
Payment via direct deposit or PayPal, with a minimum balance of $10 USD required for withdrawal.
Affiliates can monitor their total merchant referrals and those who transition from a trial to a paid plan.
Adherence to Shopify's brand guidelines is mandatory, and violations can result in termination of the partner account
This program is dedicated to those who's audience that is interested in technology and believes that data-driven businesses are the future.
Earning potential:
Affiliates can earn up to $2,500 for each new customer they refer to Smartproxy.
The program offers up to 50% commissions, with no limit on the number of new customers an affiliate can bring.
Key details:
The program provides a 60-day cookie duration to ensure affiliates are credited for sales within this period.
Affiliates are free to promote Smartproxy on various platforms, but sales must be made through affiliate links to be attributed.
Paid advertising is allowed, provided affiliates do not bid on Smartproxy's brand name keywords or use Smartproxy's URL as a landing destination​.
Smartproxy's affiliate program stands out for its high commission potential per referral and its flexibility in terms of promotion methods and platforms.
MemberMouse is a WordPress plugin for creating and managing membership and subscription websites. It lets you sell products and subscriptions, protect content, and offers a CRM for member management. The plugin supports various features like custom checkout, upsells, and tracking sales metrics. It's designed for coaches, entrepreneurs, and course creators, providing a flexible and scalable solution for membership sites.
Earning Potential:
Affiliates earn a 25% commission on the first purchase of any plan by a customer they refer to MemberMouse.
Key Details:
Payments are made monthly through PayPal​.
Kinsta offers powerful managed WordPress hosting. Its affiliate program looks for bloggers, influencers, email marketers, and social media marketers to join this program and enjoy true profit sharing.
Earning Potential:
Refer Managed WordPress Hosting: earn a one-time commission between $50 to $500 plus 10% recurring monthly commissions on every WordPress package.
Refer Application Hosting: earn 5% recurring monthly commissions on our à la carte resource-based service.
Refer Database Hosting: earn 5% recurring monthly commissions on the à la carte resource-based service.
Key Details:
The program promises lifetime monthly payments with a low churn rate, ensuring sustained earnings.
A 60-day long conversion window.
Transparent in-house tracking.
Dedicated affiliate support.
Ready-to-use promotional assets.
The end
This is it! I guided you through the list of best high ticket affiliate programs. I do hope that you found a great affiliate program to boost your wallet's thickness.
And if you'd like to learn more about the Youtube Partner Program (and combining it with our Partner Program), check out this post:
➡ https://partners.livechat.com/blog/youtube-partner-program/
Good luck in your high ticket journeys!