Showing top

0

results

0

results found
Showing top

0

results

0

results found
What is Affiliate Marketing? A Comprehensive Guide for 2023
8 min read
May 16, 2023
Do you dream of earning money from the comfort of your home? Have you heard of affiliate marketing but don't understand and how it works?
Well, you're in the right place.
In the world of online marketing, affiliate marketing has become an increasingly popular way for businesses to generate leads and sales while also providing an opportunity for people to earn money through their affiliate marketing programs. It's a win-win situation that benefits both parties.
Today we will explore the topic of the affiliate program together. I have some experience in this as we have the LiveChat Partner Program.
Understanding the basics of Affiliate Marketing
Affiliate marketing is a performance-based marketing strategy that allows people (or affiliates) to earn a commission by promoting another company's products or services.
The affiliate receives a unique affiliate link that they can share with their audience through various channels such as social media, email, or their website. When someone clicks on the affiliate link and makes a purchase, the affiliate earns a percentage of the sale.
So, let's get started on this exciting journey together!
Various types of affiliate marketing program
When it comes to affiliate marketing, there are several types that you can participate in. Each affiliate program has its unique payout structure and benefits, so it's essential to understand the differences before deciding which program is right for you.
Pay-per-click (PPC) pays you a commission whenever someone clicks on your affiliate link. This type of program is popular for bloggers and content creators who generate a lot of website traffic.
Pay-per-sale (PPS) pays you a commission for each sale made through your link. This is the most common type and can offer a higher commission than PPC programs.
Pay-per-lead (PPL) pays you a commission for each lead you generate through your link. This type of program is ideal for marketers who can generate a high volume of leads, such as through email marketing campaigns or social media promotions.
Benefits of affiliate marketing
Now, let's skip to the benefits of. There are several ways you can benefit from such programs.
Increased revenue potential
Increasing affiliate revenue is one of the most exciting things about affiliate marketing. You earn a commission for every sale, click, or lead generated by promoting products or services through your affiliate links.
And the best part about the income? The sky's the limit when it comes to its earning potential.
As you grow your audience and promote relevant products, your online potential can also increase. As your online presence and authority in your niche grow, so does your potential to earn passive income through your affiliate program.
Take a look at the LiveChat Partner Program, for example. Guess how much our affiliates have earned. Okay, I'll tell you. Our highest-paid Partner has earned $3,623,795 so far. Pretty good.
And you don't need to be a sales genius to succeed in. By creating quality content that offers value to your audience and promotes products that truly align with their needs and interests, you can become a trusted source and earn commissions.
Expanded reach and exposure
This can be especially beneficial for entrepreneurs or content creators looking to establish themselves as an authority in their niche. By promoting good products or services that align with your brand values and mission, you can build credibility with your audience and position yourself as a trusted resource.
And as you continue to promote relevant products, you can attract a following of loyal fans who trust your recommendations and look to you for guidance.
However, the beauty of affiliate marketing is that you don't need a huge audience or following to start seeing results.
Low startup costs
Affiliate marketing is an attractive option for entrepreneurs affiliate marketers and content creators looking to monetize their online presence through affiliate income.
It allows you to leverage your existing audience and earn through relevant product recommendations, whether you're a blogger, YouTuber, or social media influencer.
As you continue to build your audience and establish your authority in your niche, your potential for earning income through your affiliate marketing channels can also grow.
Becoming an affiliate marketer
Now it's time to dive deeper and explore some effective affiliate marketing strategies to help you succeed.
Choose your niche
The first step is to choose an affiliate niche or topic that aligns with your interests, expertise, and audience. It can be anything from health and wellbeing to technology to home décor - the key is to choose a topic you are passionate about with a built-in audience.
For example, the LiveChat Partner Program prioritizes communication and aims to enhance it through our products. We have developed tools like LiveChat, ChatBot, and HelpDesk to simplify the work of support agents. 
Not a member yet? Join us!
Become our Affiliate Partner and earn $400 monthly on average!
Free membership
Easy money withdrawal
5-star communication products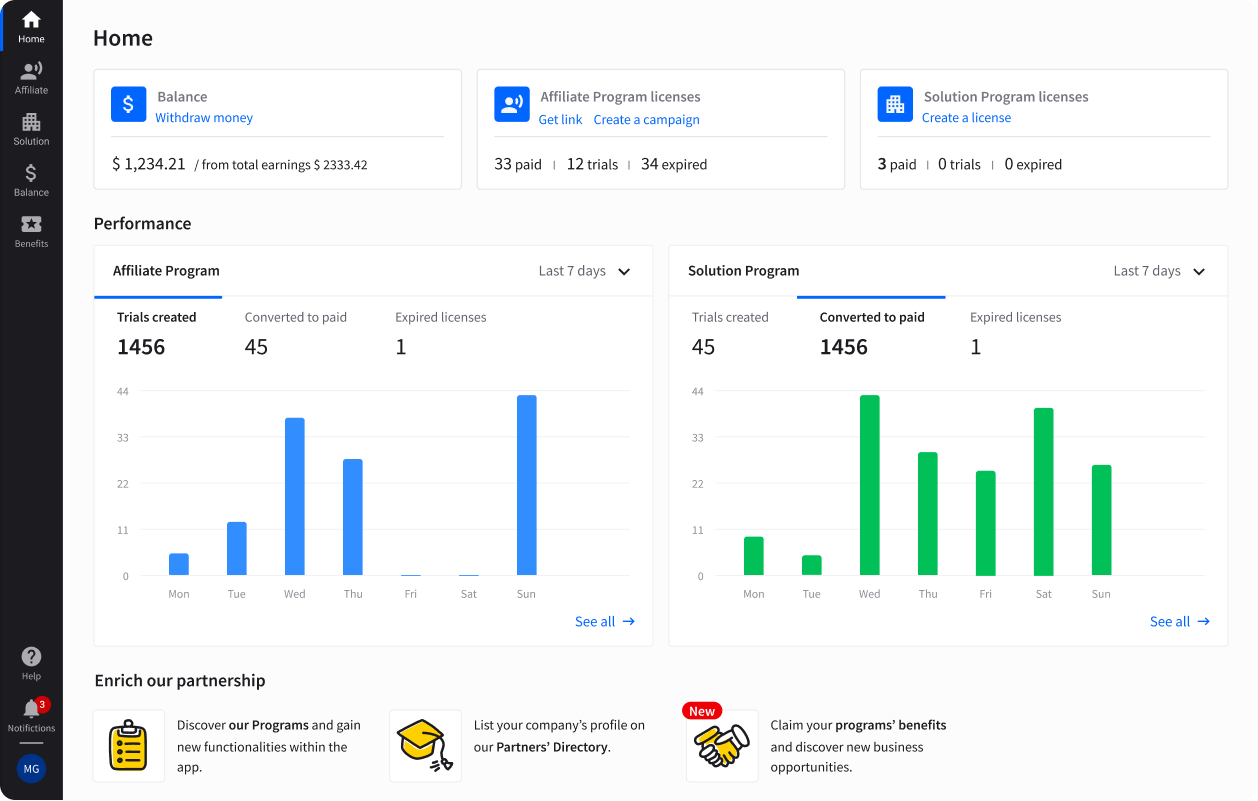 Find affiliate programs
Once you've chosen your niche, the next step is to find affiliate partners and programs that align with your interests and audience (for example, you can join ours). Research and find programs and affiliate marketing partners offering products or services that align with your niche and offer competitive commissions.
Build your website or social media presence
Finally, you'll need to build a website or social media presence that can serve as your platform for promoting affiliate products.
This could involve creating a blog, building an email list, or establishing a social media presence on platforms like Instagram, Twitter, or YouTube.
The most important thing is to create content that resonates with your audience and showcases the products and services you're promoting in a way that feels authentic and compelling.
Best practices for successful affiliate marketing
Becoming an affiliate marketer can be a great way to monetize your content and connect with your audience. Still, it's important to approach it with a strategy that maximizes your earning potential and builds trust with your audience.
Whether starting with affiliate marketing or looking to optimize your existing strategies, these tips and tricks can help you build a successful and sustainable affiliate marketing business.
#1 Selecting the right products or services to promote
When choosing which products or services to promote as an affiliate, it's important to consider your audience's interests and needs. Look for products that align with your niche and that your audience would find valuable.
You should also consider each affiliate program's commission rates and terms and the business or brand's reputation.
#2 Using analytics to track performance
Analytics can be a powerful tool for optimizing your affiliate marketing strategy. By tracking metrics such as clicks, conversions, and revenue generated by each, you can identify which products and promotions work best and make data-driven decisions to improve your strategy further.
Many networks and programs offer analytics tools or you can use third-party tools such as Google Analytics.
Within our Partner App, you can access real-time metrics tracking for clicks, sales, and trials in various areas.
The Dashboard provides an overview of your overall performance, while the Affiliate Campaigns section offers more detailed statistics for specific campaigns. That helps our affiliates understand how their promotion translates into real money!
#3 Building relationships with businesses and other affiliates
Building relationships with businesses and other affiliates can help you build your reputation and increase your earning potential as an affiliate marketer. Contact businesses directly to inquire about their affiliate programs or collaborations, and network with other affiliates in your niche to share tips and.
Building strong relationships with marketing partners can also lead to exclusive offers and higher commission rates.
Emerging trends and technologies
As the digital landscape evolves, affiliate marketers must stay up-to-date with the latest trends and technologies to remain competitive and succeed in this fast-paced industry.
Let's dive in and discover the cutting-edge strategies that can help you stay ahead of the curve in affiliate marketing.
#1 Influencer marketing
Influencer marketing has been around for a while and has become popular in the affiliate marketing industry.
By partnering with social media influencers or bloggers with a large following and a high level of engagement, affiliate marketers can reach new audiences and drive more sales.
Influencer marketing is particularly effective in niches such as fashion, beauty, and lifestyle, where visual content and social media influence are crucial.
#2 Video content
Video content is becoming increasingly crucial in affiliate marketing as consumers become more visually oriented and prefer to consume content through videos.
Affiliate marketers leverage video content on platforms like YouTube and Instagram to create product reviews, tutorials, and other engaging content that drives traffic and sales.
#3 Blockchain
Blockchain technology is revolutionizing the world of affiliate marketing by providing a more transparent and secure way to track and manage your affiliate marketing transactions.
Blockchain technology can help prevent fraud, increase transparency, and improve efficiency in affiliate networks and marketing programs.
By using blockchain-based, networks, marketers can have more control over their earnings and be assured they are getting paid what they are owed.
Conclusion
In conclusion, marketing has become a powerful tool for businesses and people to generate income and expand their reach.
As you've learned from this guide, success affiliate marketing lies in choosing the right products or services to promote, building relationships with businesses and other affiliates, and keeping up with emerging trends and technologies.
If you want to start affiliate marketing or take your efforts to the next level, consider joining the LiveChat Partner Program. With a generous commission structure and a wide range of materials and resources, it's the perfect way to earn revenue while promoting a top-rated live chat software.