Showing top

0

results

0

results found
Showing top

0

results

0

results found
Affiliate Marketing Tips for Beginners: A Comprehensive Guide
12 min read
Feb 5, 2023
Are you looking for a creative way to start your own business? Have you heard of affiliate marketing and want to learn more about it?
Well, it can definitely be a great low-cost way to earn money with minimal risk.
In this article, we will explore this source of income in more detail and provide tips for affiliate marketers interested in getting started.
So stay tuned for all the exciting details and advice – affiliate marketing could be the perfect business opportunity for you!
What is affiliate marketing?
Affiliate marketing is a type of performance-based advertising, where a business rewards one or more affiliate marketers for each visitor or customer brought by the affiliate marketing efforts.
It's an easy way to make money from home and can be quite lucrative.
The affiliate marketer promotes products or services offered by other businesses and earns a commission when a sale is made. It's also an excellent way to increase brand awareness and reach new customers.
How does affiliate marketing work?
Affiliate marketing works by having affiliate marketers promote other businesses' products or services on their website, blog, or social media channels.
When visitors click on the affiliate links and make a purchase, the affiliate marketer earns a commission. This can be done through affiliate programs and networks or through direct relationships with companies.
Affiliate marketers must have a good understanding of the products and services they are promoting, as well as an effective marketing strategy in order to achieve success. They should also understand how to measure their results and analyze data in order to make improvements.
Join High Paying Affiliate Program
Our affiliates earn $400/month of average base pay. Join them today!
Free membership
Easy money withdrawal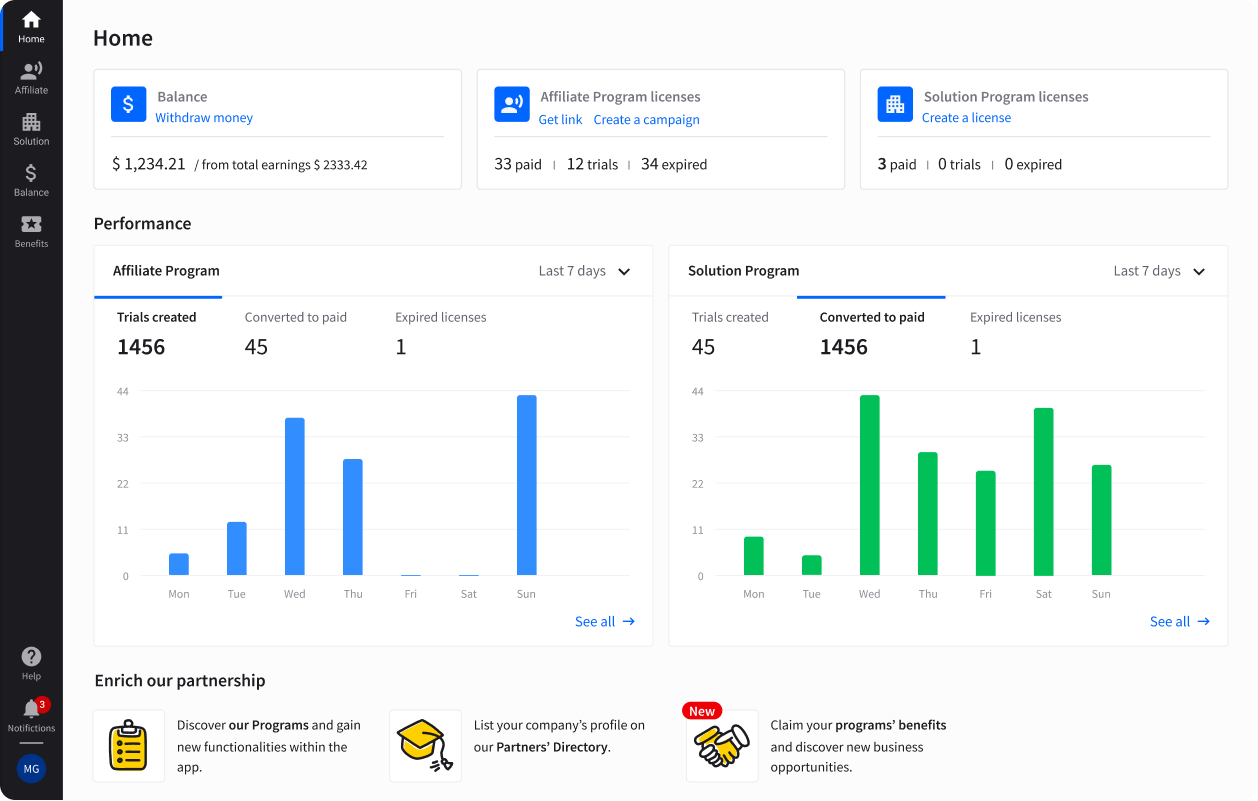 18 Affiliate Marketing Tips and Strategies to Increase Revenue
Now that you understand affiliate marketing and how it works, here are some tips to help you get started:
1. Define your audience
When you are planning successful affiliate marketing, it all starts with identifying your audience. Knowing who you need to target and what channels you will be using to reach them is essential in forming a successful strategy.
Crafting an ideal customer profile (a detailed understanding of the potential buyers/users) can be very time consuming, but luckily, if you join an affiliate program with a vendor you're interested in, they will usually equip you with plenty of resources and guidance to help get started.
Examples of this could include how-to ebooks or even direct support from their team or a dedicated affiliate manager.
Taking the time to build buyer personas when promoting through an affiliate program—rather than just going in blind—will make sure your marketing efforts are better targeted and more successful.
2. Research affiliate products
Before jumping into affiliate marketing, do your research and find out what type of products or services you'd like to promote.
Doing some research and creating a smart affiliate marketing strategy is key for success.
Evaluate what type of products you'd like to promote and get familiar with the marketplace so that you can increase your chances of making affiliate revenue.
Don't worry if it takes some trial and error; this is something that anyone can learn with the right guidance.
3. Research affiliate programs
Now, research affiliate programs to determine which ones offer products or services that your target audience would be interested in.
To maximize the potential of affiliate marketing products and services that appeal to your target audience, make sure to check out the commission rates for each program you come across, their requirements for participation in the program, and what kind of promotions they offer.
Once you have a good understanding of these details and how it's related to your business goals, you can then decide which program is right for you.
4. Choose the right affiliate network
It's important to understand the difference between affiliate programs and affiliate networks before deciding on the one that is right for you.
Affiliate programs are where website or blog owners sign up with individual companies who provide affiliate tracking links, allowing them to be compensated for referring customers to their website.
On the other hand, affiliate marketing networks are a marketplace of many different companies, who allow affiliate marketers to join without having to go through each company separately.
Typically affiliate networks have a higher commission rate than single-company affiliate programs as well as more variety of products and offers available, making it easier and more effective for affiliate marketers.
Take time to research and pick the right network that fits your unique needs best.
5. Disclose affiliate links
When it comes to affiliate marketing, one of the most important things you can do is be ethical.
You need to make sure to always be honest and upfront about the affiliate links in your content - don't try to hide them or mask your money-making intentions as this will destroy your credibility.
Potential buyers are clever and they can spot affiliate links straight away, so there's no point in pretending that you're working pro-bono.
Honesty is always the best policy when it comes to affiliate business, so be open with your audience and ensure that you're building a relationship of trust with them.
Not only would this build up your reputation for transparency, but it could also help you generate more affiliate income and leads in the long run.
6. Create great affiliate content
I bet you've seen this before: affiliate content is key for affiliate partners.
Without great content, your efforts to promote affiliate links can only take you so far.
After all, content appears nearly everywhere - from blog posts to PPC campaigns and social media videos.
How can you create great affiliate content?
Speak the language of your audience by using a conversational tone throughout. You also need to sprinkle in relevant keywords so that search engines can pick up on what you're sharing.
Moreover, make sure you create evergreen affiliate content that will remain relevant over time with no changes or updates needed - because staying ahead of the competition quickly boosts long-term success even further!
7. Build credibility
As an affiliate marketer, you know how important it is to find the right affiliate website and affiliate marketing program that can help boost your business.
To be successful in this business, you need to understand user intent and know how to create content that educates your prospects while providing them with something of value.
An effective content strategy should focus on always being helpful and providing education relevant to your affiliate website, as this will help attract searchers and incentivize them to click a CTA or banner.
By taking a comprehensive approach to affiliate marketing and leaving no frequently asked questions unanswered, you will be able to provide useful education while engaging with your prospects in a conversational tone.
8. Write online reviews
Writing reviews is a great way to build trust with your affiliate customers and get free publicity.
When it comes to affiliate content, writing online reviews can be an effective strategy for increasing sales and gaining more conversions.
You should create honest reviews of the products or services you're promoting, not just plugging them in order to make a commission.
Your reviews should be genuine and should provide helpful information to your readers so they can make an informed decision. Additionally, you should also encourage customers to leave their own honest reviews of the affiliate products or services you promote.
By sharing real customer experiences, you will be able to build credibility and trust with your affiliate customers, increasing the likelihood of them making a purchase.
9. Master PPC campaigns
Pay-per-click (PPC) campaigns are a great way to promote affiliate links and generate more sales.
When done correctly, PPC campaigns can be very successful in driving traffic to affiliate offers. To make sure your affiliate marketing campaigns have the highest chance of success, you need to understand how to craft effective ad copy, target the right keywords, and measure the effectiveness of your campaigns.
You also need to keep an eye on your ad spend and ensure that you're getting a good return on investment (ROI). Mastering PPC campaigns can take some time, but it's well worth the effort if you want to boost affiliate income.
10. Utilize social media
Social media is a powerful tool affiliate marketers should use to their advantage.
With the right approach, you can share affiliate links, promote your campaigns and reach a broader audience than ever before.
Sharing educational content and engaging with potential customers allows you to build relationships and drive sales - creating a win-win situation for your business.
Leveraging the power of affiliate marketing website and social media will help you make the most out of your affiliate programs, driving more income and creating loyal customers in the process.
11. Track affiliate sales metrics
Keeping an eye on sales metrics is a must for anyone running affiliate marketing campaigns.
Monitoring affiliate-generated metrics like conversion rates, click-through rates and average order value can help you quickly identify problems with your campaigns' performance.
This allows you to spot potential issues and make changes that may result in increasing affiliate revenue and income before it's too late.
Tracking affiliate sales metrics is the key to success when it comes to affiliate programs and shouldn't be overlooked if you want to get the best results from your efforts.
12. Use affiliate dashboards and apps
If you're managing affiliate marketing programs, having the right online tools to streamline your workflow and track your performance is essential.
Imagine having a comprehensive affiliate dashboard with program success metrics like revenue generated and affiliate product sales - that's exactly what LiveChat affiliate program offers.
With this useful affiliate tool, promoting LiveChat products becomes much simpler - you'll have access to various ready-to-use content like articles, posts, videos, screenshots, and banners.
This affiliate dashboard truly makes it easy to stay on top of affiliate programs performance without spending too much time or energy!
13. Understand products you promote
It's important to understand the affiliate products you're promoting and stay up-to-date with product changes.
You should familiarize yourself with the products you promote, such as features, pricing plans, customer reviews, and other related information that may be relevant to your customers.
Knowing the ins and outs of products you chose to promote allows you to provide better customer service, answer customers' questions and ultimately increase affiliate sales. Plus, the more you know about them, the easier it is for you to create compelling affiliate marketing content that drives conversions.
By understanding affiliate products in-depth, you'll be able to create custom campaigns that are sure to grab your audience's attention - boosting sales and your bottom line in the process.
14. Seasonal affiliate marketing campaigns
Seasonal affiliate campaigns can be a great way to increase sales and revenue.
By taking advantage of seasonal trends and online holiday shopping, you can create campaigns that target customers during key times of the year.
For example, Black Friday is an excellent opportunity to launch seasonal campaigns - offering discounts, giveaways or special deals that your affiliate partners have to offer.
Similarly, running campaigns during Christmas, New Year's or Easter can be highly successful - so don't forget to plan your affiliate marketing strategy accordingly!
15. Retarget affiliate customers
Retargeting is a powerful tool affiliate marketers can use to increase affiliate sales and get more out of their affiliate campaigns.
By retargeting customers that have already interacted with affiliate products and content, marketers can increase their conversion rates and maximize revenue.
Retargeting allows you to target affiliate customers who have already expressed an interest in a particular affiliate product or service - as well as those who have abandoned the buying process before completing a purchase.
By retargeting affiliate customers, you can significantly increase you income - so don't forget to use this powerful tool!
16. Stay updated with affiliate industry trends
Finally, staying up-to-date with affiliate industry trends is essential if you want to make the most of your campaigns and make more money online.
By staying on top of affiliate marketing trends, you can identify new opportunities and create affiliate campaigns that will drive conversions and boost sales.
Take the time to research affiliate programs regularly, read industry-related blogs or join affiliate forums to stay up-to-date with online marketing best practices and trends - it's sure to help you make the most of affiliate program and maximize your income!
17. Diversify your portfolio
In addition to staying on top of affiliate trends, diversifying your affiliate portfolio is essential if you want to sell more products.
This means looking for affiliate marketing opportunities in different niches and industries - as well as taking advantage of multiple affiliate programs from different networks.
By diversifying your affiliate portfolio, you'll be able to reach a larger audience and create marketing campaigns that target different customer segments - driving more sales in the process.
It's important to keep an eye on affiliate trends and diversify your affiliate portfolio if you want to maximize sales - so don't forget to give it a try!
18. Manage your time
Becoming an affiliate marketer requires dedication and hard work, so you need to manage your time accordingly. Set realistic goals for yourself and create a schedule that works for you.
By having a plan and setting achievable goals, you'll be able to stay organized and maximize affiliate sales.
Focus on the tasks that move the needle when it comes to ROI, such as creating content, researching affiliate programs or setting up campaigns - and don't forget to reward yourself for your efforts!
If you take the time to manage your time and prioritize affiliate tasks, you'll be able to maximize revenue in no time.
Affiliate Marketing Program with Proven Track Record
Are you looking for a way to make money while also promoting great products like LiveChat and ChatBot?
Then look no further!
LiveChat's affiliate program makes it easy to get started - all you have to do is copy the link from our Partner App, use the custom-made promo materials, and start generating revenue.
Plus, you'll receive detailed reports of your activity through the Partner App, giving you the chance to evaluate different versions of your campaigns and track their performance.
You become an ambassador for top-notch customer service AND get paid - what's not to love?!
So don't wait - join our offer, get that affiliate link, and start making money now!
Turn clicks into revenue
Join your online presence with our trusted communication products.
Free membership
Easy money withdrawal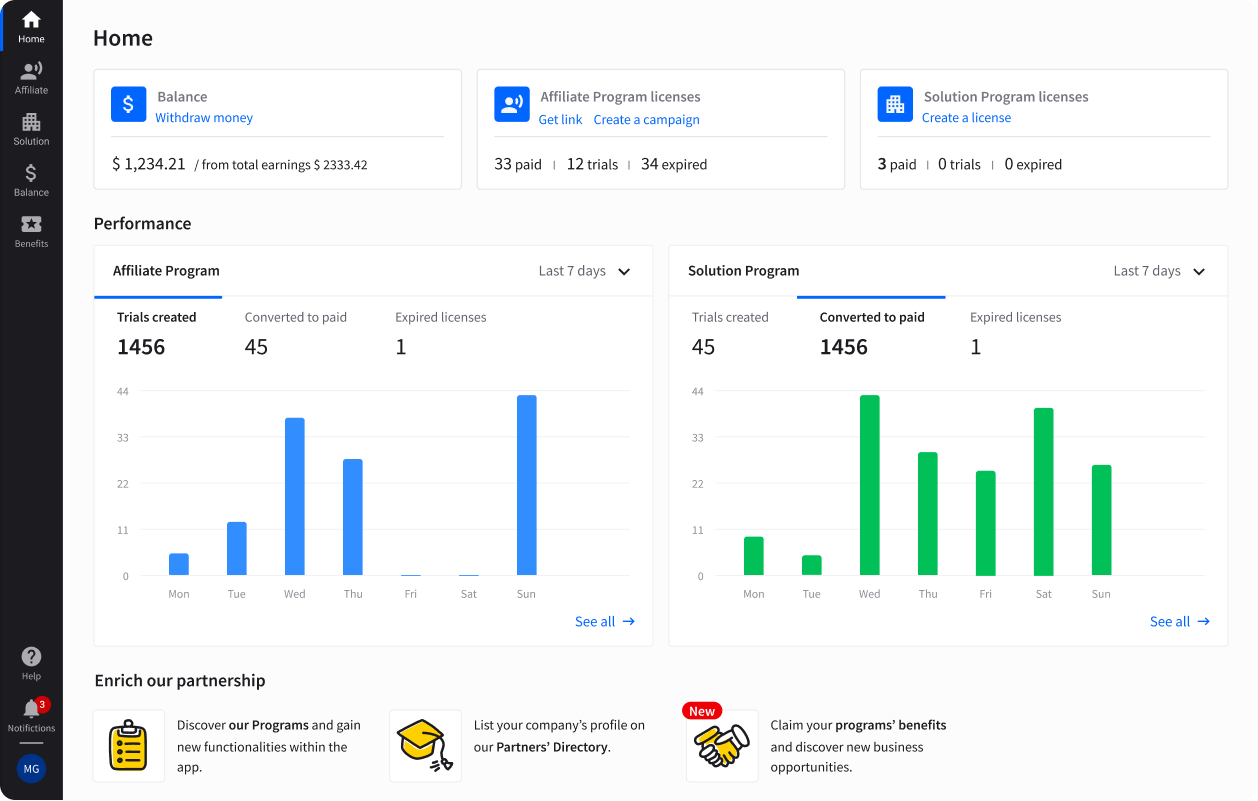 Final thoughts
Starting an affiliate program is both challenging and rewarding but with dedication and some hard work, anyone can become successful.
It's important to remember that joining an affiliate program can be incredibly profitable if you take the time to learn the variables and marketing strategies to be successful.
Keep in mind that there's no single formula for affiliate success, but it all starts with a decision to make affiliate marketing your full-time job.
Ultimately, taking the right steps today will lead to a more optimistic future of affiliate potential tomorrow.
So if you're ready to start affiliate marketing business, now is the perfect time!