Showing top

0

results

0

results found
Showing top

0

results

0

results found
Affiliate Marketing on Facebook: 3 Actionable Ways to Get Started
13 min read
Aug 3, 2017
If you are involved in making money online as an affiliate, then you're probably familiar with the controversy surrounding affiliate links and their ethically dubious use across social media channels.
However, affiliate marketing done on social media isn't inherently wrong and doesn't violate any social media guidelines. When it comes to affiliate marketing and social media, you can still play it right.
Although putting these two worlds together may seem a bit iffy, if you follow some basic rules and tread lightly, it will work out.
If affiliate marketing on social media is perceived as a black hat practice, it's mainly because most social networks started out as places where people could get together. They were intended to foster communication. This original purpose is in stark contrast with what is happening on these networks right now.
The landscape has shifted dramatically and social media seems to be heading in a sales- and promotion-oriented direction. Brands are slowly dominating the landscape and they're be coming somewhat of a substitute friend. Due to their popularity, social media platforms have become somewhat of a sweet spot for online marketing and sale.
Among social networks, Facebook is the largest player and most powerful online advertising platform that has ever existed. Almost everyone has a profile there (including the family dog). It would be a shame (read: epic fail) not to leverage Mark Zuckerberg's brain child in your marketing strategies.
So, what can you do if you want to respect the rules on social media on the one hand, but you also want to make some real money on the other? Is there any way to console affiliate marketing and social media?
Sure, you might as well market your affiliate campaigns on social media and figure things out by trial and error.
However, you could also cut to the chase by reading what we have for you here.
Build Up Social Presence with a Facebook Page
First things first.
The most fundamental thing to accomplish on Facebook is to establish your social presence by creating your own fan page there.
Why?
If you operate as an independent marketer and affiliate, then you most likely already own a website. After all, running your own website one of the crucial first steps for any affiliate marketing business.
And since you own a website (and, as a result, a brand), it's imperative that you also create your own spot on social media.
Don't hesitate — launch your business profiles on Facebook, Google My Business, Twitter, and Linkedin. And, depending on your industry, you might also go ahead and test your strength on Instagram, Pinterest, and YouTube.
Why is social media presence so important these days?
Because your prospects and your ideal customers are already there, just hanging out and waiting for your well-crafted affiliate campaigns.
Social media users want to know what's trending, speak their mind freely and be provided with information they didn't even know they needed.
Give your brand, business, or cause a voice on Facebook and connect with people who matter to you. Give these users a chance to discover you, your content, and your affiliate offers.
Don't miss out on this tremendous opportunity and user base.
Create a Facebook Page
Go to Facebook. Click on the small arrow in the upper right corner and tap on the create page button located in the drop-down menu. Facebook Page is completely free to set up so don't worry. Then, just select a proper Page type to get started.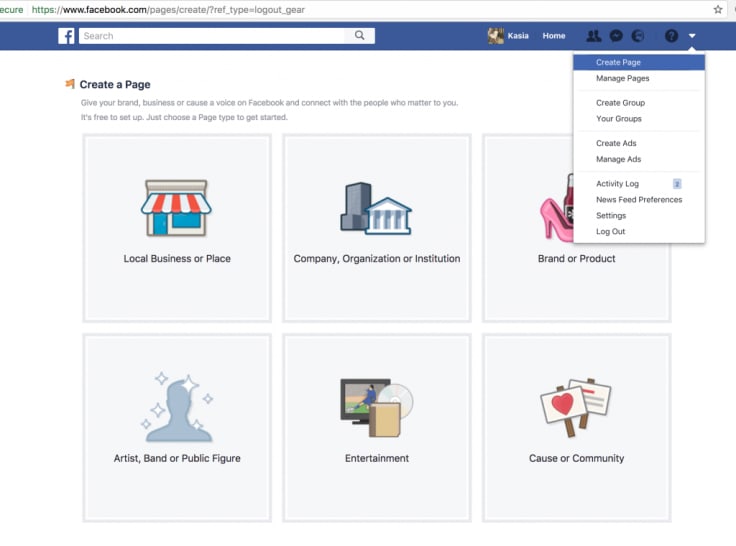 Afterwards, choose a relevant category, insert your brand name, and you're ready to go.
Next, you'll be redirected to your new page view and given some onboarding tips to help you complete your Facebook Page optimization successfully.
It's essential to express your business identity adequately. Therefore, add a relevant profile picture and a cover image that conveys your branding and builds up your business identity.
Compile a short but clear description of what you do and why you do it to let users know who you are and what they can expect. Also, create a unique and memorable username and customize the URL for your profile to boost its findability.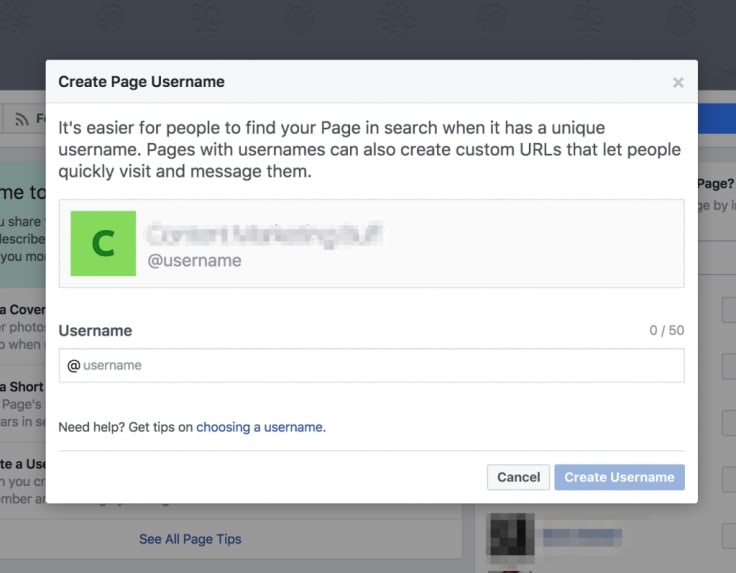 Furthermore, it's strongly advised to add a CTA button to the top of your page so that your visitors can quickly perform any action you're counting on, such as sending you a message or visiting your website. Facebook lets you track its efficiency, so you'll be able to optimize your button and update it over time.
Apparently, setting up a Facebook Page is just the beginning; it doesn't fix anything per se, apart from defining your social presence on the platform.
Once you have a Facebook Page up and running, you should bring it to life and keep it active by posting regularly (I'll get back to this soon in my future write-ups).
You can even go for paid promotion of the selected posts
If you notice that some resources on your site resonate exceptionally well (organically) with your audience, give them a boost on a reasonable budget and see what they bite.
All in all, such a page is fundamental to bringing your followers together and having your own social hub where you can keep your fans up to date with what's new.
Become a LiveChat affiliate – create your free account and start promoting LiveChat on Facebook
Anyway, if you strive to grow and hope to reach a broader audience, go a step further and implement some more actionable strategies.
Give Facebook Advertising a Run
What's important, when you're starting out with paid campaigns on Facebook it is important to adopt the right mindset and understand that whatever you spend on advertising, you're also spending on data. And this isn't money wasted.
Even if you don't scale up and make money right away - you are learning how to market on the platform - and that's priceless.
You need to climb these stairs. There is no elevator to success.
Ultimately, though, understanding comes with practice and testing. No matter how many tutorials you watch or what kind of blueprints you follow, each product and niche is completely different and they all resonate differently.
Test your affiliate offers, copy, collect data and draw your conclusions. See what campaigns convert best and assemble these pieces of the puzzle to figure out how specific offers and ads work. Eventually, you will find your winners and losers.
Before you become a master of Facebook advertising and turn it into a money machine, don't be too demanding or strict on yourself. The wisest approach here is to test small and scale small. Small steps in the right direction are always better than giant leaps all over the place.
One thing that makes Facebook so exceptional is the enormous user base and the ability to laser target your ideal customer so granularly.
Facebook Ads seem to be easier to harness than Google Adwords. Your ads can promote specific products and affiliate links if you'd like, but you can also use them in conjunction with a blog.
Remember, people are visual creatures, so making your ads visually appealing is key. Include excellent quality images only and use catchy, razor-sharp copy.
Find "Create Ads" on the drop-down menu that pops up when you click on the small arrow in the upper right corner of your Facebook wall.
This click will redirect you to your Ads Manager.
Side note: Facebook has recently updated Ads Manager, so now it's more user-friendly and easy to use.
And that's a place where you can create your first ad campaign. Facebook lets you accomplish a few marketing objectives through ads, such as:
increasing your follower base on a fan page,
generating revenue with affiliate programs,
getting leads.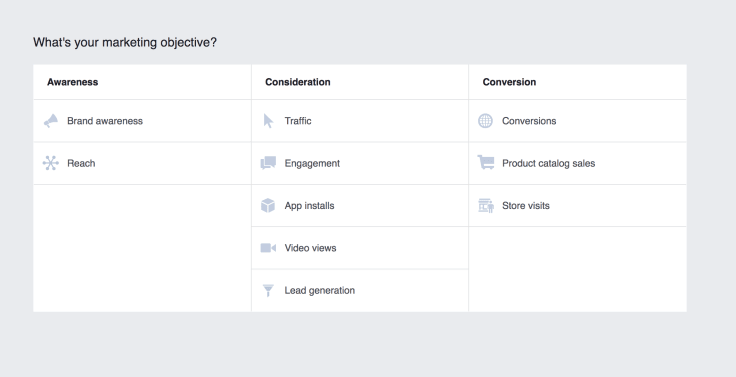 * Hover over each marketing objective to learn more about it.
As an affiliate marketer, you probably want to focus on the second goal and promote external affiliate links. However, I'd encourage you to dip your toe first and start with growing your audience on your Facebook page.
Side note:
Bear in mind that Facebook promotes activities that keep users and traffic on the platform and their admins usually accept such campaigns immediately. Setting up an external campaign may take much longer - up to 24 hours - before Facebook approves it.
Determine what kind of campaign you are going to promote. You'll then have to provide some more information regarding the page you want to promote, and the audience your ad is aimed at.
Define your demographic by setting the proper location, age, gender, and languages.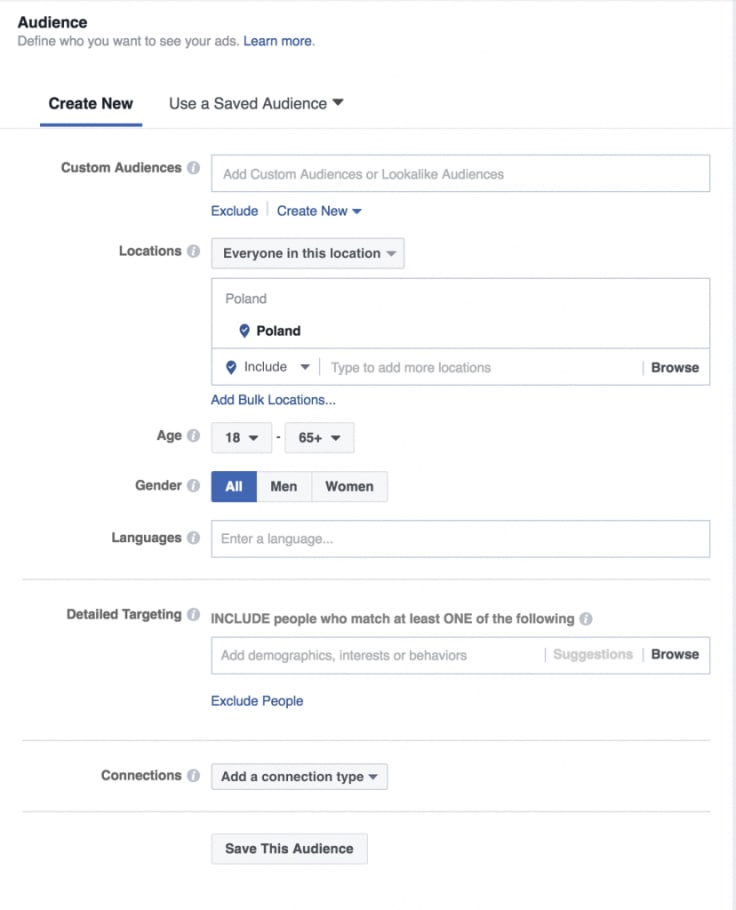 Decide what would be the best place for your ad.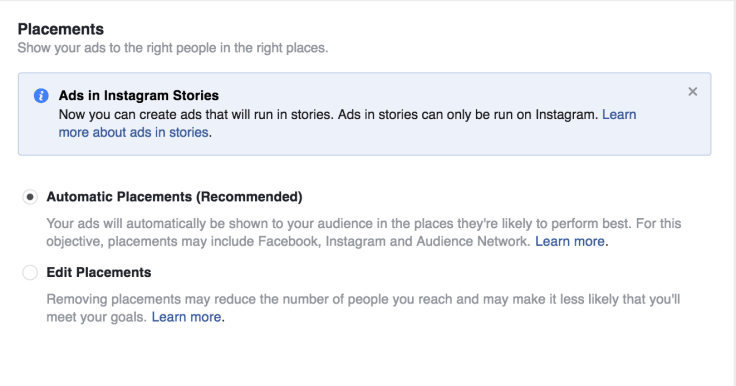 And finally, determine what your budget and schedule is.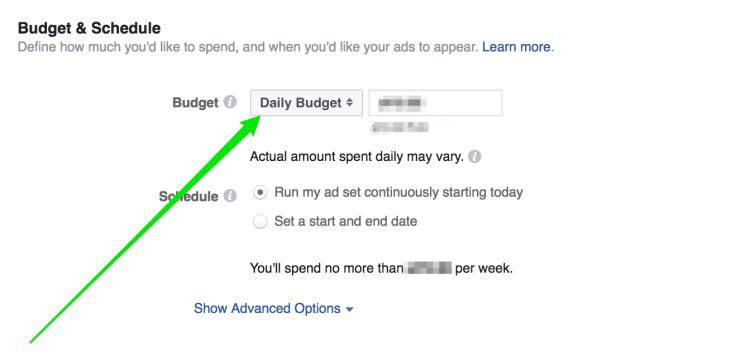 Your daily budget is an average; this means there are days when your expenses might be slightly higher or lower. On some days, Facebook may go up to 25% over your daily budget. For example, if your daily budget is $10, they can spend up to $12.50 on a given day to get the optimal results.
However, don't worry about overspending - your costs will average out over the calendar week. If Facebook spends more money on days with lots of opportunities, they'll spend less on other days.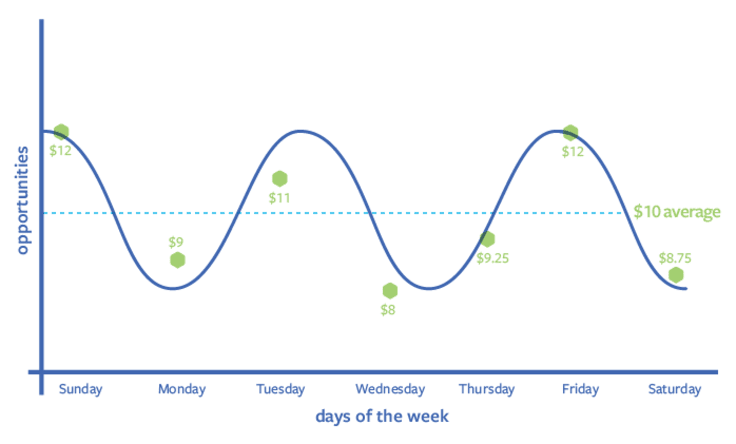 Having completed this part, proceed to the next step.
Choose the ad format.

And, finally, you can add content of your ad including headline, description, text, website URL and images.
It's just great that Facebook Ads Manager lets you control and see all your edits dynamically in the preview that appears on the right side of the editor, on the same page.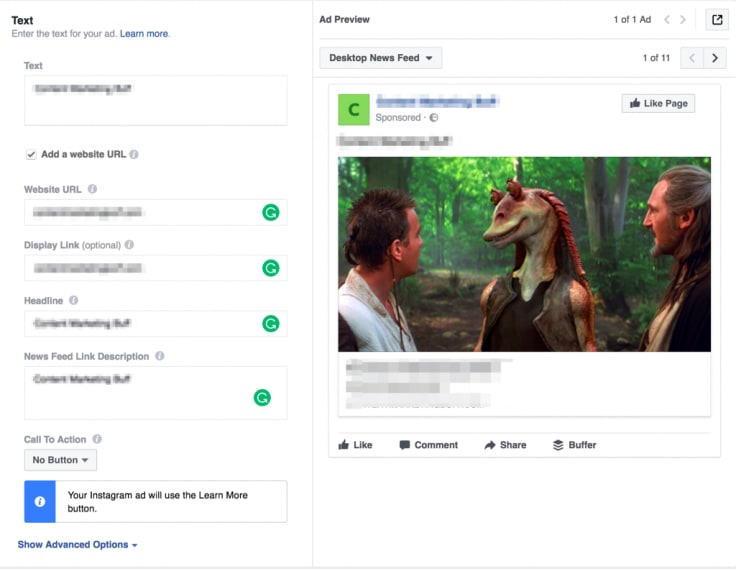 You can also add a preferred CTA button to your advertisement. Just choose it from a drop-down list and note where it appears.
If you want to track your website conversions along with the performance of your ads through Ads Manager, you should be using Pixel for it.
Set up your Facebook Pixel
To create your Facebook pixel, you should go to the Pixel section within Ads Manager. There is a nicely crafted implementation guide available to help you understand it's details.
Once you have your tracking pixel created make sure you add it to each page of your website in a proper place. Paste the Facebook pixel code between the <head> and </head> tags of your web page source code.
Ok, looks like your ad is ready for launch and your campaign is bound to bump up the orders!
A Few Tips for Setting Up Your First Facebook Ads Campaign
1.Do split testing where applicable.
Now Facebook Ads Manager enables split testing. Leverage this opportunity and analyze how changes in different variables impact your ad's success. This will stimulate your learning.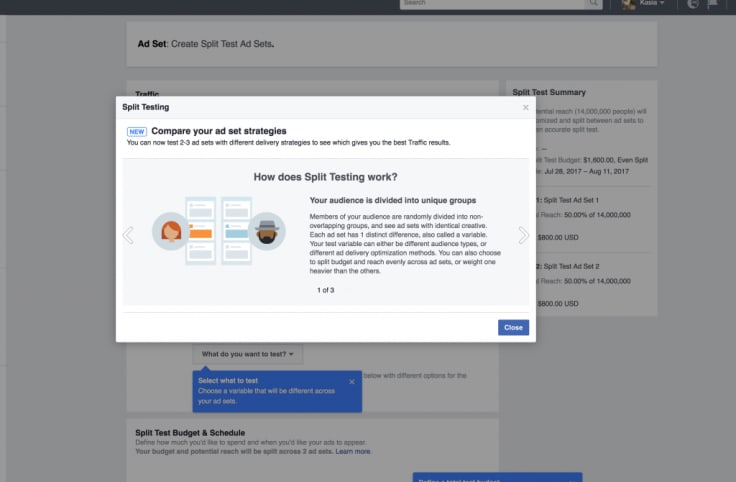 Split Testing allows you to:
effortlessly test the same ad on two different audiences to check which segment yields the best results.
test two delivery optimizations, such as conversions or link clicks and find which performs better.
examine your copy and images and see how these variables affect results.
2. Limit time and budget per day
This argument is pretty straightforward; you don't want to wake up one morning and get shocked by the bill.
3. Target your audience precisely
Know your buyers and target your ideal customers efficiently. Put running full-out ad campaigns on hold until you know exactly who you are talking to.
Any solid campaign strategy starts with figuring out who your target demographic is. Want to get results with your ad campaigns? Perform extensive market research first and find out who has the highest conversion potential.
Then, break this audience down into separate segments and target these segments individually within your ads. Don't go too general because you'll receive fewer clicks. Aim for valuable leads to maximize your results.
4. Tag all your URLs with UTM parameters
Ensure all your ads that lead to your affiliate site are marked with relevant UTM parameters. If you are using Google Analytics (or something else), you will be able to measure performance and behavior of your campaign within your external analytics tool(s).
5. Promote the right content
Make sure the copy and images you use in your ads are catchy and make people want to take action. Use split tests to verify what copywriting practices generate the most clicks and then follow the winning patterns.
Also, learn about power words and how you can leverage them in your ads.
Become a LiveChat Affiliate – create your free account and start promoting LiveChat on Facebook
Facebook ad campaigns are the most actionable way to do affiliate marketing on Facebook, but there's more to Facebook than that. You can leverage this enormous platform in another way.
Facebook Business Groups
Certainly, the objectives of Facebook groups differ from those of Facebook pages.
As a matter of fact, the primary goal of a Facebook fan page is to amass followers, show off your brand and identity, and communicate with your prospects.
On the other hand, groups offer visibility and networking.
Business groups aim to connect various experts and people who are interested in a given topic.
Group offer a bit more exposure, too. By default, members usually get notified about new posts and replies, which tends to keep the conversation alive.
It's an excellent idea for you to join relevant groups and promote your affiliate campaigns there (at a reasonable frequency).
You can even go a step further and create a business group on Facebook. You'll be its administrator, so you'll set the rules.
Anyway, the idea here is to stick to a professional and educational tone of voice and maintain a high quality of communication so that any group member can enjoy the intellectual values of the groups and won't feel harassed by affiliate offers and sales pitches.
How to Create a Facebook Group
To create a group on Facebook, find "Groups" on the left margin of your Facebook wall. Once you click through, you will find yourself in the groups dashboard.
Then click on the green "create group" button.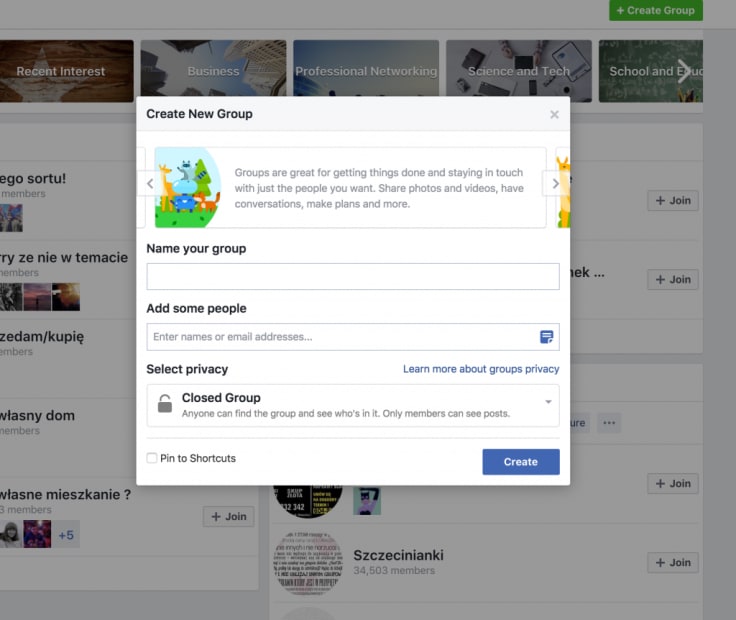 Find an appropriate name for your group. Make it clear what it's about.
Decide if the group should be closed or open. The best idea for creating a lucrative group is to set its privacy settings as closed. In such a setup, anyone can ask to join or be added or invited by a member. As the admin of the group, you'll be in charge of who joins, so that makes it much easier to moderate.
If you decide that creating a group works for you, just remember that moderating requires some work. It's not that different from running a Facebook Page —; you have to keep it alive, so you'll need to post regularly and get the ball rolling in the discussion. And, of course, you will need to monitor anything what's going on - Especially the quality of your discussion threads. Your watchful eye will be needed here.
Joining Facebook Groups
I suggest that you focus on about 10 professional groups which are relevant to your interests, so that you keep up with the content.
Before you join any group, first measure it against a few key criteria:
the number of active members,
The quality of the description,
A low spam score.
How to find groups
The best way to find relevant groups on Facebook is by looking up keywords via the search box.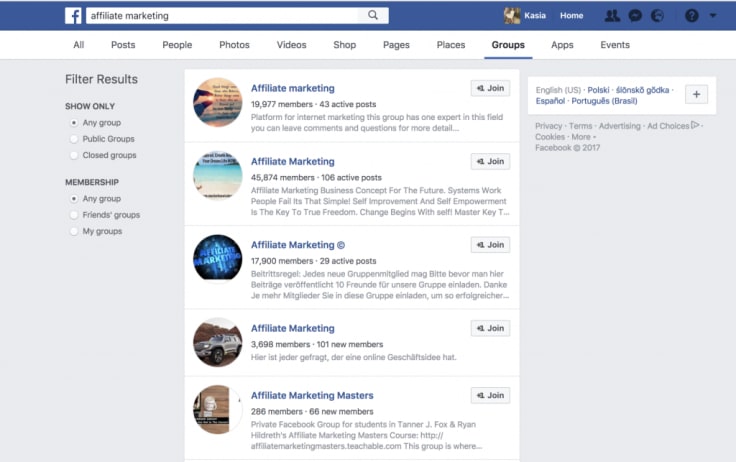 Type your keyword in and then go to the "groups" tab. Then, all the most popular groups will be listed by popularity. Look through the results to see what groups are the best fit for you, and then jump in to join the discussion.
Wrapping up
Affiliate marketing on Facebook requires you to follow our advice step by step to achieve optimal results. Of course, you can just launch Facebook ads, focus only on them. If done correctly, you can make them perform well for you.
However, with the goal of reaching your site's fullest potential, boosting your findability and credibility in mind, don't limit yourself. Create a Facebook Page, a group, and join other business groups, too.
Consistency and persistence in executing your strategy and pursuing your business goals are crucial. So, take this lesson and start doing affiliate marketing on Facebook now.
Back to you.
Do you have any interesting experience with Facebook advertising? Get in touch with me on Twitter and let me know!
Happy marketing!
Kasia