In our Affiliate Program, we offer a 20% recurring commission for the lifetime of every LiveChat or ChatBot subscription you help us sell. This means you'll get a 20% commission for every payment made by customers you refer for as long as their subscriptions are up and running.
What's most important for you is that once converted, our customers stay with us for years. For example, the average lifetime of LiveChat subscriptions is three years, providing you with a stable, passive income.
When it comes to commission withdrawals, we've found PayPal's eChecks the most convenient and reliable solution. While you don't have to insert your PayPal details during the signup, you have to input them if you want to withdraw your earnings.
Our withdrawal policy:
You can withdraw your commission anytime once your earnings reach $50.
You can request withdrawals directly in the Partner App.
Usually, it takes us only a couple of hours to confirm each transaction.
To get your commission, log into your Partner App, go to the "Balance" section, and click "Request a withdrawal." You will receive your money as soon as we accept the payment. It's that easy!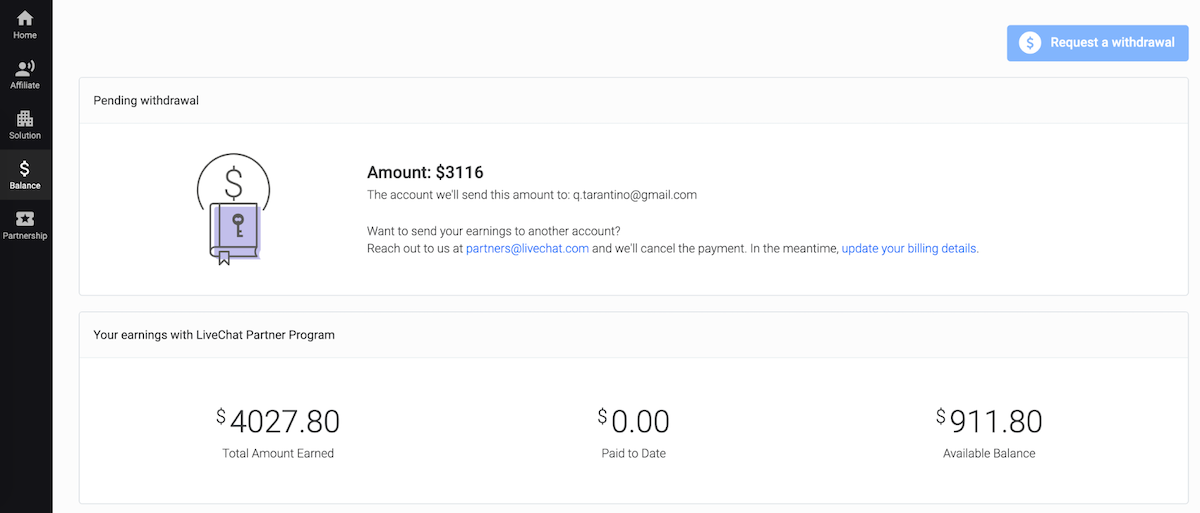 Please note that you can only withdraw the entire available balance, and there's no way to withdraw only a portion of the money you've earned with us.