Showing top

0

results

0

results found
Showing top

0

results

0

results found
New in LiveChat Partner Program: Create ChatBot Accounts for Your Clients
3 min read
Jan 30, 2020
LiveChat Partner Program just got an upgrade! You can now use the Partner Application to invite your clients to start using ChatBot - a powerful new product from our company's suite.
Back in November 2019, we made a ChatBot affiliate link available in LiveChat Partner Program. It allowed content creators, website owners, and publishers to market ChatBot to their audiences. Now, it's time to introduce ChatBot to the community of LiveChat Solution Partners!
Create ChatBot accounts - effortlessly
At first, we give you the opportunity to set up ChatBot accounts for your clients directly in the Partner Application. To make it possible, we've leveraged the flow that has been working perfectly well with LiveChat. It's super simple and consists of two steps:
Firstly, you create a ChatBot account in the Partner App's Solution Partner Section (or using our API docs).

Then, the client you picked as ChatBot license owner when creating an account for them, receives an invitation to start using our software (email template below).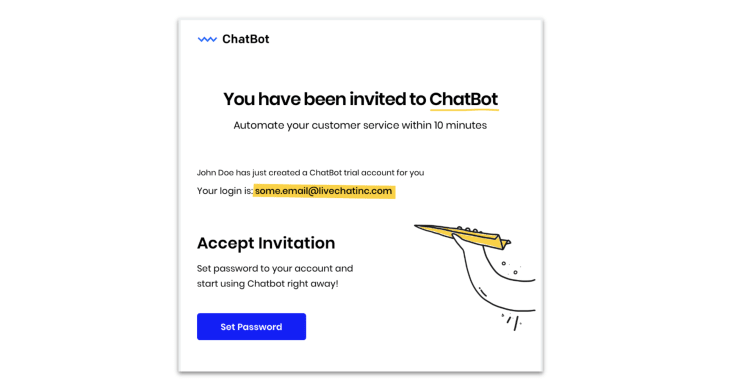 Whenever the client subscribes to a ChatBot paid account, you'll start earning a 20% recurring revenue for a lifetime of the license.
That is all! As you can see, creating new ChatBot accounts for clients through the Partner Application is effortless and super convenient.
You don't have to share referral links and worry whether clients use them correctly or not. Just make sure to refer clients interested in using ChatBot to our product and pick your revenue up once they subscribe.
Direct referral and what's next?
We consider ChatBot to be the software, digital agencies and ecommerce consultants can build a plethora of professional services around. ChatBot does magic with online customer service optimization but it requires a certain level of expertise to be implemented correctly. And while we do support clients to some extent, we're not able to work with them as closely as you usually do.
You might, of course, think of ChatBot as yet another source of additional revenue from referrals. The thing is, it can bring so much more value to your business!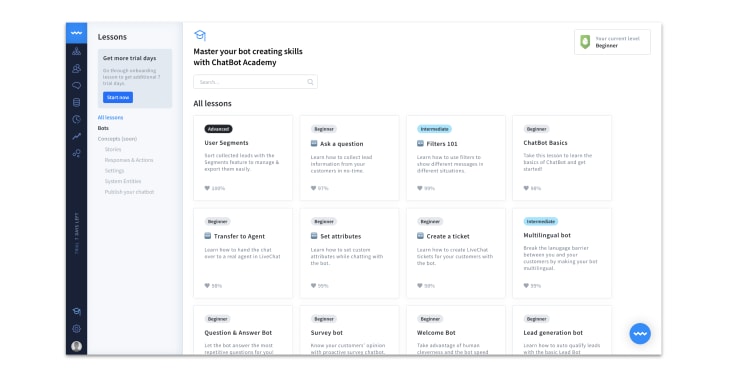 Learn how to build amazing bots and offer clients more than just a simple product recommendation. With the demand for business chatbots growing at a massive pace, running a ChatBot consultancy might occur a perfect professional service in your business portfolio.
While the flow we've just implemented supports the scenario where a client pays for ChatBot and you get a commission, we soon plan to implement the alternative scenario. In it, you'll be able to purchase ChatBot accounts for clients in the Partner App and then - resell them on your own terms.
Whether you'd add your markup on top or sell ChatBot bundled with services you provide, is entirely up to you.
Got interested? Stay tuned for updates!