Showing top

0

results

0

results found
Showing top

0

results

0

results found
Introduction Guide to Using UTM Parameters
8 min read
Aug 10, 2017
As a marketer, you strive to be a data-driven expert. You base your conclusions on stats and use traffic analysis software on your websites. I bet this software is Google Analytics, isn't it?
All in all, according to W3TECHS, Google Analytics is used by 54.3% of all websites and has a market share of 83.5%. What's even more impressive is that more than half of those websites use GA as the only source of marketing data.
The free version of Google Analytics provides you with sufficient data tracking capabilities so you get a clear picture and a proper understanding of where your traffic comes from and how it flows through your conversion funnel.
Sounds great, right? Well, it does... unless something gets not-provided. And with Google Analytics the not-provided area isn't that tiny though. There are things good ol' Google Analytics won't tell you, so find out how to get the necessary information.
Tired of seeing not-provided? Avoid the guessing game and start adding UTM parameters (also called UTM codes) to your marketing campaigns.

A simple tweak to ensure you're getting reliable campaign data is to use UTM parameters for each marketing campaign you have going.

Search Engine Journal
If you aren't using UTM parameters to track your marketing efforts yet, then this article will surely blow your mind. :)
Even if you're tracking your campaigns with UTMs already (as you should), you will still benefit from reading this up-to-date guide.
That's right, keep on reading.
Start using UTM codes for each marketing campaign you launch. But first, find out what is it all about.
Side note:
Wondering what UTM stands for? Well, that would be Urchin Tracking Module. This comes from Urchin Software Company whose developers created this kind of online tracking. Later, in 2005, Google acquired the company to create Google Analytics.
What are UTM Codes
UTM parameters are just text codes (or tags) added to the end of a URL and recognized by GA. They serve to track important data of your online marketing campaigns, so, once a tagged link gets clicked, UTM parameters trigger an action which is sent back to Google Analytics so you can record this activity.
When your link gets clicked, tags are sent back to Google Analytics and are tracked.
To visualize this term even more graphically, I've created a simple example: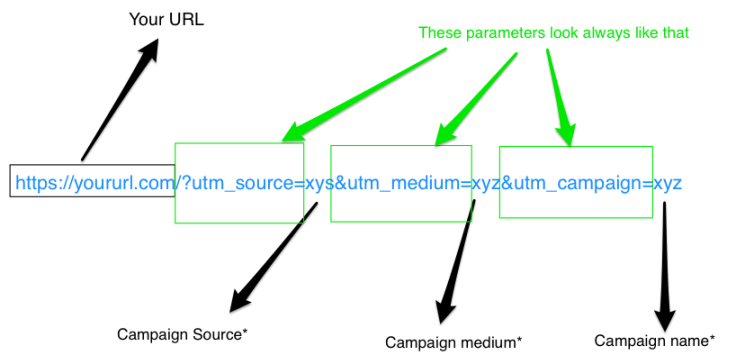 This is how your URL looks with UTM attached to its end
On the image above, I've presented the basic pattern of UTM codes. However, this is not the only structure a UTM can take. My illustration presents only the required UTM elements, such as:
1. The URL
Without the URL there is nothing to attach the UTM to, so I bet we don't need any clarification here. ;)
2. Campaign source - utm_source
Depending on a marketing campaign you launch this one should describe the origin of your traffic accordingly. Namely, your source can be a search engine, a newsletter, Facebook, Twitter.
3. Campaign medium - utm_medium
Here you describe whether your marketing campaign comes from an organic medium or whether it comes from email; social media or CPC.
4. Campaign name - utm_campaign
This should be a unique identifier of your specific campaign and, as a result, the most important UTM element as it makes one campaign different from the another. Sure, you can have various sources and mediums, but they are all somewhat repetitive, so the name of your campaign makes a proper distinction.
Apart from obligatory UTM elements, there are also other, optional ones.
5. Campaign Term - utm_term
This applies when it's a paid campaign targeted at a particular keyword. And you can skip it for Adwords in case you use your AdWords account and use its auto tagging feature.
6. Campaign Content - utm_content
This element comes in handy when you have some additional remarks, information, and details to use and describe your campaign.
For instance, if you are A/B testing two variations, then utm_content is a good place to check, let's say, the two different link placements, and specify here which version is A and which is B.
Just to recap, below is the table from Google that explains each parameter: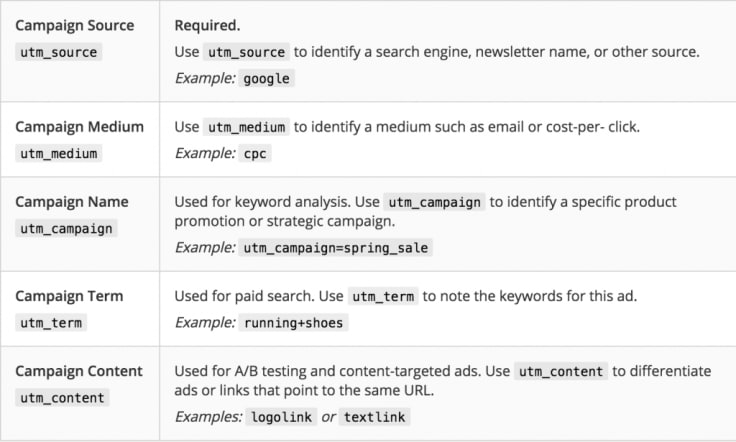 Pro tip: While crafting your campaign links bear in mind that UTM parameters are case sensitive. This means that capitalization matters — utm_something and utm_Something are not the same thing and will show up as separate campaigns in Google Analytics.
Also note all your UTM tags will show up in the browser, so it's better to use common and neutral phrases that you wouldn't mind the user to see.
How to bring all these UTM Parameters together?
Of course, you can do it manually, writing parameters in the following sequence:
However, it's not necessary, since the simplest way to create UTM parameters for your URLs is to use Google Analytics Campaign URL Builder which lets you generate URLs with all the available parameters attached.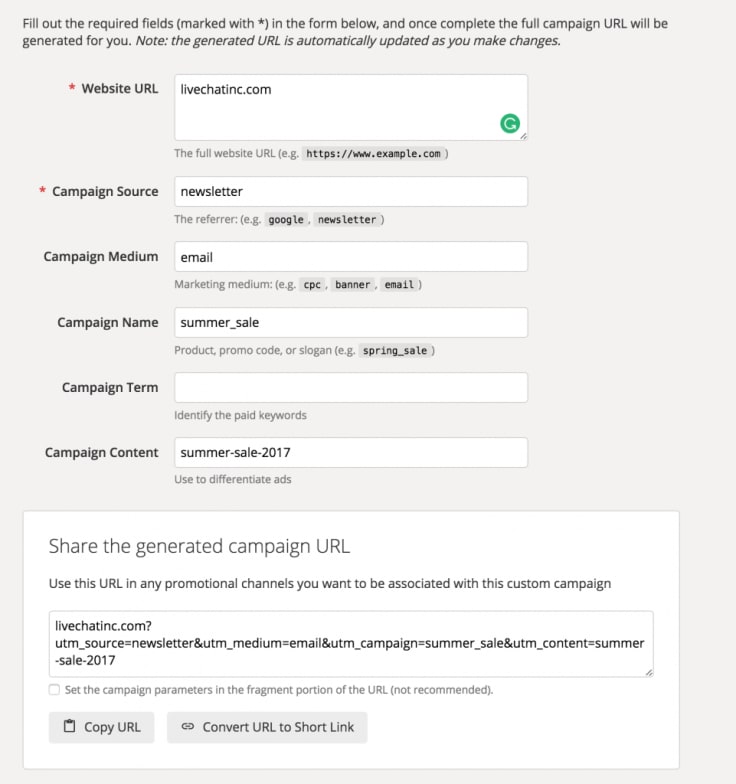 You can install this tool as an extension and add it to your browser.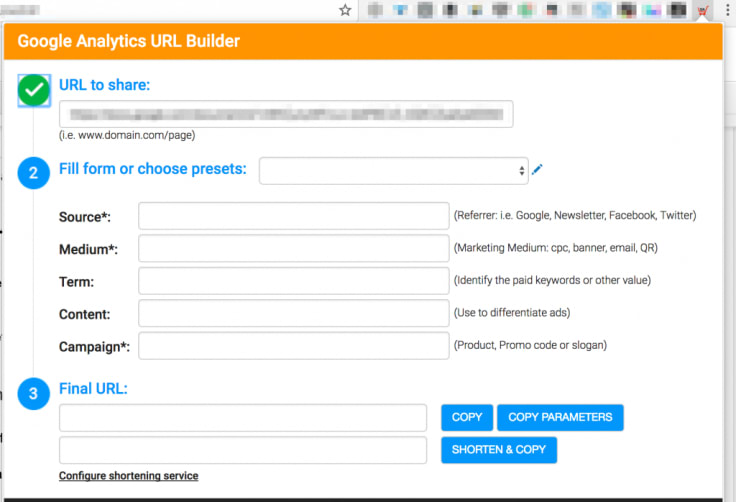 This makes your job easier. Once you launch this extension at a given page, "URL to share" is already added, so there are only UTM parameters left for you to define.
Once you do it, the final link will be provided, and then you can act in three ways:
copy the final URL
copy the UTM parameters only
shorten your link and copy it only
Now, when your campaign is ready to start, you should find out where to view its results within Google Analytics.
Why You Need to Use UTM Parameters
UTM codes will open your eyes to a whole new world of insights. They will let you keep track of pages which were out of your control before.
Also, UTM tracking gives you the sense of where your traffic is coming from and informs you about its quality. This way, you get a deeper understanding of what works and what doesn't and you'll hone your strategy by focusing on the right channels with the right content.
They provide decision makers with extra value and let you become a better marketer.
Where to View Results of Your Campaigns in Google Analytics
Presumably, you employ Google Analytics as your website's performance tracking tool, so if you want to check where the data gathered by your UTM parameters are sent, log into your GA first and go to the Acquisition section, next, click Campaigns and view All campaigns respectively.
Your campaign name will be displayed over there, accompanied by other variables such as sessions, new users, bounce rate, session duration and goal completions across their values.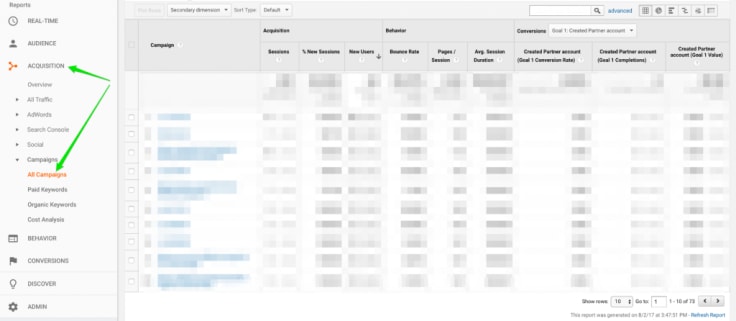 From there, you can easily compare your results and export them to a neat report in a preferred format type such as CSV or PDF.
LiveChat Campaign Builder will sort it out for you!
The good news for marketers who operate in affiliate marketing (and market LiveChat) is that our affiliates don't have to bother with building campaign URLs or be concerned about adding UTM parameters at all.
As a LiveChat affiliate, all you need to do is just make a use of our all-in-one campaign builder.
Just signup and create a free partner account first, then view your affiliate dashboard by clicking through "campaigns" on the left menu.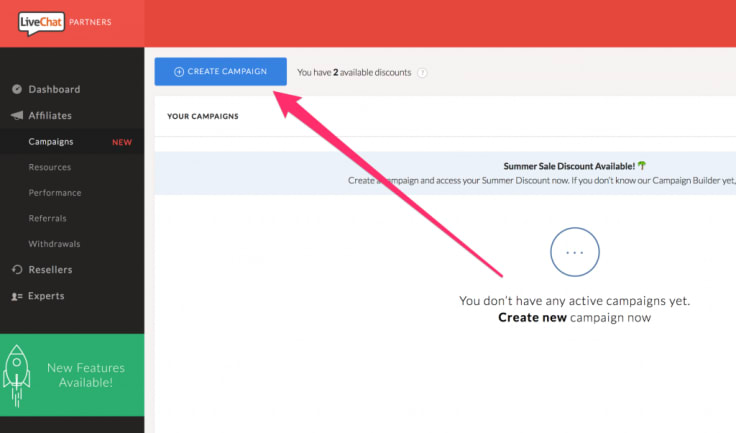 Once you get there, the create campaign blue button will be in the upper left corner.
The campaign creator lets you attach three parameters to your affiliate link, such as:
Campaign name - Specify the name of your campaign, once you name it adequately, you'll be able to track it in the "Performance" section.
Trial length- Choose the length of the trial you want to offer. At the moment, the available range is 14 and 60 days.
Discount- Consider attaching a special discount to your offer to encourage subscriptions through your affiliate link.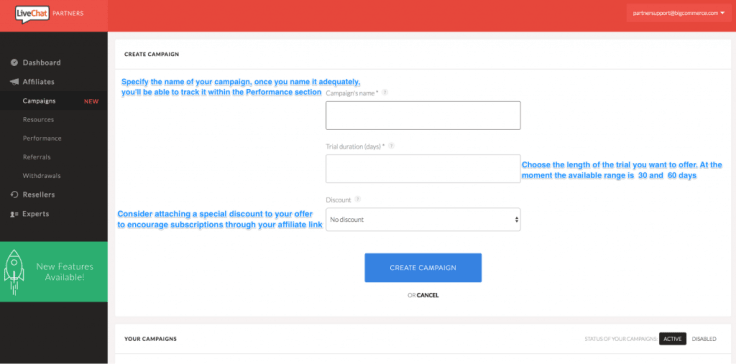 And voila!
Also, such a ready-made link automatically consists of your affiliate ID, so performance tracking is already taken care of.
Besides, once the link creation itself is finished, you can automatically assign one of our top-notch visuals to it. Just go to "Resources" section within your Partner Panel and pick the relevant visuals for your offer from there.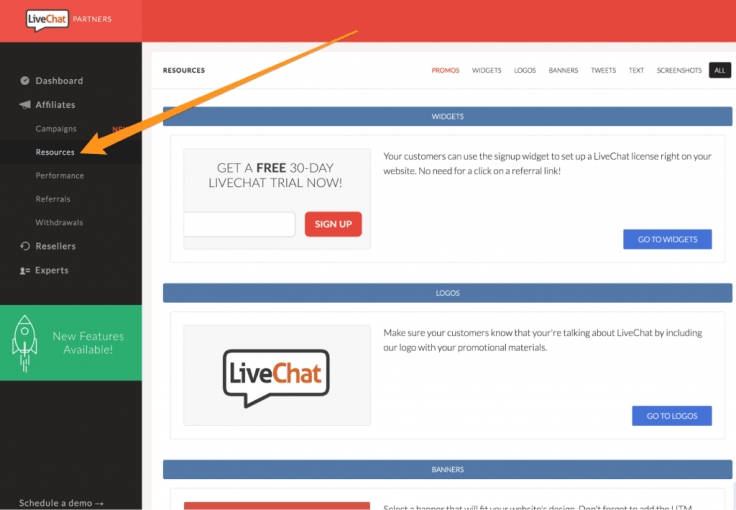 Even better! LiveChat affiliate partner panel tracks your campaign results just like a charm. So, you can view clicks, trials you refer, and subscriptions and the current account balance in one place, within the one simple; user-friendly dashboard - no need to access Google Analytics ;).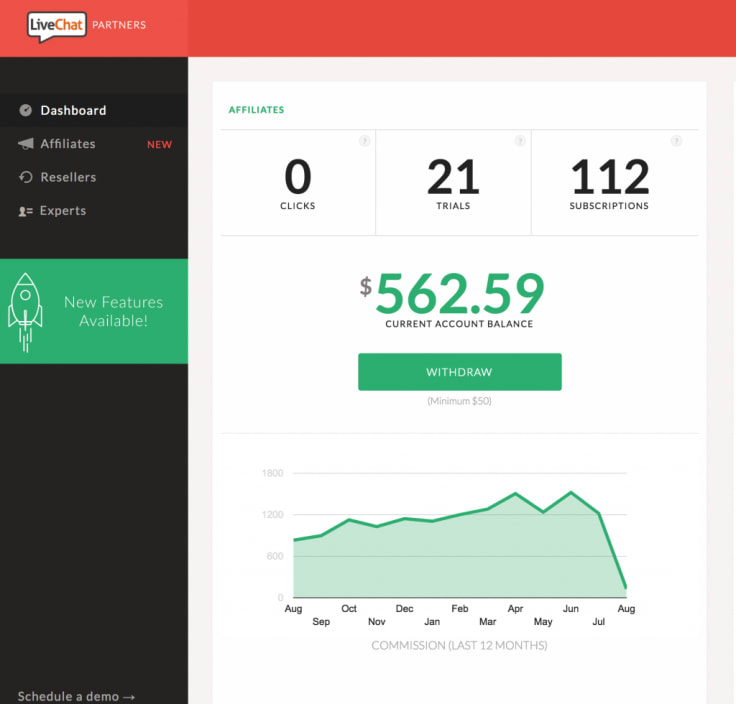 As you can see on the screen above, beneath your performance indicators, there is even your performance chart presented month by month on a simple timeline. Just become our affiliate partner, and enjoy the benefits of promoting the leading software in the customer service industry.
Wrapping Up
UTM parameters are extremely versatile. They can be used for tracking conversion rates of blogs, banners, newsletters, e-books, contests, QR codes and any online marketing campaigns you can think of to determine which places trigger the most opens.
They can bring in a lot of fresh knowledge about your effectiveness, so start experimenting today!
Do you use UTM parameters? Let me know where you apply them. Get in touch with me on Twitter.
Happy Marketing!
Kasia