Showing top

0

results

0

results found
Showing top

0

results

0

results found
9 Best Alternatives To Google AdWords
9 min read
Dec 18, 2017
Let's continue with the thought that you shouldn't put all your eggs in one basket, as mentioned in my previous article.
I've decided to put up an ultimate list of Google AdWords alternatives to give you an idea on how to go beyond Google with your budget. Let's dive into it and get to know where else you can advertise and boost your ROI.
Why use AdWords Alternatives?
When it comes to running PPC campaigns, Google Adwords is one of the leading tools in the universe. Therefore, putting a bet on Google Adwords, (if done right) offers a massive opportunity.
There's no doubt about that.
Take a look at the pie chart below. Did you know that $0.60 of every dollar spent on digital advertising goes to Google and Facebook?
These two platforms make a duopoly.
Google Adwords' advantages are hard to beat. Nonetheless, there's still 43.4% of the digital market share you can fight for.
Besides, investing solely on Google Adwords has some considerable downsides. First of all, if you're starting from ground zero, then you might struggle with limited funds, and you also risk wasting money if you're not doing it right. This is especially true if you haven't experimented with Google AdWords before.
Don't get me wrong, trial and error is an excellent method of learning marketing strategies - but always on a small scale. Never bet your entire budget on ads, right at the beginning of your journey.
Also, Google AdWords is quite a popular tool among business owners (large corporations included). Everybody uses it for boosting their visibility. This means two things:
strong competition
expensive bids
With that being said, including AdWords alternatives within your strategy can be a wise decision. Such channel diversification can increase your ROI and amplify your results.
Okay, it's time to show you my list:
1. Facebook Ads

Facebook is the second giant when it comes to digital advertising. Also, the platform knows its users better than Google. Facebook allows you to target your audiences more granularly. It lets you set three dimensions to trigger an ad:
Interests
Demography
Geography
That's quite a precise targeting mechanism compared to Google AdWords. While Facebook shows ads based on likes, Google Adwords is based on the keywords you type in a search box and your historical user preference. All in all, the argument that stands out most is the average cpc: Facebook ads are a third of the cost of Google Adwords.
2. AdRoll
AdRoll describes itself as the retargeting and prospecting platform of choice for over 35,000 advertisers worldwide.
In fact, it provides various online advertising options, but the platform is best known for its retargeting plans. It partners up with Facebook, Google, Yahoo, and Microsoft so that by using AdRoll you can reach 98% of websites.
Statistically, AdRoll retargeting customers make $10 for each $1 spent.
AdRoll makes retargeting easy. It includes easy-to-digest analytics and a user-friendly ad creator. AdRoll lets you target your ads based on several dimensions like customer segmentation and geo-targeting. You can use this platform to target people based on their actions or purchase intent. In addition, you can set up advanced conversion tracking rules.
All you have to do to get your first AdRoll campaign started is:
set up your account,
paste your pixel at the bottom of your site's pages,
opt-in for cross-device targeting,
integrate with channels you want to broadcast your ads on,
create ads, set goals,
and you are ready to go.
AdRoll can make be a great multi-channel advertising tool and let you manage multiple campaigns within one dashboard.
3. BuySellAds
Buy Sell Ads is an advertisement buy-sell marketplace. It works as a middleman between the publishers that list their websites on it and the advertisers who come directly to invest in advertisement spots.

Publishers can accept or reject specific ads. The moment you (as a publisher) approve an ad is the moment it appears on your website and money gets transferred.
Simple as that.
It's a clear concept and a great meeting point for bloggers wanting to start making money on their online presence and advertisers looking for new promotion channels.
However, joining BuySellAds isn't easy. There are strict, quality requirements regarding website design and content. If your site is missing out on any of these, then you won't get approved by the site.
Sorry, I'm not sorry. Keeping quality standards is a good thing. Thumbs up, BuySellAds!
Just remember, signing up is free and you can set up your price according to your calculation, but BuySellAds will charge 25% of each transaction. That's not a bad commission, especially since most ad networks charge 30% - 40%.
4. Reddit Ads
Reddit is a behemoth social network in terms of a sense of community and user engagement. Undoubtedly, it's the most influential one. Being unauthentic here is an ultimate deal breaker. Once Redditors sense your marketing intent, you're dead and gone.
But fortunately, Reddit offers ads that eliminate the need for building a social presence on the platform.
And Reddit has the traffic potential of 8 billion page views from around 234 million - crazily engaged - unique monthly visitors. And the best part is that the audience keeps growing month after month.
Reddit has tons of very targeted ad inventory. It might not be as friendly as Facebook, the interface may look ugly, and the audience seem quite odd, but even if it gets tricky at times, it's a huge opportunity and a game worth playing.
Also, most marketers tend to ignore Reddit as it appears tricky to handle. Use it to your advantage and spend time learning to carry out Reddit advertisement correctly.
Start by visiting Reddit Advertising.
5. Bing Ads

Apparently, Bing grew to own 19.7% of the US search market share over the past year. Today, Bing's audience performs 5.4 billion searches a month. And 63 million searchers out of can't reached on Google.

So, while it's still an underdog compared to Google, Bing Ads are doing great and offer some exceptional advantages:
better search ranking
cheaper CPC, averaging 33.5% less than on Google Adwords
more granular control at the campaign and ad group levels
better device targeting options
more transparency and control over search partner targeting
6. Yahoo Gemini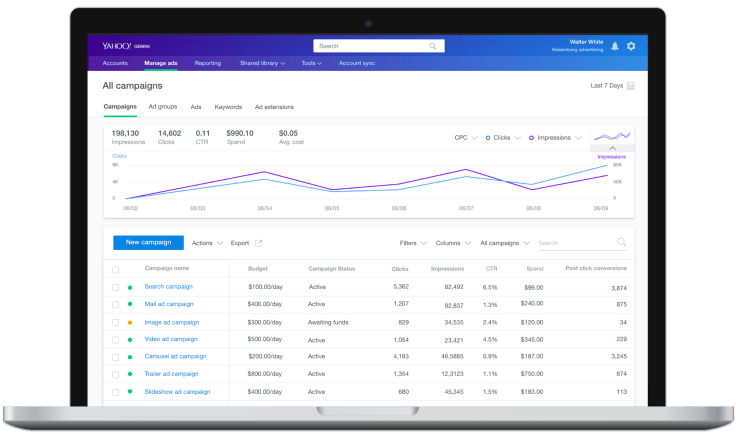 Another PPC platform you could cover in your strategy is Yahoo Gemini. As Yahoo says on it's site, Yahoo Search serves over 100B unique searches per year. Apparently, 22% of the searchers can't be found on other engines. So this might be an unexploited channel for your ads.
On Gemini you can use a variety of ad types to target users cross-device and cross-platform. Use it for growing your revenue and brand awareness.
7. Amazon Ads
If you aren't an Amazon shopping buff, then you might not be familiar with its traffic volume.
Consider this: there are 300 million Amazon users, and out of those 300 users, 80 million Americans are Amazon Prime members! That's a huge user base. With so much data, Amazon is capable of targeting it's users better than most.
Both Google and Facebook have granular targeting superpowers in that the first holds search data and the latter our interests and likes. Amazon knows best what its users buy, and when and how they do it. And that's a super power you should definitely leverage within your marketing efforts. No brainer.
But what exactly are Amazon ads and how do they work? This mechanism can be compared to Google search. Amazon contains a search box where you type your words in. Once you do that, you will be presented with results pages, and some of the top results will be ads. These ads usually have a subtle 'sponsored' note somewhere near the heading.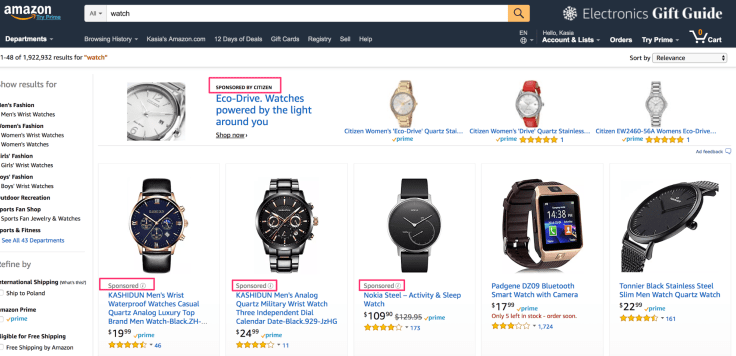 If you're trying to get more visibility on Amazon, you should invest in sponsored posts by bidding on certain keywords.
Are you selling a tangible product? If yes, then, you should definitely be advertising on Amazon. Start with promoting your best sellers and then once you see your ROI with ads, broaden your scope gradually.
Apparently, the average CPC on Amazon is rarely more than $0.35 and that makes it more cost-effective than search ads on AdWords or Bing Ads. These are quite promising numbers, especially since Amazon searches imply high commercial intent.
Another reason to focus on Amazon ads is the fact that it translates to an organic rankings boost.
There are several ad options for Amazon, such as self-serve ads and premium ads. In a nutshell, the difference lies in placement and ways of visualization. While self-serve ads are displayed similarly to Google search results pages, premium ads look more like a visual banner.
8. Quantcast
Quantcast is a web tracker used, for instance, by Guardian.
What Quantcast does is build up a profile of a browser's behaviour across all websites using their web beacons. Quantcast tracks over 100 million online destinations, including websites, videos, widgets, blogs, and advertising campaigns.
Quantcast captures the data about pages a certain browser was on, what words were typed into the search, and the amount of time a certain browser was on the website. As a result, a browser's profile is built.
With Quantcast you can advertise more efficiently because it connects you with your most relevant audience across the entire internet, before they're even in-market.

9. Twitter Ads
Thinking of running ads on Twitter? Setting up Twitter advertising is easy and with even a little amount of money can bring you substantial traffic and revenue.
Determine your daily budget to control your campaign spendings. But first define what's the average value of your follower, lead or customer and take into account your customer lifetime value. The rule of thumb is that your cost per lead should be lower than your revenue. Otherwise you may end up losing money on ads. Then set your total budget for a campaign. Divide it by the number of days your campaign will last and there you are - your daily budget is clear.
There are three main goals you might be targeting with your Twitter ads:
Growing your Twitter follower base
Driving traffic and conversions to your sites
Generating leads
Wrapping up
Okay, that's it for the time being. But hey, I'm not trying to deter you from investing in Google Adwords. I just want to show you other options that can also be efficient in terms of ROI, while being cheaper to handle at the same time.
You can always put your hands on Google Adwords, but start small and locate the rest of your company's business elsewhere. This will give you a bigger picture on paid acquisition in general.
Unleash your marketing potential and start advertising! Questions? Feel free to drop them in the comments below.
Happy marketing guys!