Showing top

0

results

0

results found
Showing top

0

results

0

results found
Facebook Ads: What to do When Your Organic Reach is Dead?
9 min read
Dec 28, 2017
Bring Your Social Media Performance Back to Life with Facebook Ads.
"Facebook organic reach has declined significantly over the years which has caused engagement to fall -- even when the content is solid", says Larry Kim in his latest publication.
Indeed, with the limited organic reach, it gets harder to keep your social media audience engaged and growing. And recent changes to Facebook news feed aren't helping here.
Fortunately, there's still paid advertising; the most immediate and perfectly measurable way to boost the reach of your online content.
Therefore, no matter if you advertise on search engines or social media, including ads in your marketing strategy is a wise move. This is especially a good idea in the early days of your business activity when you're bringing it to life.
Paid campaigns will help you build your initial traction, brand awareness, and online presence. That gets explicitly useful when the organic search traffic to your site is still small.
Besides launching Facebook ads, you should set some goals ahead. They will help you define what you are searching for from your paid campaigns and what kind of returns you can expect.
The common goals for Facebook ads include:
Increasing traffic to your site
Increasing the reach and engagement with your Facebook content
Growing your follower base on Facebook
Having objectives in front of you will keep in line with your results. This will inform you about what types of advertisements you should be using.
Okay, so by now you know that deploying Facebook advertising is a wise move. But, how do you know what kind of Facebook ads you should be investing in? Facebook offers various advertisement types. You can boost posts, use dark posts and create ads.
Facebook's Boost Posts
You most likely post organic updates on your business page. Facebook sends you notifications that some of your posts outperform the others and that you should consider boosting them.
Have you seen it before?
The idea of boosting posts comes down to pushing already existing posts further. If your posts aren't getting the desired reach, then you can boost them and generate extra engagement and clicks through to your site.
Boosting posts is the most basic advertising technique on Facebook, designed to grow your website traffic and increase the buzz (likes, shares, comments) around a specific post.
I saw somewhere quite an accurate parallel with a pool:

If Facebook advertising was a pool, then Facebook's Boost Posts would be like playing in a kiddy zone.
Unlike Facebook ads created directly in the Power Editor, boost posts have limited targeting. You have just two options here:
You can promote your post across friends of people who already follow your page,
or you can choose custom targeting for post promotion.
Here, boosting Facebook posts towards friends of your friends, might be the wrong move. After all, you never know if you are aiming at your marketing personas. And this can result in wasting money.
On the other hand, with custom targeting, you are presenting your posts to those who have a certain interest in your topic. So it's pretty clear which targeting idea is better :)
Go ahead and define the people you are trying to reach. Specify their age, gender, location and up to 10 interests. Make sure your potential audience size isn't too small. Then add your total budget and duration. And you're ready to go.
For the sake of testing, I would recommend experimenting with both targeting options. Each case is different, so see how they perform in yours. Perhaps, friends of your friends are in your scope. Unlikely, but it could happen. See for yourself.
Although Facebook's boost post button isn't the most popular tool on the network and has raised some controversy, some companies know how to use it right to bring great results.
Use this option at the beginning of your journey with Facebook advertising, when you're still a learner, and just before you move onto more advanced advertisement tools such as the Power Editor.
Facebook Pixel
First of all, whenever you're starting with paid campaigns on Facebook, set up the conversion pixel in your website's HTML code.
The Facebook pixel is a snippet of code that lets you monitor the performance of your paid campaigns also lets you re-target people that've been on your website. It gives you a deeper understanding of on-site actions your website visitors take and reach audiences you care about.
To set the conversion pixel in motion, place the code in the header of your site. Once you do so, then when a visitor takes any on-site action, such as:
makes a purchase,
subscribes to your mailing lists,
downloads your marketing offers,
visits your low-funnel resources.
You'll be able to construct related content and add it to your certain Facebook advertisement. As a result, more data will let you retarget these visitors more efficiently with your ads. This will also improve your analytical capacity because actions will be tied to a given profile.
Dark Posts on Facebook
What are Facebook dark posts?
They're apparently all the hype right now. Lately, dark posts constitute the most efficient advertising strategies on Facebook. Although the name itself might sound a little shady, there's nothing nefarious about it. Dark posts are just unpublished posts. That's it.
These are posts that you create and keep within your news feed, but you neither publish or schedule for any organic publication. You launch ads with it instead. It's all about using your news feed to create adsthat don't get published to your page.
Facebook dark posts are excellent when you are trying to send a well-targeted message to a particular audience and you don't want other follower groups to see it.
This helps a lot when, for instance, you're managing a business page for many countries, and you want to promote something to a specific group of people.
Also, employing dark posts will let you avoid several marketing pitfalls. Thanks to Facebook dark posts, you'll keep your page news stream clean from ads, so your followers don't actually see your promotional face.
Moreover, you can easily split test your messages without hurting your fans without risking someone getting overwhelmed with your ads.
As a result, with Facebook dark posts you can run multiple ads as sponsored posts on the same day which your page fans will never see. These sponsored posts can be:
targeted at different audiences,
divided into relevant split tests,
crafted as personalized messages for various demographic and geographic segments.
And the best part is that each message finds its own audience. How cool is that?! I bet you can appreciate their value now, can't you?
Great, but there's another concern with Facebook dark posts we should sort out.
Where do you actually create them?
First of all, head over to Power Editor
then specify the page you want to manage
and click on create a post.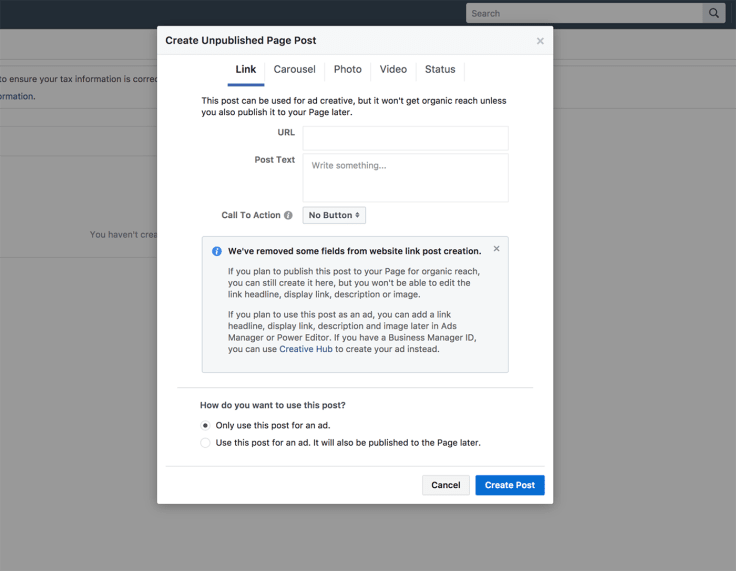 Facebook adverts
Classical Facebook adverts are a whole different story.
You don't post them as organic posts on your feed but create them directly in the Facebook Ads Manager (also called Power Editor).
Setting up advertisements right in Ads Manager has some distinct advantages compared to other formats. And these benefits refer to advanced targeting, advanced customization, and pricing options.
Here you start with a blank canvas and play with all the elements to build a perfectly optimized ad. Aligning it's copywriting, headlines, images, format and targeted audience to your strategic goals.
A lot of options to choose from. A lot of opportunities to try out.
For instance, have you seen carousel ads around?
That's Facebook's newest advert format. Carousel ads are created to advertise multiple products with one ad. This format lets advertisers display 3 to 5 products or images within a single ad unit.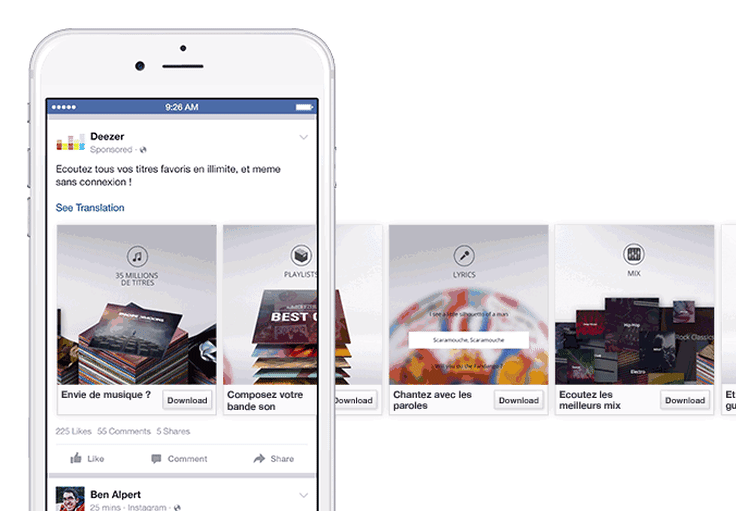 Within carousel ads, each single product has its own image, description and link that leads to a separate landing page. This ad displays in the news feed for both desktop and mobile.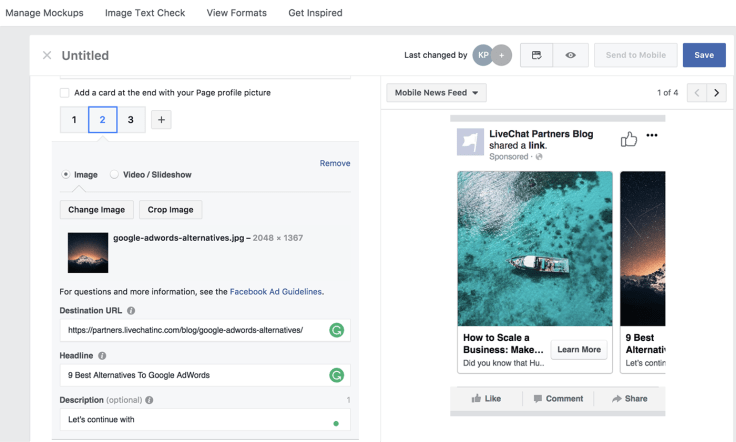 Pro-tip: Always remember that your image can't contain more than 20% text. Otherwise Facebook will disapprove it. To control the amount of text in your images you have to use Facebook's grid tool.
Wonder how much carousel ads cost?
Here you'll pay CPM or CPC, like by any other advertisement.
So, Facebook will charge you once in the first 30 seconds that the ad is shown. However, after those 30 seconds, every click counts additionally.
As a result, if someone sees your ad and clicks 3 times within the first 30 seconds, you'll get charged for 1 click. However, if they click 4 more times after those 30 seconds, you will be charged for 5 clicks in total.
Carousel ads, as any other multi-product ads, are great for e-commerce businesses and anyone who offers multiple products to its audiences.
In general, Facebook ads are great when you expect specific on-site actions such as conversions or sign-ups. Start slowly when learning them and test out all the formats that are relevant for the offers you've got. After all, they are going to become your primary scope over time.
Wrapping Up
Facebook represents an immense opportunity for businesses, but you can't just set an ad, sit back and expect best results. Breaking through is always a tricky thing and demands a lot of attention. To get the most of this advertising platform, make sure your ads are optimized to engage your audiences.
When you're right at the beginning of your Facebook advertising adventure, play with boosting existing posts. Boost posts that resonate exceptionally well with your follower base. You'll surely win some special engagement such as more comments, shares, comments and additional traction.
Boosting posts will work well when you care to distribute your content, and you're constantly in search of reaching new audiences.
However, if you are aiming to promote and sell your products, you're better off setting up an Ads Manager account and running a Facebook ad.
Try out dark posts and classical facebook ads once you get more familiar with monitoring your campaigns and optimizing ROI. Make sure you test all the formats that align with products in your offer. Start with a small budget and expand it slowly so you have enough space for constant learning.
Don't be afraid of experimenting, all marketing lessons are best learned in practice.
Unleash your marketing potential and start advertising! Questions? Feel free to drop them in the comments below.
Happy marketing guys!