Showing top

0

results

0

results found
Showing top

0

results

0

results found
What are Facebook Custom and Lookalike Audiences?
7 min read
Dec 11, 2020
Are you using Facebook ads to amplify your marketing performance? If you're in digital marketing these days, you can't ignore such a powerful channel to boost your traffic and sales, so if you don't use Facebook ads yet, then you'll start using them sooner or later.
Let's say you use them. What's your average click-through-rate? I'm asking because, apparently, the average CTR across all industries is 0.90%. Although CTR results may differ among the industries, they are quite low in general. Just glance at WordStream's latest findings: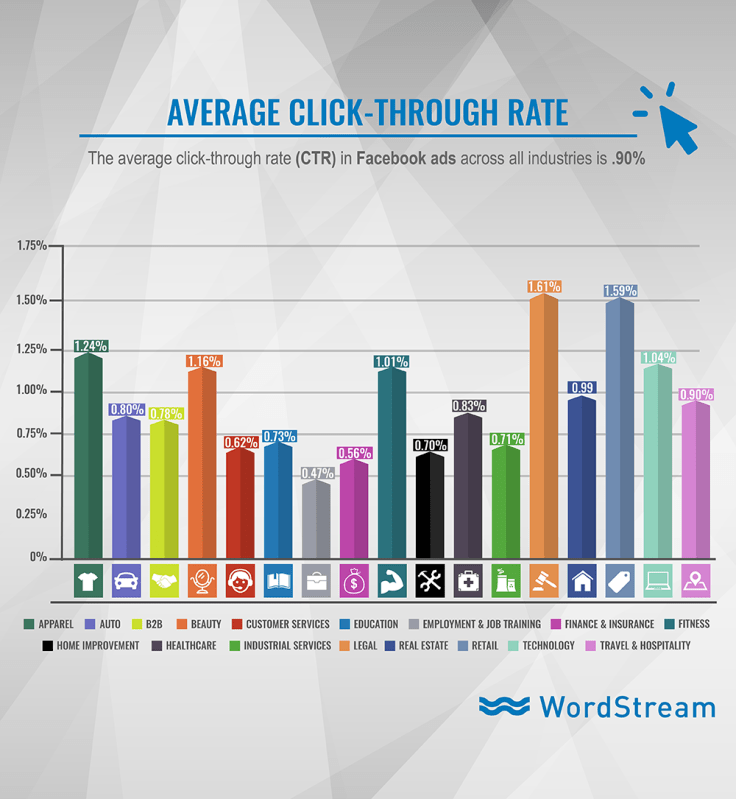 It all means one thing → (while all industries are on average inefficient) there's plenty of room for improvement! Therefore, if your CTR aligns to the average, then you're probably showing your ads to the wrong audiences.
Thankfully, the days of setting up generic ad campaigns, picking up a few short-tail keywords for them and then praying for conversions are over. Ad targeting got smarter and now it's more precise than it has been ever before.
Uncovering the most prolific groups of users to target got easy. That's exactly where custom and lookalike audiences come in. Both take the idea of remarketing to the next level, letting you reach untapped users.
Let's start with an explanation:
What are Facebook's Custom Audiences
If you've got any sense of Facebook ads, then you're probably familiar with custom audiences. Building your custom audience is a great way to increase the detail of your ad targeting and improving the results of your adverts on Facebook.
Why? Simply put, custom audience allows you to reach people who already have a relationship with your business.
These are your existing customers and prospects who have just interacted with your website or social media platforms. You can create a custom audience by applying your data such as page likes, email addresses and phone numbers.
But there's more than that: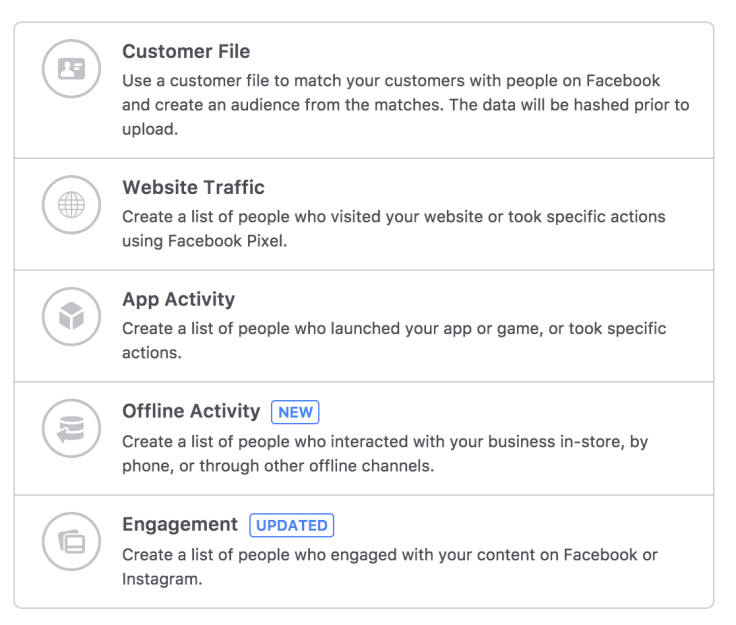 There are several ways to build up your custom audience. You can:
1. Upload a customer file to your Power Editor, then Facebook will blend the records with existing user accounts and create custom audience from the matches.
Interestingly, advanced matching can range from 50% to 80% depending on how much data you provide. Providing an extensive file with phone numbers, first names, last names, emails, cities, states and zip codes should bring in a match rate of 80%.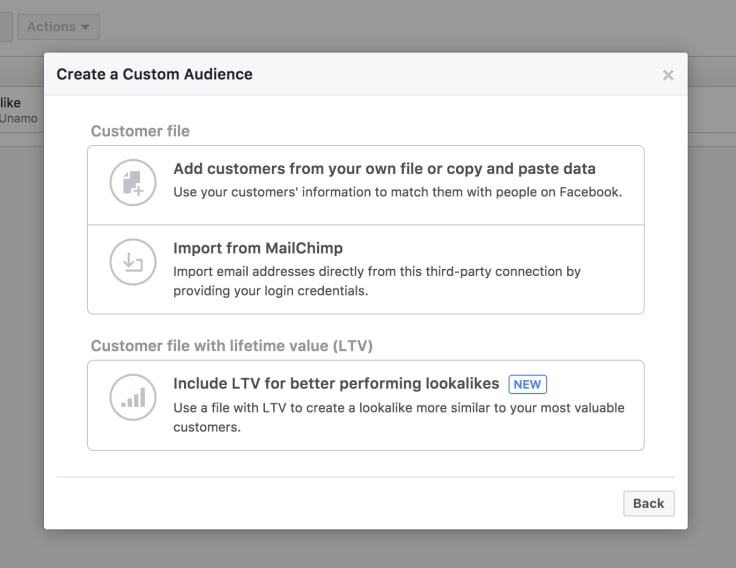 2. Leverage your Facebook Pixel's data to create custom audience of users who visited your site and accomplished a specific on-site action.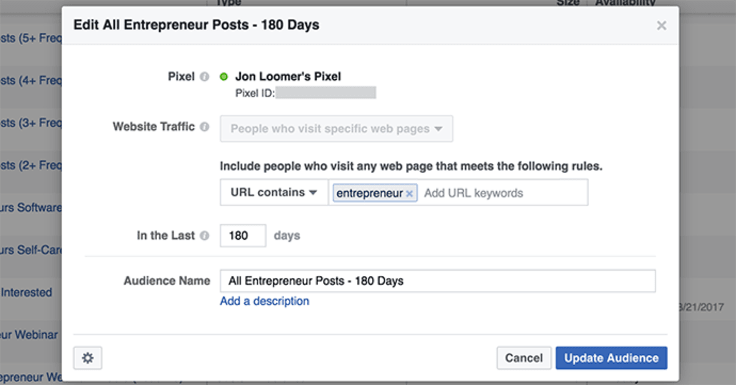 Apart from these two methods you can also build your custom audience with: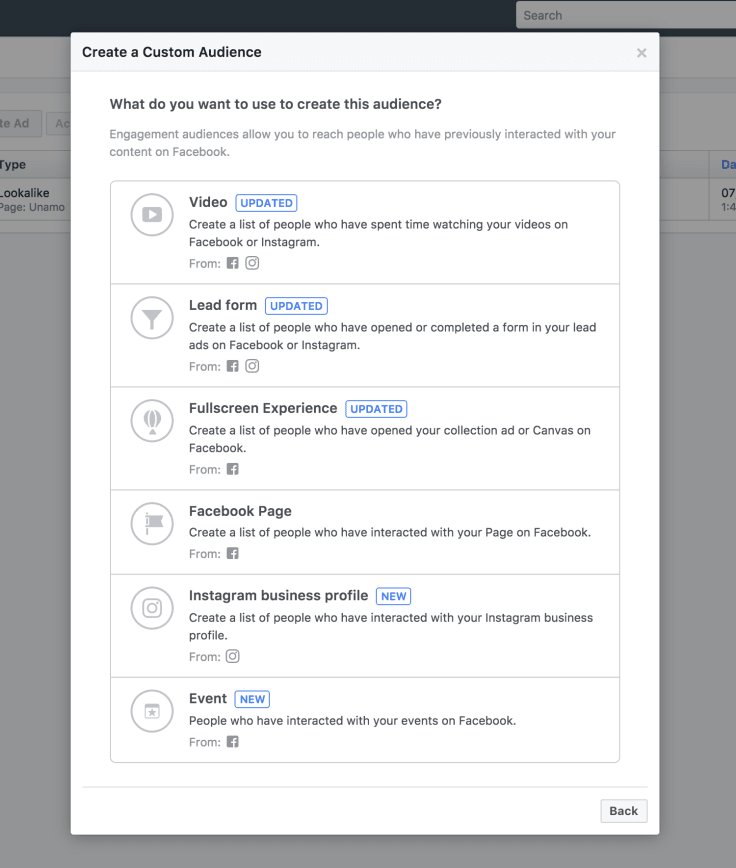 Also, ads created with custom audiences get evaluated by Facebook's Relevance Score.
This score determines your advert's potential and, in particular, if you are pairing the right message with the right audience. The best part is that, statistically, the higher the relevance score is, the better CTR and the lower CPC you can expect.
Facebook custom audiences serve to target your prospects more accurately. This will let you capture (even better) ones that know about your company, browsed around your site and then left it without completing a purchase.
That makes it a great retargeting tool, as people who are your current customers are more likely to buy once again or upgrade.
Using a custom audience for it will let you maximize your selling potential within the platform and check out how much you can get out of your current prospects.
On the other end there is the Facebook Lookalike Audience that comes in handy once you are ready to sail on new waters.
What are Facebook's Lookalike Audiences
A lookalike audience is a real game changer in ad targeting and a step ahead of custom audiences.
Wonder why? Because while a custom audience is built with your existing prospects, lookalike audiences let you explore and reach entirely new people who haven't heard of your business ever before, but at the same time, they are very similar to your buyer personas and your current customer base.
This similarity makes lookalike audiences very likely to buy from your company. The lookalike audience gives you all kinds of advertising powers because you can indefinitely explore new customers. In fact, your client base is constantly growing and so are your lookalike audiences. This makes infinite room for progress and improvement.
You can base a lookalike audience on:
your customer data
your custom audiences
page likes
Facebook users who watched your video
users that performed a specific action on Facebook
Once you provide the data you want to create lookalike audience with, Facebook analyzes their profiles and identifies parallel users based on similarities. This lets you skip on the guessing game. You don't need to identify the successful patterns alone anymore. It's done automatically.
In addition, lookalike audiences are awesome when you've already reached the limits of your current prospects' potential and you strive to expand the scope
Inspire your audience
Spread the word about our products and increase your revenue.
Easy money withdrawal
Open APIs
Promotional materials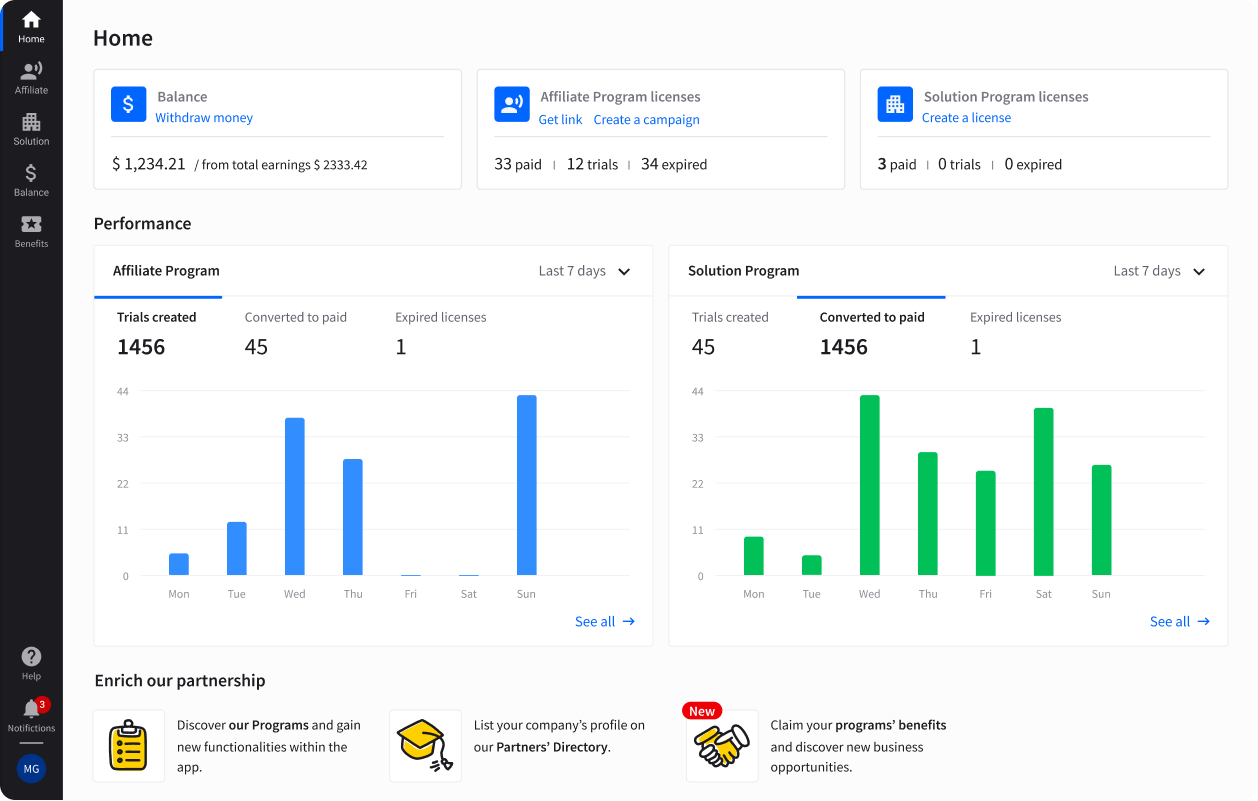 Tips for Using Facebook's Lookalike Audience
Segmentation
First of all, bear in mind that your customers aren't equal. Building a lookalike audience starts with the efficient segmentation of your user base. Even if it refers to your customer's list - context is necessary here. There is a significant difference between your returning customers and small timers - lifetime value defines their importance.
Make sure you group your customers based on:
transaction value
engagement with your brand
lifetime value
Also, ideally, you should use data from at least 1000 to 50,000 of your best customers - that's what Facebook recommends.
After all, you want to emulate only your ideal customers. On the other end, it's pretty easy to identify your top engagers on Facebook. You can see who is usually liking, commenting and writing reviews on your facebook business page. These are audiences you want to replicate in your lookalike audience. However, without the proper segmentation, you won't be able to tailor the right message, missing out on personalization.
Budget
Remember, you shouldn't put your entire budget into ads right from the start nor increase it too soon. The rule of thumb here is starting small and ramping up your limit slowly. This should go along with the (continuously getting better) results.
Use the right resources
Determine what content should be used for your lookalike campaigns.
Of course, this relies heavily on goals you're trying to aiming at. Fortunately, your targeted audience represents similar groups to your current prospects, so you can easily foresee how they are going to resonate with a given asset. Make sure you recycle your best performing posts depending on the preferred content type.
I mean that if you leverage videos on Facebook and this is how you acquire your follower base, the same content should be applied to your lookalike campaigns. Ultimately, lookalike campaigns deliver prospects based on your winning marketing strategies.
Lower Funnel Targeting
Moreover, Facebook recommends to use lookalike campaigns for the lower funnel targeting. Therefore, instead of promoting blog posts or guides, better create adverts wrapped around your product.
Of course, that's only a recommendation and just a theory. The best idea is to experiment with that and learn it yourself. See how your lookalike campaigns perform if you promote blog posts and videos too. Surely, you'll optimize it overtime whenever you choose.
Wrapping up
Facebook is a highly visual platform and users jump on it when they're trying to make a break or just procrastinating work related tasks. That's something to remember while creating ads with the use of custom or lookalike audiences. Make them outstanding and eye-catching so Facebook users stop scrolling to see them.
Finally, remember that having your Facebook pixel properly installed on your site is crucial for ad campaigns no matter what audience you're going to target.
Are you using custom and lookalike audiences? What results are you seeing?
Promote top
recommended products
Gain competitive advantage.
Easy money withdrawal
Open APIs
Promotional materials