Showing top

0

results

0

results found
Showing top

0

results

0

results found
Top 28 Product Review Websites for Online Marketers
11 min read
Oct 27, 2020
No matter what you are trying to sell (or buy), one of the easiest ways to do so and also make money online is by writing great online product reviews. In fact, about 92% consumers read online reviews before making a purchase and 40% form their opinion by reading just one to three product reviews. This makes review writing an important aspect of the work of all online marketers (including affiliates).
Therefore, it's essential to learn the latest lessons in review writing. You can check out the ultimate guide on how to write product reviews, which I wrote it several weeks ago, but now it needs to be supplemented by another - equally important - chapter.
I bet you not only need information on how to write a powerful product review, but you'd also appreciate a cheat sheet on the best product review websites that will guarantee decent organic traffic and strong conversions.
For this reason, I've combed the deepest and darkest recesses of the Internet to find these sites for you! Now, I'm revealing my findings so that you can have your resources at hand.
Regardless of the niche you operate in or whether you are an affiliate marketer or just looking for useful product review platforms out of curiosity, let me present my ultimate list of product review sites you might find useful - sorted by the authority and domain rating:
Let's start with the most prominent online players.
Amazon is the largest online behemoth. As you probably know, Amazon is a well-known forerunner of e-commerce, and it's also the first online platform that enabled submitting product reviews back in 1995.
This shift has hugely helped customers make more informed purchase decisions that are based on real-life stories, authentic product use cases reported by the actual consumers of items. Amazon is still the obligatory source of information for buyers.
The rule with Amazon Customer Reviews is simple → if a product is available on Amazon, you'll find product reviews for it. And since the platform offers numerous types of products, it's the place to have on your list when distributing your product reviews online.
Furthermore, apart from a textual review (the description), products are typically evaluated with a five-star rating scale. Practically, those stars represent the average customer opinion about an item.
Take a look at Amazon's Customer Review editor:

This way the better customer reviews a product collects on average, the more stars appear next to it.
Ok, it looks like we've got it. Let's move on to the second one:
Heard of Angi?

More than 6 million households nationwide check Angi reviews to find the best local service providers, like roofers, plumbers, handymen, mechanics, doctors, and dentists.
I would call it a high-end review site that is popular among Americans. In fact, Angi collects product reviews on 720+ household-related services. Its members submit over 60,000 reviews every month about the companies they employ.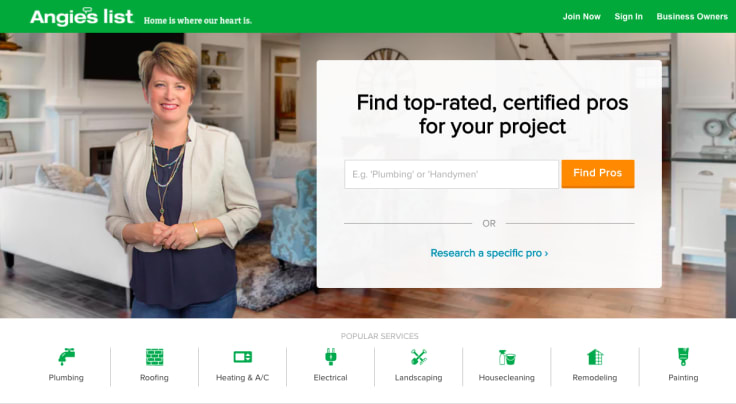 Ratings are based on A-to-F grade scale. The website's administrators monitor the quality of these reviews to make sure the platform provides only solid, honest information backed with real-life examples.
Users pay for the monthly membership on the platform to get exclusive access to online product reviews in the household category. While payment makes the access limited, the nice thing about this community is that reviews are well-thought out. Also reviewers personal details are revealed which efficiently restrains fake messages when compared to free product reviews sites. Also, vendors can get an account on Angi, so they can actually monitor opinions as they come in and actively interact with reviewers.
When you are a promoter of a company, you may consider setting up an account on Angi so you can actively encourage customers to review your services on the platform.
Trustpilot is another platform, a fast-growing, user-generated online review community. Although it originated in Denmark, it has expanded to 65 markets including the US.
The idea behind Trustpilot, similarly to other platforms included on this list → the company strives to help people buy with confidence and make smarter; more informed purchase decisions. They believe that sharing is caring, so Trustpilot wants to build trust and transparency through shared experiences.
Trustpilot is a place you can proactively promote your online business and interact with users who share their opinions. It's frequently used among technology startups.
Example?
Just take a look at Uptowork's Trustpilot profile: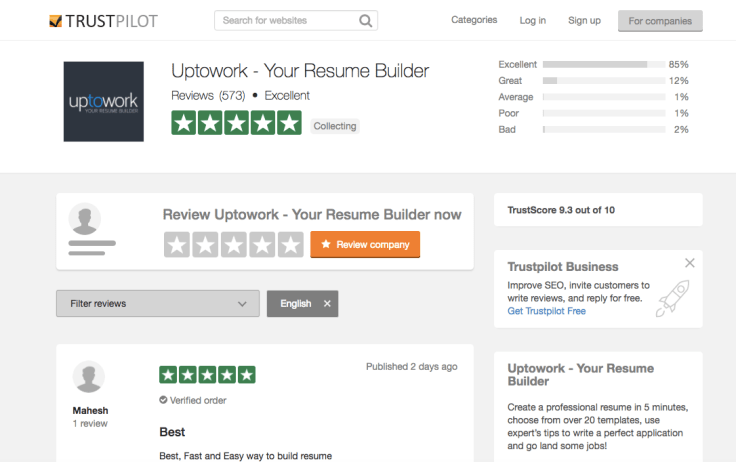 You can easily encourage reviews on the platform with email campaigns, and you can add a link to the site (which can also be an affiliate link).
What's more, Trustpilot is beneficial from an SEO standpoint. Trustpilot will give your product another listing in search results that can increase traffic due to the increased visibility.
Inspire your audience
Spread the word about our products and increase your revenue.
Easy money withdrawal
Open APIs
Promotional materials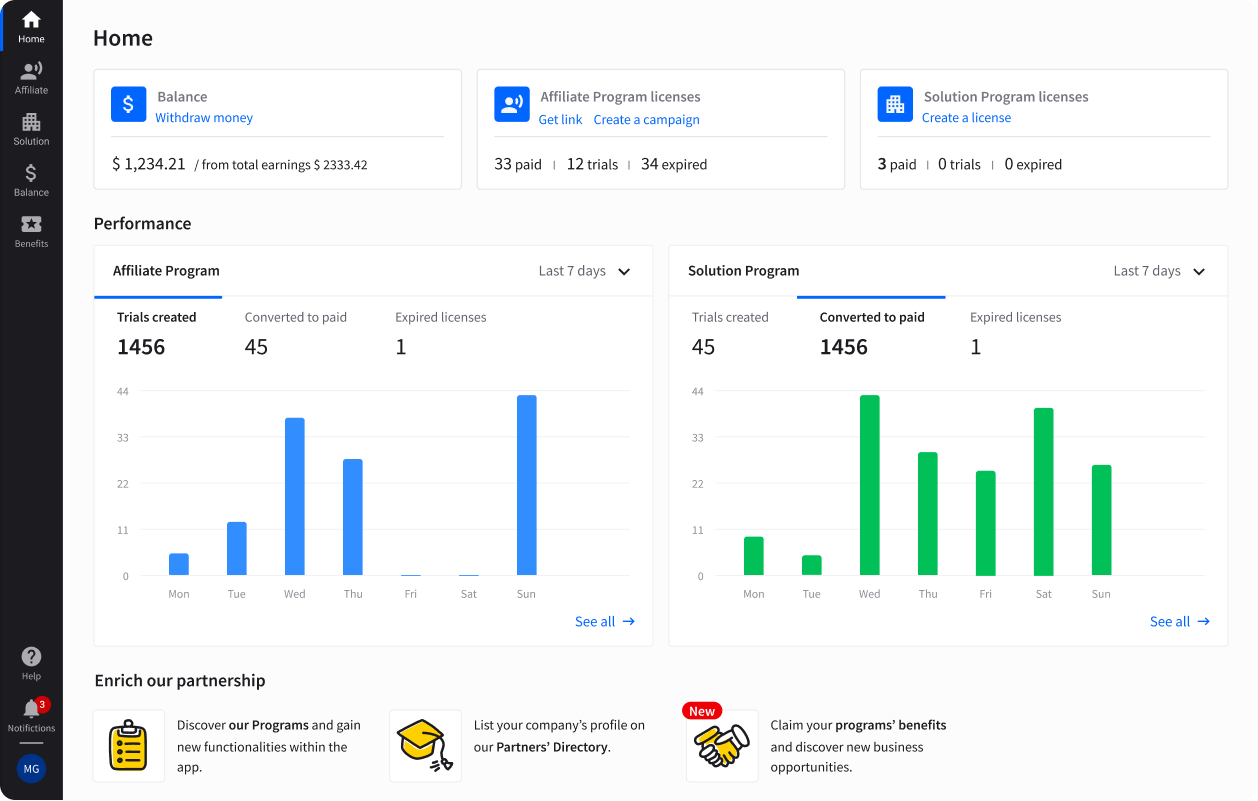 Another popular user-generated platform that is both massive and often revolves around product reviews is Quora. In practice, Quora is an online knowledge market that takes the form of a questions-and-answers forum.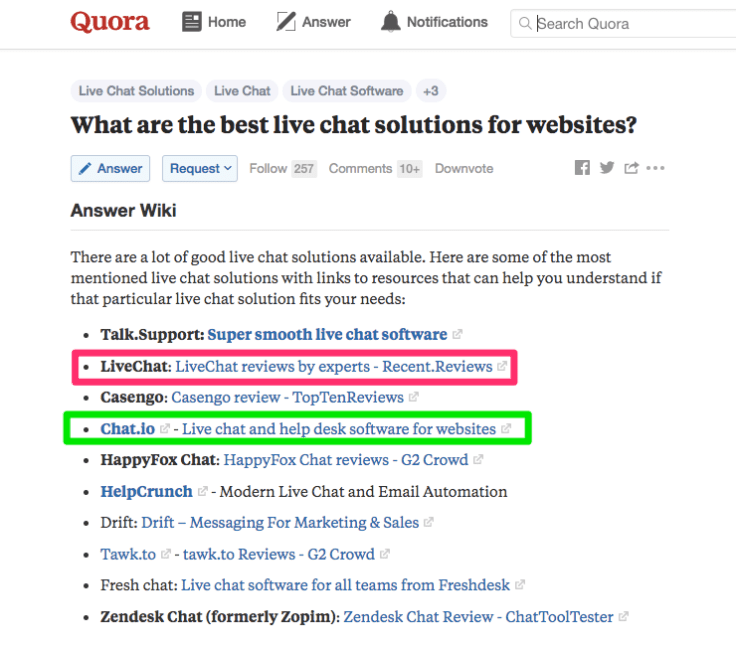 Quora may seem unremarkable at first glance, but it's unique. It stands out because of its special contributors who are powerful people from Silicon Valley or politicians such as Hillary Clinton.
Quora's viewership is constantly growing. Therefore, it makes sense to use it as a platform to spread your product reviews under the relevant questions and threads.
While membership is free, you need to ensure your content meets the quality standards and respects Quora's guidelines when posting reviews. Well-written product reviews can be added whenever they're relevant and if you don't look spammy and you don't overdo the links you won't get banned from the platform.
Generally speaking, when Quora content writing is done right, it can generate a decent amount of stable, free traffic to your website. For this reason, it's seen as one of the primary traffic sources by many organizations.
There's still more than that! Another smart platform for software product reviews is Capterra.
This product review platform includes over 500 product categories , and hosts over 325,000 product reviews and ratings.
It's used by 3 million users each month, and Ahrefs reports its domain strength as 86DR, which makes it necessary for you to sign up and create your online presence immediately.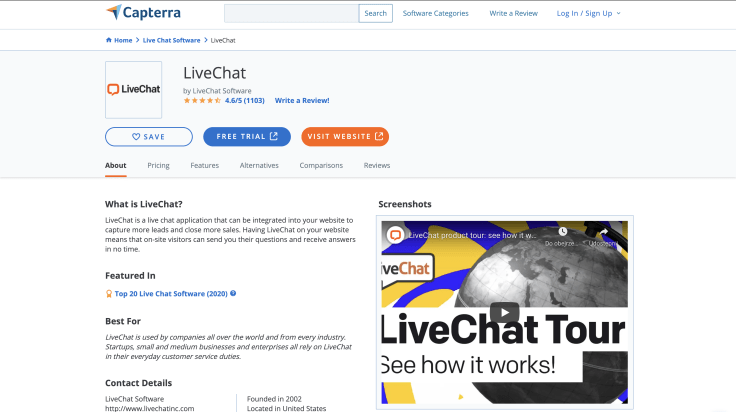 Listing on Capterra gives you access to a massive community, so you can interact and refer visitors to your website, while also promoting your online visibility in search engines. This way you can reach and attract relevant customers to your website as they are exploring the kind of software you offer.
What else?
Moreover, Capterra offers a PPC advertising program to maximize your exposure on software directories.
If you're marketing a B2B software, then G2 is a dedicated platform and a perfect spot for your listing. When you need unbiased advice and transparency regarding online tools, you'll find it here as the platform leverages over 300,000 independent and authenticated user reviews read by over 1 million buyers each month.
This is the place to find product reviews that are based on subjective opinions and real-life experiences with products.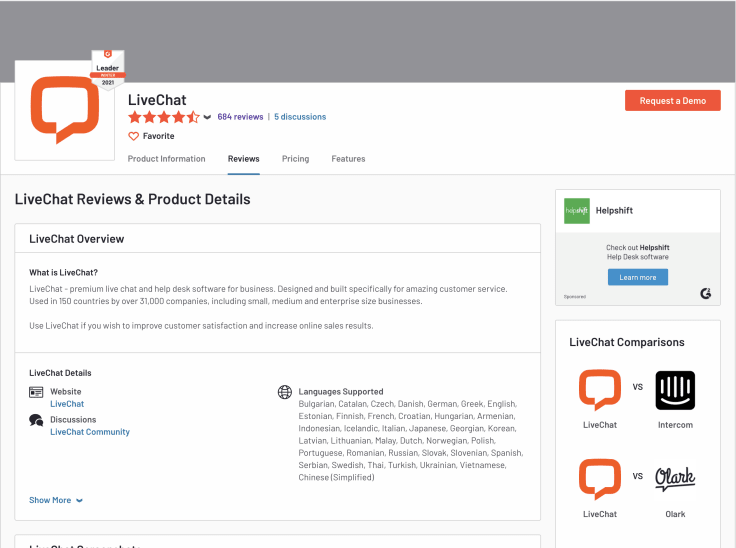 Additionally, G2 is useful for its comparison section. You can choose a product of interest and see how it compares with the other software from the same category. And the comparison is calculated with real-time data from verified user reviews.
The next famous online review platform for B2B software is GetApp.
GetApp offers:
a precise product overviews with screens, videos and pricing insights
user-generated product reviews
product comparisons
star ratings
an alternatives section - where you can actually see cheaper substitutes
available integrations for any listed product
and any other features necessary for a powerful software review platform.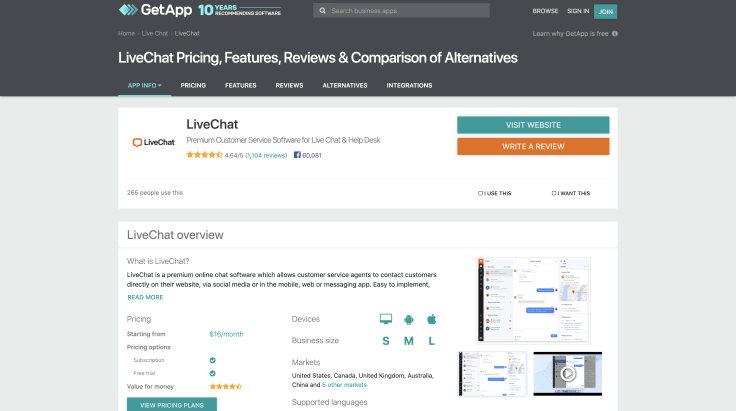 GetApp is a strong domain (Ahrefs puts the domain rating at 78 DR), so your online presence on the platform will also boost your visibility in search engines → in other words SEO.
FinancesOnline is the fastest growing B2B & SaaS software marketplace in the world.
The platform is relevant to online software solutions in the Finance and SaaS industries. The platform is growing really fast, and they get around 2,200,000 visitors every month.
Therefore, if you are promoting a cloud-based B2B solution, those numbers make your exposure here necessary. Reviewers are authenticated with Linkedin to improve credibility and avoid scams. Moreover, FinancesOnline quarterly generates reports regarding solutions in the most popular categories.
Reviews on FinanceOnline aren't just user-generated, they are also backed with expert product reviews, tested and evaluated by key usability factors. A bonus is a fact that its product pages rank high in Google and can bring you some extra SEO benefits.
While Angie's List is targeted at the US market, Choice is the leading consumer advocacy group in Australia (as they call themselves on their site).
See what company says about themselves:
Choice allows their members to submit product reviews but also allows their representatives to test out products from many different categories independently in order to put up honest opinions about the services and products available in Australia.
Choice's mission is to provide practical advice helping customers get the best deals and minimize dodgy review writing practices that make people confused about the purchase decisions they make. The company was established 50 years ago (!) and both its membership count and website views are continuously growing.
Membership on this product review site is paid, so you should consider whether exposing your product on this platform would be beneficial. If your consumers come from Australia then joining Choice is the right thing to do (right choice to make).
However, Choice officially rejects advertising or sponsorship, which means affiliate marketing would be perceived negatively if performed there and could end up with a ban.
TrustRadius is a similar product review platform to G2 Crowd as it's also targeted toward B2B software businesses. The nice thing about this community that makes it even more trustworthy is the fact that it's connected to Linkedin.
This way:
When you sign up, your profile gets authenticated with Linkedin.
When browsing products, you can see what your Linkedin connections say about them.
There are various filters available on the platform to sort and organize product reviews. You can compare several software products from one category, or just display a single product page overview with a full, user-generated, description.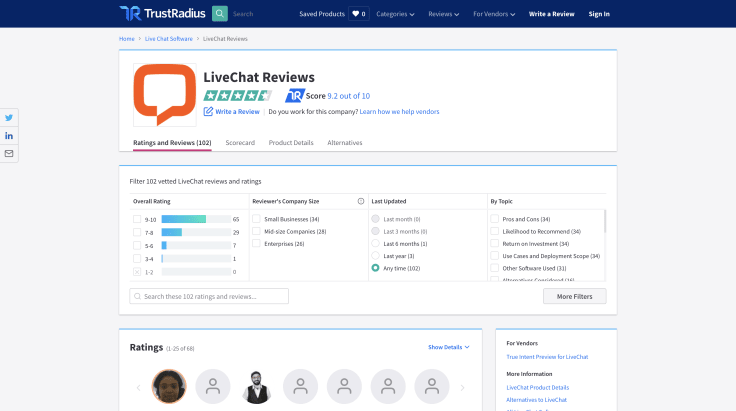 Bear in mind, if you're promoting B2B software then TrustRadius is a must-have on your list, so make sure you build your online presence there and actively encourage your users/customers to rate your products on the platform.
TestFreaks is a Swedish review platform, and it's great to have it on your list when looking for listings and directories to promote your company with online product reviews.
It's a collection of reviews from 60 countries across the world and still growing fast. Although it's not a place dedicated to software and apps, you might find nicely reviewed electronics devices. Currently, the platform is used by online stores in over 30 countries, as well as by leading international brands, manufacturers and price comparison sites.
The excellent feature TestFreaks offers is the easy ability to integrate the directory with your website. With a simple setup and one line of code - through JavaScript, XML or an API - you'll make the reviews visible on your site.
Any other platform worth mentioning is Which? a broad product review platform. However, on Which? you can neither go and submit a review, nor create a product profile by yourself. In fact, all communication goes through Which? Employees by emailing brcpress@which.co.uk.
While access is limited and you can't have real influence on the final product overview and don't have direct editing access to your profile and product reviews, it's still worth knowing that it exists. Ahrefs rank of the site is 88 DR, which makes it powerful, and Similarweb verifies this → the site is popular among users, with 11.3 million visits each month.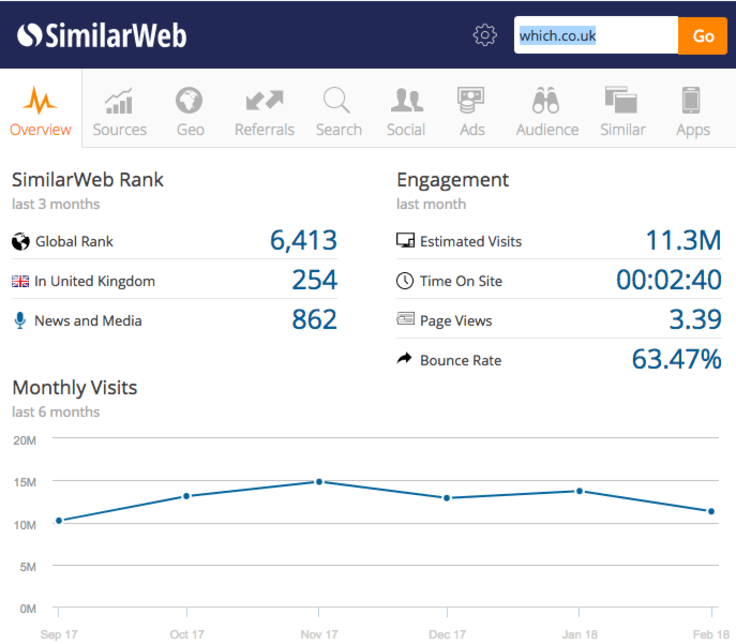 Other product review sites:
Promote top
recommended products
Gain competitive advantage.
Easy money withdrawal
Open APIs
Promotional materials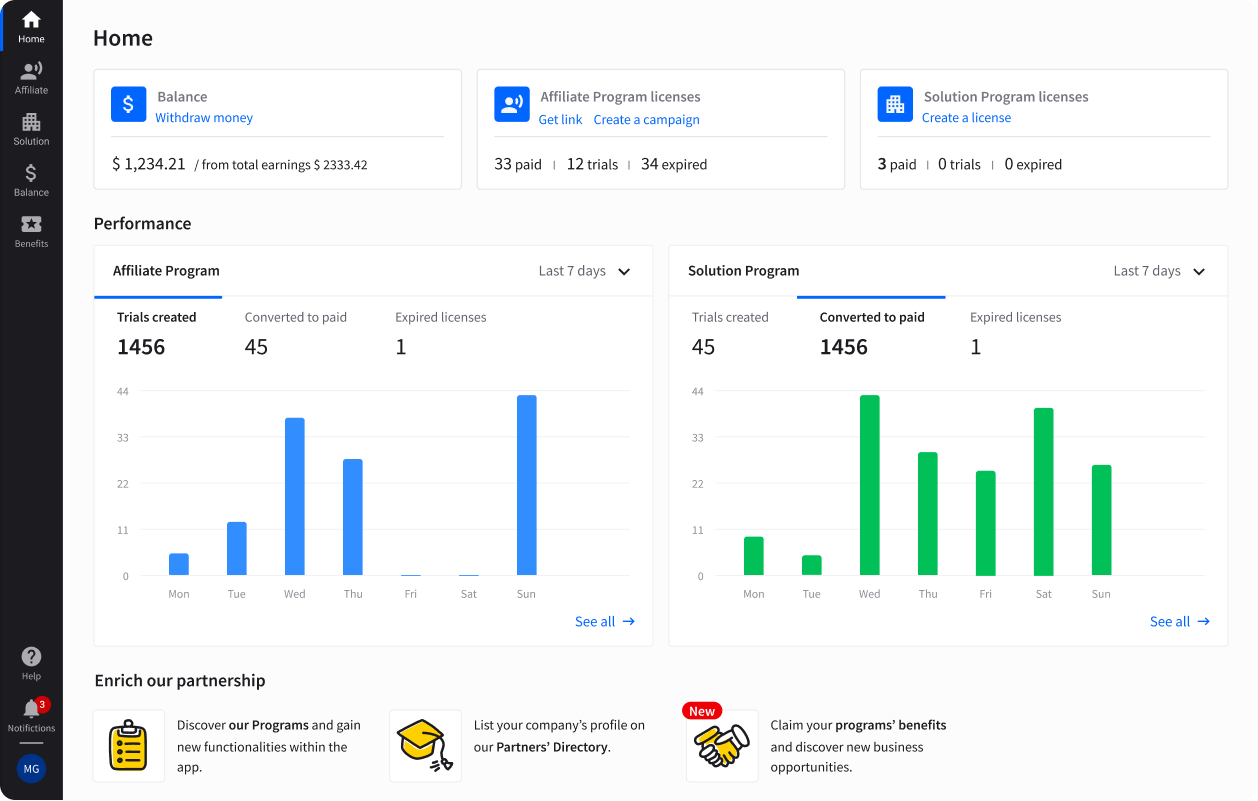 Conclusion
Above all, your own site should be your most prominent product review website. Why? Because it's always at your fingertips and you are free to submit, manage and share your thoughts with the world in an unbiased and preferable way.
So roll up your sleeves, create your online presence on all these platforms mentioned on this page, but always put your website first, when it comes to building strength, visibility, and authority.
Hope you liked my list. Was it helpful? Or perhaps I'm missing out on something? Join us on Twitter and share your feedback!
Happy marketing!