Showing top

0

results

0

results found
Showing top

0

results

0

results found
Smilenet helps the automotive industry benefit from using LiveChat
4 min read
Feb 24, 2016
One way to become a successful LiveChat Partner and Expert is to answer the needs of a specific market niche.
A great example of such Partner/Expert is Smilenet Srl The company offers web design and digital services to businesses from the automotive industry.
See how they market LiveChat to their customers and to what lengths they go to make every LiveChat implementation successful.
LiveChat services for automotive industry
Smilenet is an Italian digital marketing company specializing in the automotive industry. It offers a range of web-related services to dealerships. "Smilenet is an 'Automotive Digital Company', a specialized company with 17 years of experience in automotive digital applications and solutions", said Ivan Fila, CEO of Smilenet.
The company has prepared over 250 websites for a wide range of Italian dealerships, big and small, under a single brand and for multi-branded companies.

Employees of Smilenet, a LiveChat Partner
Smilenet won the AWA 2015 award in the Peak Performance Websites EU category.
One of the services Smilenet provides is setting up LiveChat on clients' websites.
According to Fila, these websites need a direct way to get in touch with customers, one that wouldn't require a length form or a call. As Fila stated, LiveChat is "the most powerful product for these expectations."
Fila stresses the importance of having a channel customers can use to directly contact a business when they need some answers. "Consumers are increasingly focused on digital purchases", Fila said. "They get the product information via the Internet and, when they have doubts, they wants a quick answer", he added.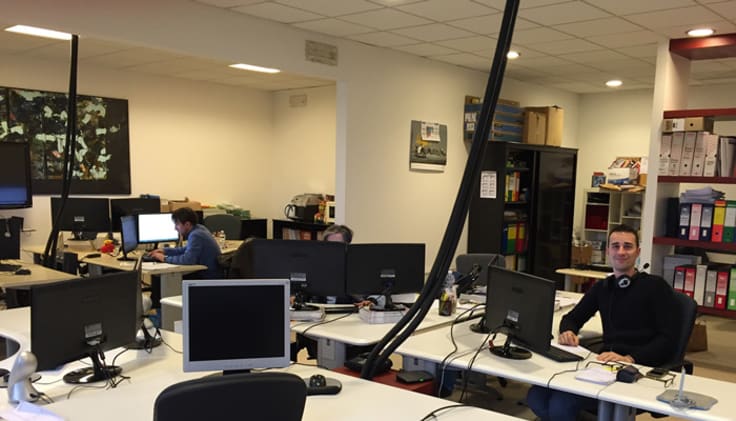 The ability to quickly respond to customers' questions that LiveChat provides gives a business an edge over the competition and creates trust, Fila said. "LiveChat is an essential tool and must become an integral part of services to the customer."
Helping dealerships set up LiveChat
A typical LiveChat implementation by Smilenet starts with a 14-day demo of LiveChat, which is added to a client's website. "We implement it directly on the website, so our clients could test all features of the product directly in a real production environment", said Nicolò Sorio, System Administrators and LiveChat tech at Smilenet.
Additionally, the team helps the client set up a custom look for the LiveChat. The look is adjusted to the client website's design.
Once the configuration is done, the Smilenet team helps customers install LiveChat and explains the features available in the application over the course of a TeamViewer screen-sharing session.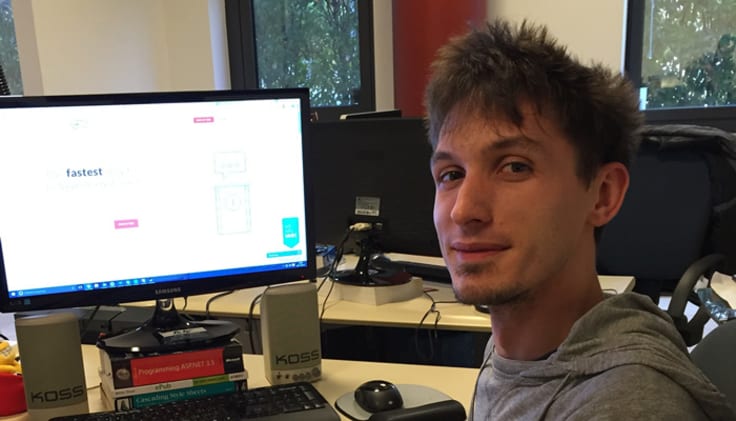 Nic Sorio, System Administrator at Smilenet
Once the trial period has ended, and the client is satisfied, the Smilenet team moves even further with the customization: "starting from simple things such as formal or informal chat window phrases, contact mode (automatic, manual, pre-chat survey, post chat survey) to more advanced customizations like setting up groups, opening chat on specific pages and integration with AdWords or Analytics", said Sorio.
The team especially likes the ability to split the chat traffic to different departments. This way, "a dealer could split sales or service department, bringing the enduser to the information they need", said Sorio.
Splitting the chats like this helps the dealerships reach specific customer service and sales goals more efficiently.
Helping customers score deals
Even though the use of online chat in Italy is not yet widespread, more and more companies start to notice the benefits it brings, said Fila. "Each contact at the dealer can generate a potential business", he added.
Many end-users use LiveChat on a dealer's website to make a request for a new vehicle or a car servicing request, which brings business to the dealership.
The higher quality customer service resulting from a quick information channel and more business through chat enquiries are two strong selling points that help Smilenet market LiveChat to its customers.
Fila also mentioned that they like the reach the LiveChat Expert program offers as it "allows potential customers to easily find a partner in a particular area".