Showing top

0

results

0

results found
Showing top

0

results

0

results found
.BespokeChat Builds a Professional Contact Center Using LiveChat
8 min read
Feb 24, 2016
There is a growing demand for outsourced professional customer service. Companies that don't have the time or resources to build that level of support can outsource it to 3rd party experts. One of such experts that fills in the professional customer service niche is. BespokeChat, a chat contact center from Poland.
Learn how .BespokeChat built its service and provides help to a range of customers over LiveChat.
Offering extended service hours via chat
.BespokeChat is a professional chat agent outsourcing company. They offer sales, support and lead generation assistance to a wide range of small and medium companies. Any website with 1,000 to 200,000 monthly visits is a potential customer for .BespokeChat.
"Using our service businesses can increase the levels of conversion to new customers or sales without increasing traffic to the company site", said Paweł Antkowiak, CEO of .BespokeChat.
.BespokeChat's customers (or partners as they call them), use the service to offer more information on their products and services and to take care of the simpler, more repetitive questions.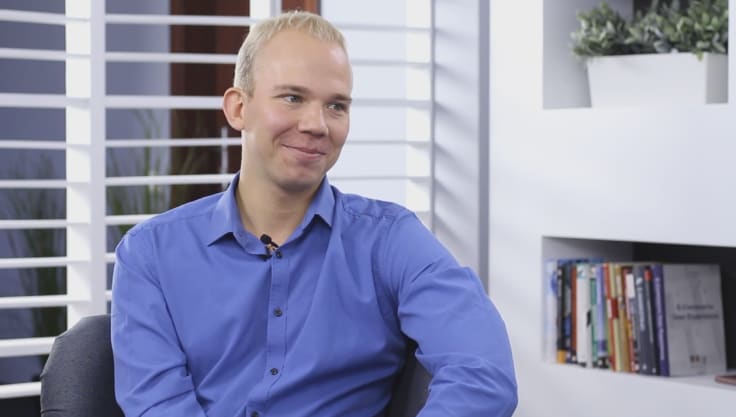 Paweł Antkowiak - .BespokeChat
"Our goal is to be the first line of customer service that is oriented to increase sales of our partners", said Antkowiak. "We want to be a filter that passes only valuable and validated leads to sales departments of our partners for further contact", he added.
According to Antkowiak, .BespokeChat's main task is to get the foot in the door – approach potential customers and start developing a relationship with them, which can be then used as a "foundation on which our partner builds", Antkowiak said.
"Anonymous website visitors often do not represent any real value to the company", Antkowiak stated. ".BespokeChat makes sure that website visitors are no longer anonymous to our partners."
To do that, .BespokeChat provides an extension of service to the customer's normal office hours. They offer their services 12 hours a day, 7 days a week. This allows their partners to capture more leads by providing service in the afternoon and during the weekend.
Preparing a chat implementation
When starting an implementation for a partner, the .BespokeChat team first tries to set the rules of service, i.e. what is the aim of the chat, what information should be exchanged and so on.
What's interesting, .BespokeChat clearly communicates that they won't be able to achieve the product knowledge and sales skills levels as an in-house team. However, that's not usually expected of them:
"Our role is to establish the first relationship that allows the partner to take over the contact and answer the harder questions that will, hopefully, lead to a sale", Antkowiak said.
The whole cooperation starts with the partner describing their products or services. Using that information, the .BespokeChat team creates a set of potential questions the website's visitors might have for the partner. The partner then adds any popular missing questions that might appear during the chats.
With a basis like that, .BespokeChat can prepare basic scripts, as well as short answers for the identified questions. Antkowiak told us that this material is then saved in an internal repository – a knowledge base – which is "regularly updated as we identify further topics that would be useful to have an answer ready during chats", he said.
Other thing that .BespokeChat needs to discuss with a partner include the style of the conversation (formal vs. informal), what kind of information should be provided and what shouldn't. A contact person on the partner's side is also designated to receive the information about the leads the .BespokeChat team captures. These and other notions are discussed to make sure that "agents serve customers in accordance with the communication standards of partner's organization", Antkowiak commented.
All these data is constantly uploaded to the internal knowledge base to which all agents have access. This includes pre-made canned responses to popular queries and a custom-built integration that feeds the knowledge base information right to the agents' LiveChat app.
Additionally, the look and feel of LiveChat is also adjusted to make it fit in with the partner's website design.

Customer information in the LiveChat agent app
Training new agents
To provide this kind of outsourcing service, you need an excellent team of professional support agents. And this is something the .BespokeChat team has worked on from the get-go. From the very start, they've started building a team of managers and agents that grows every month.
Each agent needs to complete a three-step recruiting process and undergoes a comprehensive training that deals with the specific nature of each of the supported partners.
Whenever a new implementation for a partner is created, only agents who passed aknowledge test for that specific partner are allowed to provide service on the partner's website.
What's more, the first few weeks of a new agent's work are also monitored by a supervisor, who's "watching all the conversations and making sure that all the information are being provided with compliance to the standard of service", Antkowiak commented. Whenever a customer asks a question that is especially difficult, the supervisor can get in touch with the partner to get a quick, correct answer.
.BespokeChat agents are urged to constantly improve and learn. According to Antkowiak, this is done in three ways:
supervisors helping agents, providing feedback in real time and suggesting how to proceed in chats,
daily analysis of chats, with suggestions being sent to agents who could improve something in the way they chat,
partners checking on various chats to submit feedback using .BespokeChat's dedicated tool.
Choosing LiveChat over other providers
When selecting a live chat tool for their business, they tested and graded all the popular chat solutions according to several factors. These factors include:
the ability to implement chat on many websites (domains) and the ability to configure (look and settings) for each implementation individually,
whitelabel option that would allow them to either hide or use a different company logo, unlimited chat archives,
the ability to assign chat agents to several different websites,
chat surveys before and after the chat as well as a chat survey that could be served after a chat invitation, full access to settings and chat archives via an API,
the upcoming integration with Facebook Messenger.
According to Antkowiak, LiveChat turned out to be the best choice for this set of criteria. "As of today, we are very pleased with our choice", he said.

LiveChat meets all of our needs, is constantly improved and LiveChat support heroes are always available and helpful.
The powerful API was one of the most important requirements for .BespokeChat. They currently use it to:
share chat transcripts with customers through the .BespokeChat panel,
automatically import and store the contact details of leads,
monitor the daily availability of agents (with alert notifications when the availability gets too low),
display additional customer information in the LiveChat app,
integrate a team communication tool that notifies agents about new conversations.

Chat transcripts are sent to the .BespokeChat panel for partners to monitor and analyze
How to promote online chat services
.BespokeChat can use a lot of the perks and advantages of LiveChat for its marketing and promotion. On top of that, .BespokeChat "accumulates know-how on best customer service practices and generating sales through chat" which is then used to provide amazing service.
One of the biggest selling points of .BespokeChat is their availability. The 12 hours a day, 7 days a week level of coverage is often unavailable for smaller or medium companies. Using outsourcing services like .BespokeChat, these companies can significantly extend their work hours, as well as provide customer service on weekends. According to Antkowiak, this allows many companies to provide longer service hours at much lower costs than in-house agents would require: "This is a significant reduction of costs when compared to a model where the partner pays a bunch of workers to operate LiveChat during evenings and weekends", he said.
Another great selling point is the experience a professional team of agents can bring to the table. Having worked with many implementations in the past, the team is able to tackle large volumes of chats almost immediately while keeping the quality of service high.
"Many companies install some kind of chat tool but they do not set any invitations and do not attract website visitors proactively", Antkowiak said. "They are afraid to handle increased volume of chats that chat invitations generate". .BespokeChat takes on those chats head on to "enter as many relationships as possible." They can then decide whether a person is a potential lead or not.
Results and plans for the future
It's not just about marketing though. The .BespokeChat team is very good at what they do, which becomes evident when you look at their past implementations.
For example, they managed to increase the conversion for a language-learning service Lerni by a whooping 50 percent! That's 50 percent more paying customers after introducing .BespokeChat's services to the website. And the conversion stays at that level month-to-month!
Another example of a satisfied partner is a property developer company selling flats. Since the price of flats is not available online, customers who want to learn more about them can start a chat with one of .BespokeChat's agents. "Our service allowed our partner to obtain additional channel of hot, verified leads", Antkowiak commented.
.BespokeChat shows no signs of stopping too.
One of the things they would like to tackle next is providing chat support in other languages, due to a popular demand. They've already started gathering information about customers who'd like to offer their services in other languages and plan to start the service as soon as possible.
Once it comes out, the Facebook Messenger integration will probably join .BespokeChat's suite of services too. This way, they will be able to provide comprehensible service on all channels for their partners.