Showing top

0

results

0

results found
Showing top

0

results

0

results found
How to Make Money On Twitter
12 min read
Oct 31, 2020
Twitter is a news and social networking platform where people communicate with short messages called Tweets. Tweeting, on the other hand, is the sending of short, public notes to other users within the platform.
Some people use Twitter to discover interesting people, others use it to find threads to join. What Twitter is known for is their message-size restriction, which is intentional. It's to keep things highly readable: every tweet has a limit of 280 characters.
This size cap inspires the clever use of language and makes tweets concise and to the point.
Sometimes, it can be hard to fit all your thoughts into the tweet limit. So if you want to fit in all the information you want to convey, you need to be smart about it. This size restriction was Twitter's smartest move, as it has really made the platform special; different from any other social media around.
Thousands of people leverage Twitter for business purposes (marketing campaigns). The platform offers a strong revenue opportunity for just about anybody. As a result, you can use Twitter for your marketing purposes to differentiate your campaigns and see if this channel is efficient at making you money.
But first, you need to understand how to make money on Twitter.
Want to You Make Money on Twitter? Create a Profile First
To start earning money on Twitter, you need to create an account on the platform and make sure to keep it consistently active. This activity needs to be well-targeted to your potential audience and align with your goals. Once you meet these requirements, you'll start gaining new followers.
When you work as an affiliate marketer, creating social media profiles is always a great idea, Twitter included. When creating these profiles, make sure they correspond with your website's touch and feel. This way, Twitter will feel like an extension of your online presence. Within the platform, you'll be aiming at expanding your social media presence.
And that's a good thing. Since Twitter lets you spread the word about your affiliate projects and share your work with followers (either your potential customers or existent/future vendors), you can get more engagement and more revenue opportunities.
Want your Twitter to grow organically? Follow these simple rules:
When creating your profile, make sure your nickname and handle align with your website's name. You can do it exactly the same way LiveChat does it. ;)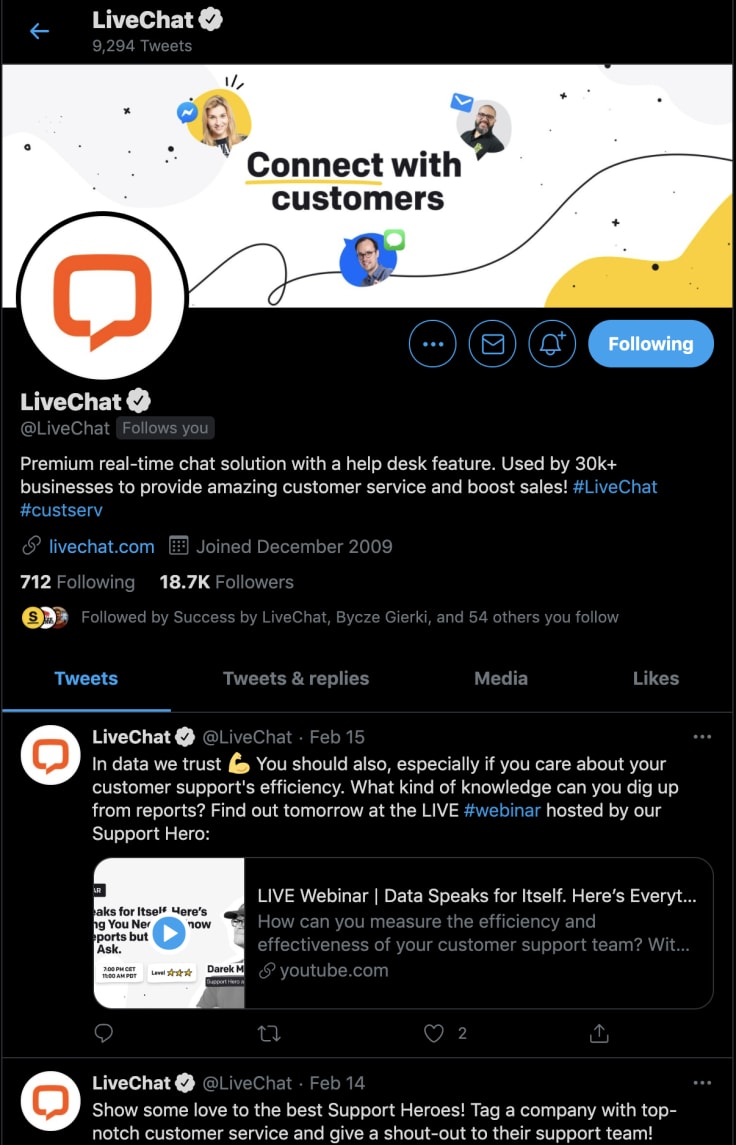 Add a link to your site to the profile. This will connect the account directly to your site. This will help you referring users to your site and boosting its discovery. And the same applies to the other end, so put some links to your Twitter profile on your site. Companies usually add social media links to the footer. After all, Including a link to your official website is a strong call to action.
Take a look at this example: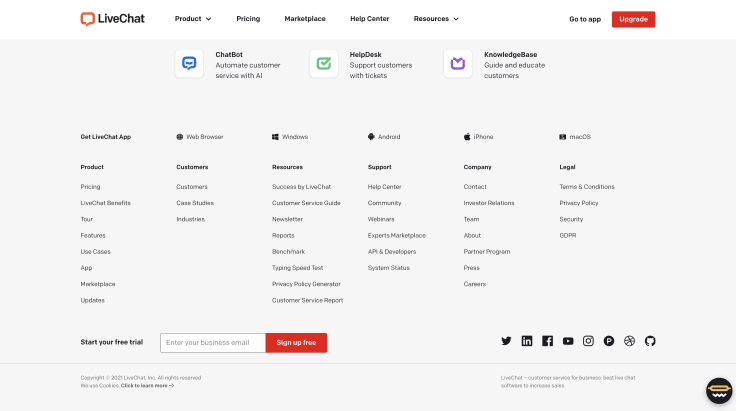 Next, remember to include your avatar or profile photo. Without it, your profile will look too impersonal. If you want to treat your Twitter presence seriously, don't be an egghead! Add a face and improve your online image.
Bad profile picture example: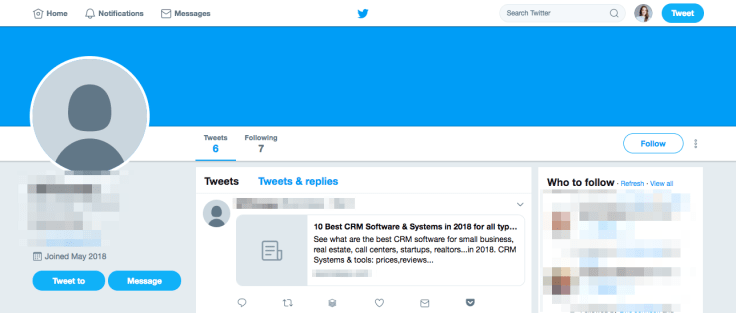 Awesome profile picture example: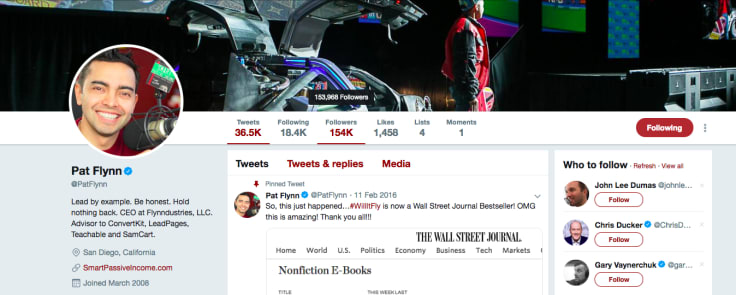 Of course, it's all up to you in the end. If you don't want to upload a photo with your face in it, a logo works well too :)
Then add a bio to describe your profile and the type of content your potential followers can expect from you. And it's best to use up all 160 available characters. Twitter's bio is indexed regularly, so make sure to emphasize the most important aspects of your brand. It's recommended to use a 200 x 200 pixels profile picture for a quick and smooth page-load speed.
Once you have your profile well optimized for success, you can bring it to life with regular updates and a consistent strategy.
Decide which topics and industries you want to wrap your profile around and then release new, relevant, and regular content to your social media feed.
Over time, make sure to analyze and optimize your social media performance to maximize engagement and win more leads. Which will, of course, eventually lead you to make money on Twitter. For this reason, identify your strategic audiences to match your communication towards their expectations. From there, start creating content they'll really enjoy. To make all this easier, use a smart social media analytics such as Sotrender.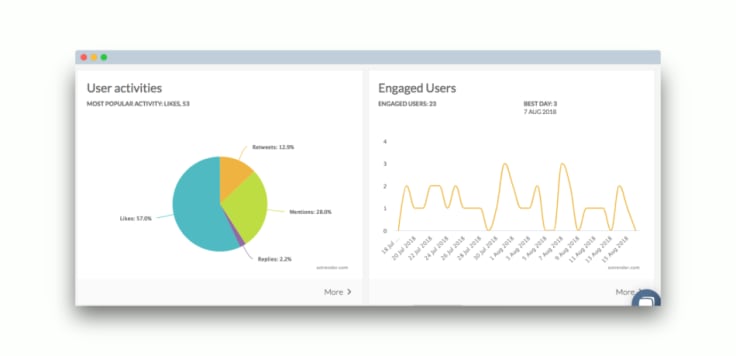 What should you do next? Once you have some more experience with Twitter, it'll be time to take your Twitter strategy to the next level.
Make Money On Twitter with… Twitter Ads
Paid campaigns on Twitter are a great idea for boosting your business results.
Twitter Ads are regular Tweets purchased by advertisers who want to reach a wider audience and spark engagement for their existing audience.
Twitter Ads look exactly like non-promoted tweets, they are just clearly labeled 'Promoted' when a promoter is paying for their placement on Twitter. Otherwise, they look and act exactly like regular Tweets. They can get retweeted, liked and replied to just like any other tweet.
Access Twitter ads by clicking on your profile's avatar on the upper right side of your screen. You can then create them with the use of the ad creator. It lets you set the preferred objectives of your campaign and any other important details.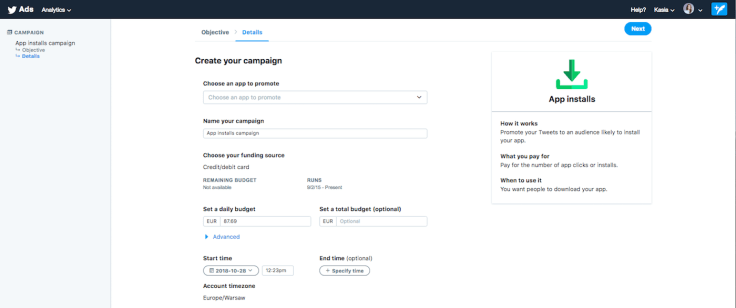 Once you've set the daily budget, total budget, start time, and end time, you can compose your message and pick a format.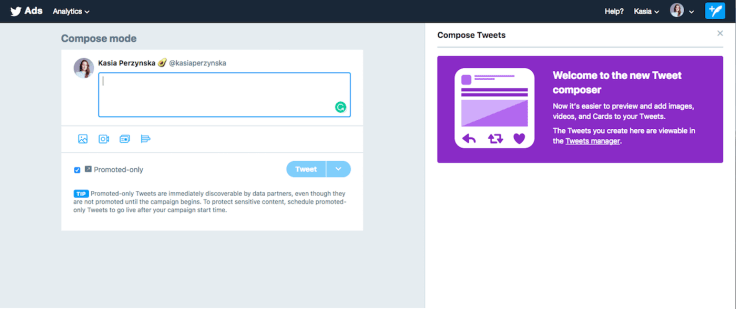 Where can Twitter Ads be placed?
There are several places you can put your Twitter ads:
At the top of relevant search results pages on Twitter.
In search results for Promoted Trends. People can also see a Twitter ad in the search results when they click on a Promoted Trend.
User's timeline. Twitter ads can pop-up on a user's timeline when Tweets are relevant to that user.
User profiles. Promoted Tweets will display on select user profiles that fit the targeting credentials configured for a campaign.
Still, Twitter users can view ads that don't show up on the advertiser's profile page. Although promoters have the option to send highly targeted and relevant ads to special readers, promoted Tweets are still a part of Twitter, and users can find them by searching the platform.
Examples of Twitter Ads
If you're a promoter of marketing solutions, you might be familiar with HubSpot and it's content. In the example below, HubSpot advertises the entire certification platform, which includes a complete education for the intermediate marketer.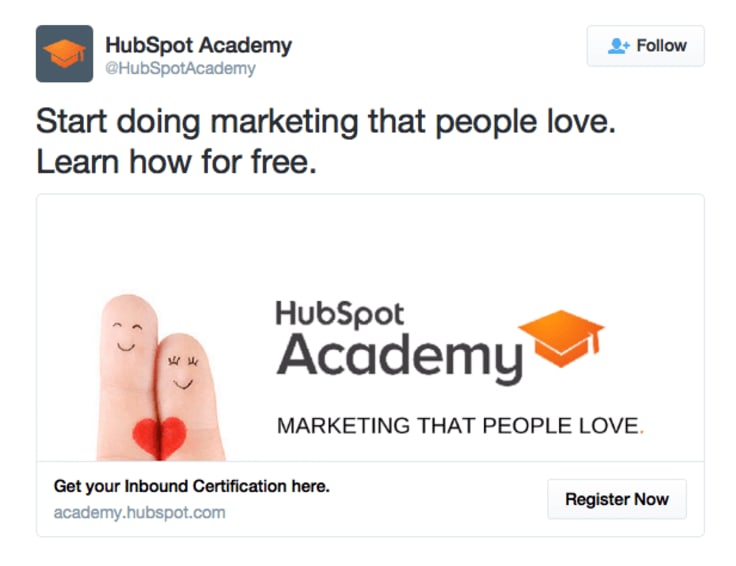 Here is a tweet promoting Twitter Ads. It's creative, though basic, and delivers bright and contrasting colors with a dead-simple call-to-action. When the message is this simple and obvious, there's no need to add anything more.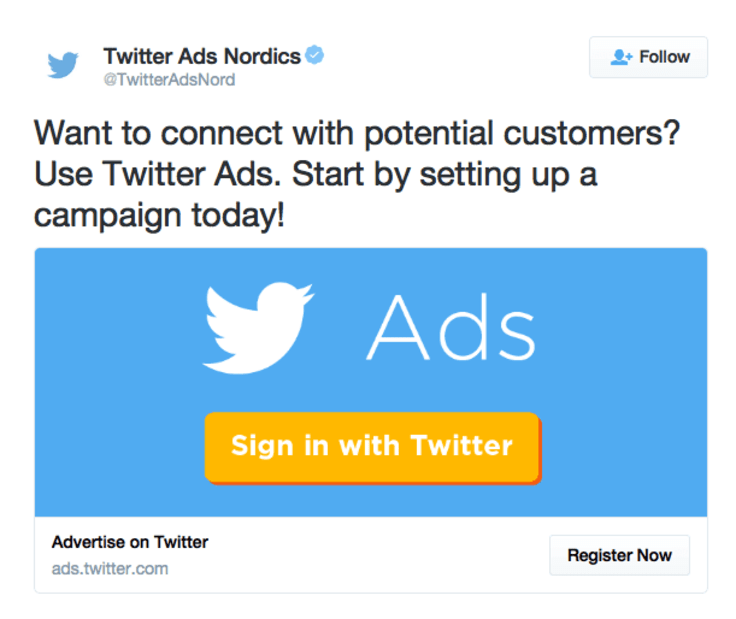 Below you'll see Spotify's extended free trial offer. That tiny amount per account guarantees the leads coming to sign up. And the best part is, the majority of new subscribers will stick around and won't cancel when the free trial is up.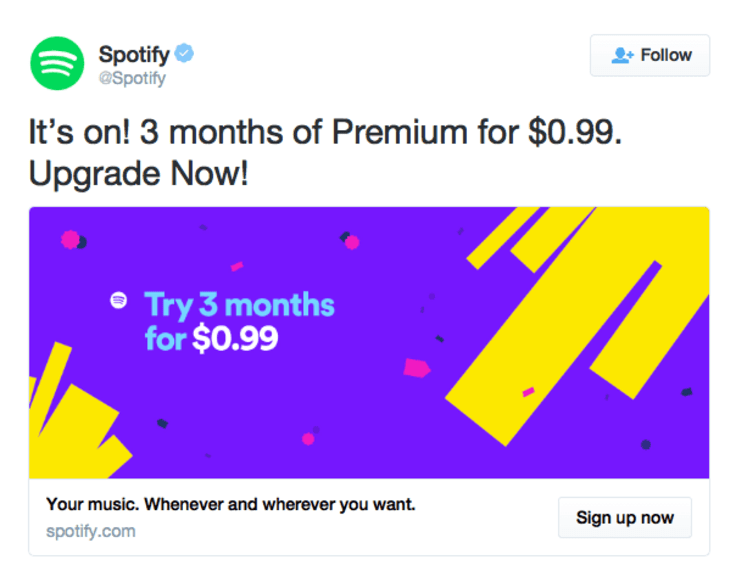 Discount sales like this are a great way to keep Twitter users involved and interested in your offers.
Especially when it's a discounted item. In the Twitter ad below, Amazon promotes extras for Kindle. So this offer is basically just rewarding loyal buyers who've already purchased Kindle.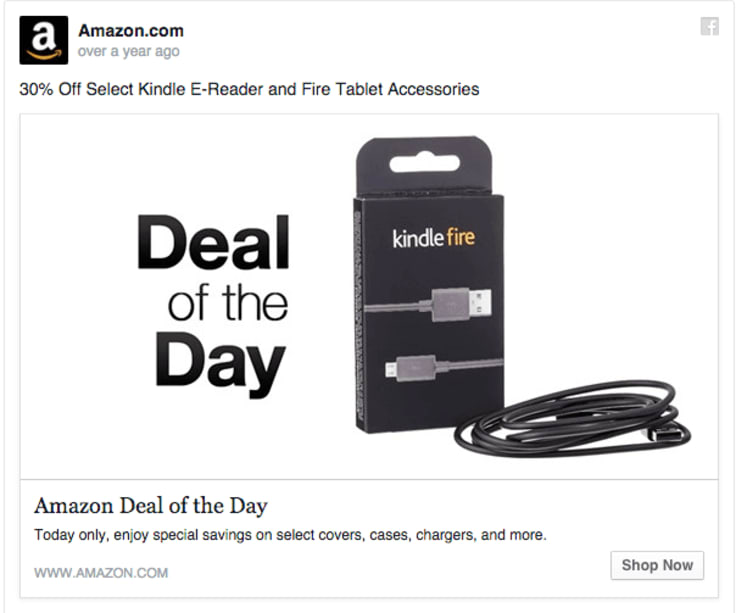 In the first part of this tutorial, I've introduced you to the world of Twitter and presented how you can kick-start your presence to grow your profile getting new followers.
Now, let's move to the more advanced actionable chapter and reveal some nice-and-easy Twitter monetization strategies that'll bring new revenue opportunities to the table. So what are the best money making techniques for Twitter?
Let's dive in.
1. Promoting Products
Monetize your Twitter presence by promoting products on your social media profiles. The easiest way to do it is by becoming an affiliate marketer.
This way you'll promote vendor's products that fit into your business niche and earn commission for each customer you refer. Sounds like a sweet deal?
This is an excellent way of earning passive income and getting extra money when you are an experienced online (performance or inbound) marketer and know how to release effective campaigns.
You can also do it as a newbie, but then it will demand some learning to master this art and streamline your performance so that you can make decent money out of it. Fortunately, I've created an all-in-one affiliate marketing guide to get you on board with affiliate marketing essentials and make sure you understand how to get it going.
First, you need to create a website, then select affiliate marketing programs of your interest or merely joining affiliate marketing networks such as ShareASale.
And affiliate marketing networks make it easier to start because they provide you with:
the affiliate marketing platform to manage your campaigns
know-how to educate you on your way
affiliate marketing news, so you are updated about the industry
access to a database of vendors and affiliate products they offer, so you don't have to look for them yourself to find a proper fit.
Promote top
recommended products
Gain competitive advantage.
Easy money withdrawal
Open APIs
Promotional materials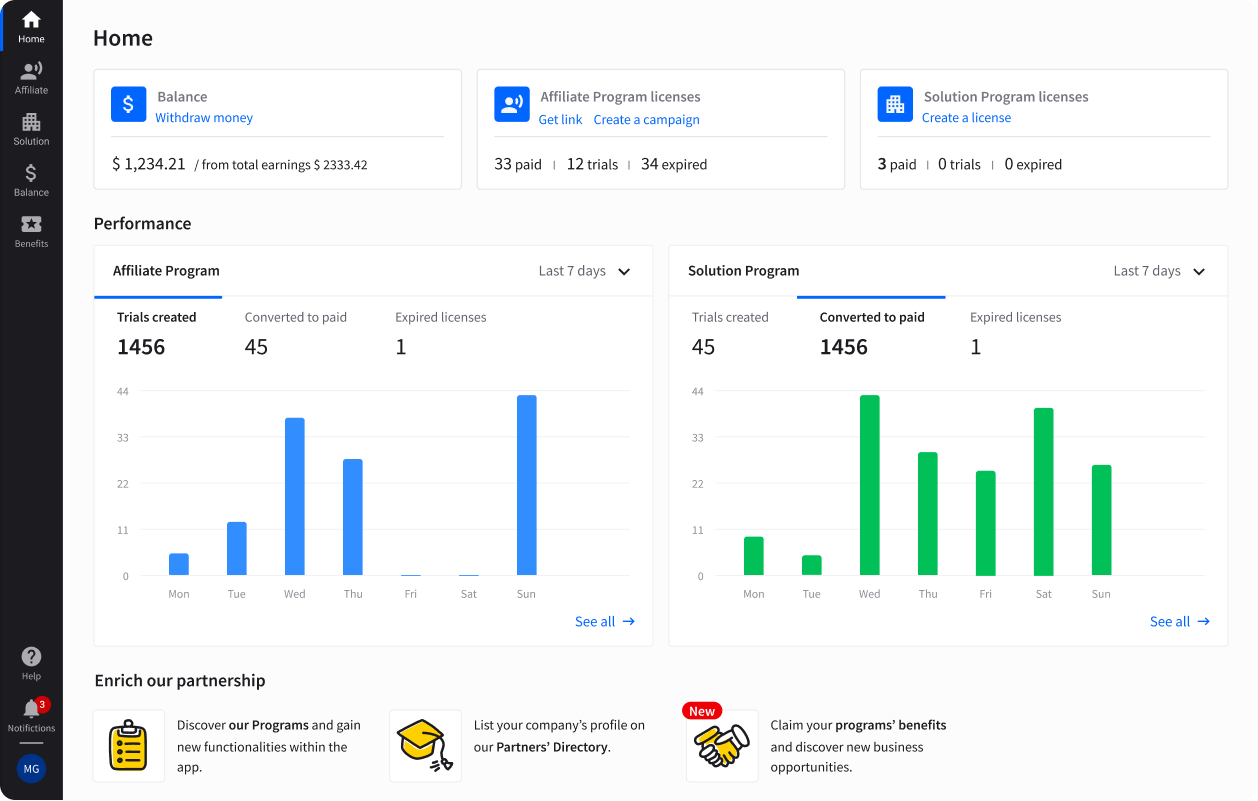 Of course, you can find independent affiliate products (like this one) yourself. For this reason, research and check websites in search of affiliate programs. Relevant hyperlinks are usually included in the footnote of the homepage and website's navigation.
For instance, check LiveChat's website. Here you'll find an affiliate marketing program that will allow you to monetize your online presence with Twitter.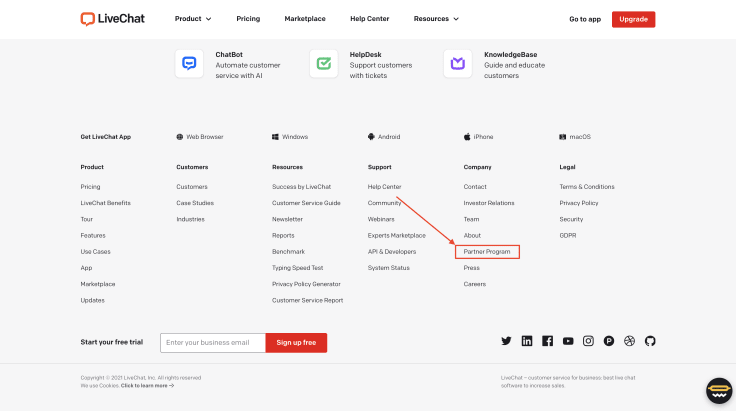 Download this ultimate affiliate marketing guide for free and learn how to fast-track your affiliate marketing journey!
Is it okay to use affiliate links on Twitter?
Yes. Technically you can add an affiliate link to your tweet, and it will work, but you need to be careful with it. On Twitter, we recommend tweeting affiliate links about once every three days, both not to look "spammy" and to achieve better conversions results.
For better results, you can also ask your network to post the messages on their account using your affiliate link, too maximize your reach and engagement of your tweets.
Also, It's crucial to personalize your messages so that you will be more persuasive and look more genuine.
And remember: Don't over promote affiliate links through your Twitter profile, as in such a case your account might raise flags and potentially get suspended.
2. Getting Paid to Tweet
There are special platforms that help you make money on Twitter, such as:
Tweet advertising tool such as PaidPerTweet offers access to 500 million quality accounts and allows you to connect with advertisers who will pay you for endorsing them on Twitter.
And your tweet worth potential is defined by the number of your followers, the industry you are in and how engaged your audience is with the content you share. Price ranges from $2 to $2000, this depends on the scale.
On Paid Per Tweet, you can find tons of advertisers, who provide ads on Twitter. This way, depending on what are you trying to do you can purchase tweets from verified advertisers or share sponsored tweets on your social media accounts and get paid for tweets yourself.
All you have to do to get this started is have a well-developed profile in the first place that attracts attention; then you create an account to get listed on Paid Per Tweet, and then you wait for offers to come through from advertisers.
3. Building a Mailing List
Building a mailing list is the most efficient of indirect ways to monetize your Twitter presence. This technique is all about collecting email addresses from Twitter with a free content offer such as a how-to guide about a relevant topic that might be enticing to your audiences.
Then once you manage to build up a list, you can start email marketing campaigns that are focused on lead generation for your affiliate marketing campaigns.
Next regardless of how you choose to monetize your email lists remember to move slowly and always offer value to your readers. Email marketing is all about matching your user's needs with marketing communication and only well structured; personalized emails will attract reader's attention.
This tactic won't give you overnight results, so trying to go too fast or do too much could turn off your readers and cause them to unsubscribe.
Remember that the bigger your mailing list and the more engaged your audience gets, the more attractive it becomes to your potential partners.
4. Use Twitter as a Traffic Generation Tool
This method is all about sending Twitter users to different places on the web. How can you do it? First, make sure your Twitter profile is well-optimized and includes links where necessary. Then you become active and send traffic to your website strategically.
Apart from posts that you share regularly you can also research threads and discussions on Twitter for the given topic and engage into discussions adding links contextually to recommend your solutions to people that might find it useful.
Of course, this might become a full-time job for you if you want to play it right and not always be worth an effort, but you can try it out to see how it works in your case.
5. Twitter Media Studio
Twitter's creator revenue programs expand. Now creators are provided with the ability to monetize content in multiple ways and generate revenue at scale.
In 2016, they rolled out Media Studio specifically for content creators to let them monetize Twitter presence and earn revenue directly and efficiently from the platform.
Twitter Media Studio provides you with:
A new unified media library (videos, GIFs, and images)
New Tweet scheduling/planning capabilities
Team management and multi-account support
Improvements in stability and upload performance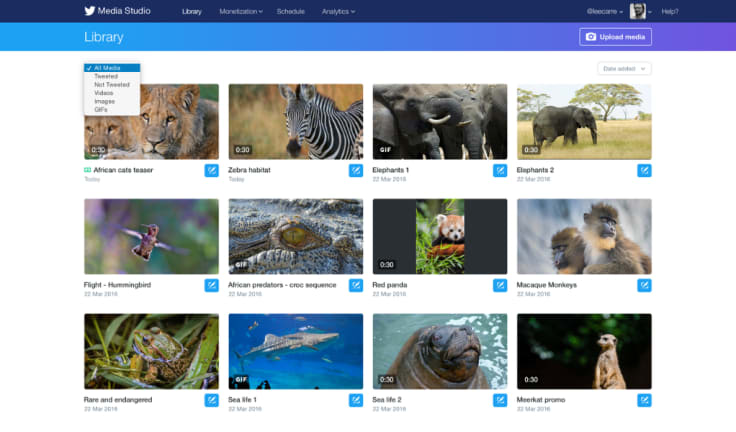 There is even "Earning" section that allows you to track your earnings for Twitter and your Niche programs easily.
Program benefits include:
Work with industry leading brands on a campaign-by-campaign basis
Attend exclusive meetups / events with creators from all over the world
Access analytics across all of your major social networks
How to join this program? Apply for access here.
Back to you
Twitter is growing over the past eight years. In the first quarter of 2010, there were roughly 30 million monthly active users. Now, the platform has 335 million active users, and it still grows. What does it mean for your business? Opportunity.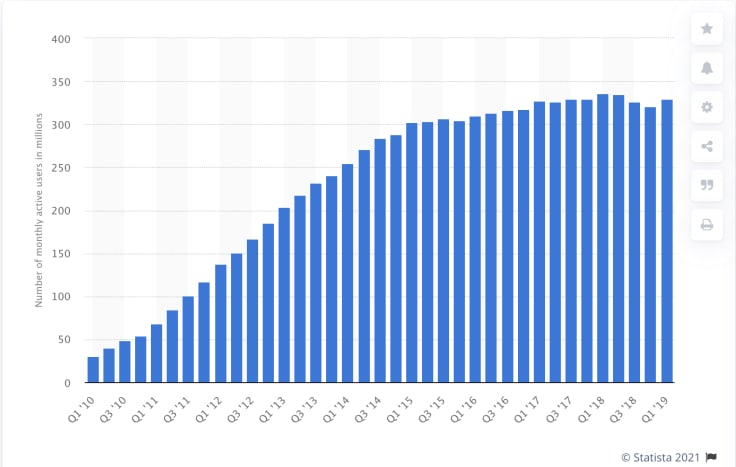 Of course, making money from Twitter takes a lot of hard work, creativity and a lot of patience. Building up your Twitter presence requires a consistent and long-term marketing strategy before you can make revenue from it and prove your ROI. But still, it's worth the effort!
Inspire your audience
Spread the word about our products and increase your revenue.
Easy money withdrawal
Open APIs
Promotional materials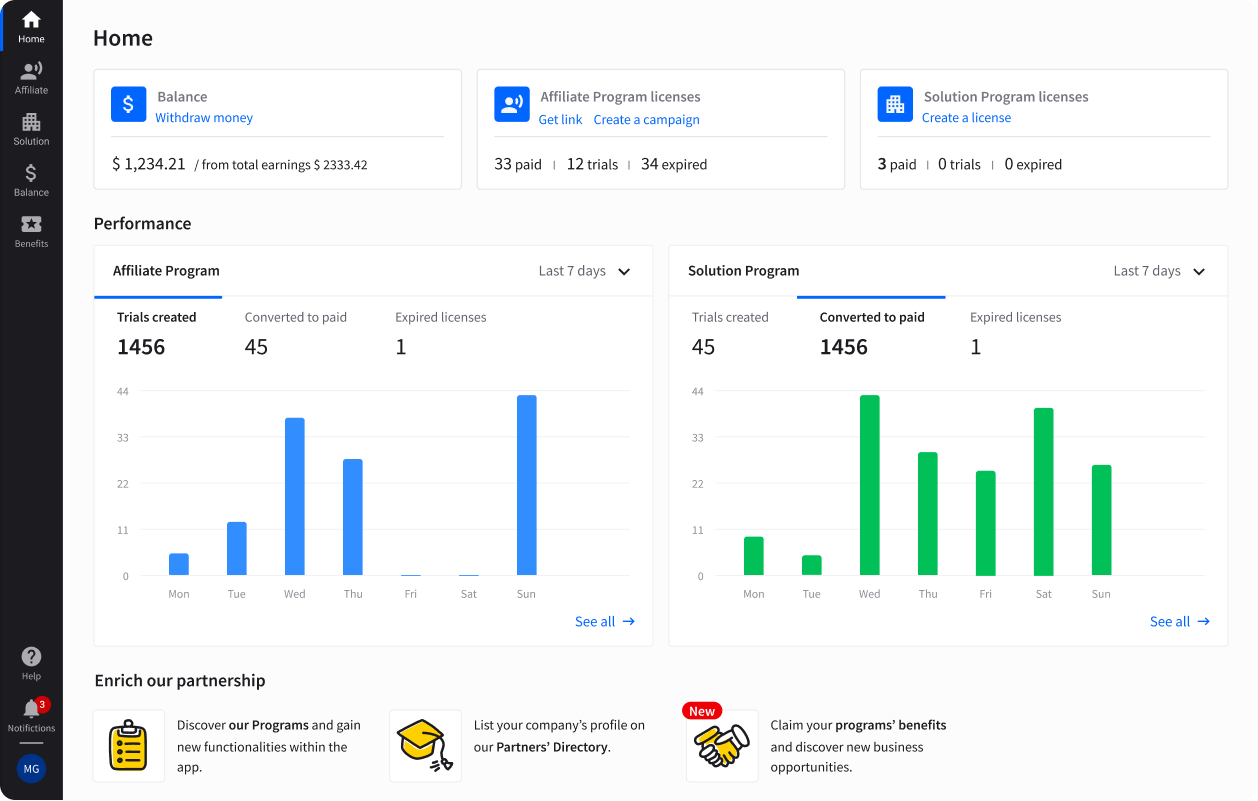 But I've still got one question for you: What's the biggest impact you've seen from Twitter ads? Let me know in the comments below!