Showing top

0

results

0

results found
Showing top

0

results

0

results found

Conversational marketing is a customer-centric, dialogue-driven approach to marketing. It boosts engagement, improves overall happiness, and — of course — grows revenue.
In real life, it comes down to using tools that allow you to address customer problems accurately, and fast. By offering ChatBot (and LiveChat) to your customers, you invite them to join the conversational market, and change their businesses — for good!
In this article, you'll learn more about ChatBot's business benefits and core functionalities and how they allow you to build and optimize chatbots for your customers without any hassle.
What are chatbots?
A chatbot is an artificial assistant that simulates a natural human conversation. Users come to a website and communicate with it via chat or voice, just like they would talk to a real agent. Chatbots interpret and process the visitor's questions and give instant, pre-set answers.
In other words, chatbots are amazing for businesses that don't have online support teams or whose teams are struggling with repetitive tasks. You create a scenario (or as we call it, a story) for a bot, and it deals with messages from website visitors.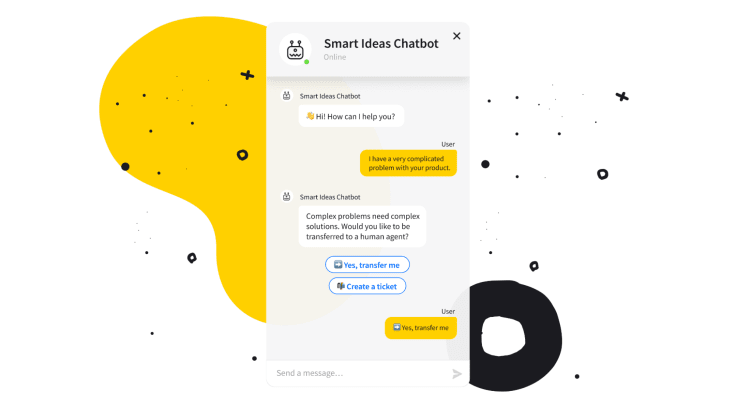 However, while chatbots bring tremendous value to online businesses, they need to be built and implemented correctly to do the job. And while ChatBot is super simple to work with, your customers may not have the time or resources to build and configure them themselves.
For you, this is a great opportunity to optimize your customer's chatbot so that it delivers the results they expect — plus it can be an additional source of revenue at the same time.
What pain points does ChatBot solve?
ChatBot is an amazing tool on many levels, but let's start with the most important aspects. What pain points can ChatBot solve for your customers?
First of all, one chatbot can be the first line of support for customers who don't have a customer service team or whose team is small. It works 24/7 — so it's available even when there are no human agents online. And in the case that your customer has a small support team, a chatbot can take over the repetitive tasks so the team can focus on more demanding cases.
"ChatBot handled 313,406 chats, which is 35% of the whole traffic over the last three years — the workload of 10 support agents managed by one ChatBot Story!"

Grzegorz Woźniczko, Head of Customer Support at LiveChat
If your customers are looking for lead generation, they can do that with real-time conversations handled by a chatbot. How? A chatbot is available 24/7 — so not only can it respond to all incoming questions but it can also proactively reach out to every website visitor. It can offer help, market a promotion, recommend products, schedule meetings, etc.
In the long term, it can improve the experience of online visitors, turn them into loyal customers, and boost conversion rates.
"We've seen our online ordering increase by 300% after customizing ChatBot software for our restaurant, and it was seamless to get started. We are now implementing it for our other restaurants and hotels."

Chris Wilson, CEO of Next Door Burger Bar
And here are other ways ChatBot can boost your customers' sales.
Supporting website visitors on their way to a cart is an obvious way of increasing your customers' revenue. But ChatBot can do even more than that. It can automatically collect information about potential customers through conversations and segment leads. Then, it sends this data to a CRM so a salesperson can make use of it. Finally, it can automatically schedule meetings with potential customers.
"ChatBot can amazingly automate the sales process and make the flow a breeze for us."

Alex Wilson, VP of Sales at LiveChat
Last but not least, ChatBot can help you to educate website visitors: customers, students, or job candidates.
It can automate your customer's FAQ and turn it into an online support hub. At the same time, it gathers other questions that website visitors may have. ChatBot can also help to promote courses, open days, and easily explain admission procedures. It can also assist with the recruitment process!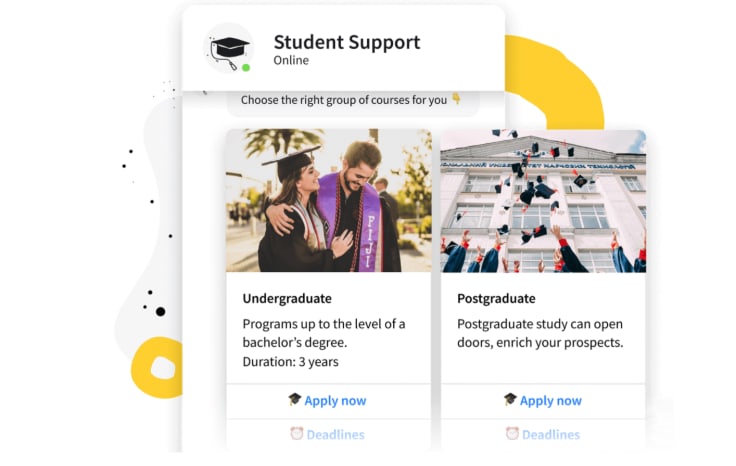 As you can see, ChatBot is a universal tool. It can help your customers to sell more products, support more customers, gather information about them, and automate routine processes. From ecommerce to healthcare, it boosts customer experience and makes doing business easier.
Business opportunities for our Partners
So there are plenty of reasons why your customers could benefit from having a chatbot. And below are some reasons why choosing our product will be beneficial for you as our Partner.
Integrates with LiveChat like a charm

When we introduced ChatBot, we knew that it had to be a standalone product, but we also wanted it to be compatible with LiveChat. As a result, LiveChat and ChatBot work together like a dream. It takes only a couple of clicks to turn these two into an AI-fueled customer service platform.
Why is this important? Because it creates a cross-selling opportunity for you.
"The ChatBot platform has become a key part of our proposition. It's fully flexible and has allowed us to drive 30% more leads while dramatically reducing our cost to serve."

Joe Bush, Co-founder of The Chat Shop
If your customers already have LiveChat, adding ChatBot to their workflow will be easy as pie. ChatBot will automate the tasks that LiveChat won't handle, and if the chatbot isn't appropriate, the customer can be easily transferred to a human agent. A win-win situation!
For new customers, you'll be able to offer LiveChat and ChatBot as a bundle. As an addition, you can offer services around both products and boost your revenue even more.
Did you know?
ChatBot easily integrates with LiveChat, Facebook Messenger, WordPress, and Slack. However, if your customers need to integrate ChatBot with a different tool, use Zapier and get access to 1,500+ business applications.
It's easy to work with
Thanks to the visual builder and useful story templates, anyone can build a chatbot, even if they have no technical knowledge. It's all about dragging and dropping pre-made scenario elements and then testing whether the bot works.
This builder allows you to personalize your bot's communication and make it sound natural (or to create a unique bot personality). And what's also great is that it allows you to A/B test the conversations to quickly verify which of them performs best.
Watch the episode of The Bigger Picture, our educational series, where Gabriela, Product Marketing Manager at ChatBot, described how the visual builder works:
But apart from that, you also have a wide range of tools allowing you to change the look and feel of the chat widget. You can customize it so it matches your customer's website design and looks like a native element of their page.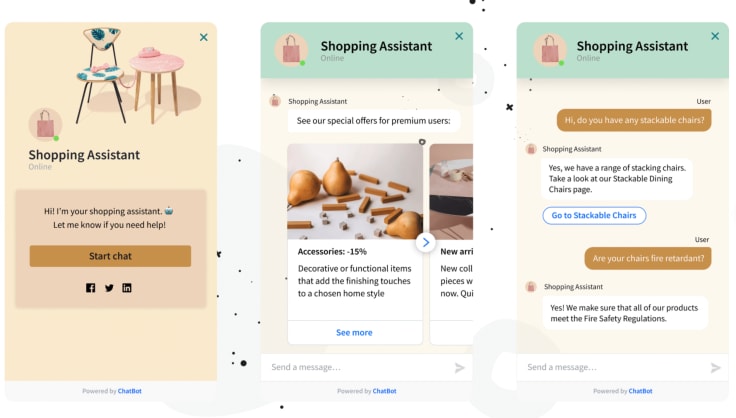 Become a chatbot expert!
In the world of chatbots, conversation design is the art of teaching them to interact effectively with humans.
The aim of great conversation design is to map out what users might say and teach a chatbot to react in a way that helps users easily achieve their goals. On the other side, there's poor conversational design that results in bad customer experience and users who don't want to use a chatbot again.
That's why it's so important to become an expert in building chatbot conversations. If you'd like to give it a try, remember that if you're a Solution Partner, you can send us an email and get your free ChatBot demo account.
Learn how to create new stories and test them afterwards.
Make sure that the conversations are simple, engaging, and informative. Personalize chatbot greetings and focus on solving customer problems instead of pushing the discounts and offers. And if a chatbot doesn't understand a question, don't use the "I don't understand" phrase. Look for more engaging ways to respond!