Showing top

0

results

0

results found
Showing top

0

results

0

results found
5 Ways to Connect Social Media to your Clients' Websites to Boost Engagement
8 min read
Aug 28, 2019
Social media is something that many project managers or digital agencies try to use to boost their clients' website traffic. This is hardly surprising given the role social media platforms play today in terms of building communities and generating engagement. There were over 2.62 billion social media users around the world in 2018, and that number is only expected to grow.
Yet because of the nature of social media, there isn't really one size fits all solution. Because of this, out of dozens of potential solutions perhaps only a handful may fit your client's site. For example, are your clients willing to sacrifice site performance to display an integrated social wall? Will you leverage social commenting or live chat for your client's site?
Today we will be looking at some examples of how social media can be connected to your clients' websites to boost user engagement. After getting familiar with the concepts, you can spend some time looking for the tools that best fit your needs.
1. Use Social Media Links on Your Website
The most basic and easiest way to connect your client site to a social media channel is simply by linking them. If you're using WordPress, many themes already have a social media segment where you can just add links to.
This is, however, the simplest form of linking. To really increase your chances of content sharing on social media, look for something like the ShareThis. It allows your site visitors to share specific content to their own social channels.
How to integrate to your client's website
ShareThis for‌ ‌example, can work as a WordPress plugin but is also available for other platforms such as HTML website or website builders. You can use their site to configure your social sharing buttons and then just add the code where you feel it will be most effective.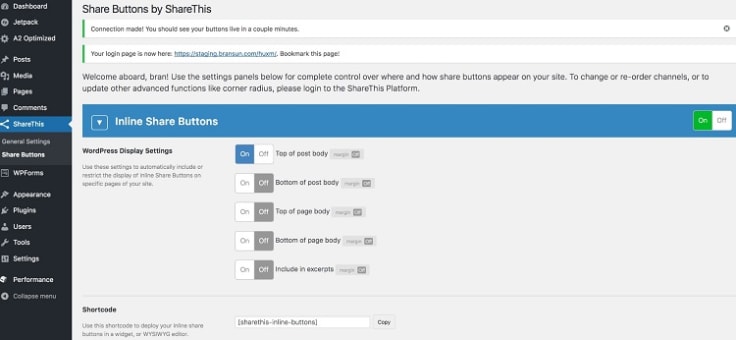 Caption: You can configure the social share button from WordPress dashboard
By using ready-made tools to strategically place sharing buttons on your content pages, you make it easier for your visitors to share content they find interesting. There are many tools like this around and several of them can be used at no cost. Try these:
Caption: As an example, TechCrunch appends its social sharing buttons to the bottom of content posts and gives users a variety of choices to share via.
When your users share your content on their social media channels you are effectively multiplying your reach to an audience you would otherwise probably not have access to. The wider your reach, the higher the chances of you getting more visitors from social media channels.
2. Login with Social Media Accounts
Nobody likes a pushy website, asking you to sign up every five seconds and let's be honest – it is a real hassle. Besides, with the recent (massive) data breaches that leaked to the public, internet users are being more careful when it comes to online privacy. Many people are also becoming increasingly wary of providing websites with too much information.
As project managers or digital agencies, you can help by increasing the security of your client's website such as installing an SSL certificate but unfortunately, that doesn't help public perception.
That being said, something like allowing website visitors to log in with their social media accounts can help alleviate some of these issues.
How to implement it to your client's website
Normally, implementing a social login would involve coding but nowadays there are companies that offer the use of plugins or the like to facilitate the process. Take for example auth0 which you can try out for free and then move towards a paid subscription as necessary.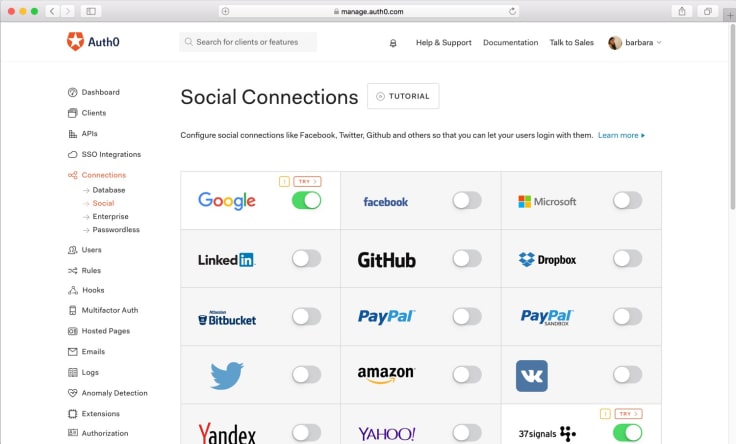 Caption: Tools like AuthO can help you pull together logins from many social accounts
The one-click login process makes things more convenient to site visitors, allowing them to provide information without having to type it in repetitively. As project managers or digital agencies, this gives us great power over user data – use that responsibly and limit the data you collect to things you really need!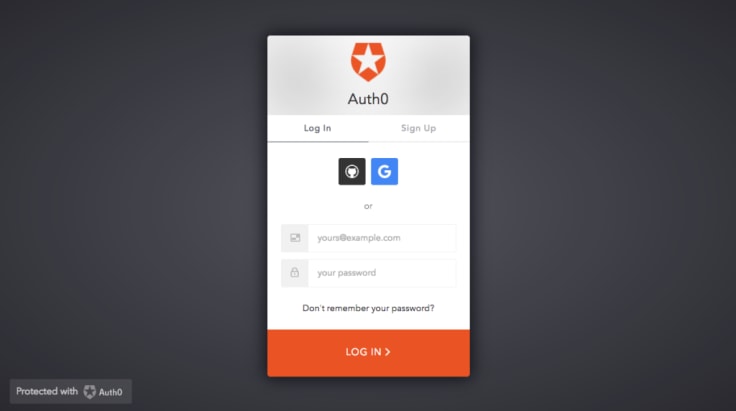 Caption: Examples of the use case - User can skip the process of creating account and login using existing social media account.
Social logins enable you to easily verify users, gain access to valuable data and offer your users seamless website experience. Some of the alternatives you can try:
On another note, dealing with data may raise some issues regarding privacy. If you are planning on collecting data in any form, make sure you have a privacy statement to inform users about how their information is being used.
Some serious stuff, if you deal with European Citizens data and don't comply with GDPR, fines can reach up to 4% of your global revenue.
3. Power Up Your Comment Box
People love to interact with other people, even on the web. A social-based commenting system can be a great way of boosting the conversation on your client's site and moving that social as well.
These interchanges are engaging and can leverage the social media accounts of the site visitors.
How to put comment box in your client's website
Because they are socially linked, identities are also verifiable, and this helps reduce spam and trolling. Many tools that work on the social comments system are also more dynamic as they can adjust the conversation flow to bring attention to its most engaging part.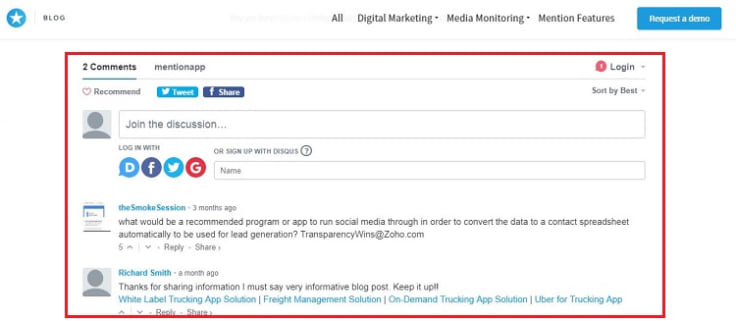 Caption: Mention is using Disqus commenting platform to boost engagement.
Many people are often leery about a commenting system but remember that for social commenting, you are allowing users to interact with each other. Your client's site only facilitates the conversation and (perhaps) hosts the topic. If this is something you might like to try, here are some options:
LiveChat can be an alternative to the comment box which you can integrate into your clients' websites to boost engagement. This chat software can help increase engagement between both customers and businesses while collecting marketing data for your business.
As you are aware, social media platforms today are a great place to boost engagement and try customer retention activities. LiveChat offers you the possibility for such integration to enhance interaction between your client and their customers a the same time retain them.
4. The Social Wall
The social wall is a two-edged sword for your client's website and has the potential to pull together all your social media feeds to share with the site visitors.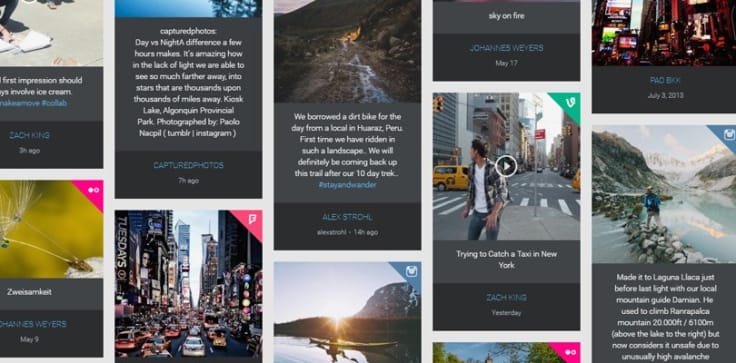 Caption: The social wall can be a powerful integration tool, but will likely drain host resources
These are excellent for certain objectives such as events, product launches, and some promotions and offer site owners an engaging way to help their users stay connected to specific themes.
What you need to know before integrating social walls
However, the overhead on most social walls is high in terms of resources. You will likely find that they bog down site performance and it is wise to use them strategically instead of having them all the time. Here an example of the use of social wall: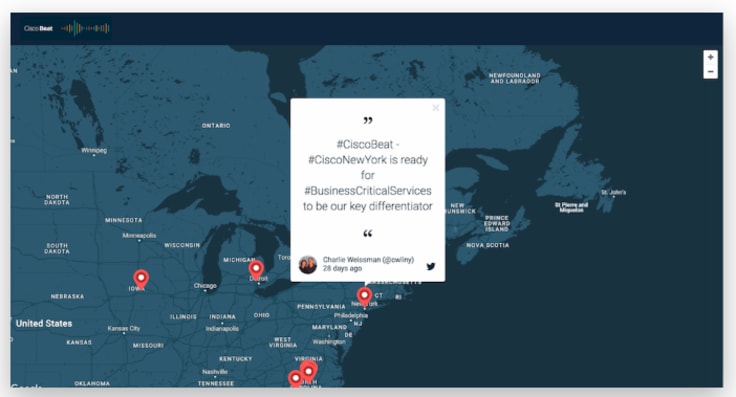 Caption: The example - The Cisco employee hashtag campaign
One great example of an effective social wall was in the Cisco employee hashtag campaign. It made great use of a very unifying theme with a world map and pulled together tweets from all around the world demonstrating good engagement. If this idea works for your client, check out a couple here;
5. Using Metadata
Metadata is one of the most vital links that join your website to social media channels. It is basically data about data and helps determine how your client's site is shown or showcased on various platforms whenever the link is shared.
Using metadata to control this is not the easiest thing in the world since it differs slightly from one platform to another. This is another reason to focus your efforts on specific platforms to suit your clients' needs.
How you can leverage metadata for your clients
For example, Facebook works on the Open Graph (OG) Protocol which means that aside from a default view which you can control somewhat, it is also open to editing by individual users. This has led to some misrepresentation and Facebook now requires domain verification from users.
Caption: An example of content formatted with Open Graph tags for optimal display on Facebook
Thankfully, Facebook also enables post previews, you can easily test how your client's site will look when a default link is dropped into a post. Work with your metadata and the platform to see how you can tweak things for ideal positioning.
Caption: You make use of Facebook debug tool to see how your markup appears to the Facebook crawler.
The effective use of metadata can help your client to boost visibility through sharing and engagement and eventually turn into the results you wanted. Unfortunately, this is just something that you must adjust on your own and there aren't any magical tools to help you - you just need to find the right effective mix.
Conclusion
By now, you have gotten some idea of the extent to which social media can boost engagement on your clients' site. Remember that because it is social, you can influence using tools but cannot directly control conversations.
Sure, you can participate if you wish but that also carries some form of risk. As the project managers or digital agencies, there is a tendency to monitor your client's brand and can become easy to get lost in a conversation which may potentially have an adverse impact on the brand!
Try to remember that you are hoping to leverage social media to boost user engagement on your clients' sites and look at things more prospectively. Stay focused and most importantly of all, learn to understand how these tools and social media as a whole affect your client's business and relationship with their site visitors.