Showing top

0

results

0

results found
Showing top

0

results

0

results found
3 Ways to Establish Brand for New SaaS Companies
6 min read
Sep 25, 2018
As an up-and-coming Software as a Service (SaaS) company, getting your brand's name out there is probably number one on your to-do list.
Don't be fooled. This is not an easy task.
Even if you have a stellar marketing team and account executives that could successfully sell a pet rock, the fact of the matter is this: building (and maintaining) brand awareness is going to take a lot of time, effort, and resources.
That said, there are a few simple tricks that have proven effective when trying to establish brand awareness. In this short guide, we'll cover the problems early-stage SaaS companies may face and three simple ways to combat them.
Problem #1: SaaS Saturation
While SaaS marketing teams see unique opportunities, they're also burdened with distinct nuances. The first of which being that the Software as a Service industry has become polluted. Just two short decades ago, the SaaS industry was a very different space. SaaS vendors offered only a smattering of tools serving a few different functions.
However, as companies continued to abandon on-premise software models (software installed directly onto computers) in favor of the up-and-coming SaaS tools (software accessed over the internet), SaaS vendors recognized a massive opportunity, and new tools began to emerge. Nearly 30 years later and today, SaaS saturation is very real.
There are more than 40,000 SaaS tools on the market. While this is great news for software buyers (the choices are endless!), it makes the life of a SaaS marketer much harder. Especially if they're marketing a new SaaS tool. With 40,000+ tools out there, how will you ever cut through the noise and establish your brand?
Problem #2: SaaS is (forgive me) boring
Hear me out on this one. If I asked you about your favorite commercial, would you be able to tell me? More importantly, would you be able to tell me what it was advertising?
I'd bet you could – and the reason why is obvious. Consumer items are memorable, which make them easier to market. The newest sports car is more exciting than the newest CRM tool. The most recent version of the iPhone will likely make more of a stir than a new core HR software. This isn't knocking SaaS tools – it's just a simple fact.
So now that we've all agreed that SaaS tools are less exciting than consumer items, we can get to the good news. While there are certainly nuances with B2B marketing, there are also unique and exciting opportunities!
Yes – SaaS marketing is challenging – there's no doubt about it. It's also incredibly rewarding. For a growing startup, establishing your brand can be the first step in a long and successful marketing strategy.
In this next section, we'll stop highlighting the problems and get to the important part: how we can solve them.
The solution – establish your SaaS brand through brand awareness
Luckily for SaaS marketers, those unique nuances create exciting opportunities to build your brand. The first strategy has proven to be incredibly effective for emerging and established and emerging SaaS companies alike.
Content marketing for SaaS companies
If you're looking to increase brand affinity, look no further than content marketing. In recent years, it has become an absolutely invaluable strategy for B2B marketers to reach new audiences and nurture existing consumer relationships.
In case you need a quick refresher (don't we all?), content marketing is a marketing method in which marketers create and publish educational (ie: valuable) content such as blogs, guides, infographics, videos, and more. This content isn't necessarily promotional. Instead, it aims to educate and entertain its audience.
By regularly publishing similar content, you can position your brand as an authority in a given space. This will increase brand affinity, attract organic traffic, and ideally, secure some loyal followers, readers, and viewers.
While your readers may not immediately turn into a customer (in fact, they probably won't), you can certainly nurture them through the funnel. Think of it this way – a one-time reader becomes a repeat visitor, that visitor becomes a lead – you get it.
Zapier, an app that enables its users to sync their various software tools, is a stellar example of a brand that has excelled in content marketing. Although the product itself may have a business-focused audience, their Learning Center features educational resources that any professional, regardless of age, industry, or title, can use to educate themselves and simplify their workday.
Their content covers everything from email marketing to Google sheets to remote work – and lots in between!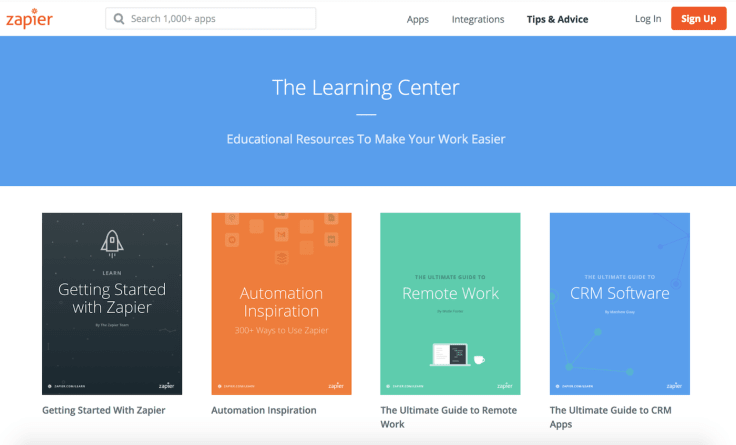 Social media for SaaS companies
While SaaS companies don't have as exciting of an offering as say, Glossier, they can still create a killer social media marketing strategy. When it comes to social media, the content you post is far more important than the product or service you offer. If you're a B2B company, it may be your first instinct to focus on LinkedIn (it is a professional platform, after all).
While marketing on LinkedIn is still a worthwhile strategy, consider leveraging consumer-geared social platforms like Twitter and Instagram. These platforms enable you to reach new audiences, display your product in a new light, show off your brand's culture, and more!
As an example, let's take a look at HootSuite. HootSuite, a social media management software tool, leverages Instagram to reach their audience and show off their company's culture. While their offering is geared toward a smaller audience, their Instagram account appeals to the masses.
Instead of advertising their SaaS tool, the company mascot Owly (unsurprisingly, an owl) is often featured as the subject in their photos. The brand also features their employees, exciting team outings, and more – all being displayed to their nearly 80 thousand followers.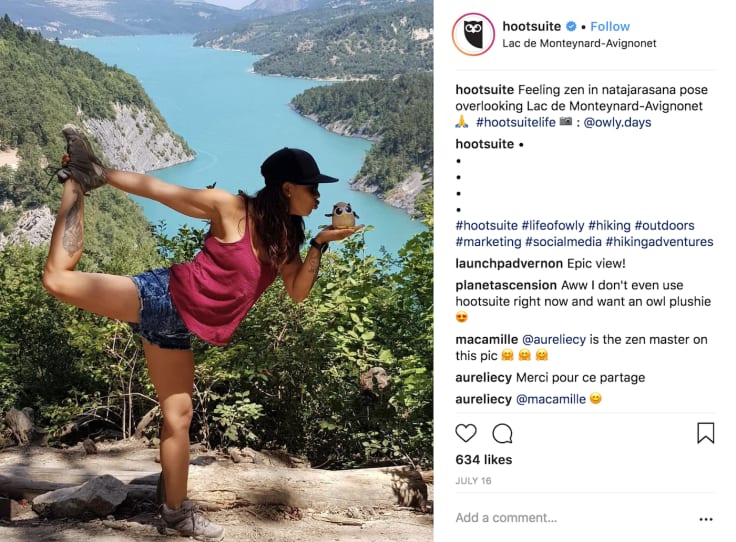 Marketing Automation
As a consumer, I love to feel special. Companies may have tens of thousands of customers (if not many more), but that doesn't mean I want to feel like I'm just a number.
I'd bet I'm not alone in feeling this way – it's human nature! That's why using marketing automation software can be incredibly effective.
Marketing automation tools not only manage mundane and time-consuming functions (lead generation, lead scoring, etc.), they also enable the sends of customized, 1:1 messages, depending on where your potential customer is at in the sales funnel. These personalized interactions can be sent based on actions your prospects take while visiting your site like pages visited or buttons clicked. That way, you can ensure you're reaching your customers while your brand is still fresh in their mind.
These personalized interactions are far more effective in establishing your brand than an email blast. Engagio, an account-based marketing analytics software, runs marketing automation initiatives that regularly send educational content to my inbox.
While Engagio isn't a software product I use, they still send articles, blog posts, and webinars that are relevant to me based off of the actions I've taken on the company's website. While many SaaS emails can come off as pushy, these are anything but. The content is informative, and I've never once been asked to speak with a sales executive. Because of this, I have a positive idea of their brand – and if I looked for an ABM solution in the future, I'd probably check it out.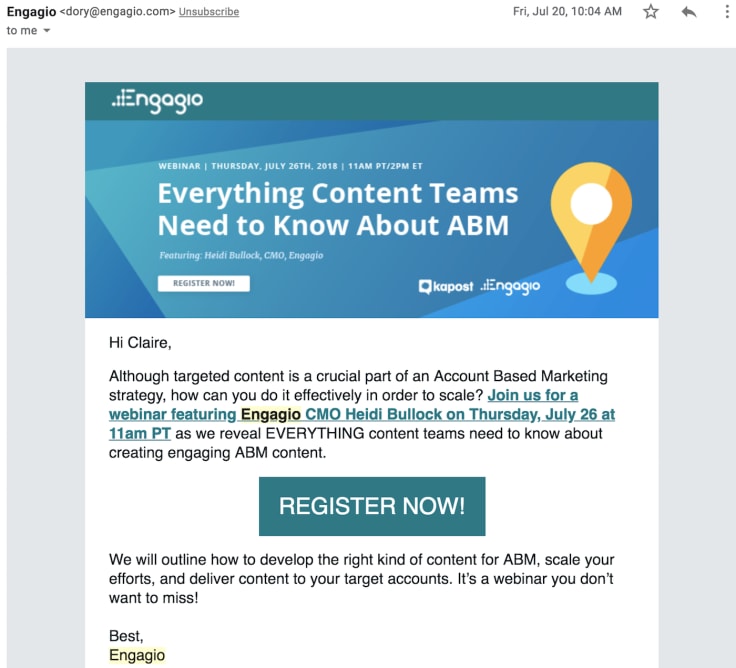 Final Thoughts
As a marketer at a growing SaaS company, the thought alone of establishing brand awareness is enough to make you want to outsource the job to an agency. That said, it doesn't have to be!
By implementing some of these strategies, you'll be well on your way to establishing your brand and reaching those critical prospects.