Showing top

0

results

0

results found
Showing top

0

results

0

results found
7 Major SEO Mistakes You Should Stop Making Immediately
11 min read
Nov 9, 2017
Think of online marketing as high-stakes professional sports. You get what you give. A no-brainer.
While hard work mixed with constant analysis and ongoing content optimization sounds like a recipe for success, sadly, it's not what all newbies do. Especially when it comes to affiliate marketing rookies.
In fact, the whopping majority of people who turn to an affiliate marketing business are in it because of a promise of by quick wins. They care solely about making extra money. And while we shouldn't question this as a primary reason to get hooked on affiliate marketing, such an attitude is misguided.
So what are the most ignored aspects of online marketing? Those considerations eventually lead us to SEO. That's right, the first and most harmful blunder marketers are guilty of is missing out on SEO to support their performance.
What a shame.
The industry lacks insight that online marketing can be powerful only if paired up with a diligent SEO strategy. Search engine optimization is the foundation of any campaign you realize. And not driving search traffic to your site efficiently can break your site's performance.
Long story short, neglecting SEO is a marketing mistake you can't afford to make. So make sure you harness SEO strategies to reach your business goals.
Ok, but what kind of SEO mistakes marketers make in particular?
This article will tell you:
What are the most common SEO mistakes,
How you can avoid them or fix them.
Okay, let's get to it.
1. You've Got Duplicate Content Issues (And You Don't Know About It)
Most marketers operate as content-driven specialists. Content is king, they say, yet don't treat it with royal respect. Not publishing unique content is a risky thing.
But, what's duplicate content anyway?
In simple words,

Duplicate content generally refers to substantive blocks of content within or across domains that either completely match other content or are appreciably similar.

source
So, while creating content, follow Google guidelines. Google strives to provide searchers with the best quality results. And now, when search engines deploy machine learning to evaluate online resources, it took the algorithms to the next level. If you want to get proper visibility and not fall behind other results, you have no choice, but align and meet these expectations.
Anyway, it's more important than ever before to make your content high-quality and unique. If you don't, you're playing with potential duplicate content issues.
If you copy and paste the same content across several different pages of your website or you submit the same articles (not even rephrased - just regular carbon copies) to third-party sites you can expect to cause problems.
Add value to get ranked by Google.
What can you do about it?
Use some tools to check if your site is duplicate content free.
Go for SemRush, for instance.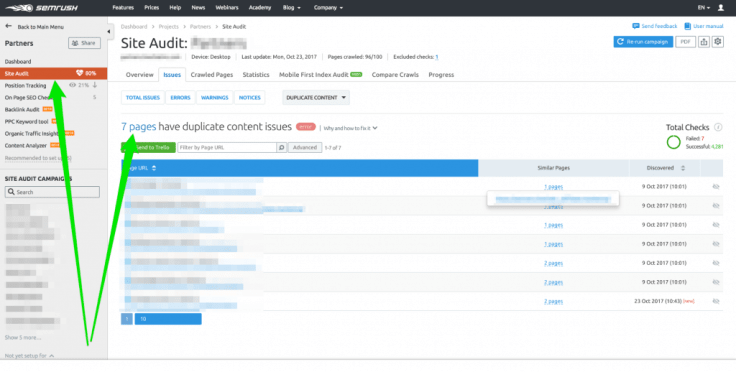 From the SemRush' dashboard, you can conduct a quick site audit to point out any duplicate content issues on your site.
Also, you can turn to Google Search Console for it.
If there are any major duplicate content issue with your site you can check this within HTML Improvements report that is included in the Search Appearance.

Be assured that if there is any major content related issue on our site that's the right place to spot it.
However, duplicate content isn't always limited to on-page copy. Often, duplicate content issues reflect repetitive meta descriptions and title tags. Never forget that meta descriptions and title tags appear as snippets in the SERPs working heavily on your search ranking and conversion rates. ;-)
Therefore, it would be excellent, if you could always prepare a unique, concise and catchy title and meta description along with crafting the whole page copy.
Optionally, if you don't have extra time for crafting unique meta descriptions, you can select the most accurate part of your introduction that summarizes the whole content of a page accurately and place it as your meta desc.
You can use Yoast SEO to control your snippet.
2. You Don't Use Canonical URLs
Canonicals may sound a little complex to you, especially, if you don't have much in common with the technical aspect of SEO on a daily basis.
But I'll try to get to it simply and demystify it.
To make hard things easier, let's state what canonicals are and what this process of canonicalization is all about.
Canonical links were introduced to let webmasters specify original online resources and prevent duplicates from being indexed. Therefore, to point Google to your original sources, you should mark them with the right canonical tags.
Canonical tags are part of the HTML header. It is exactly the same section where your title tag attribute and meta description are located.
In practice, rel=canonical is also called "soft redirect" because it's nature is pretty similar to 301 redirects — they both say that several multiple pages should be perceived as one resource. The only difference between these two attributes is the fact that 301 redirect transfers you to the original resource, while rel=canonical doesn't.

Whereas a 301 redirect re-points all traffic (bots and human visitors), the Canonical URL tag is just for engines, meaning you can still separately track visitors to the unique URL versions.

MOZ
When and how to use canonical tags
Search engines don't know which version is the original one. Of course, they can recognize a prior published version, but you need to elaborate on it further and manually mark which one should be ranked for the given keywords and where to send the SEO juice.
This is why when you distribute many versions of the same content on different URLs and want to avoid duplicate content issues you should teach search engines and specify what version is the most important one.
Example:

3. You Don't Watch Your Site Load Speed
If you don't follow search engine ranking factors frequently, then there's a chance you're not aware of the increasing need for online speed. So I just want to open your eyes - Google loves fast websites.
Drive your attention to website load speed.
Each and every SEO expert will confirm that the page load speed is one of the most important ranking factors among the (unofficial) list of 200.
Conclusion? Speed up your site. End of story.
So, if you never checked your site's speed before, this is the last call to do it.
And while a test itself isn't anything difficult to conduct, making improvements is. To test your site, use a page speed tool and just type your site's URL into it. It'll measure your site's performance and provide you with the full report on desktop and mobile load speed status and list of suggestions on how to improve here.
See the example below: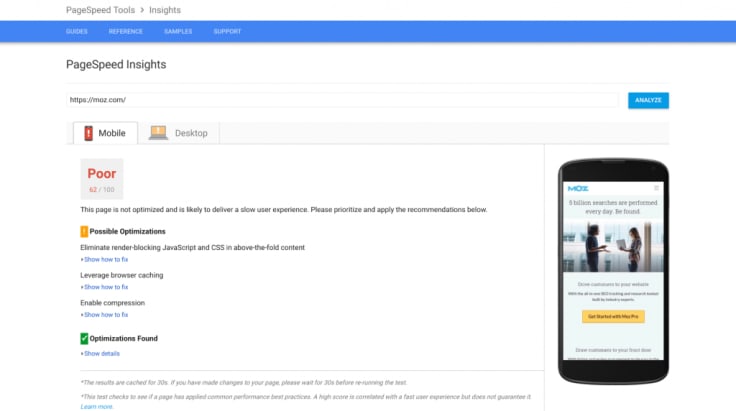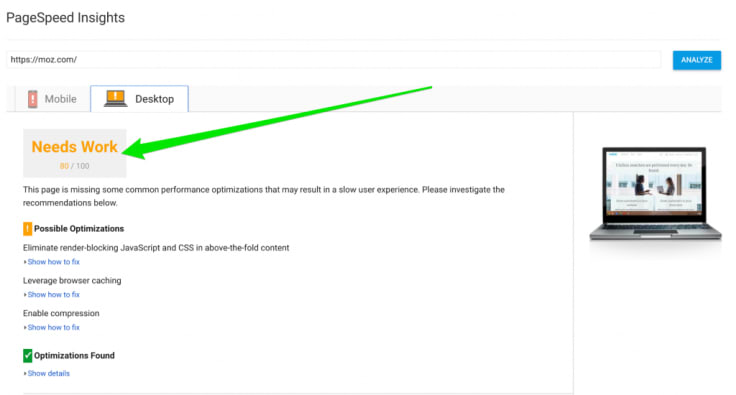 As you can see, even MOZ, the SEO bible, doesn't meet all the requirements. Checks indicate "poor" performance on mobile and "needs improvements" on the desktop.
Conduct a page speed test, dive into suggestions. Implement them one by one, and then, with time, you can expect a massive boost in your site's performance.
4. Not Optimizing for Mobile
I bet many of you feel guilty for not optimizing for mobile. But first, let's state why we would mention this issue in the first place.
Look around when you're in the crowd of people, note that they're all on their smartphones. I sure you are you familiar with such videos:
Well, my example is more about our modern cell phone addiction. But this is a marketing guide, not a guide on how to cope with such a sad reality. This is the new normal, so you better adapt.
Do you need more proof that we're living in the mobile era?
Okay.
Open your Google Analytics then.
Go to audience report and open mobile overview. Now, you should have something like this before your eyes:

What are the numbers? I can tell you that mobile traffic makes about ⅓ of our overall Internet traffic. And this will only grow.
I remember this headline from November 2016: Worldwide mobile internet use surpasses desktop for the first time ever. As a matter of fact, mobile internet use turned out to be more prevalent than desktop internet use worldwide.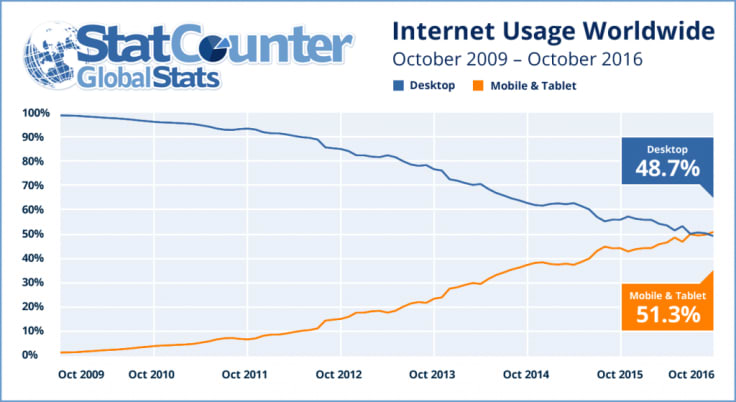 So there is a good reason to optimize for mobile.
How you can do it?
We'll make the long story short here.
Anytime you release new pages check how they render on small screens. Make sure to invest in responsive web design as this is both the most SEO-friendly solution and the easiest to manage for your webmasters. And, of course, Google has it's own Mobile-Friendly Test so that you can test your site freely and see if there's still room for improvement.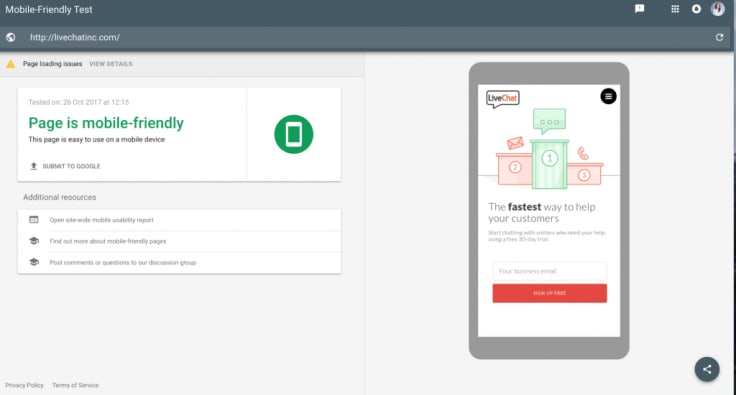 I've conducted the test for livechat.com and it looks like our homepage is mobile-friendly. What's the bottom line? Fix your mindset and start prioritizing mobile optimization.
Even Google switched to mobile first indexing some time ago. Here is the write-up I wrote for Unamo some time ago that digs into it more in-depth: Mobile First Indexing: The New Direction of Google Search?
5. Not Checking for Site Errors
Are you checking for URL errors regularly?
Well, if not then, you definitely should start. Deploy Screaming Frog or just Google Search Console for it. Both are free if you manage relatively small websites. Although this part of SEO isn't as exciting as watching your keyword jumps in ranking, but it's still important for your site's overall health.
In fact, Google Search Console was created to keep your heads up on your sites infrastructure and crawling issues so that once something major goes wrong, GSC messages you directly about it.
Site errors can be found in the Crawl section.
Once you click on this category, you'll find site errors along with URL errors.
Make sure Google Search Console doesn't find any Site errors because these are high level priority for your site and must always be sorted out. Site errors reflect three prominent elements such as:
These three aspects are critical to your overall website health. Any issue here can be catastrophic in results and often means that your site pretty much doesn't work at all.
On the other hand, URL errors are less prominent than site errors because they affect a single URL of a site and not your website as a whole. In Google Search Console, you'll find all the URL errors divided into two categories:
For the small size websites, this section should cover all the existing URL issues. Track it on a daily basis, and you will be more knowledgeable than most managers out there.
While Google Search Console will reveal all the internal URL errors, for the external URL errors, broken images, and in general more in-depth links audit you'll need an SEO spider like for instance the Screaming Frog SEO.
6. The Oldschool Use of Keywords
The era of keyword stuffing and, so-called, black hat SEO is over. With machine learning around the corner, search engines have become too smart for such tricks. In fact, search engines understand your content between the lines. So the rules of successful on-page optimization are more subtle.
You don't need to repeat the same phrases throughout your copy, but it's okay to place variations, synonyms, i.e., LSI keywords and related queries. And this will work to target strategically chosen phrases efficiently. And don't worry, Google will know how to categorize the resources optimized that way, and rank them for the right keywords.
7. Get Familiar with SEO Tools
If you want to keep up with any algorithmic changes and be on top of any visibility issues regarding your online presence, then you should definitely keep your watchful eye constantly on the specific indicators. However, the truth is, it would be hard to check up your site's overall status manually.
Therefore, you better become friends with modern-day SEO and analytical tools that will automate the process and provide you with reports concerning your basic site condition. What makes the baseline? At LiveChat we employ:
Ahrefs
SEMrush
Google Search Console
Google Analytics
Screaming Frog SEO
And I think this toolset should be enough for a good start.
Wrapping up
As I've mentioned in the introduction of this article, although SEO makes the fundamental part of online marketing, many marketers still neglect it because they wrongly associate SEO techniques with black hat methods and old school spam. This is why we all should keep up with the current state of SEO and continually improve our knowledge about ranking factors and take note that things have already gone to the next (better and smarter) level. You can do SEO naturally deploying SEO techniques into all marketing strategies you realize and by making sure some technical aspects are sorted out.
So stop making these 7 common mistakes mentioned above and start making progress today.
Wanna talk things further? Reach out to me on Twitter.
Happy mkt!
Kasia