Showing top

0

results

0

results found
Showing top

0

results

0

results found
10 Ways to Increase Conversions Through Email List Segmentation
8 min read
Nov 16, 2017
Do you ever wonder why so many marketers praise email marketing for its effectiveness while some (or many) of your email campaigns seem to go ignored?
It can be frustrating when you make the effort to build an email list only to get crickets from transactional campaigns.
Or worse—spam reports and unsubscribes.
The main difference between successful marketers and those struggling with email marketing doesn't have anything to do with brand interests or even the frequency of emails.
It comes down to content and sending the right emails to the right people.
The marketers who see the most success with email marketing have learned how to segment their lists so subscribers are only getting the content that is most relevant to them.
Why Segmentation is Important
Without segmentation, you're blasting the same message to everyone. Every customer gets the same promotional email. That might be fine for customers who love doing business with you, but not new customers who aren't ready to make a purchase yet.
Check out the data from MailChimp that measured statistics across all segmented campaigns: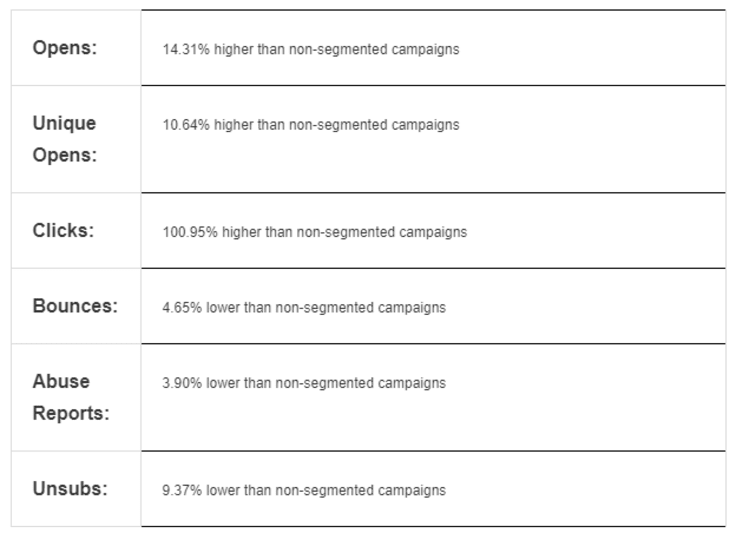 That's a huge difference compared to general email blasts.
Lyris performed a similar study revealing that 39% of businesses that segment email lists experience higher open rates, more sales, and fewer unsubscribes: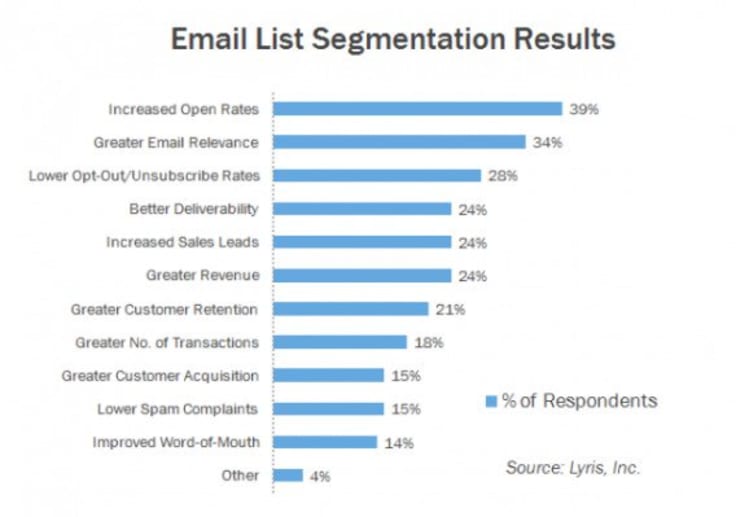 How Do You Determine How to Segment Subscriber Lists?
Most of the email platforms used by brands for marketing (Drip, MailChimp, ExactTarget, and similar platforms) come bundled with simple tools that make segmentation easy.
But segmentation isn't the hard part; it's deciding how to segment your lists that's challenging.
There's really no limit to how you split your subscribers into individual segments. While the variations are limitless, only some segments will be meaningful to the point where they improve conversations and help you grow customer relationships.
Here are 10 simple, effective ways to categorize subscribers for more effective campaigns.
1. By Their Position in The Sales Funnel
The type of content you send, and the messaging you use, should vary by the stage of the sales funnel your audience falls into and change as they progress through that funnel.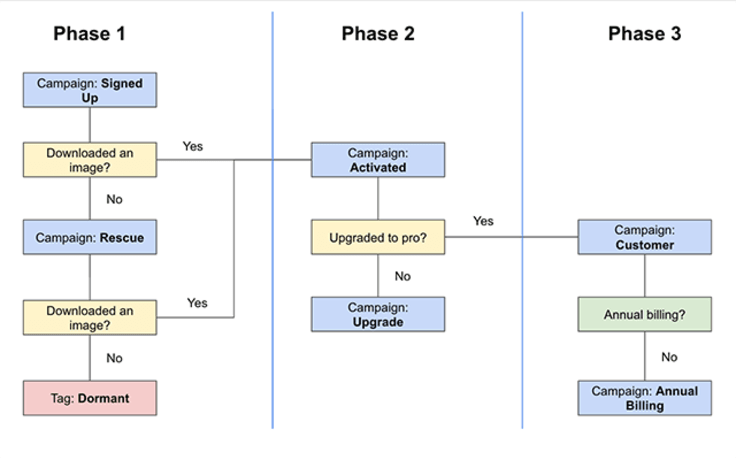 That includes your email segmentation and how those subscribers are categorized. This determines the types of email campaigns they receive in order to move them deeper into the funnel.
New subscribers to your list should receive non-promotional emails centered around nurturing the new relationship. Customers more familiar with you who are warmer leads should receive unique content that prepares them for sales and conversion.
Those who do convert should be segmented to receive reminders, cross-sell and upsell offers as well as content that continues to nurture the relationship.
Create unique campaigns at every stage of your sales funnel.
2. Frequency of Purchases
This is more applicable to e-commerce brands but can still apply to subscription-based platforms or service providers with a variety of premium add-on features and a la carte option.
Segment your subscriber list by the frequency of purchases so you can easily communicate with frequent shoppers, offering them special discounts and rewards, exclusive invitations, updates, and more.
You can also more easily pick out your first-time buyers to encourage them to shop again with targeted campaigns.
3. The Content They Interact With
Your email list can be segmented based on content interactions in a number of ways.
One approach is to segment your list based on the pages they visit on your website. For example, if a subscriber visits service or product pages you can send them supporting content to push a conversion decision specific to those pages or content upgrades that can influence a decision.
This can also work for blog and resource content, courses, and especially e-commerce pages where interest is shown for specific products but a purchase hasn't been made (or a cart is abandoned).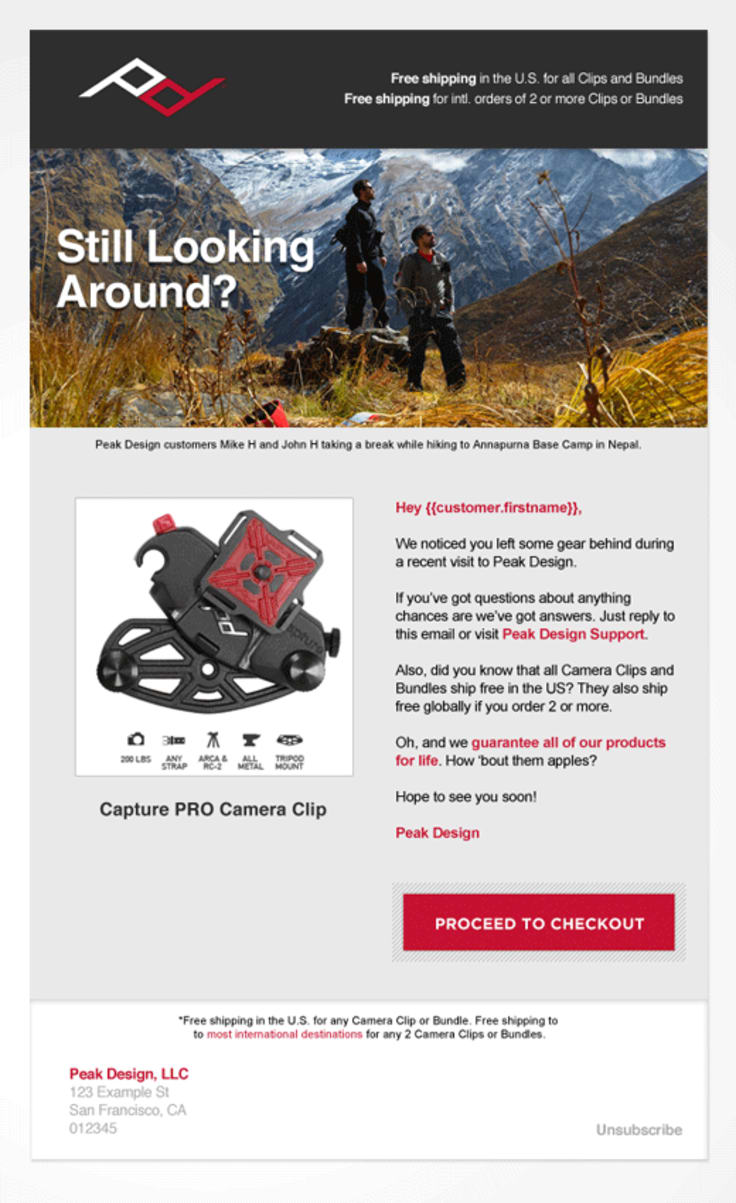 Use this segmentation for content upgrades as well, segmenting your subscribers by the types of content upgrades and lead magnets they opt-in for.
This way the emails you're sending are specific to each content upgrade and highly targeted.
4. By Email Engagement
Most email marketing platforms offer some kind of tracking to score the engagement of your subscribers.
For example, MailChimp applies a star rating to contacts based on their engagement including opens and clicks.
Sometimes your subscribers get busy and may stop engaging with your content as much as they used to. Create segmentation with specialized campaigns to re-engage those subscribers before you lose them completely.
Duolingo uses these kinds of segmented personalized reminders to help subscribers stay active with its software.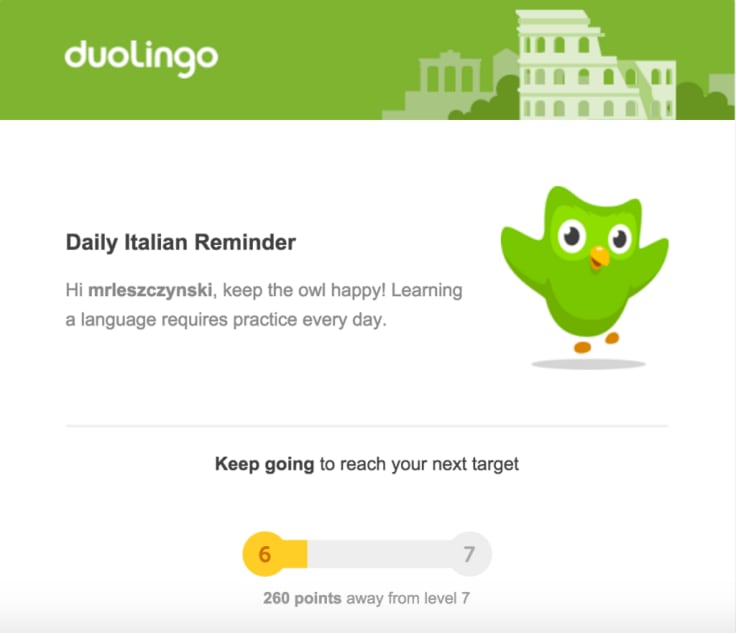 5. Customer Preferences
Email marketing is highly effective because it's actually the preferred method of contact for most customers.
According to data from MarketingSherpa, more than 70% of customers prefer email over other channels.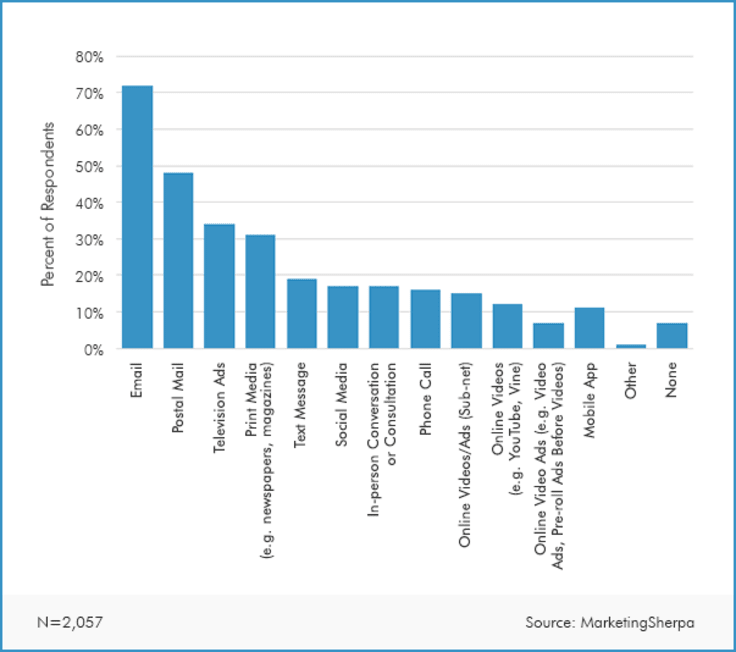 Customer Communication by Channel
But not all of your subscribers want to get regular emails.
Some are happy to hear from you weekly, others don't want to hear from you more than once a month. Surprisingly, only around 7% of brands take customer preferences into account.
This is a necessary segmentation tactic to help avoid unsubscribes from customers who follow you with interest but don't want to be put on blast.
Bonobos use preferences to help retain subscribers.
You can offer this option during the opt-in process, through accessible subscription preferences, or as a way to catch subscribers when they attempt to unsubscribe.
6. Customer Interests
Building a buyer persona often involves a fair bit of research as well as guesswork. While you can use this information to segment your email lists, it's better to split lists into actual interests.
Poll your customers and use information from purchase decisions, content consumption, and personal choices to segment your lists for individual campaigns. This way you can send targeted emails for products, services, events, upgrades, courses and more that closely match the interests of your audience.
You can also gather this information from customer profiles and preferences.
Skillshare tailors its course opportunities to match the information provided by users when they first sign up and opt for the email list.
7. Frequency of Opt-Ins
This is a segmentation method you can use if you offer more than one offer, lead magnet, or content upgrade.
Some of your customers are only interested a specific piece of content or a single offer. Others want more of what you have to offer and can be an indication of high interest.
This is a great list to use when announcing new products, offers, services, upgrades, etc. without sending out mass emails to all of your subscribers.
Instead, those opt-ins are only going to the people most likely to engage with and convert on an offer.
8. Customers Who Refer You
This kind of segmentation is easy to do with a referral program in place but even if you have a basic way of tracking referrals you should segment your list with referrals in mind.
Any customer willing to bring you need businesses is highly valuable and should be rewarded for their efforts. Providing them exclusive deals, personalized offers, and even just acknowledgment of their referrals can encourage the behavior to continue.
Those customers will be more likely to continue making purchases as well as finding you new customers.
Couple these types of segmented emails with bonus offers to get discounts, points, and free items when a friend purchases and you can boost conversions on those targeted campaigns.
9. Customer Lifetime Value
Every business has customers worth different amounts of revenue based on things like purchase habits, frequency, referrals, etc.
One of your email segments should be to break customers down into groups based on their lifetime value.
This lets you focus on the customers worth the most over the long term, tailoring content that is most likely to bring them back for additional purchases.
Here's an example of how Sephora targets top customers with exclusive content: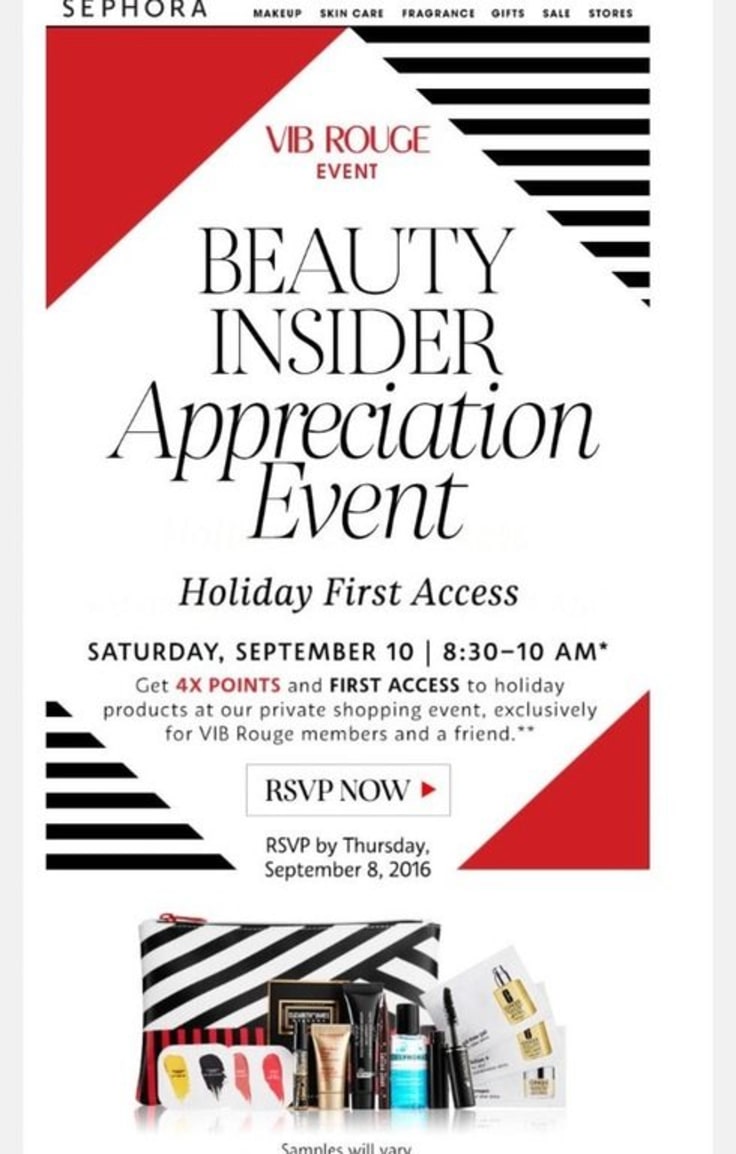 Don't neglect the customers with a smaller lifetime value. Creating those segments can give you insight into what kind of content to send that will spike engagement and grow the relationship in order to encourage more spending.
10. Get Personal
Whether it's a birthday, the anniversary of a first-time purchase, or a content/offer the geographically relevant you should consider segmenting your lists in a way that makes the content highly personal to the individual.
That can hit a sweet spot with consumers.
In fact, data from Experience Marketing Services found that targeted personalization in email can deliver transaction rates 6x higher than standard email blasts.
You likely already have the information on file, like the first order date, birthdate, and customer location.
Check out how Hawaiian Airlines uses this tactic to create a purchase incentive by rewarding extra miles on the customer's birthday.
Segmentation Isn't a One-Size-Fits-All Approach
It's time to put the information to practice.
Don't make the mistake of just taking what you've read and using it as a cookie-cutter approach to segmenting your email lists. Instead, look to these examples as a point of inspiration.
While there are some examples included from other brands, that's all they should. Your business and your goals are as unique as the subscribers are your list, so you'll need to make email segments that align with your goals and customers.
Try different approaches to segmentation and never stop testing different segments for campaigns going forward. Learning how to best segment your subscribers takes time, but it's a worthwhile investment that will pay you back with better conversions and revenue growth.