Showing top

0

results

0

results found
Showing top

0

results

0

results found
How to Make Personalization a Key Part of Your E-Commerce Business
7 min read
Jan 15, 2019
According to Evergage's trend report, 98% of businesses that made personalization a top priority in their strategies saw a significant improvement in their relationships with customers. However, companies are still struggling to find ways to make the most of their efforts. Nearly half of marketers felt that they were barely scratching tfhe surface. 69% still don't think that they are successfully delivering personalization to their audience.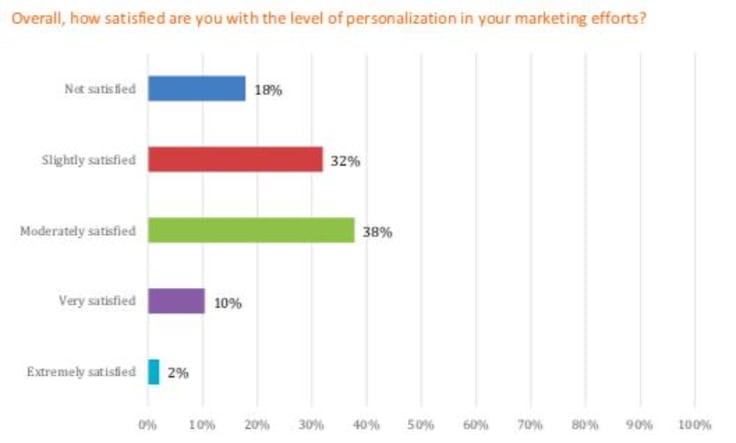 However, including personalization into an online business is critical. According to a study from Salesforce and Demandware, when a business offers personalized experiences, customers are far more likely to convert - and revenue can increase by up to 26%. Furthermore, consumers tend to spend more time and money when they are sent customized product recommendations and typically report a more satisfying overall experience.


_source_
Creating an online personalization strategy is super tricky, and clearly, most organizations have yet to figure out how to do it properly. As an online entrepreneur, solopreneur, or marketing partner, you may find that you are at your wits' end when it comes to integrating this highly effective strategy into an e-commerce business.
No need to worry; there are actually some fairly simple ways to make personalization a key part of online business.
Here's how.
Sell Easily Customized Products
We all love feeling special and having exclusive things that represent our personality and uniqueness. We are actually psychologically programmed to prefer customized experiences because it fulfills our desire for control. One way that online businesses can meet this need for its customers is by selling easily personalized items. Not only does this provide opportunities for customization that people love – it's actually a smart financial move, too.
There are tons of products that can be sold that are easy to customize in terms of colors, logos, adding a person's name, or offering personalized designs. For instance, you can start a t-shirt printing business that allows people to make customized designs or a unique gift site where people can pick out the colors and print designs they want for various products.
The reason why this kind of e-commerce business tactic actually makes a lot of financial sense is because it is a low-investment inventory model. You only need to order inventory when an order comes through, which means you don't need to place large purchase orders and find a storage system while you wait for purchases. You can even operate a "print on demand" type of e-commerce business through a third-party supplier – of which will handle all of the logistics for you, in a similar way to a drop shipping model. For example, the company Printful acts as an on-demand printing drop shipper which enables online businesses to be able to sell highly customizable products. Printful's success is prime evidence that crossing the drop shipping model and personalized products is a highly lucrative strategy. As a drop shipper, Printful was able to bring in $3 million in revenue in the first 18 months!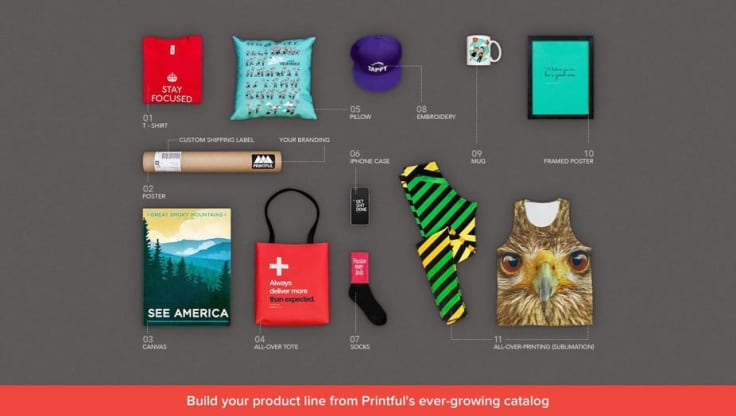 _source_
They offer inventory warehousing and order fulfillment which allows even the smallest of e-commerce stores to start selling immediately – in fact, this model works so well that Printful's seller count stands at nearly one million and counting.
Offer Personalized Subscription Services
One huge online selling trend right now is customized subscription services. In fact, according to a study from McKinsey, the online subscription-based service economy has doubled over the past five years and recently hit the $2.5 billion mark in sales. One of the reasons that this kind of business is so profitable and popular is because it is a practical application of meaningful personalization.
The online vitamin brand Care/Of really took personalization in subscriptions to the next level with customized vitamin services. There are, of course, tons of options for vitamins and supplements out there, but many other businesses only offered large quantity bottles. Co-founders Andy Dunn and Craig Elbert decided to incorporate the personalization trend into the wellness industry by offering a curated service that sent each customer a customized blend of daily supplements based on their health needs, gender, age, and fitness goals. Needless to say, their idea took off, and this fairly new start-up is now valued at $156 million. In an interview with TechCrunch, Elbert explained why personalization was the key to their business's success:
"We're not coming out and saying, "Hey we've found a magic pill." We're actually coming out and saying there's actually a lot of good products out there and we've sourced the best ingredients and we're going to help you figure out what's right for you."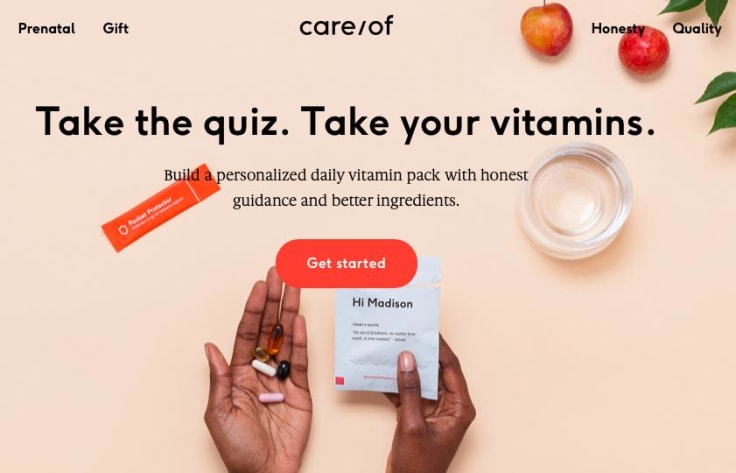 These days, you can order just about anything from groceries to makeup to clothes to dog toys that are curated exclusively for you and sent to your house every week or month. Each of these orders is unique to the customer based on their needs, preferences, and budget. This makes it super simple for business owners to personalize the products – after all, the customers are literally saying exactly what they need or want. There are truly no limits to how niche the service can get here. Let your imagination be your guide!
Create a "Choose Your Own Adventure" Website Structure
Another great way to make personalization possible is through interactive content that narrows down the site's products for each customer. This works really well for e-commerce sites that have a large inventory of products in all types of colors and styles, such as clothing or home goods stores. Use interactive content such as quizzes that guide your customers towards the products that match their style, budget, and preferences.
The online athletic clothing brand Fabletics does a great job of this with their unique style quiz that greets new customers on the home page. Visitors answer a few simple lifestyle questions, put in their sizes, and are then shown all of the products that match up to their answers. Since this site offers hundreds of clothing items, this interactive model makes the shopping process a little less overwhelming and makes customers feel special by showing them what products they are probably going to like most.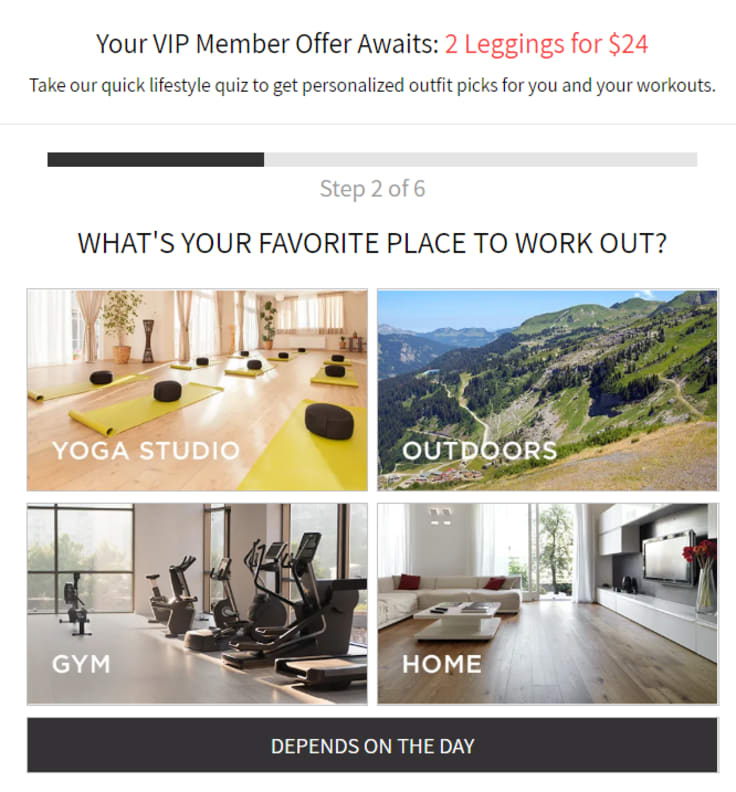 This doesn't need to be a complicated process. In fact, fewer questions can be better for engagement rates. Simply invite customers to participate through a pop up or highly visible CTA and ask a few questions to narrow down their preferences, such as their budget, color preferences, sizes, or how they intend to use the product. This allows customers to whittle down their options to only the most relevant right off the bat, rather than manually adding in filters or trying to find the products on their own.
Use Data for Customized Upsells
Studies show that customers want more personalized product recommendations and offers from retailers. Plus, when companies offer customized product suggestions based on consumer data, it can actually increase the likelihood of a purchase. So, make the most of your customer behavioral data to offer relevant product recommendations, upsells, and cross-sells that are customized and relevant.
This can be built into a website platform with a "products you may like" or "customers also bought" section on the product page, as Amazon does. Another great way to create an even more engaging experience is to use a chatbot to increase the order value through customized upsells and cross-sells. Chatbots are becoming an increasingly popular sales tool, as more consumers are opting to use them for instant assistance or product recommendations when shopping online.
The key to a successful chatbot is incorporating data in a meaningful way by creating an engaging experience. Don't be afraid to program your chatbot with a little personality that correlates to your brand voice for more interesting and fun interactions with your customers. Be sure to check out this video tutorial on creating chat bots and including them on your e-commerce site:
Your Next Step
If we learned anything in 2018, it's that today's consumers are simply not impressed with a generic, one-size-fits-all online experience. Personalization was one of the biggest trends over the past few years, and it seems that it is just going to keep growing. Thankfully, including personalized experiences into an online store is not as complicated as you might expect.
Adding in some of these features or offering easily customized products can allow e-commerce sites to create the kind of personalized experience that customers crave.