Showing top

0

results

0

results found
Showing top

0

results

0

results found
Why Affiliates Should Bet on Promoting SaaS Products
8 min read
Aug 31, 2017
Let's start at the beginning.
Welcome to the digital age!
I'm pretty sure you are aware that the digital age has been around for a while. However, you might need to realize how far has it gone. Here's the most down to earth real-life example:
I just realized I don't have a paper notebook — neither at home nor at the office. I actually had to add paper before notebook so you wouldn't think I'm talking about a computer!
Sometimes, I have an important thought and I don't want to forget it. I need to write it down. The problem? I never seem to have anything paperlike — no notebook, no pen or pencil. Not even a single piece of paper I might have ripped off.
But it's still okay. I'm actually better off without it. What's more, we should all try to cut down on using paper and be eco-friendly.
Besides — there are so many apps for making notes now!
Going shopping? You've got Wunderlist and a whole array of to-do list apps that let you share tasks with other people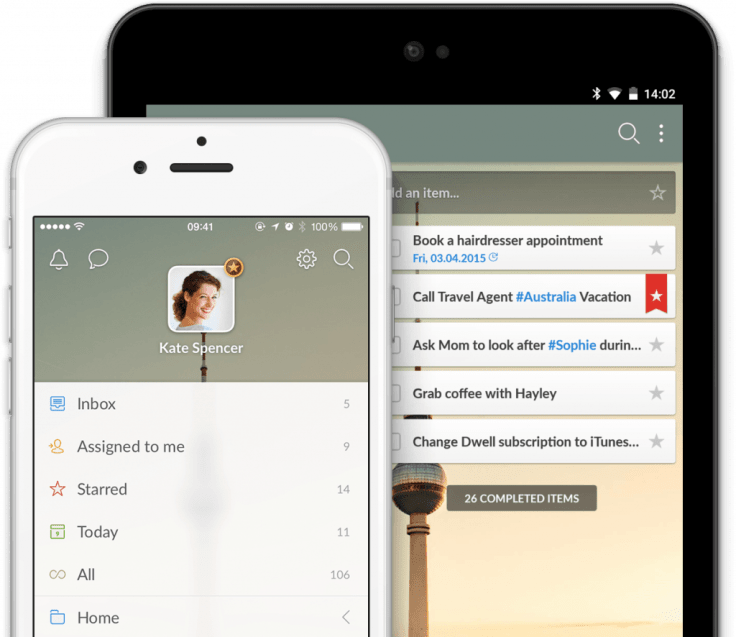 Then there's the awesome Evernote for organizing your work and decluttering your life.
As a matter of fact, we are transitioning away from paper and we turn to technology.
Another example of how deep we are in the digital era is the smart wifi coffee maker our office got last year.
Employees have a mobile app installed and can brew their coffee of choice remotely within a single click. Fortunately, the coffee itself is still real. And, what's even more important, it's strong and delicious. :)
The process of making coffee is triggered through the app and done by the coffee maker without any human interaction. (OK, fine, it's still imperfect — you need to make sure your cup is there!)
Now, as technology and science are diving into AI and machine learning, it's difficult to remember that 15 years ago we didn't even have iPhones. Weird, right?
Heard of Google Rankbrain? Read an excerpt from the article I wrote for Weebly myself:
To talk about RankBrain you need to understand what machine learning means. In simple words, it's the ability of computers and machines in computing to teach themselves and become smarter without any human interference. Artificial intelligence (AI) pertains to the intelligence of a computer which can grow continuously by learning and building connections, eventually surpassing human intelligence.
So machine learning artificial intelligence is exactly what it sounds like - the ability of unlimited self-improvement of machines in computing.
Little scary...? According to this Techcrunch's article, the growth of computing throughout the twenty-first century looks like this: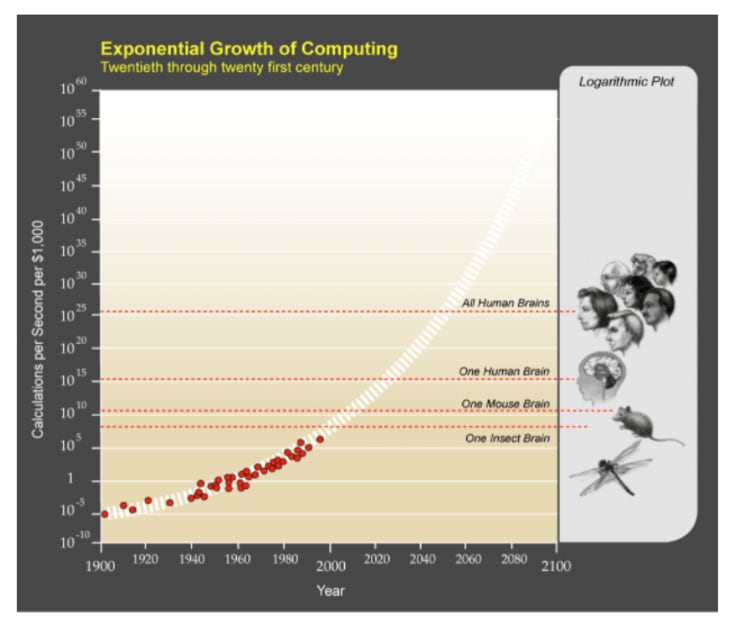 Let that sink in.
Do you need more examples?
Just take a look at all the billion-dollar enterprises that have emerged in Europe lately (not to mention Silicon Valley) — real, scalable unicorns.
Let's take Deloitte's latest Technology Fast 50. Computing brands, software houses, and SaaS enterprises rock in that ranking.
This is the future of business.
Technology keeps shifting and heading in an unknown direction. Therefore, everyone who is involved in online business has no choice but to go with the flow.
This also refers to online markets of all kinds — including affiliate marketers. If you strive to become a successful marketer in the digital age this is exactly what you should go for.
Products other than SaaS may seem easy to promote in affiliate campaigns and you'd probably get some quick wins to cheer yourself up and bring a few pennies to your pocket.
However, you should start looking at your expertise differently to see the big picture and take a strategical approach towards your future in online marketing.
Now, you might be selling things without any sophisticated strategy. Even if it's working for the time being, it won't last forever. Bear in mind that good fortune will run out one day and this might be sooner than you think.
It's time to switch over to SaaS products now.
They already run this world.
Although promoting SaaS products as an affiliate marketer demands a strategic approach and thoughtful actions, it's absolutely doable and worth the effort because you can enjoy long lasting benefits such as a recurring and fixed commission worth much more than a single sale which can sometimes turn out to be a single, lucky shot.
In today's write-up, we are going to focus on the details of promoting SaaS products. But first, let's explain what SaaS companies exactly are.
What are SaaS Products
Software as service companies offer cloud-based solutions and products. Such businesses sell product licenses on a subscription basis. Once purchased, products can be accessed and used online or via mobile apps anywhere you please.
Let's say you have an online store selling clothes like odderside, for instance.
You want to have a live chat on that site installed. As a website owner you turn to us, LiveChat (which is a SaaS company and product), you sign up, and then you use your trial version to customize your agent app, the chat window etc. You see how it works for you.
Finally, if you are happy about it, you buy a plan.
By finalizing that purchase, you are joining LiveChat's customer base and you agree to be charged on a monthly basis. Also, you can go for an annual payment plan.
The deal here is simple: In exchange for the recurring payment, you are getting access to the desired solution for a given period of time.
And the best part is - you don't have to build this solution alone.
A fully customizable live chat that lets you talk with your customers in real time will surely enhance their experience.
Do you now see how powerful this simple deal might be?
This, in essence, is what SaaS is about.
Recurring commission
The first and most obvious pro-feature that makes SaaS products so appealing to affiliate marketers is, of course, the fixed and recurring commission.
This benefit is pretty self-explanatory. Recurring commission means that the revenue coming from a single customer is repetitive.
Each and everyone who clicks through your affiliate link and makes a purchase brings money to the table. Unlike non-SaaS products, it happens multiple times for a certain period of time - not just once. And this time period differs, depending on a business type and the product itself.
Let's take the example of our humble company, LiveChat. Here we have pretty long-lasting relationships with our customers. On average, a customer stays with us for ca. 2.5 years.
Not bad, huh? This way, having several referred customers here and there can give you a steady flow of extra income. Does this sound convincing to you? I bet it does.
Ok, this part is clear, but what are the other benefits?
Transparency and Advanced Analytical Tools
Another benefit is convenient performance tracking and fair rules.
Modern SaaS companies know how to introduce transparency and take care of their affiliate partners. The rules of cooperation are clear and most processes are beautifully automated. Even better, software companies often provide you with advanced tracking tools to make your life simpler.
As a result, you've got an outlook on what's going on day and night. How many clicks and profits your affiliate campaigns generate and you see clearly how much you earn in the end of the day.
This is a strong advantage over old school companies that often keep some withdrawal rules vague.
And so, for instance, with the LiveChat Affiliate Program, you are given access to an affiliate dashboard where you can see all the necessary payment metrics and performance-related data that update in real time. You can also easily manage your customer's subscriptions and use a simple campaign builder that lets you easily combine the preferred trial period with the discount size and also apply individual campaign names.
Verification is easy
Also, the verification process of SaaS products is quite easy. And this is what you should be doing any time before you jump in and promote any specific affiliate product.
All it takes is to just go to a few review websites - like GetApp - and verify the quality of a specific product, compare to its competitors and see what people say about the whole brand. And that's enough to tell if a product's quality is superior and right for you to promote it.
Wrapping Up
As stated at the beginning, technology runs the world and this is going to continue. The tech business is heading in an unknown direction. Online marketers of all kinds should adapt to these changes and look at their marketing future in a wider scope to see what's beneficial in the long run. That's why you should proceed and start focusing on SaaS products.
And one more thing! - Here you'll find The Ultimate list of SaaS Affiliate & Reseller programs.
Want to discuss this topic further? Get in touch with me on Twitter.