Showing top

0

results

0

results found
Showing top

0

results

0

results found
How to make (tons of) money with affiliate marketing
8 min read
Jan 9, 2023
Affiliate marketing is all about romance.
At first, it's like speed-dating for companies. You introduce yourself to others with the hope of making a connection and getting a long-term partnership. Finally, you decide who you want to partner with, and then, you strengthen your relationship: stay in touch with partnership managers and learn about the products and services they offer.
And once you're happily connected and you know your partner well, it's your turn to play matchmaker! Now, you'll connect products and services with those who need them from your audience. 
You not only help your audience and business partner but, most importantly, you help yourself. And yes, I'm talking about commission, also known as affiliate marketing income.
It all sounds like rainbows and unicorns, right?
Well, it's not always the case. Unfortunately, not all companies are stable or reliable enough to partner with them. Not all products they offer bring real value. And not all affiliate programs allow you to promote products easily and earn money based on your effectiveness.
So now, let's jump into the topic. Let me guide you through the world of affiliate marketing and how to make (tons of) money with it.
How does earning with an affiliate program work?
Earning with affiliate programs is actually quite simple. Essentially, when you join an affiliate program, the company gives you an affiliate link, a special URL that's linked to your partner account. Whenever someone visits their site using your link and makes a purchase, you earn passive income.
Let me show you how this looks in real life, based on our Affiliate Program.
First of all, you sign up (no-brainer), and you get access to the Partner App. Then, you can copy your affiliate link, create quality content, and start sharing it with your audience. 
Most affiliate marketers also like to sugar-coat an offer by adding additional perks for their audiences (like a discount or an extended trial) and choose a website they want them to land on.
Average affiliate income you should expect
Affiliate marketing can be a huge money maker, with some affiliate marketers earning as much as six figures a year. But the reality is that, on average, the average income for affiliate marketers varies greatly - depending on the product or service being marketed and the agreement between a partner and a company.
Most affiliates can expect to earn anywhere from 3% to 10% commission per sale or lead. Remember, though, that the higher the ticket item (or cost of the item/service offered), usually the higher the commission. However, in most cases, how much you earn depends on how much time and heart you put into promotion.
Once someone visits our website from your affiliate link and decides to purchase one of our products, you'll be rewarded with up to 22% commission for the lifetime. You can also withdraw your earnings from the app anytime you want.
How does it translate into money? Well, our affiliates earn $400/month of average base pay. And our highest-paid Partner has earned $3,623,795 net profit so far. Rainbows and unicorns!
But how do I make tons of money (or at least the average affiliate commission)?
You know how much you can possibly earn, so let's jump into how you actually earn. But first and foremost, let's talk about who the affiliate program is for!
When you read about the general rules of who can join such a program, you'll always read the definition:
"Affiliate programs are a great option for people who want to make money on their own terms. It's perfect for those looking to cultivate a passive income stream or start their own business. And the best part is, it takes just a few hours of work and minimal upfront investment - all you need is an internet presence and a website."
It means that while it's true that everyone can become an affiliate – if you want to be a successful affiliate, you need to have your online brand and (preferably) a large audience.
Therefore such a program is perfect for:
bloggers who write comprehensive articles about how products can be used by their readers (here's an example from Kristine, our Affiliate Partner, who wrote a blog post about the LiveChat + Squarespace integration),
marketers who give online advice on how to use said products within someone's business strategy (social media posts for example),
review site owners who write comparisons/reviews of apps, tools, and products (here's a great review example from Robert Brandl, one of our top affiliates),
influencers who specialize in a given niche and introduce said products to their followers (a YouTube channel is a good place to start),
content marketing experts who build their strategy around promoting products to monetize organic traffic.
Give our Affiliate Program a try
If you like what you have read so far, you'll enjoy our program even more!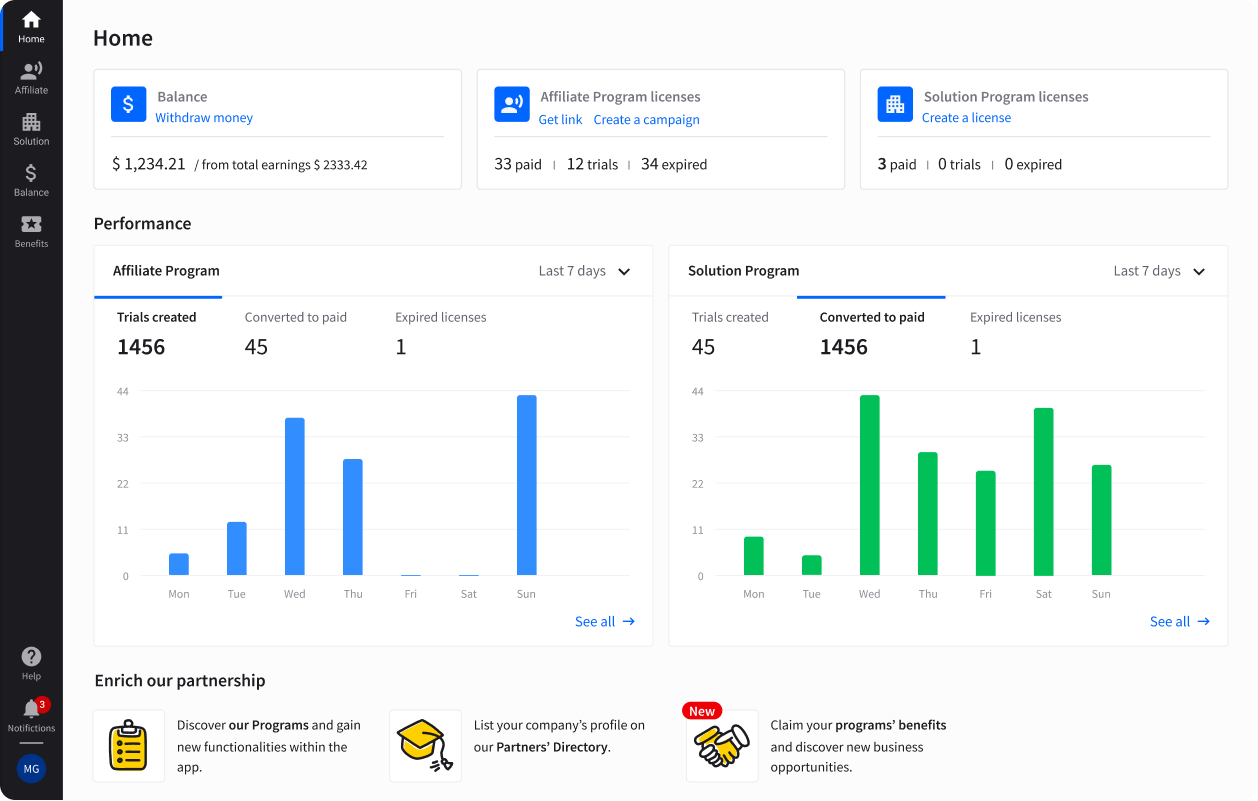 Obviously, it's good to know the ins and outs of a product you're going to promote, but it's not necessary. In most good affiliate programs, you'll get many promotional resources to simply copy and paste: texts, banners, screenshots, and videos. Such resources are available within our affiliate program, too!
To be completely honest with you, though, I'd recommend testing the product and getting to know it well. Then, you'll be sure your writing is as persuasive as you want it to be.
And now, here's the trick: using your affiliate link within your post or article. You can choose to paste your short link with no special offers or create a custom one for your target audience.
However, creating a custom affiliate campaign (meaning: your custom affiliate link) is a great way to monitor the success of your post or article.
For example, you wrote an article about how much live chatting increases sales. You created a special link and saved it under the "Sales article" name. Then, you shared the custom link within the article.
After a couple of days or weeks after the article is published, you can take a look into your Partner App to check how it performs. It might turn out to be a bullseye! Then, you'll know that writing about LiveChat as the perfect tool for bringing more sales was the perfect strategy.
3 short tips on how to earn with the affiliate marketing program
Let's sum up how you can make money with a good affiliate program!
1. Choose the right product for your niche
When we build our online presence, we focus on things that we like doing and are good at. Of course, it's good to choose a niche that is still growing (the potential!).
After some time, when you start to share your expertise, you'll also start establishing trust of your followers. And then, surprise, you don't want to lose their trust, so the products you want to promote should fit the niche you're an expert in!
Of course, experienced affiliates can be present in different niches, but that's a different story.
2. Learn about the product you're going to promote
As I mentioned before, it's better to actually know the benefits of the products you promote than just copying and pasting free-to-use resources. People will quickly notice that your reviews are deep and full of expert insights (so they'll trust you even more – because this is how it works).
So it's a good thing to start a trial - especially since many companies offer 24/7 support. Such support can be a great help for you in understanding how a given product works.
3. Sweeten your affiliate link with an offer
People are suckers for good deals! Use special offers (which are - obviously - unavailable on other websites) to make sure that they stick to your link.
So: add a discount for your audience (in our program, you can choose a $10 credit to start or 10% off the first payment), change the trial length, or choose a sweet page they will land on. Also, add custom parameters to even better track your effectiveness in the future!
The benefits of being an affiliate marketer
Being an affiliate marketer has its perks – from gaining extra income to potentially turning the job into a full-time career. It offers flexibility in working hours and location, which is great for anyone looking for a job with more freedom (including financial freedom, of course).
Affiliate marketers get to promote products or services they believe in, creating more meaningful work. Plus, as your own boss, you can make the right decisions for yourself.
Another great perk of affiliate marketing? You get paid when your promotions are successful – how much passive income you earn depends on how hard you work.
It's also a business for people who like to learn and take their skills to higher levels. For example, one could simply start affiliate marketing efforts by chatting on Reddit and leaving their link everywhere. Low cost, sure, as long as it brings results.
You can also play with building an affiliate marketing strategy, create content around the affiliate products that suit it, and try to boost your conversion rates. So, as you can see, wrapping your business growth around affiliate products can be challenging but will bring you lots of satisfaction, professional growth, and - in the end - a steady stream of passive income.
So if you're looking for a rewarding side gig or something more permanent, affiliate marketing could be just the thing. And if you're into the communication market, you might like joining our program!