Showing top

0

results

0

results found
Showing top

0

results

0

results found
18 Books for Startup Founders As Recommended by Entrepreneurs
10 min read
Dec 5, 2020
As a new business owner, it's easy to get overwhelmed very quickly with the ins and outs of running a company. You'll naturally be tossed a few curve-balls along the way, and dare I say, sometimes you might even end up cursing yourself for ever leaving your stable 9-5 job.
But that doesn't mean you can't become more knowledgeable and improve your business management skills.
In fact, I reached out to a few startup founders and entrepreneurs and asked them to share their number one recommended book for new startup founders.
1. Traction: How Any Startup Can Achieve Explosive Customer Growth
By Justin Mares and Gabriel Weinberg
Wilson Hung of Kettle and Fire, a company which has seen tremendous growth in less than a year states that Traction is one of the most, if not the most integral book any startup founder can read. It highlights the 19 marketing channels a startup can use to grow their business.
Picking and testing the right one is critical, and this book helps break down the process of how to do so.
Find Traction on Amazon.
2. The Entrepreneur's Guide to Customer Development: A Cheat Sheet to The Four Steps to the Epiphany
By Brant Cooper and Patrick Vlaskovits
You won't be a very effective entrepreneur if you don't know how to develop your customer relationships. Once you've got a lead, what's the next step? This book is the catalyst to the entire lean startup movement, and will drastically accelerate your learning curve on creating a product that people actually want and will pay for. Knowing how to develop your customers is the ultimate growth hack - everything else you do is just a tactic. Stop playing startup and learn how to win early and often. It's been recommended by William Harris of Elumynt and Casey Armstrong of ShipBob.
Find it on Amazon here.
3. The Power of Broke
By Daymond John and Daniel Paisner
Shayla Price highly recommends this book and states that it forces every startup founder to think creatively about running their businesses. The Power of Broke explores the experiences of different entrepreneurs in order to highlight the lessons they learned, and teach new startup founder how to tap into their own strengths.
You can find it here.
Grow with us
Find new revenue streams for your business.
Promote and earn
Expand your offer
Grow your customer base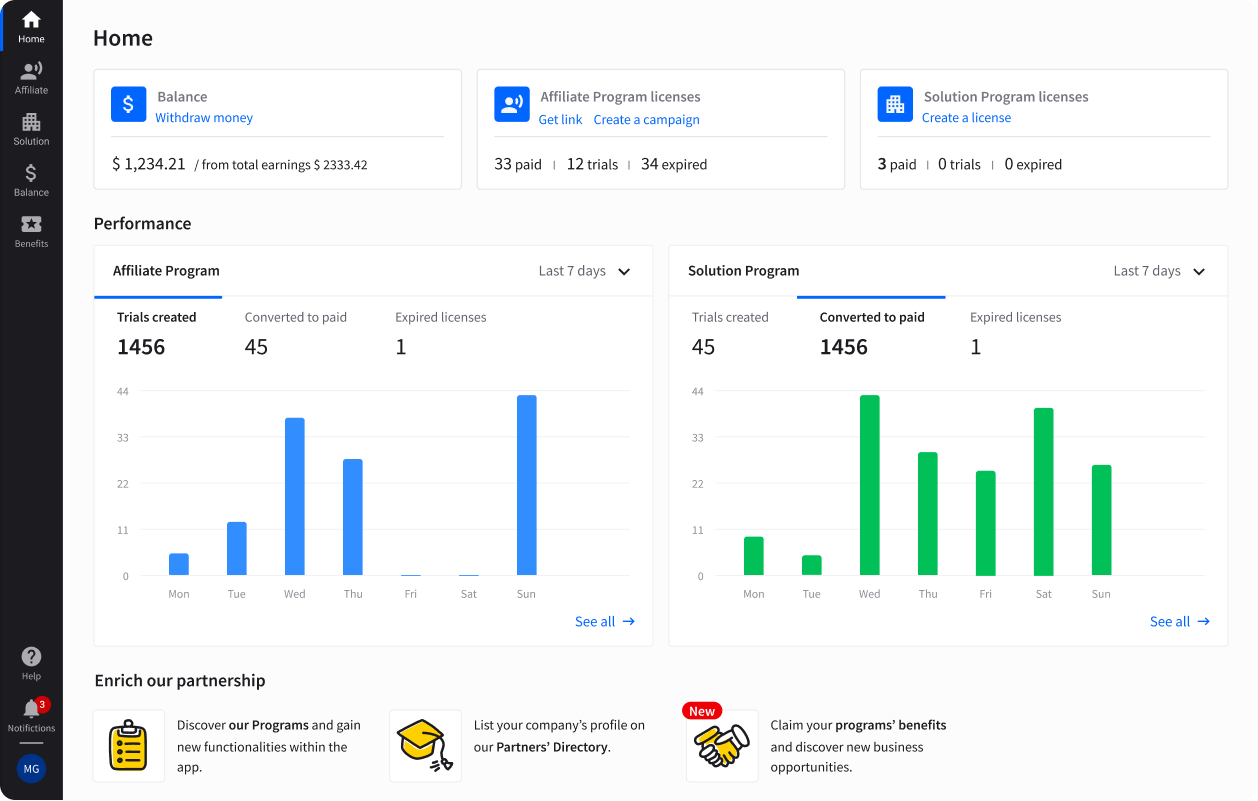 4. Stop Thinking Like a Freelancer: The Evolution of a $1m Web Designer
By Liam Veitch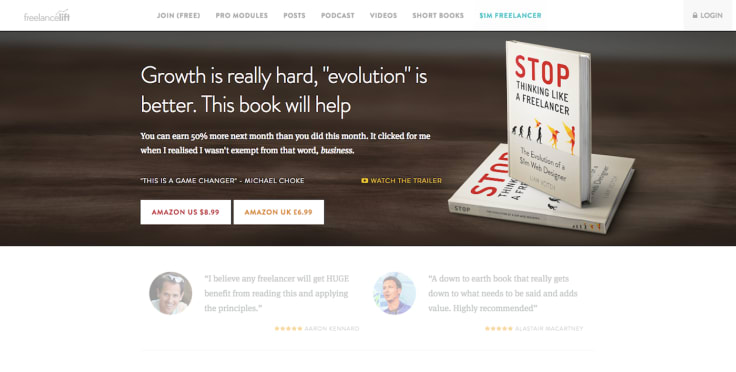 Tomas Laurinavicius is an entrepreneur, marketer and writer and recommends this book by Liam Veitch. Tomas says that whether you're a one-person show or a team, you need clear goals, systems and processes. Startup founders will benefit a lot from this book and learn the reality of management, cash flow and effective delegation.
Get this book here.
5. 10% Happier
By Dan Harris
Brian Nolan of Sellbrite explains that the challenges of being a startup founder often cause stress and anxiety, which in turn can lead to poor performance and eventually burnout. A consistent meditation practice has been scientifically proven to help reduce stress, lower blood pressure, and increase focus and productivity - something every entrepreneur would want. This book in particular is a great entry into the practices of mindful meditation, especially for the skeptic, and is an entertaining read.
You can find this book here.
6. The Hard Thing About Hard Things
By Ben Horowitz
Ben Horowitz is as honest about CEO life as it gets. Both Sujan Patel and Aaron Kardell of Homespotter recommend this book as an integral read for any new startup founder.
Sujan expresses that this is the only business book he's read multiple times. It is equal parts entertaining and instructive. It is uniquely and brutally honest about the difficulties of starting and running a startup, relying heavily on the personal stories from Horowitz's career.
Starting a company is one of the hardest things most people will do in their lives. Every day founders are making decisions, sacrifices and are faced with new problems. This book helps startup founders deal and cope with those daily hardships.
Find it here.
7. Traction: Get a Grip on Your Business
By Gino Wickman
What many new entrepreneurs fail to realize is that running a business is not all the glory and riches it's set up to be. This book explores business growth from an operational perspective. Eugene Woo, the CEO of Venngage Infographics states that this is the best book about how to run a small business. It focuses on identifying your company's core values, finding and training the best people for the job, and establishing data-driven processes to predict and measure consistent and realistic growth.
You can find it here.
8. Predictably Irrational
By Dan Ariely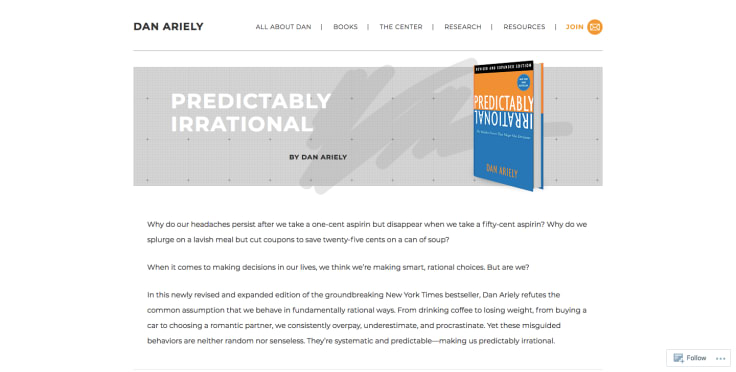 Talia Wolf of GetUplift is an entrepreneur, speaker and marketer who states that Predictably Irrational is a must read book for any startup founder who wants to understand her customers and their personas on a much deeper level. The book offers an in-depth look into how people make decisions which is an absolute must for any founder who wants to create an experience that resonates with their customer and taps into their most inner needs.
You can find it here.
9. The Yankee Years
By Joe Torre and Tom Verducci
Lucas Walker of Treats Happen explains that he's always been fascinated by the parallels of business and sport. The key to the Yankee's dynasty was how Joe Torre managed personalities. From overbearing owners to hot shot players. The same principles are true in any startup. Sometimes it may be dealing with hands on investors and wild card sales reps, and sometimes it may be with other employees. Part of being a successful entrepreneur is being a great leader, and one thing that makes leaders great is their ability to communicate and mediate.
Get it here.
10. Customer Success: How Innovative Companies are Reducing Churn and Growing Revenue
By Nick Mehta, Dan Steinman, and Lincoln Murphy
Michael Ugino of Sellbrite says that as a general rule, if you make your customers successful, your business will be successful. For founders in a service-based business, whether that's SaaS, PaaS, FaaS, etc., retaining your customers through an organization-wide emphasis on their success is paramount. This book is jam packed with insight for every level of customer touch.
You can get this book here.
11. Show Your Work!
By Austin Kleon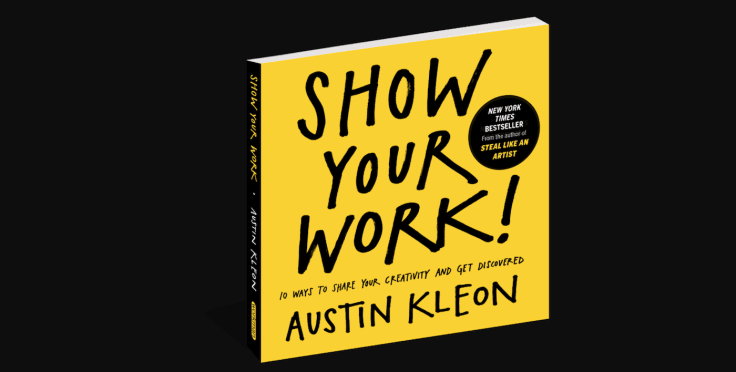 Austin Kleon is a New York Times bestselling and in this book he talks about the importance of sharing the work you do with others in order to get feedback and build your network. To show your work, you need to constantly document it. Starting a company can be such a whirlwind of short deadlines, it's important to record, distill and meditate on what has already been done periodically. This book is recommended by Benjamin Kimo Twichell.
Find it here.
12. The Lean Startup
By Eric Ries
Matt Phillips recommends states that The Lean Startup explains one path to making sure founders are building an offering that customers will actually want and pay for. The worst thing a startup can do is focus on scaling an idea that hasn't been refined, tested and validated. This book helps startup founders build out a process for testing their concepts and products, and ensuring they find product-market fit before launching something based on a hunch.
Get it here.
13. The Coaching Habit: Say Less, Ask More & Change the Way You Lead Forever
By Michael Bungay Stanier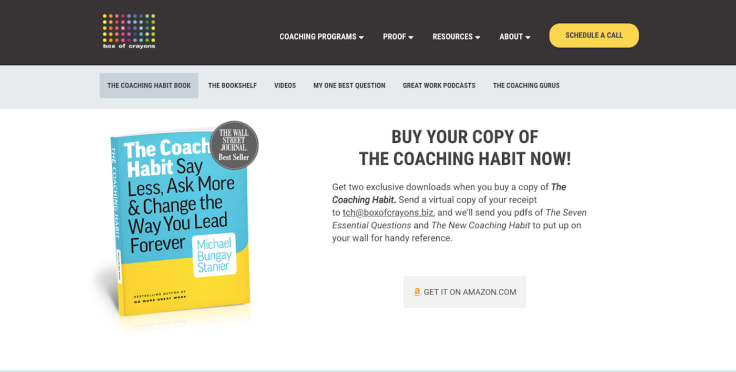 One of my personal recommendations is this book by Michael Bungay Stanier. For any manager looking to train and coach employees so that they become high-functioning and independent team members, this is a must read. You'll learn how to conduct one on one meetings that focus on building up reflective and resourceful employees. Instead of using your one on ones to tell your team what they should be doing, let them come to those answers on their own accord. This will develop them into their own leaders, rather than followers, helping you build a self-maintaining organization.
You can buy it here.
14. Everybody Writes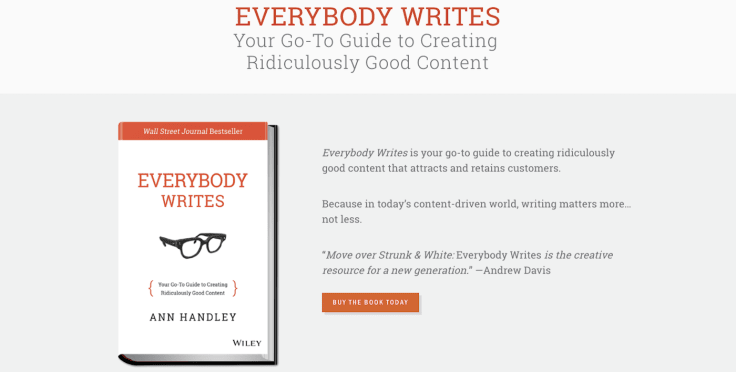 By Ann Handley
Brittany Berger explains that very few online professionals can get away with "crappy" writing. As a startup founder who is just starting out, you're responsible for communicating with your audience in order to build awareness around your new business. This can be via website copy, marketing campaigns, or email correspondence, you're going place yourself and your brand in front of a lot of people and you need to be able to sound intelligent while still encompassing your brand. If you're not a writer, this can seem impossible. But in her book, Ann Handley breaks down content creation in an approachable way that will get anyone excited to start writing.
Find this essential book here.
15. Only The Paranoid Survive
By Andrew Grove
Tomer Tagrin of YotPo says that Only the Paranoid Survive is one of the most important books he's read. This book discusses how to maintain just the right level of paranoia and use it as an advantage to fuel great leadership. He believes that every entrepreneur should always think about what could go wrong and as a result be forced to focus on how to stay ahead of the curve.
Get it here.
16. Lean Analytics
By Alistair Croll
In the setting of your fast-growing startup, situations will change all the time. Your biggest challenge three months ago may presently be negligible. The only thing that will help you stay ahead of your competitor is data. This book helps you identify and select the right metrics so that you always know what's happening in your business and stay on top of what should occur next. The book includes extensive case studies, so the tips are acid-tested in real-life environments. According to Pekka Koskinen of Lead Feeder, this is a must read.
You can find it here.
17. Influence
By Robert Cialdini
Jackson Noel of AppCues says that when you're bringing a new product to market, you need to understand what is going to persuade people to buy or use it. As it turns out, humans are not always rational decision makers. Cialdini's work maps out all the shortcuts our brains use to make decisions. And even though this book was first published over 30 years ago, the content and ideas have never been more relevant.
Get it here.
18. High Output Management
By Andy Grove
And finally, my personal recommendation which I consider to be an absolutely necessary read for anyone who is considering starting a business. Andy Grove's High Output Management is essentially a manual for business management and growth. Everything from setting up and measuring processes, to building a culture geared around personal development and consistent improvement is covered in this book.
Get it here.
Too many new entrepreneurs believe that getting to launch is the hardest part about starting a business. They think that once the product is out there, people will just start buying, but this is a very rare situation. If anything, the hard work only starts once the product is built. Growing a business, developing management skills and maintaining that growth is a huge struggle, and one that many startup founders never get past. This is why so many companies fail.
So in order to avoid that faith, it's important to educate yourself. Start by reading these books or checking out this list of business podcasts and start shaping yourself into a better leader.
Become our partner
Build your business on excellent customer service products
Promote and earn
Expand your offer
Grow your customer base