Showing top

0

results

0

results found
Showing top

0

results

0

results found
19 Best Websites to Find Freelance Marketing and Sales Jobs
11 min read
Nov 27, 2020
You may remember my guide to starting as a freelance consultant where I've written about steps you need to take to become one.
Today, I'd like to focus on listing websites perfect for anyone who would like to find great freelance marketing and sales projects.
Side note: If you're a solopreneur and you're looking for freelance gigs, you can take a look at the LiveChat Partner Program where you can promote our product as an affiliate (using a referral link) or include our product and services around it in your business bundles as a Solution Partner. We have a growing community of over 7,000 partners and extensive database of resources to support you in your advertising and outreach campaigns.
What are the advantages of joining a freelance platform?
You've created your marketing portfolio, and you're ready to start applying for freelance jobs. 'Why should I register for a freelance platform?', you may ask. Freelance websites give a unique opportunity to access gigs that you may not be able to land otherwise. They're also one-stop sites for hiring freelance talent, and once you gain the momentum, they could serve as a great way to quickly build up your portfolio with a wide range of different creative projects.
Here's a list of best freelance websites you may consider:
This is perhaps the most well-known job board on my list. With thousands of offers ranging for small 1-hour gigs to recurring projects, Upwork is a great place to start if you want to build up your portfolio as a freelance marketing or sales consultant. It's often the first-choice site for projects managers who need their jobs completed by other professionals. One thing to remember about Upwork is that to get more projects and gain visibility on the platform, you need testimonials. Don't forget to follow up and actively ask for them every time you complete a task.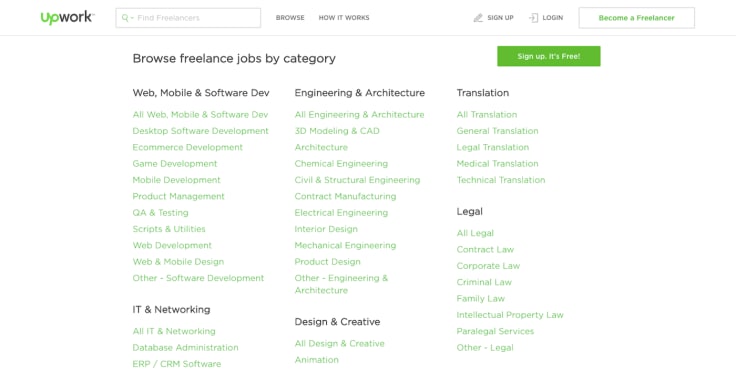 What you'll get:
All invoicing is handled via Upwork, so you don't need to chase your payments
Upwork Desktop app tracks your time and takes screenshots of what you do every 10 minutes
Upwork also has a mobile app which helps you respond faster to work-related messages
You get a workspace that you can use for sending and receiving files
Fee: Upwork is free to join, but you'll pay a sliding fee of 5-20% (depending on the number of projects you've done with one client) of your earnings as a freelancer.
You can also check this detailed Upwork review from TimeDoctor's Liam Martin.
Get more exposure
Use our products to help your customers grow.|Watch your business grow, too.
Promote and earn
Expand your offer
Grow your customer base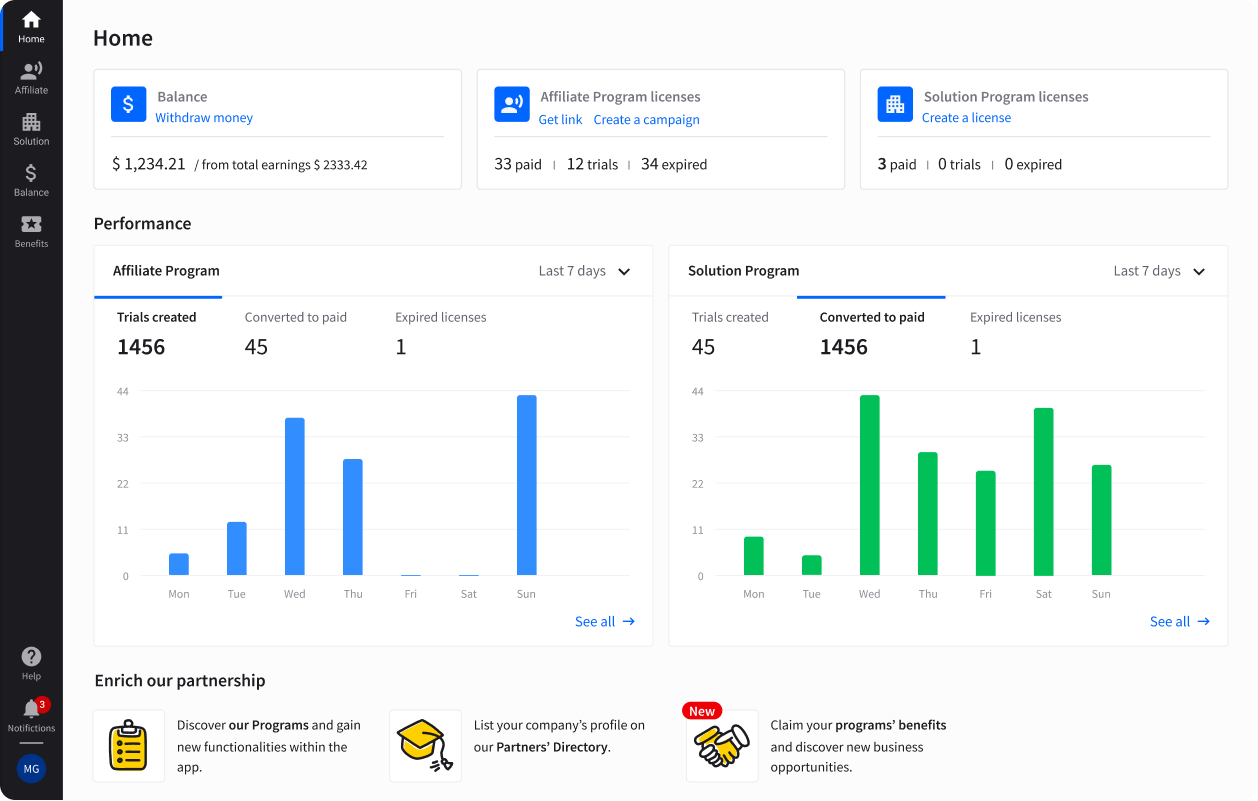 Although projects posted on Freelancer are mostly design- and programming-related, you can find marketing jobs there as well, especially if you're a freelance copywriter. With almost 21 million professionals registered, the platform is quite competitive, but once you've built your visibility there through reviews, you can get new projects quickly.
What you'll get:
Desktop and mobile app for easy project talking and on-the-go communication
The option to request a Milestone Payment so the money you've earned can get to you once an important part of the project is completed
You can filter through the projects based on your skills so it's easier to put in successful bids
Fee: Free to sign up, 10% -20% of each set-price and an hourly-paid project. You can also register for the Membership Plan (from $0.99) which allows you to increase the number of bids and display more skills on your freelancer profile.
People Per Hour may not be the easiest freelance jobs network to get into as every application is reviewed and approved by their team. That said, once your profile is accepted, PPH can offer you a steady stream of extra income. The network does not have a mobile or desktop app, so if you want to compete for jobs or you're working on a project, it may be a bit difficult to stay updated.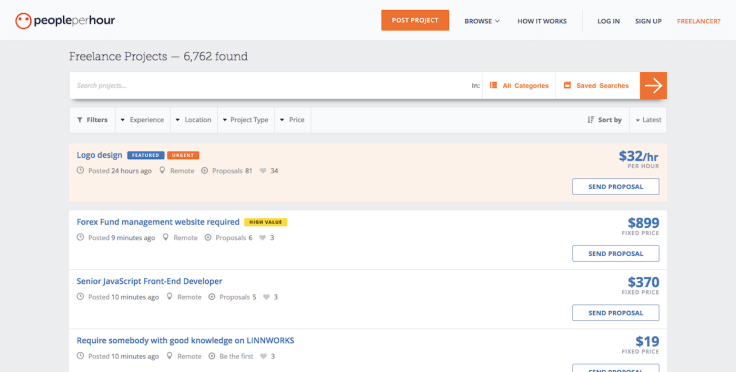 What's unique about this platform? As a freelancer at People Per Hour, you can not only bid for existing project but also send Offers to your potential employers. Offers are small, time-limited tasks with a fixed price that may help you get freelance jobs in the future and show off your skills.
What you'll get:
A unique feature called 'project stream' where you can share assets, raise invoices for the work you've already completed, and communicate with your customers - all in one place
Auto-invoicing option when you work with the same client on a regular basis, so you don't need to remember about submitting a new receipt each time and chase your payments
Fee: 10% of each project.
Fiverr has a more casual feel that the platforms above, and require far less commitment. You simply set up an account, advertise your skills, and wait for customers to apply. You can get requests for projects ranging anywhere from $5 up to $10,000+.
Tip: There are different levels of memberships at Fiverr, so you'll need to complete a few smaller tasks and prove you're reliable first before you can get bigger projects.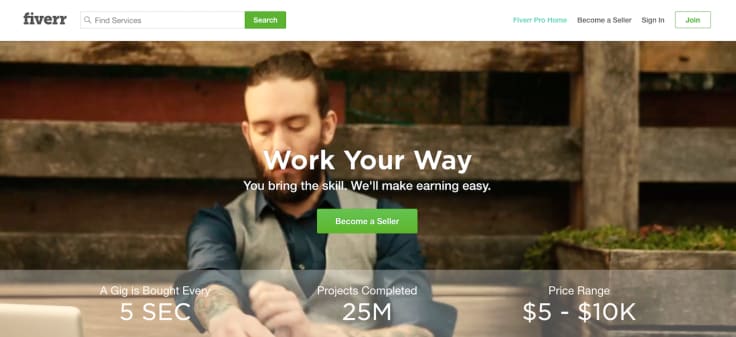 You can also offer Gig Packages where you can sell your services in three different versions with price tags depending on how much time and work you need to put in. The huge plus of this approach is that it takes away the burden of bidding and applying for jobs. At Fiverr, you truly are in the center of the platform.
What you'll get:
The feature I've mentioned above: Gig Packages. It increases your chances of landing a job as customers have a bigger choice than on most platforms of this kind
The quick payment system, you get paid once you complete the project
Fee: 20% per project or $1 fee if the project is less than $20.
You may know Craigslist as a no-fluff classified ads website, and while it's true, you can use it for finding great side marketing and sales gigs too.
There are less of them than on platforms such as Freelancer or Fiverr, but it also means that Craigslist is not as competitive as other websites. The downside is that you can't build a portfolio on the platform itself - you can only create it externally and then send a link to it to your potential employer. I also highly recommend screening them as much as possible and if you searched for a local gig, set up an in-person meeting to discuss the project.
What you'll get:
As I've mentioned, Craigslist hasn't really been build with freelancers in mind, so you don't have many options there. The biggest pro is limited competition and its focus on local jobs.
Fee: $3 - $10 for US- and Canada-based projects only.
6. Bidvine (UK-based freelancers only)
Altough Bidvine is available to UK-based freelancers only, it's worth looking into its offer as they plan to expand to more countries in the future.
According to Laura Portman from the platform, 'freelancers can sign up after some preliminary ID checks (we make sure freelancers are who they say they are) and we then request that they fill out their profiles and a little about themselves and their experience and qualifications. Customers consider these when hiring for their projects so it has to look professional for our freelancers to succeed. That's why each professional who purchases a credit bundle receives an account manager and they will help them walk through the process too and give them guidance on what to include on their profiles. Then, once their profile is complete with relevant information and photos, they are ready to start bidding for projects!'
What you'll get:
Assigned account manager (that's quite unique!)
Bids are verified by the Bidvine team
Fee: £8 or $10 (depending on a project) paid when you submit a bid
Guru is all about positioning yourself as an expert. This way, you can increase your visibility on the platform and land more jobs. Similarly to other platforms, you can get paid by the hour, task, or by a milestone. Your employer can get also set up recurring payments for long-term projects.
Probably the biggest asset of Guru is their dashboard which I'll mention later in this section. As a freelancer, you can also apply to as many gigs as you like and can handle at a time. This is unique as with some of the other platforms, you can only take on 15 projects. It can be either a pro or a downside depending on how you look at it.
What you'll get:
A unique dashboard feature which you can use to communicate with the company you're working for or to provide assets. Employers can also post tasks through there, so you can be notified if anything new comes up in your projects
Your employer can also automate sending your earnings, and they're paid via Safepay, a secure payment tool
Free project quotes divided throughout the year
Fee: 9% per project.
What's interesting, WeGrowth is for marketers only. The gig application process is quite complicated: you register as a freelancer and add your services to the marketplace. The services are then reviewed to the WeGrowth team and posted on the platform.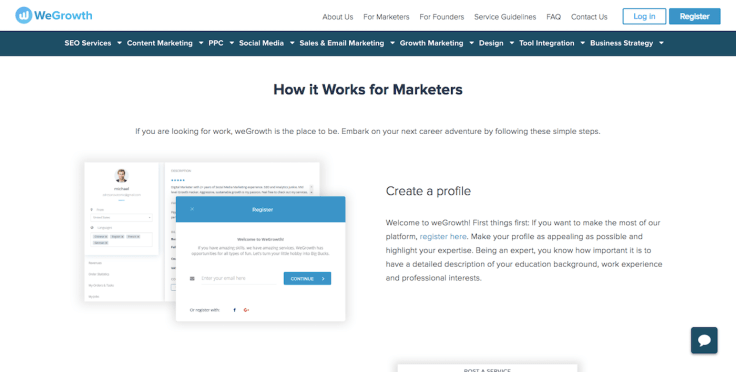 Once you start working on a project, your employer will be asked to review your work, and their opinion will be then published on your profile on a monthly basis. The payments are also made beforehand, so you don't have to worry about not being paid for the work you've completed.
You can offer all sorts of marketing services, ranging from regular blogging and PPC to market research and business strategy. From what I could see, the competition is not overwhelming, so you have a high chance of scoring a side gig.
What you'll get:
The WeGrowth team will promote your services on platforms such as Twitter, LinkedIn, and Quora
They also give you access to the Slack community where you can discuss all things marketing with like-minded professionals
Fee: 12% per transaction.
OnSite declares that they accept only 5% freelancers applying for an invite to the platform. With clients such as BBC, Collins, and Google, it's not surprising that they want to have a stable supply of reliable freelancers on the platform.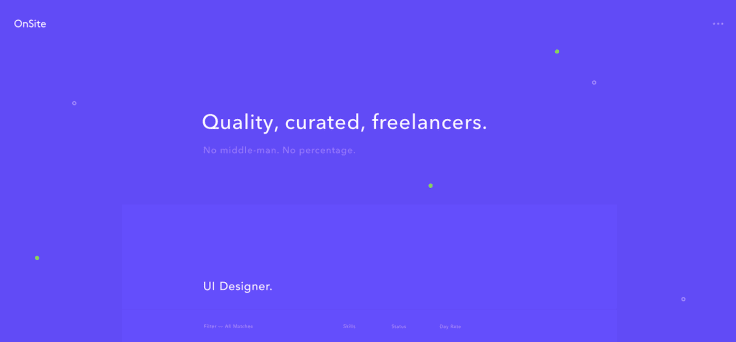 Once Onsite team accepts your application, you can create a profile where you state your skills and experience, and set your hourly rate. The platform is definitely targeted at more experienced professionals so unless you're a beginning creative who has already landed side gigs from top companies like those listed above, you may leave applying to OnSite for a bit later in your professional career.
Onsite will be great if you can provide high-end work on short notice. It also gives companies access to creating freelancers roster where they can 'save' professionals and get notified once they're available for projects. Once you build your profile and reliability on OnSite, you can literally have customers lining up waiting for you to be accessible.
What you'll get:
A lineup of projects from well-known companies
OnSite has an excellent guide for creating a great freelance portfolio
Fee: The platform is free to use, and there are no payments on bookings.
Working Not Working is a bit different as well. They only accept 10% of freelancers registering on the platform, and you may be hired to work on short-term projects for Airbnb, Asana, Meetup, and the likes (you can see the full list of companies here). The platform was set up in 2011 by Adam Tompkins and Justin Gignac, two former freelancers who knew experience first-hand.
The network is solely focused on creative design and marketing jobs so that's what type of projects you'll find there (sorry, sales folks!). Once the WNW team will approve your profile, you can wait to be picked or apply for jobs posted in the quirky looking section called The UnJobBoard.
What you'll get:
Access to creative offers from top companies
Information and invitations to WNW's events series
Fee: Depending on the size and timeframe for the project.
CloudPeeps was built with freelancing consultants in mind. Once you register with a free account, you can fill out your profile and wait for employers to find you. What you cannot do is start applying for projects, that's available for the subscription account for $9 a month (5 proposals only) which is unfortunate if you're a beginner. The big plus of CloudPeeps though is that there's very little competition (there are more employers than freelancers on the platform), so you can be sure that get side gigs regularly.
As a freelancer on the platform, you can offer Packages, one-time or regular consulting sessions or audits which is great if that what you'd like to earn doing.
What you'll get:
Automated invoicing system
Access to CloudPeeps community where you can meet other freelancers
Fee: 5-15% per transaction depending on your CloudPeeps Plan.
Other great freelance platforms are:
18. YunoJuno (London-based freelancers only)
Over to you
As I've mentioned, freelance networks can be a great way to quickly add new projects to your portfolio if you're starting or land side gigs if you're still working full-time. However you'll decide to use them, they can also be perfect for meeting like-minded professionals and discovering new ways of promoting your profile as a freelancer.
Have you signed up for any of these freelance platforms? Join us on Twitter and let me know if you did
Become our partner
Build your business on excellent customer service products
Promote and earn
Expand your offer
Grow your customer base