If you plan to make LiveChat an element of your bundle and expand your business scope or simply market our software, Solution Partner module is the right place to start your journey with LiveChat Partner Program. Here is how you make it essential.
In this article you will learn:
What you can do in Solution Partner module
Solution Partners module enables you to:
Create LiveChat licenses for your end clients directly in the module.
Manage payments for those licenses and get discount on every single purchase you make.
Manage billing-related changes anytime your end clients need them.
Customize any newly-created subscription before passing it to your end client - coming soon*.
Access any subscription you created directly in the module at any time - coming soon*.
* We are currently working on expanding Solution Partner module onto direct license management features. Even though they are not available at this point, you can access them with a couple of workarounds. Read more about it here.
What makes this module so useful
LiveChat licenses created by Partners directly in the dashboard are fully valid and work exactly like those our customers sign up from our website for. What makes them unique is the fact that:
Your end clients don't have access to any billing details and don't know how much you pay for the licenses.
To upgrade the plan and/or change the number of seats, end clients need to contact you directly.
What clients do have access to under 'Subscription' tag of LiveChat apps are:
details of available functionalities in their plans,
the number of available seats,
license creator / Solution Partner contact details.
Here is the comparison of subscription details view between regular LiveChat license (left) and the license created directly in partner dashboard (right).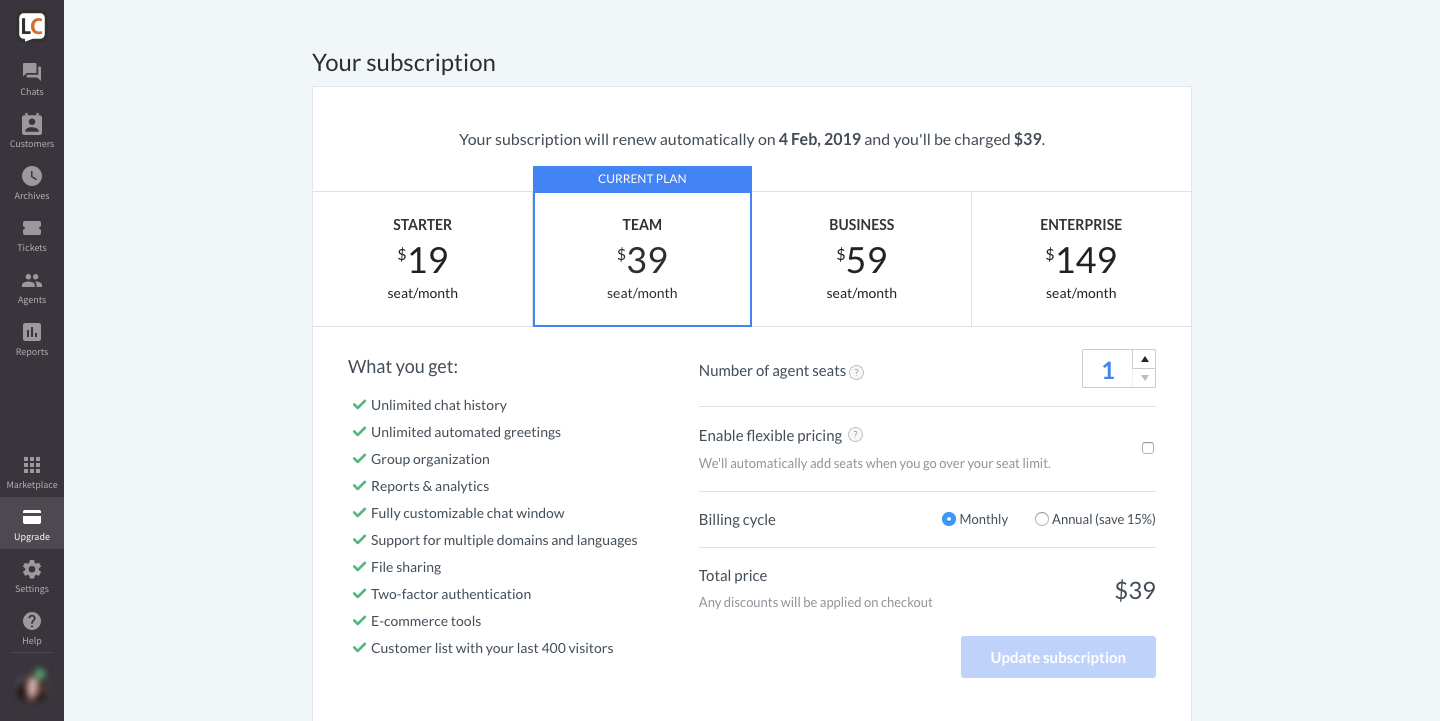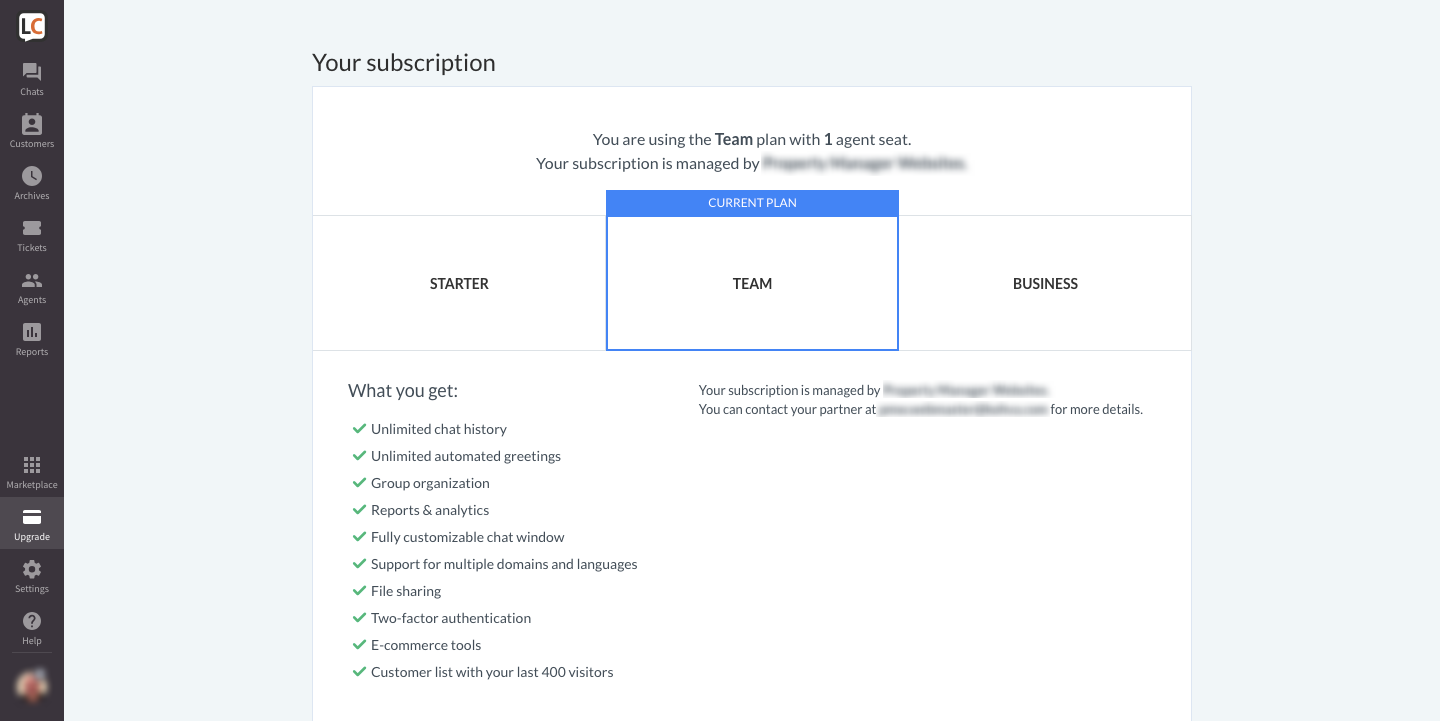 1. billing details of regular LiveChat subscriptions; 2. billing details of subscriptions created directly in Partner Panel
What are the advantages of the Solution Partner module
Features in the Solution Partner module are broadly used by digital agencies, web designers, e-commerce consultants, and various business solutions providers who market LiveChat as an additional service of their business offering. Here is how you can leverage these features:
Set your own rates on subscriptions purchased for end clients and charge them whatever you find accurate.
Provide additional services around LiveChat (installation, customization, optimization, staffing, custom integrations building, etc.). Just make sure to make a use of a couple of workarounds that would help you access end clients' licenses created under your partner account.
Make LiveChat a complementary part of your business proposition and include payment for our software into invoices you issue / pricing plans you offer to your end clients.
Essentially, using Solution Partner module of Partner Panel makes you a value added reseller of our software. Whether you expand it onto additional services and become an actual Solution Partner is entirely up to you.
How to create a new license in 4 simple steps
Solution Partner module enables you to create new LiveChat licenses for your clients and get a lifetime discount on any payment you make. Here is a quick guide on how you can set such licenses up:
Go to Solution Partner module of the Partner Panel.
Hit Create license button - either in Dashboard or in Licenses section. It will cause a pop up window to appear.
Enter client's details (email address, name, and - optionally - purchase order number).
Confirm the details by hitting Create license button. It will immediately create a new trial and you'll see it listed in Licenses section straight away!
Within a couple of minutes from creating a trial, we'll send an invitation to set up a password and to install a LiveChat code to the client's email address you provided.
Check the next part of this article (below) if you plan to provide additional services to your end clients or you simply want to gain access to the licenses you previously created.
How to apply workarounds to manage end clients' subscriptions and expand your business scope
As I mentioned previously, we are currently developing features that will give Partners access to end clients' licenses directly from the Partner dashboard. However, until we introduce these, you can use any of the following workarounds to manage licenses.
Create licenses using your own email (use Gmail/G Suite infinite email addresses creation feature)
Create every new license using your own email (instead of client's email). In doing so, you'll become every account's owner and - consequently - you will get the invitation email and access to all customization options you might need as a Solution Partner.

Now, you only need to create an Administrator account for your client in LiveChat app, so that they can use it conveniently (Agents section of LiveChat app → Add an Agent → Permission: Administrator).

The tricky part is:

One email address can only be used once in LiveChat.

To resolve it, make use of the ability to create the infinite number of email addresses within one email account (i.e. available in Gmail & G Suite).

How does it work?

Let's say your email address is: johnsmith@gmail.com. Add a plus sign and any word before the @ sign (e.g. johnsmith+companyx@gmail.com) to create a new email address.

Obviously, any messages sent to this email address will be delivered to your own account. On top of that, this workaround will allow you to sign up for LiveChat over and over, each time as a different user.
Ask your client to create an Administrator account for you
If the process above seems to complicated (it really is not!), you can always set up licenses using clients' emails. This will trigger the invitation being sent to their addresses and will make customers the owners of these licenses.
However, every client can add you as an Administrator of their license (either during the onboarding process or directly in LiveChat app - in the Agents section.
After becoming an Administrator of your clients' licenses, you will be able to access and set them up according to your customers' needs.
However, the rule that one email address can be used once in LiveChat applies here as well. This means you either have to:
create multiple email addresses to be used as Administrator accounts (by adding a plus sign and then any random word after it)
or
ask clients / license owners to delete your Administrator account every time your work is done on their licenses.
Wrapping up
We are, obviously, aware of how imperfect this solution is. That is why are currently working on creating much simpler tool. It will give Solution Partners easy access to multiple licenses directly from the dashboard. It neither will require Administrators accounts creation nor will force you to create multiple emails.
Until then, don't hesitate to use methods mentioned here and stay tuned for updates! Also, feel free to contact us anytime at partners@livechat.com if you have any questions about the Solution Partner module or other features of our Program.
Start earning with
LiveChat Partner Program
Become a Partner →