Showing top

0

results

0

results found
Showing top

0

results

0

results found
6 Resources to Help You Find New Business Partners
8 min read
Mar 21, 2018
In my last two posts, I've guided you through the labyrinth of partner marketing. I've also tried to convince you that it was something that you should get onboard with. Now you may be wondering where you should be searching for these very promising opportunities and potential business partners.
Depending on your company's development stage, you may be looking for people who will help you kick off your business (if you're a newbie, Founder2be and CoFoundersLab will be great places to start) or take it to the next stage. The list below will be perfect for solopreneurs who are ready to roll up their sleeves and dive into the world of partnerships.
Before we get the list of great places to find partners though, let's see if we're on the same page when it comes to why you should look for business partners in the first place.
Why you should look for new business partners
According to the study conducted by Coterie Marketing together with the research team at the Huddersfield University, IT solutions are now - to a large extent - distributed through partner channels, due to their increasing complexity and the demand for an exchange of technologies and ideas.
The analysis also mentions Comptia's 2016 industry outlook report. It states that the channel distribution industry is now worth over 2.5 billion dollars in revenue (the amount accommodates for both direct and assisted sales). Partner marketing is becoming an increasingly important advertising method which means that you should look into it if you're interested in growing your business.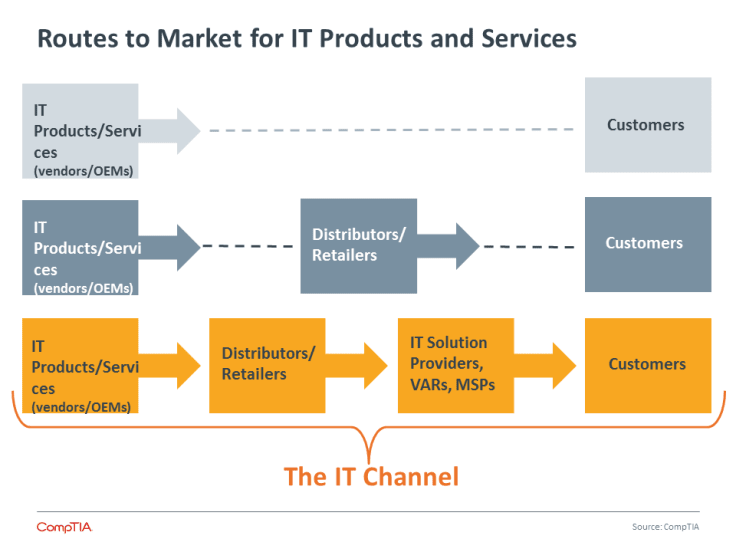 Researchers were also conclusive when it comes to a time frame for this method. Partner marketing should be considered to be a long-term advertising strategy as opposed to short-term ones with growth hacking as a primary example. According to the estimates, it takes new business partners 1-2 years on average until they become fully-fledged collaborators. This has been also our experience with LiveChat Partner Program where we focus on building long-term collaborations.
Hence, you should take a thoroughly mindful approach while diving into a new partnership. Make sure that you know exactly to nurture it not only in a few months but also in a few years time. The question you should ask yourself is: how is this partnership will look in 1/5/10 year(s) from now?
Remember that a business partnership should be a win-win situation for both sides involved. No matter if you're presenting your venture idea to someone who you've known for some time or trying to connect with a stranger at a networking event, it's worth focusing on the mutual benefits of a potential collaboration. Once again, reciprocal success has been the focus of our Partner Program team. This is ensured by assigning a partner manager to each and every of our partners. We also focus on making sure both sides are gaining from the partnership.
Before you'll start making valuable connections and reaching out for closer collaborations, make sure you know your strengths. List all things you can offer to your potential partners. These should be backed by real-life data and the results you've been getting over time. Here the question is: what's my offering for new collaborators like and how I can prove its effectiveness?
Once you've established your 'why', it's time to check whom you can collaborate with and where to find these contacts. Just to give you an idea of where to start, I've listed some of connection-facilitating places and tools where you could look for your next business partner.
Live events and your personal network
I highly recommend joining few networking events and meeting people face-to-face, especially if you're searching for business partners for the first time. Participating in live events where you will be able to connect with many people at once will help you decide on things you will be looking for in a partnership. You will be also able to check what techniques are other entrepreneurs using while reaching out to other people. Meetup focuses on what's happening near you, so their events are great if you'd like to explore your local startup stage.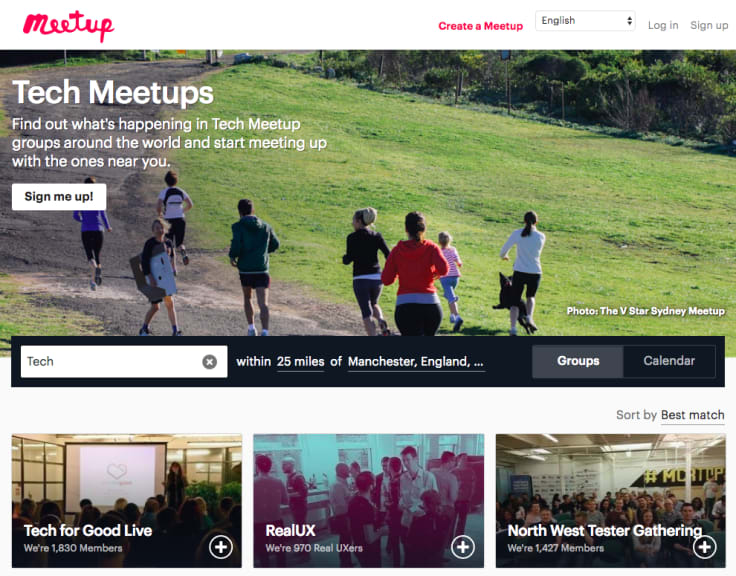 Choosing a local partner will be a safe bet, especially at the very beginning. So will be finding a business to collaborate with through your personal network. As Stever Robbins wrote in the article for 'Entrepreneur':

Networking through people you have a relationship with is one of the best ways to find potential partners. Personal introductions carry a certain level of trust, so start searching for introductions to likely partners.
This resource will be great if you're looking for truly innovative and up-and-coming ventures or you just want to try out your business idea. Since its beginning in 2013, Product Hunt has become THE place to launch new products and apps alike and get traction for these.
The most appealing and probably the strongest point of Product Hunt is its supportive community. You can test-drive and validate your ideas freely there. You also get feedback from like-minded people who know entrepreneurial struggle inside and out, including i.a. the inventor of hashtags, Chris Messina, Kat Manalac of Y Combinator, and Quick Sprout's Hiten Shah.
Despite their tagline 'Where the world meets startups', the primary goal of AngelList is to help people find startups jobs. You can use AngelList as a resource for potential business partners too. Their company directory lists over 3 million (yes, you've read that right!) ventures from all over the world, with New York and Silicon Valley leading the ranks. You can sort through them based i.e. on their type, development stage, and the technology they employ. Angel List is also a great place to look for innovation incubators where you can get in contact with even more startup-related people.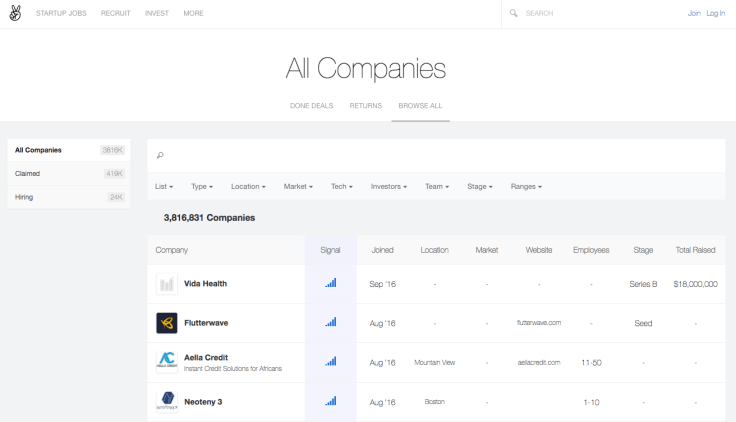 Named 'e-Harmony for companies' by Venture Beat, PowerLinx will be perfect when you exactly know what you want and you are ready for deeper-level partnerships. Once you sign up, you will be put in contact with their business consultant who will help you analyze your business and pick the right business partners for you. According to PowerLinx's founder and CEO, Doron Cohen, the venture has an ambitious goal going far beyond a simple business consultancy: 'For us, achievement is to be able to move global economy. If we can help a little bit, we'll create a lot of work for people and good things for the world.'
It may seem like Clutch.co is for more seasoned business owners who went through the partnership-finding process at least once or twice. However, it will be also perfect for business newbies too. It offers real-life reviews of companies listed and prepared by their in-house analytics team. You can also see what are the businesses' strengths and weaknesses, see their hourly rates, check the number of their employees, etc. Similarly to PowerLinx, they strive to promote only data-driven content. To do that, they collect as much business-related information as possible to enable ventures to make more savvy decisions.
I couldn't end this post without mentioning our own Experts Marketplace where we list hundreds of ventures that can help you expand your business scope, take care of your customer support services, and empower your inbound marketing. Each business is verified by our team. We also feature reviews from people who worked with the businesses indexed in our database. You can also easily contact potential business partners through our website, without the need to go through a middleman (a business analyst, in most cases) first. This makes LiveChat Experts a great place to start looking for potential collaborators, including those in your area.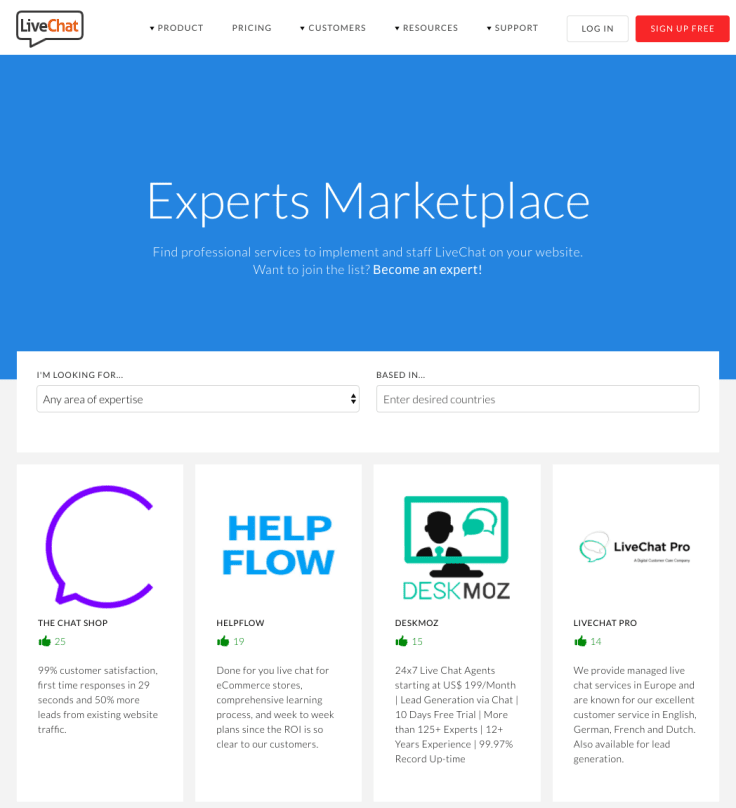 Over to you
As I've mentioned before, there are some crucial questions you should ask yourself prior to jumping into the world of partnerships. The most important ones seem to be related to your business scope and a long-term strategy for your future collaborations:
What exactly could my potential partners benefit from? How can I make sure that a partnership will be a win-win situation?
How do I see this partnership developing in a 1/5/10 years time? Will we still collaborate based on the same services and tools? What if my business partner changes their focus area?
Diving into partnerships before you've thought these through can be risky and force you to take a few steps back or even give up on a prospective partnership altogether after a few months (or at least much sooner than you've expected!).
Please note that the above-mentioned marketplaces and tools are a great place to start. I am more than sure that once you develop your first partnership you'll be able to find the ones specific to your industry or location. Business partnerships can take a little bit of time to get going but once you've started to invest in them, you'll quickly notice how effective they can be when it comes to growing your business.
What are your thoughts on business partnerships? Have you used any of these resources before? I can't wait to see your responses in the comments below and/or on Twitter.