Showing top

0

results

0

results found
Showing top

0

results

0

results found
LinkedIn Secrets Every Sales Rep Must Know
8 min read
Jun 17, 2021
If you're looking to increase your prospecting chances on LinkedIn, just being present is no longer enough. There is an ever-increasing number of salespeople on the platform, so you need to always go one step beyond to stay ahead.
One of the key points to remember is that social media is constantly changing and so are the users' expectations. That's why success can only be had by experimenting with and tweaking your approach.
Let's talk about some of the trait secrets that will help you set up your LinkedIn game, become visible and, eventually, close sales.
Make a good introduction
No matter how long you've been prospecting on LinkedIn, you can always work on improving your branding. The way you present yourself, both on your profile and when connecting, can instantly make a difference and improve your chances drastically.
To build your foundation, you need to check some boxes before getting qualified leads and converting them into buyers.
Give specific information
While this also applies to your conversations with prospects, it's even more important to make your profile relevant for any potential leads that may stumble upon it.
Write a good summary of what you're about and share a story of how you can solve a specific issue. Including clear examples can go a long way compared to just copy-pasting the "About" section of your product's website.
For example, if your tool can help a company remove an additional step in a process that is used every day such as communication between teams, put it in simple wording, say how you got there and put your power to boost productivity in the spotlight.
Don't start selling right away
Many sales reps send their offer alongside a LinkedIn connection message. Even if you manage to connect, chances are that most people are just going to ignore the message if they weren't already actively looking for a product or service that you can provide.
Instead of pushing your offer from the start, just open with something eye-catching and give the relationship time to develop. Have you noticed their comment on a post by an influencer you follow? Don't hesitate to say that.
There are multiple ways to nurture leads
After you've worked on your openers, you need to think about keeping the conversation going. The need for engagement with your prospect may be obvious, but many sales reps quickly run out of ideas and rush back to selling.
There are some additional ways to keep the prospect engaged before you feel the moment to go for the next step.
Invite the prospect to join groups
By extending an invitation to a relevant group that they are not a member of, you show prospects that you took time to read through their profile and find out what could be relevant for them.
Just try typing in your prospect's niche and their location in search and set the filter to "groups". You'll be amazed how many relevant discussions you can include them in. This kind of personalization is often glossed over but it can make a big contribution to your relationship.
Offer to take the conversation off LinkedIn
It might look counter-intuitive, but a lot of people still prefer more personal contact. You may go for exchanging phone numbers to call or chat, or even just suggest switching to an email conversation, but when you move the discussion outside of LinkedIn it will be easier to keep the relationship going and it's a sign of a further commitment that may bring you closer to the conversion.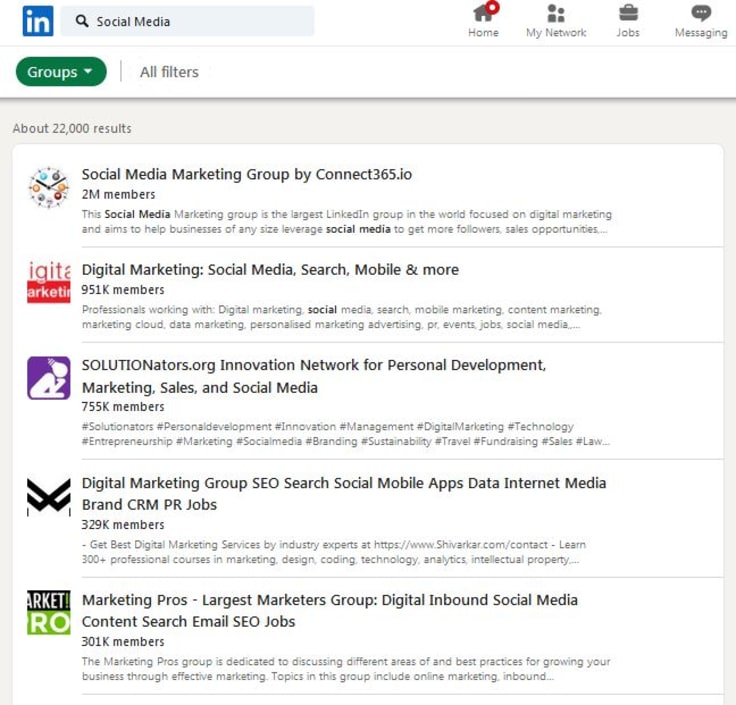 Listen and join the debate
No matter the industry you're in, being a part of the discussion is essential. When you keep tabs on trends and follow the right people, you both show that you're relevant while also gathering the tools to help you along the way.
There are multiple benefits to gain by posting, joining groups, and participating in discussions on other users' content.
1. Visibility
How many people would trust sellers with zero activity to solve their issue? When you keep popping up on prospects' feed, they'll probably remember you, making it easier to connect and move things along.
2. Insights
People are putting out a lot of relevant content on LinkedIn each day, so as a sales manager you need to sift through it and pick the things that are the most relevant for your niche to use. When you know the trending topics, it will become easier to adapt and know what to use in your conversations.
For example, automation has been one of the most prominent trends recently. Try reading up on all of the tools that can be of use to your peers and providing your angle.
Did it work for you? How did it make things easier? You don't need to write case studies – a well-worded paragraph is more than enough to spark a discussion.
3. Inspiration
We mentioned personal branding earlier. Aside from data, you can gather knowledge that can inspire content both for you to share and write about on your profile, as well as to include in your communication with prospects giving your conversation a unique twist.
If you're unsure where to start, try searching for some keywords that are of interest to you and filtering out posts. This will help you with the industry influencers and learn about the burning topics at the moment.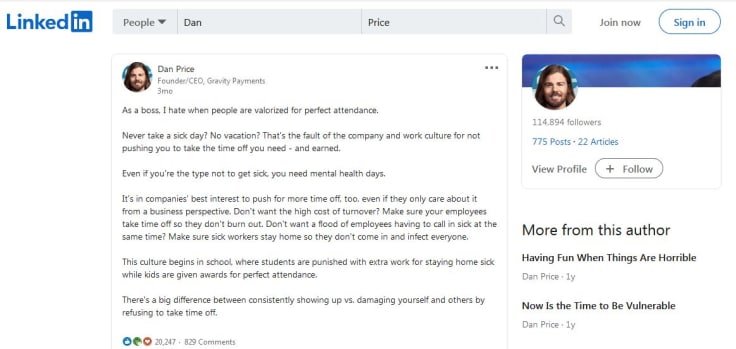 Connect with companies as well as additional prospects
The importance of your connections and the topics you follow is a running theme when you're striving to position yourself ahead of other sales reps.
There are a couple of approaches to consider when you're expanding your network and building your profile that can help you get the most out of it.
Follow company pages
To discover industry changes and specific needs on the market, following relevant companies in your industry may prove to give you the edge. Take note of prospects' companies and know when to act.
This can help in multiple ways – from noticing the trends and the ways they are moving in, to topics that prospects find interesting. Try sifting through big names first and work your way down to more local businesses.
Explore the people you haven't reached before
Go out of your way and look for quality 2nd-degree connections. Scan profiles of qualified leads and check who endorsed or recommended them. Chances are you'll find similar profiles who are a part of the same industry that you can bring into your funnel.
For example, a commercial manager went on to take a more senior role in another company and they endorse a colleague that was a part of their team. Chances are that this person is progressing into a more decision-making role soon.
Use the tools
Explore the endless possibilities of tools that are created with the intention to make your outreach strategy easier. For example, you can export emails from LinkedIn sales navigator and set email campaigns to reach out to more people. This can be particularly useful when dealing with a larger pool of prospects gathered around the same topic that you found relevant.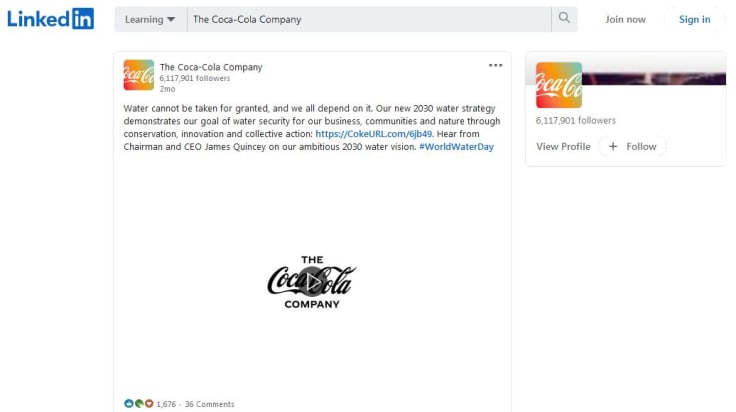 Keep the buyers in your network
When you get a conversion, don't let those contacts fade out. Keep the communication going even after you've closed as it can be beneficial for your future efforts.
Don't be afraid to reach out, both with the intention to upsell or get a word out.
Nurture the relationship
Similar rules apply here as for the prospects. You should know the buyers even better after closing the sale, so you can take your time and send them information and content that matches their interests.
Host a webinar and invite them, offer them some type of white paper they may enjoy, send them a case study they'd benefit from. Always try to share content with them when you think you find something that'll benefit them and their business.
Ask for referrals
Don't be afraid to be direct. Of course, you need to pick your words and don't go asking for contacts out of the blue, but chances are the buyers were pleased with the way you solved their issue. Encourage them to share that experience and make an introduction with their connections that could benefit from your product.
For example, you can simply start by saying that you are trying to branch out to medium companies and that you noticed they are connected with a person from a company that you think has similar values to theirs. Worst case scenario is that they don't feel comfortable making that step, but you'll be surprised how often you can expand your network by just asking.
Putting it all together
To truly make the most out of LinkedIn, the best route is setting aside regular time for the platform, both for exploring and prospecting. Don't just send a few messages and call it a day – enjoy the process and take notes of the things that worked the best. Try leading a progress diary in the form of a spreadsheet, marking successful attempts with one color and others with a different one.
Implement all of the tips we mentioned and combine them with your routine. Even when it seems that things aren't moving as fast as you'd like, just remember you're building a foundation. Put in the hours, don't be afraid to experiment, and always push yourself to go one step further.