Showing top

0

results

0

results found
Showing top

0

results

0

results found
How to Effectively Use Email Marketing to Maximize Sales of Your Store
9 min read
Mar 1, 2021
Many industries were hit incredibly hard, as the countries went under lockdown due to the pandemic outbreak. The ecommerce industry, on the other hand, witnessed double the growth than the previous years. The surge in online shopping demand has also added to mounting pressures facing retailers. Retailers now have to go the extra mile to capture website visitors and turn them into long-term paying customers.
If, as a retailer, you too are facing the heat of the growing competition, it's time to add email marketing to your 'cart.' With an impressive ROI of around $40 per email, and several other benefits including cost-effectiveness, personalization, easy tracking, and fast results, it can prove to be a highly effective marketing strategy for your ecommerce business.
In this email marketing strategy guide for ecommerce, we'll take a look at email marketing best practices that can consistently help you generate great results.
Get People on Your Email List
The first step to starting an email campaign is to build your email list. If your online business is older and generating sales, then you should already have a list of customers on your mailing list. If you don't, here are some strategies that you can use to get more people on your email list.
Create a 'pop-up' that appears on your site and offer a discount or coupon. In the example below, Kate Spade offers a discount of 15% and free shipping to the customers in lieu of their email addresses.
Give away free content that is related to your business. For example, if you have an online food business, then you can share interesting recipes for free.
Use contests to grow your email list. Although it provides the shortest route to growing your email list, you also run the risk of collecting a lot of irrelevant contacts that aren't even interested in your products. Use segmentation to avoid issues arising from this. We will discuss segmentation later in this article.
Run ads to generate sales and gather email addresses. When people buy your products, ask your customers for their email addresses for transactional emails. With your transactional email messages, also ask them if they'd like to receive promotional emails in the future.
Use Tools to Help People: When people visit your website through ads, make sure all their queries are addressed in a personalized way. Integrating tools, such as LiveChat, which offers real connections with your website visitors, is a great way of converting visitors into happy customers. Happy customers are more likely to share their emails with you.
Once you have your first email list, here's what you need to do next.
1. Choose the right email marketing platform
Once you have created your email list, you would want customers to buy from you and come back for more. But engaging with new prospects and existing customers while juggling other tasks, can be extremely daunting. A good email marketing platform can help you easily manage your email list and run a successful email marketing campaign. Here are the characteristics of a good email marketing platform:
Humanized communication: It should be able to help you communicate with your customers in a real-life fashion. When you humanize your interactions with your customers, they feel more valued and connected to your business.
Integration with your CRM: The email marketing platform you choose should be able to integrate seamlessly with your Customer Relationship Management Software. Such integration will ensure the management of your content in a hassle-free manner. You'll also get an overview of your key metrics to analyze the performance of your email campaigns.
Availability of mobile-optimized templates: The email platform you choose should come with mobile-optimized templates so that it's easy for the customers to view your emails on the go.
Automated Responses: Your email marketing platform should be able to send automated responses to customer emails.
While there are several good email marketing apps offering lots of features, some good ones I'd personally recommend are – MailChimp, GetResponse, or SendinBlue.
2. Segment your email subscribers for a personalized shopping experience
If you wish to interact with your customers in a more personalized manner, you need to segment your email subscribers based on interests, age, gender, or browsing habits. Using segmentation, you can give your customers unique product recommendations and deliver experiences tailored to their needs. An additional advantage of segmentation is that you will be able to avoid the issue of sending irrelevant emails to your customers.
To take the personalization of customer experience to another level, you can integrate the live chat app with your ecommerce store. LiveChat will enable your site visitors to talk with customer support, solve all their queries in a flash, send product recommendations, and boost the credibility of your online store.
3. Use welcome emails to make your customers feel special
In the competitive ecommerce industry, getting off on the right foot with your email communications is very important. Welcome emails set the foundation for the rest of your communications with your new customers. This welcome email containing a coupon by Ann Taylor illustrates how you can entice your email subscribers to visit your ecommerce store and even make a purchase.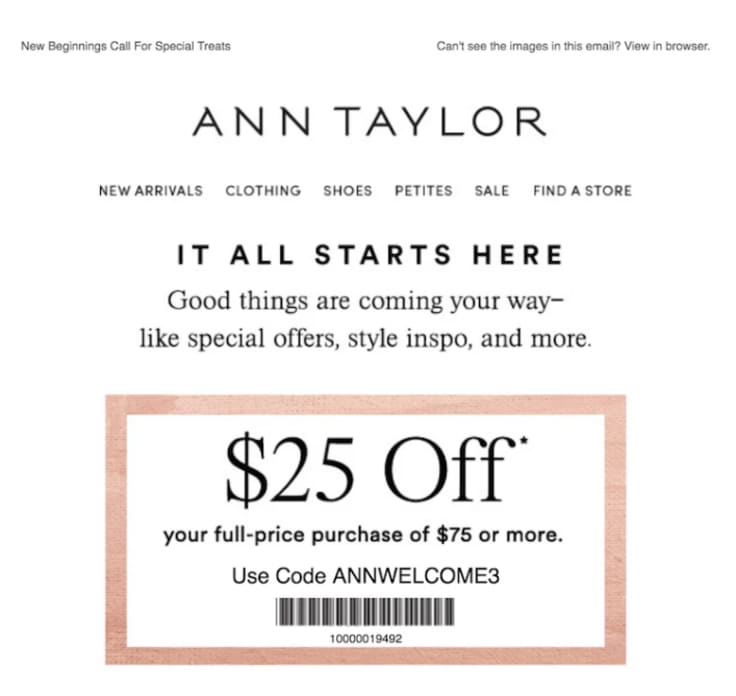 Did you know that 86% of customers are willing to pay more if the customer experience is great? Make sure to design all your email campaigns, keeping the customers in focus and offer them the most seamless shopping experience possible once they choose to buy from you.
Timing is very important when sending welcome emails. There are several email marketing tools available these days that can help you automate the process. By automating welcome emails, you will be able to welcome your new customers as soon as they sign-up for your emails.
4. Send emails relating to seasonal events
You can align your products with seasonal events and then craft your email campaign around it. The below email by BarkBox, featuring a cute singing dog, is designed around the holiday season. Using humor, an attractive color scheme, and a clear CTA, the company has created an enticing email, which is sure to compel customers to open it.

5. Notification Emails
If you frequently stock new products in your online store, sending new product notification emails to your customers is a great way to hype your product launch. In the notification email example below, Quip is introducing their limited edition product using the FOMO tactic. The melting toothbrush image cleverly indicates that the product will be gone soon.
6. Cart abandonment emails
As an online retailer, you will experience times when the customers will place items in their carts and then, for some reason, they won't make the purchase. In such situations, sending cart abandonment emails to your customers is a powerful way of reminding them about the items they were once interested in. As per statistics, 29.9% of cart abandonment emails compel the customers to buy the items from their abandoned carts. Therefore, abandonment emails should definitely be a part of your email marketing strategy.
Consider adding a limited-time offer, a coupon, or a free shipping offer to your email to encourage customers to complete their purchase. This cart abandonment email by Hayneedle offers customers a discount of 10% on completing their purchase.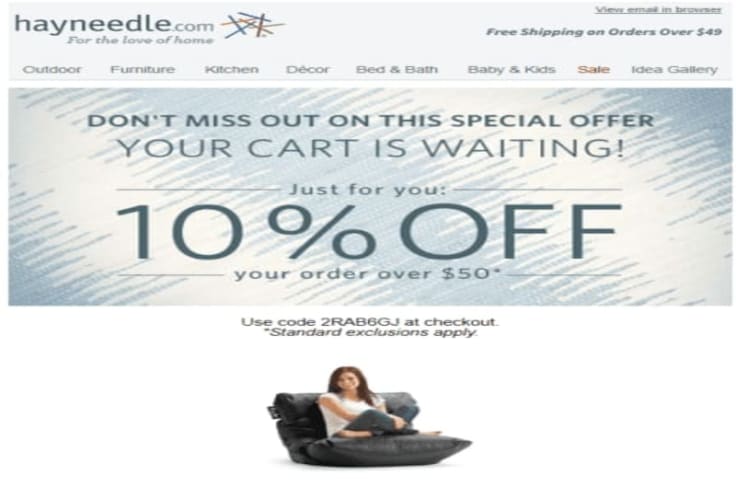 7. Express gratitude to your customers and reward them
Send your loyal customers 'thank you' emails and let them know you are grateful for their business by offering them some reward. This is a good strategy to build brand loyalty and engage with your customers on a personal level.
This simple yet elegantly designed email by Abercrombie & Fitch's brand does an awesome job of making the customers feel valued and appreciated. Although no images or CTA has been used in this email, the beautifully written thank you note does an excellent job of conveying the intended emotions.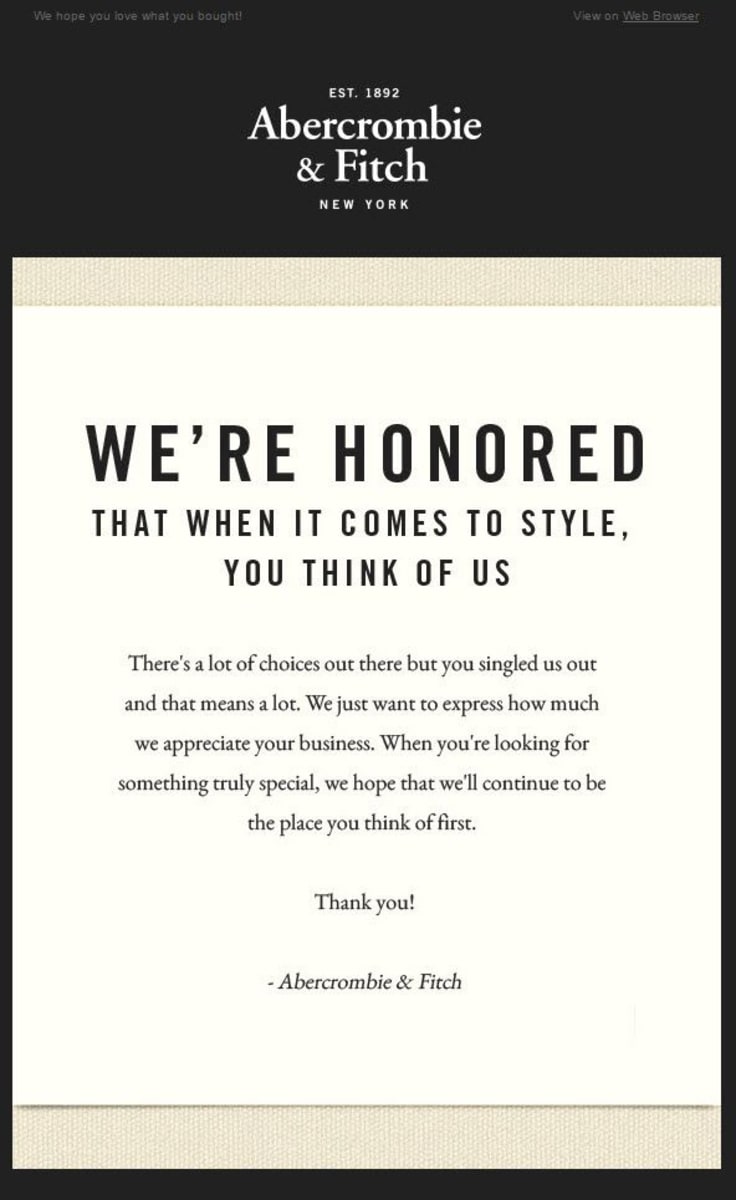 8. Send gift cards to your dormant customers
Sending gift cards to your dormant customers is a great strategy to re-engage them and get interested in your brand again.
Make unexpected surprises a routine part of your customer experience to increase customer loyalty and word-of-mouth marketing.
The email below perfectly sums up perfectly how dormant customers can be re-engaged. It has all the right attributes to make it irresistible to the customers. For example, the subject line is not too salesy. The email body is short and straight to the point. The tone of the email is personal to remind the customers they are always remembered.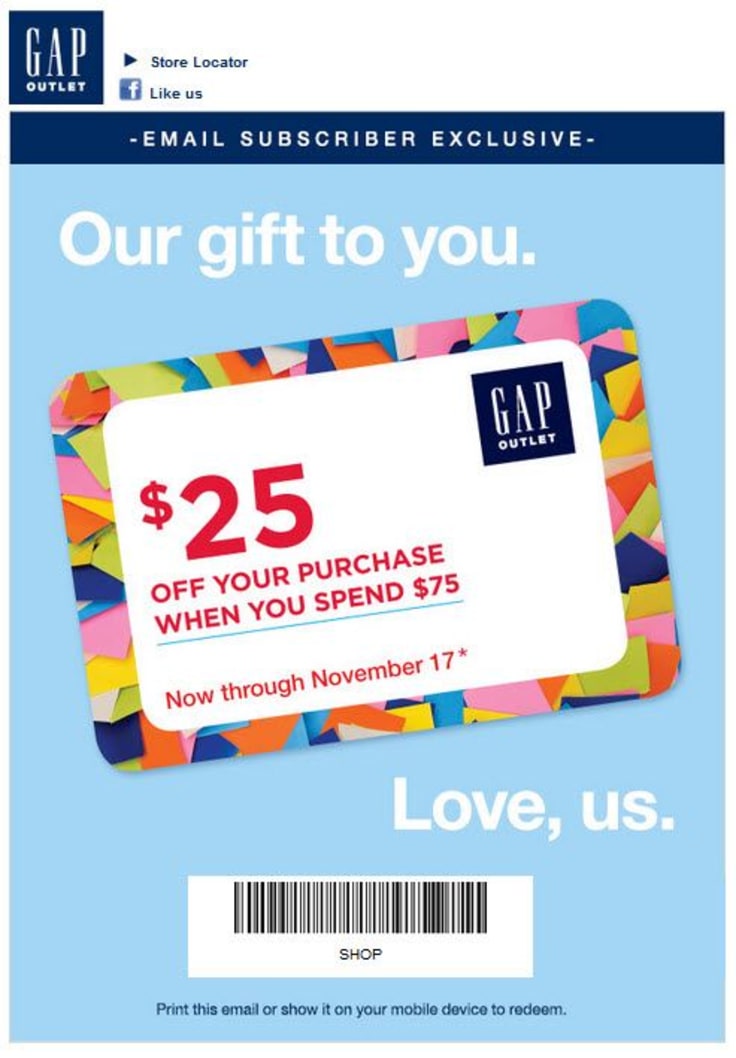 9. Ask your customers about the type of emails they'd like to receive
This is a great segmentation strategy, which will help you send relevant emails to your subscribers based on their areas of interest. Consider the below example by No Rest For Bridget to understand this strategy better.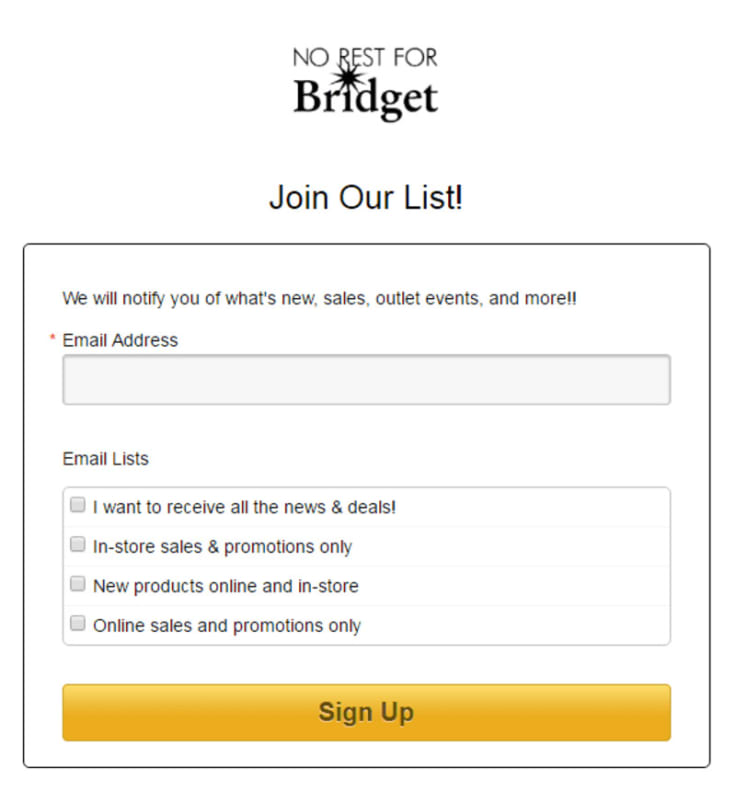 10. Use Analytics
Are your onboarding emails being read by your customers? Do your customers engage with the emails you send them? Analytics can help you find answers to such questions and areas where you need to put in more work to improve customer experience. There are several metrics that you should be tracking to ensure you are putting your marketing dollars on the right strategies.
Clickthrough rate (CTR): CTR is a very important metric that determines how many people are engaging with your content and interested in your products and services.
Conversion Rate: When someone takes the action that your email has asked them to take, it is known as conversion. For example, if you email your subscribers, asking them to download a free eBook, each download will be counted as a conversion.
Bounce rate is defined by the percentage of total emails that "Bounced Back" to you.
List Growth Rate: It is defined by the rate at which your email list is growing.
Open Rate: It is calculated by the percentage of email recipients who opened your email.
Unsubscribe Rate: It is calculated by the percentage of people who opted out of your mailing list after opening your email.
Besides the above metrics, several other metrics are used by email marketers to measure the success of their email marketing efforts, such as – number of new leads generated, lead-to-customer conversion rate, and unengaged subscribers.
There are several apps available to track these metrics to ensure you are putting your money and efforts into the right strategies. Some good examples are – MailChimp, SendinBlue, EmailAnalytics, and Campaign Monitor.
Conclusion
There are approximately 4.66 billion internet users in the world today and nearly all of them have active email accounts. This means there's a huge marketing potential out there for the eCommerce businesses to explore in the form of email marketing.
The eCommerce giants like Amazon, Sephora, BestBuy, and others know this very well. So they all heavily rely on email marketing as a tool to retain their existing customers and entice new prospects.
Now because email is being used by every eCommerce business today, it takes creativity and the right strategies to stand out inside the email inbox. Our email marketing strategy guide will put you in a good place to start with email marketing for your eCommerce business so you can attract more customers and skyrocket your sales.