Showing top

0

results

0

results found
Showing top

0

results

0

results found
Cross Promotion 101: Smart Ideas for Better Business Partnerships
7 min read
May 23, 2018
You know the feeling when you dive into a business partnership full of hopes and ideas? As you may have noticed, these tend to wear off quite quickly as you're scraping for a fresh perspective and wondering which ways your brand new collaboration should go.
This is where including cross promotion techniques in your marketing strategy may help you out.
It's important to remember that partnerships are not great for business development, but can also serve as a chance to cross-market your product and create something that could be valuable for both your and your partner's customers/users.
In today's post, I've collected smart marketing ideas I'd found most useful for my own advertising practice. Learn how to make the most of these below.
But before we begin, let's quickly check if we're on the same page.
What is cross promotion?
Cross promotion (also know as cross-marketing) is an advertising technique when you use your business partner's channels to promote your product and/or allow them to use yours to market theirs.
What you'll make together shouldn't be exclusively about advertising though. As I've mentioned above, the final product should first and foremost, create value for both your and your partner's customers.
Now, this topic is covered, please feel free to take away the marketing ideas from my list below.
Organize an event together
Organizing an event is one of the impactful cross promotion marketing techniques and also, a great way to get to know your business partner (and your product) on a whole different level.
You'll learn about your and your partner's organizational skills and resources. You'll also receive a lot of insightful feedback from the event participants which may play a part in shaping the future of your own venture.
A fantastic example of such event is the C3 conference hosted by the New-York based marketing platform, Conductor. The event was a collaboration with its partner ecosystem, including NewsCred and Acronym.
For Conductor, this cross promotion meetup was not only a chance to show of their recent work and marketing expertise but also highlight and celebrate who their business partners are.
That's inspiring!
Not sure where to start? I highly recommend reading 'How to Plan and Run a Great Conference Experience' from the Smashing Magazine.
Yes, the word 'experience' in the title is not accidental. What you should aim for, when organizing a conference, is an experience, not a one-off series of talks and workshops.
Prepare a webinar
For cross promotion, you don't have to stop at traditional events like networking sessions or micro-conferences. You can think about online activities too.
For example, webinars created with your business partners are also ideal for small business or SaaS product owners alike.
Here's one example for such video prepared by Wistia in collaboration with Mention.
As you may be able to see, selling is not a primary goal here. Providing value for both Wistia's and Mention's users are far more critical here.
Feature your partner on your marketing channels
The possibilities for cross promotion are endless here. I'm more than sure that you already have many channels that you could use to give your partner's some exposure.
Do you have a podcast? Invite your business partner to talk about their breakthroughs in product development or their marketing strategies.
You could also host a Facebook live or an Instagram story featuring your partner.
This is exactly what Nasdaq did by partnering up with Intel to livestream interviews with CEO and senior managers visiting this year's Intel Capital Global Summit. Here's one of the videos they created together:
As you can see, the series was not only interesting for brokers following Nasdaq online, but also, for Intel followers who might fall into the entrepreneur/solopreneur category.
Guest posts are also effective for driving extra traffic to your website and connecting with audiences that would be out of reach otherwise.
The first step to doing just that is discussing and researching subjects that will be interesting for both audiences. The post published on your partner's blog can be then recycled and shared with your readers as a downloadable checklist or an audio file.
Take a look at this guest blog our partner The Chat Shop has prepared for our blog to see how you can use guest posts to your own advantage.
You can use the newsletter as your cross promotion channel too. There are at least few approaches you could take with it.
One is featuring your partners in your email campaigns and allowing them to curate one or a few of your future messages.
Another is preparing a joint newsletter that could be sent to both your and your partner's customers/users.
Here's an example of this technique in the email shared by Pocket and Hired:
The cross promotion newsletter not only promoted their brand new collaboration but also could be of real value for users who were looking for work. It also showed them a new way of using Pocket.
Create a survey together
It may sound old school at first, but sending out a user/customer survey and creating a compelling analysis piece that could be then repurposed for cross promotion, is always a good idea.
The research process doesn't have to be long or complicated, and you can use tools like Typeform or Survey Monkey to make it easier to analyze later on.
Remember that the results can be then recycled as a blog post, send out in the newsletter or turned into an infographic. The sky's the limit here!
Host an AMA featuring your partner
Another great way to engaging both your and your partner's audiences is hosting an AMA (or Ask-Me-Anything) session that would touch upon challenges and opportunities faced by both of your teams and your customers.
There are at least few platforms where you could host your session, including Twitter, Reddit, and Youtube.
Questions would be posted in live time, so make sure that you're covered when it comes to all necessary assets such as pre-formatted links, visuals, and copy.
If you already run a regular Twitter chat you could also invite your business partner to take part in it. It will also allow you to prepare questions and visual content in advance.
Set up a side project
What tool would you and your partner's customers benefit from?
To give you an example, it could be an easy-to-use passive income calculator or a chatbot that would answer sales-related questions. You can promote and brand this new tool as a separate product or include it in your communications.
One of the examples of such is 'Déjà Vu,' a podcast crafted by Spotify and Genius. The show was launched in March 2018. Four episodes have been released so far, with the remaining four yet to be published.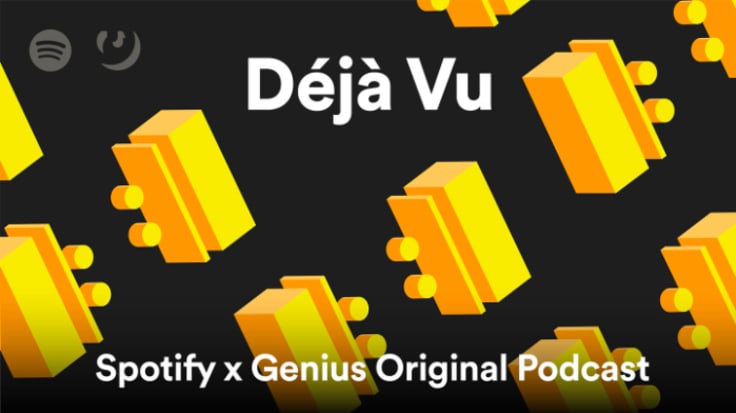 'Déjà Vu' is hosted by writer and editor Stereo Williams. He invites music industry moguls (including Datwon Thomas, Editor-in-Chief of VIBE and Rob Markman, Genius' Head of Artist Relations) to talk about how 'modern hitmakers connect to the iconic musicians from the past who paved the way'.
The podcast is not only a compelling product on its own, but also - for both companies - serves as a way to target new audiences who've never heard about Spotify or Genius.
Write an ebook with your business partner
Why not join forces with your business partners to write an ebook? Once again, it could be a great thing if your primary goal is helping your and your partner's customers out.
While this cross promotion approach may not be for everyone, I found that our customers appreciate more transparent perspective on ebook where you're not afraid to speak about the ups and downs of running a company or developing a product.
The example of this approach is an ebook created in collaboration with our business partner, The Chat Shop.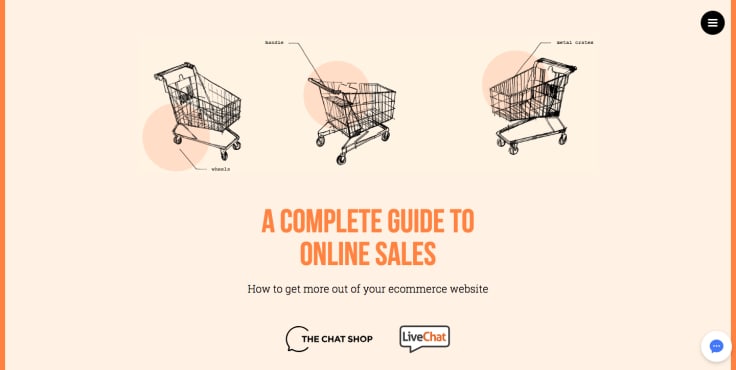 The book features tips and tricks on effective customers service and is aimed at supercharging your online selling. From the feedback we've been getting from our customers, the guide has helped them answer at least some of their selling-related questions.
To see how we've managed this collaboration and get inspired, follow this link.
Over to you
As you can see from my today's text, creating value for your and your partner's customers should always be your priority.
This way, you can be confident that cross promotion marketing will help you reach out to new audiences and re-engage your existing users.
Feeling encouraged? I'd love to hear your cross promotion ideas in the comments below. Also, feel free to contact me on Twitter to discuss the topic in more details.
Happy cross-marketing!