Showing top

0

results

0

results found
Showing top

0

results

0

results found
Should You Use AI Chatbots or Human-Powered Customer Service?
7 min read
May 23, 2023
Ah … the modern-day question: AI or human-powered customer service? Which option would best complement my company's CS framework? Which option would help my customers and prospects get the level of support they not only need, but crave?
If you're ready to uplevel the customer service experiences your company provides, but feel stuck on which option to choose, we're here to help.
By the end of this article, you'll understand the pros and cons of each option, what a hybrid system can offer, and which setup may best support your specific business.
Ready to learn more?
Let's get started.
Pros and cons of using AI chatbots over human-powered customer service 
Let's start by covering some of the benefits and downsides of using AI chatbots over human-powered customer service reps. 
Using chatbots can allow you to minimize the number of customer service jobs you need to fill at your company as bots can provide their own layer of customer support.
In the above example, a bot that offers to help answer their questions quickly greets Asana visitors. Not only can this help Asana reduce the number of reps it needs, but it also frees up its CS team's time so they can focus on more complex customer support issues.
With that said …
Con
Unfortunately, AI chatbots have limited functionality and can't answer intelligent questions.
If you sell complex products or services, a chatbot wouldn't be able to answer questions about, say, how to structure a competitive intelligence report or how to build a project management app. It could, however, point to a guide or resource on those subjects if you program it to do so.
Pro
AI chatbots can handle multiple inquiries from a variety of users at the same time — a major game-changer for online apparel stores and ecommerce brands. 
For instance, if your site gets an influx of questions about your - let's say - custom jackets, an AI chatbot can instantly respond, 24/7, without the need for breaks or shifts. It can also handle multiple conversations at once, which means customers won't have to wait in long queues or remain on hold while the bot searches for an answer.
Pros and cons of using human-powered customer service over AI chatbots 
Now that we understand AI bots a bit more, let's uncover some of the pros and cons of choosing human-powered customer service over a chatbot.
Pro
Human reps can help website users understand the intrinsic benefits of using your product or service. 
For instance, if you sell payroll software, CS reps can walk users through every platform you offer, how much each solution costs, and how each feature works. They can also ask the user in-depth questions to help them uncover the best tool for their specific needs. 
Additionally, the rep can set up a follow-up call or email to check back with the prospect in case they have more questions or need help with onboarding and user setup.
Con
Unless you invest in a 24/7 crew, human reps will only be available to help users during business hours or their scheduled shifts. 
For instance, check out the following CS auto-response from real estate marketing platform, Luxury Presence, which reads "We'll return Monday at 9:30am."
While Luxury Presence does its due diligence to inform the user of when its reps will be back online, this message could deter visitors who are looking for immediate support. 
A potential solution?
Implement an AI chatbot to assist with basic support after business hours. You could also program the chatbot to ask the user to provide contact information so a rep or another appropriate team member can contact them the following business day. 
More on hybrid solutions in a bit.
Pro
When it comes to settling complicated customer service or user experience issues, there's nothing like a real human rep to help smooth everything over.
Live reps are trained to handle unhappy customers, complaints, and resolution claims with grace and a take-charge approach. They can turn an irate customer into a happy, satisfied one and go the extra mile to provide the level of support they need.
Con
Hiring a customer support team can eat into your budget, which means you'll need to be strategic about how many reps you can hire and what hours they'll work if you're limited on funds. 
If you run a small company, consider outsourcing your CS needs to virtual assistants or freelancers instead.
Pro
CS reps can personalize their support approach to each customer and user they come in contact with. 
This can help website visitors feel better cared for and guided, which can help reduce bounce rates and elevate the customer experience.
Offer our ChatBot to your audience
Join our Program, promote our products and earn a 20% commission for a lifetime!
Ready-to-use resources
Easy money withdrawal
Free membership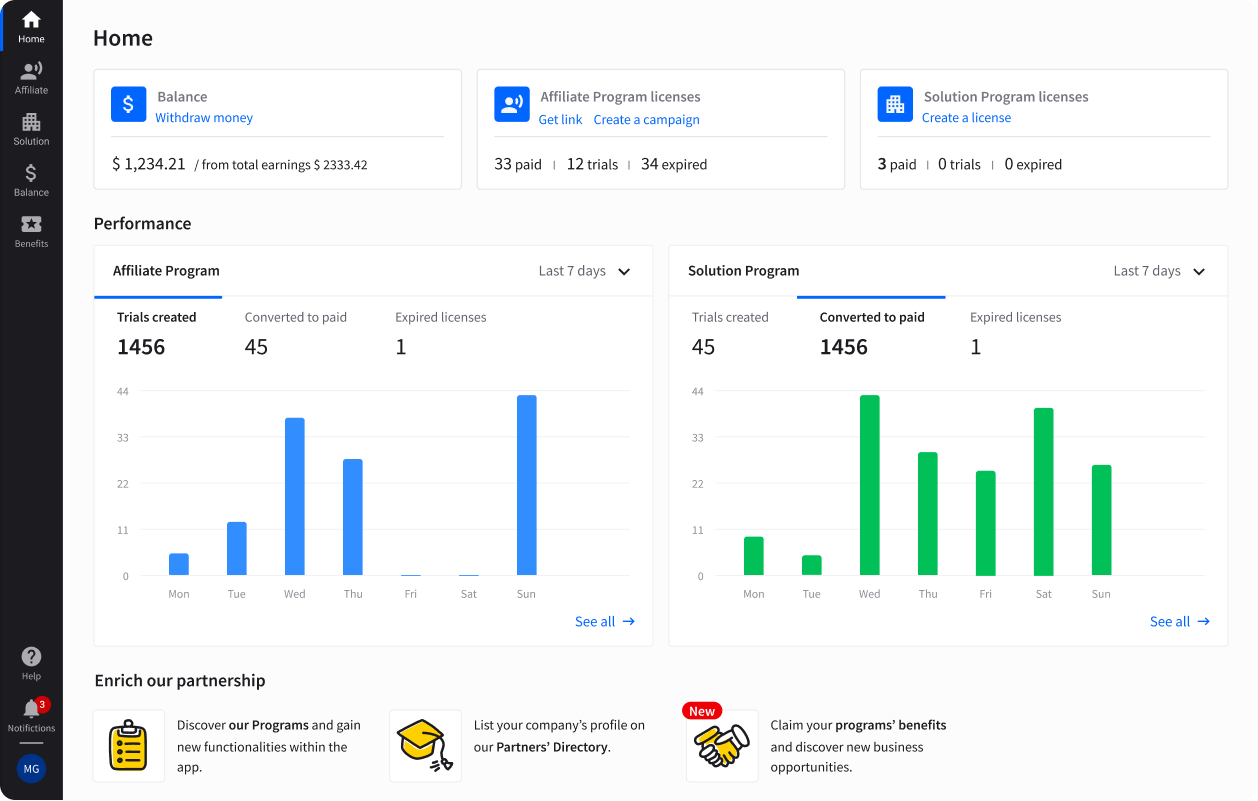 Should I choose a chatbot, human-powered, or hybrid CS option for my specific business? 
When it comes to choosing the right CS option for your business, you'll need to consider your website visitors' most common support needs.
For instance, if they usually just ask simple questions, such as how to locate a product or what hours your brick-and-mortar stores are open, a bot should do just fine.
On the other hand, if they have complex needs and ask in-depth questions, you may need to entrust the support of a human-powered team.
In many cases, a hybrid approach offers the best of both solutions.
For instance, take a look at the following hybrid CS setup Lovo, a text-to-speech tool, uses on its site:
In this example, the bot agrees to hand the support question over to a real CS rep after the user writes "talk to a human".

The best part of a hybrid setup like this is you can rely on the bot to filter through simple, quick support questions — and rest easy knowing you have a human rep to back it up in case of a follow-up or more in-depth need.

Another measure you could take is setting up automated forms to collect user information, help prospects navigate toward the right solution, and schedule a live rep to follow up via email. Check out the following automated form from Bambee to see what we mean:
In this example, a visitor simply answers the prompts in Bambee's automated form and then enters their contact information on the final page. From there, Bambee's team reaches out via email to provide personalized support.
Checklists to help you decide
Still need help deciding which option to go with?
Run through the following checklists for a quick answer. Use a checkmark to mark "yes" and a strikethrough to mark "no".
AI Chatbot CS Checklist:
Do your website users ask mostly simple questions?
Would you say your visitors are generally easy to help?
Can you solve most of your CS tickets with a straightforward answer?
Can most of your tickets be resolved with a quick link to a tutorial?
If you answered yes to three or more of the questions above, an AI chatbot should serve your needs just fine. 
Human-powered CS Checklist:
Do your website users ask in-depth questions?
Would you say your visitors are generally difficult to help or need hands-on support?
Does it take careful analysis, time, and resources to answer most of your CS tickets?
Do users need additional help walking through tutorials or steps?
If you answered yes to three or more of the questions above, you may need the support of a human CS team. 
Hybrid CS Checklist:

Do website users ask both simple and in-depth questions?
Do many of your tickets start out easy and then lead into in-depth support?
Do you have an audience segment that asks routine questions and another segment that asks random, specific questions?
Do you have customers all over the world, but only offer support during standard business hours?
If you answered yes to three or more of the questions above, you may benefit from using a hybrid CS setup.
Wrap up 
So, which one will it be? AI bot, human-powered CS, or both? 
Remember, the answer lies in your company's and your audience's unique needs. 
If users tend to ask simple, quick questions, AI might be all you need. If people ask a mix of complex and simple questions, you may need to opt for a hybrid solution. And finally, if users have advanced needs and questions, relying on human-powered CS is likely your best bet.
You can also test each of these options to see which one serves you best before officially going live.
And if you need help getting started, we've got you covered! 
At ChatBot, we offer an all-in-one platform to build and launch conversational chatbots without coding. Get started for free, today.
To your success!