Showing top

0

results

0

results found
Showing top

0

results

0

results found
5 Trends in 2021 That Will Impact the Future of Search
6 min read
Aug 26, 2021
What Trends in 2021 are Shaping the Future of Search?
For years, Google has dominated the search market. The search engine still has the biggest share, but new players and new technologies are helping people get the answers they need online in different ways.
Photo by Andrea Piacquadio from Pexels
How are people getting to the websites they need to find?
A few years back, the undoubted answer may have been Google. Although it still commands the biggest slice of the search market in the US (reportedly over 88 percent), a few other small players have started to develop their search platforms. These new key players, like Facebook, Amazon, and DuckDuckGo, and recent developments in technology are influencing the way people find the answers they need online.
As technologies evolve, so do consumer behaviour and along with both, market patterns. And search engines pay attention to these changes as they continually tweak the machines that drive their platforms.
For Google, it's the hundreds of algorithm updates that usually keep SEOs and digital marketers up most nights because it sometimes means seeing a dip in search engine ranking page (SERP) position for clients' websites.
Knowledge of what drives these algorithm changes is crucial to helping websites retain or boost their SERP position. It's necessary knowledge for entrepreneurs who are running their own digital marketing plan and for agencies that have partnered with other agencies through white label SEO. Why? Because these trends inform your decisions about the direction of your marketing strategies.
Below are the search trends in 2021 that are going to impact the future of search.
1. Core Web Vitals
Because Google takes up a large chunk of the search market, any update it rolls out is critical to your website's visibility. Its Page Experience update introduced the Core Web Vitals, which covers three new metrics: render time, interactivity, and layout stability.
Render time pertains to how fast the content of a page loads, interactivity pertains to how fast a user can interact and engage with the content, and layout stability pertains to the stability of the whole page while it loads. All three metrics make sure that the user is provided with fast and accurate page experience when browsing a website.
Pay close attention to these factors because they will influence your rankings.
Audit your website and check your core web vitals through different tools. For checking your website speed, Google's very own PageSpeed Insights would come in handy. Google Search Console can also give you a report on how your "Web Vitals" are doing. The tab can be easily navigated right from the dashboard. It will provide you with a report of your visitor's user experience.
For a more in-depth tool, run Lighthouse in Chrome DevTools. These tools will help you pinpoint problems that influence your website's performance.
2. Deep Learning
Search engines are moving toward serving users better. Better service means more accurate results that satisfy user queries. Deep learning technology plays a big role in achieving this goal.
Deep learning is a highly advanced form of artificial intelligence. Its artificial neuron networks need an incredible amount of data to gain insights. When it does, it delivers better answers to queries. Rank Brain, a Google algorithm, uses it to determine intent behind queries and provide accurate results.
So how do you make the most of this technology?
Focus on user experience. Make sure your website provides the right information for the right users. Create keyword-optimized content that address the user's intent behind those keywords (e.g., to get more information, to learn how to use a product better, or to figure out if a brand is a good business).
3. Zero-Click Searches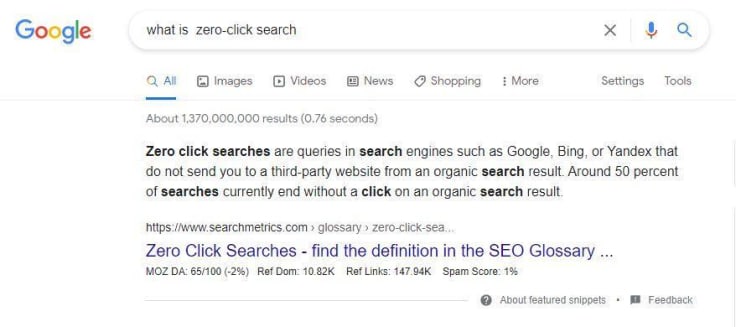 Almost 50 percent of searches end without a click. This means that most people who go on a search engine don't have to leave the platform to get information.
Here are some examples of zero-click searches:
Instant Answers
Featured Snippets
Maps
Knowledge Panel
Calculator
Weather
Dictionary
Database Searches (ex. How old is the Queen of England?)
In the case of local businesses, this could be listings or featured snippets. Bagging a zero-click search position will allow a user to immediately see your location, phone number, business name, ratings, and a quick access to Google Maps.
One way to use zero-click searches in your favor is to claim and optimize your Google My Business (GMB) Profile. Doing so will let you claim any search relating to your brand name and business. This will enable you to appear in zero-click search positions, and in some cases, even drive more traffic to your site. Users tend to click for more information when it comes to brand-related searches.
For GMB, always fill out the form completely. Every detail should be updated: opening hours, phone number, and other contact information. Why? Because these details will automatically be on display, so you must provide accurate data. Add reviews and photos as well because users appreciate those details.
4. Voice Search
One-third of Americans use voice search, and smartphones are the leading device for voice search users with more than 90 percent of consumers saying they've used their mobile devices for voice search. What does this mean for your SEO efforts?
It means using more longtail keywords because voice queries are likely be in statement (question) form. People aren't going to be saying "Italian restaurant late hours": they'll be saying "Is there an Italian restaurant in Astoria that's still open at 11 pm?"
A keyword strategy that targets long-tail phrases and more specific terms will help you attract a more targeted audience no matter where they're at in the buyer's journey stage: awareness, consideration, purchase. Move them along this funnel easily and you'll lead them down to conversion.
5. Search in Apps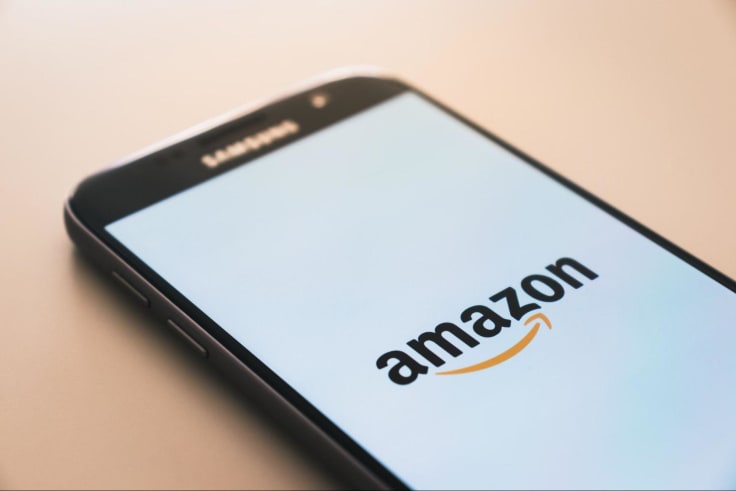 Photo by Christian Wiediger on Unsplash
Google has competition. Its days as the big player may not be numbered, but the entry of new players in the search market means you can't just play favorites anymore; your search optimization efforts should also include Facebook and Amazon if they're relevant platforms to your business.
Facebook has over a billion logged in users every month, so you've got plenty of opportunities to reach a market. Search results on Facebook will be based on the user's privacy setting. As for Amazon, most online shopping searches, about 46 percent, take place on the e-commerce site. Google takes second place at about 34 percent.
Optimize for both, if relevant, by targeting the right keywords users type on those platforms. You should also have a well-defined buyer persona to match the kind of content you're providing, from a business profile on Facebook to a product description on Amazon.
Provide the Answers
When people need information, most will go online — on a search engine. It pays to show up on the first page or the first few listings on a result because people click on these results. Their journey to finding those results has changed over the years and adapting to those changes is always good for business.
Because the alternative means irrelevance and "invisibility" on the web, learning the key trends driving the future of search is critical. But whatever newfangled tech innovates search engines, never forget the one simple factor to getting traffic to your site: good user experience.
When your marketing strategies prioritize the user's satisfaction, you'll dominate search for a very long time.
Become our partner
Build your business on excellent customer service products
Ger more exposure
Promote and earn
Grow your customer base