Showing top

0

results

0

results found
Showing top

0

results

0

results found
Business Partnerships: Why You Should Use Them to Grow Your Company
7 min read
Apr 12, 2018
So, you've launched your own business and now you're already to connect with your first customers. The problem is that leads don't seem to be flowing in as quickly as expected and you keep getting stuck with processes. You also lack the necessary resources to kick things off.
You need to act, but what do you do?
There are plenty of ways to answer this question, but the one I'd like to focus on today is: business partnerships. If you're struggling to keep your number of leads (and so, income) steady, it may be time to search for business partners who will help your venture thrive and open it up to unexpected growth opportunities.
Partnerships as a way to speed up a business growth already seem to be working for thousands of ventures. According to PwC's annual CEO survey, 49% of the corporate leaders are planning to get their businesses involved in some type of business collaboration in 2018. This growth method comes in 3rd on the list, right after 'organic growth' (79%) and 'cost reduction' (62%).
Regardless if your business is a solo venture or a company employing hundreds of people, including partnerships in your business growth strategy is absolutely essential.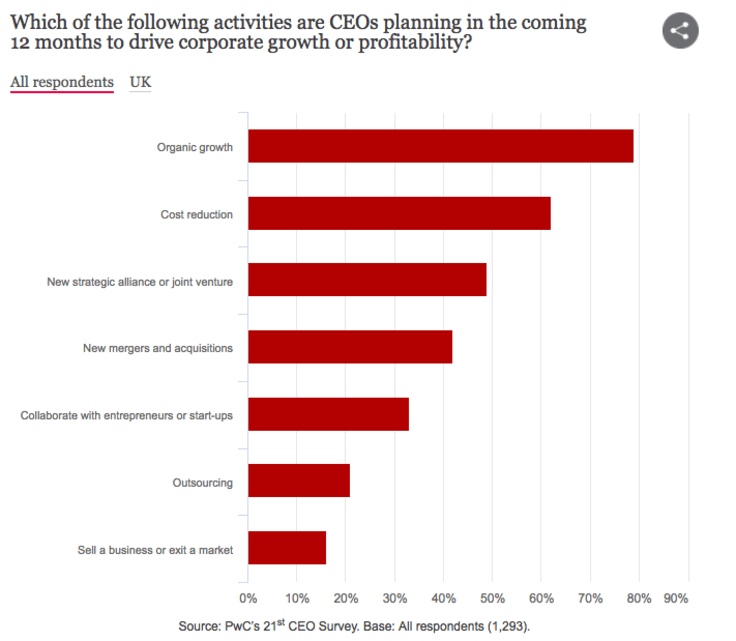 You may, of course, try tackling all business hurdles on your own by building up extensive marketing and sales teams, but it is important to remember that organic growth has its limits.
Before I'll get started listing B2B partnership's advantages, let's check what exactly is a business partnership and what are some of the crucial traits you should be looking for in a potential collaborator first.
Business partnerships come in different forms and sizes, but the most popular ones involve two commercial ventures joining forces to reach new audiences and create projects together.
It's important to remember that a good collaboration is mutually beneficial. If that's not the case, a potential for disagreements will occur and a threat of breaking the partnership up may become crystal clear at some point into your joined business journey.
How to assess if your business partnerships will work out?
There's not one way to do it right, but you should generally be looking for, are:
reliability of your potential partner,
similar values,
personality fit,
and parallel business trajectories.
How is your potential collaborator standing on these will help you foretell if a partnership will be a win-win situation. Don't forget to ask all the right questions before you'll sign a partnership agreement or join a partner program.
There are multiple ways of making sure that a partnership will work out, but it's important to remember that what seems like a perfect match does not have to turn out that way, and vice versa.
One example of a remarkable business partnership where the success wasn't apparent at first, is the collaboration between the meditation app, Headspace and one of the retail's main players, Selfridges. They partnered up in 2012 when Headspace was still in its early development phase after launching their first app a few months earlier.
For Selfridges' flagship store in London, the Headspace team created additional apps, animations, and so-called Headspace pods that helped its customers become more self-aware and focused on the present moment. These were ready to use or watch in various places around the store, including its fitting rooms where there were screens and headphones with messages focused on empowering the visitors by teaching them how to build their self-esteem, and the kids section where the animations aimed at helping children stay mindful while shopping, were displayed.
The 'No Noise' campaign was mentioned in most British media and the spaces created were visited by thousands of visitors. You can see this video created by Selfridges to see how the campaign played out:
For Selfridges, the campaign was another way to introduce more customers to their London's flagship store and to be seen as a brand caring about their customers.
For Headspace, which was still relatively small at that time, the campaign was something that they could - among other collaborations and projects - leverage later on to help them become a tech industry giant with its yearly revenue at well above $50 million (2017's result).
As you can see, partnerships are not only significant for huge brands that can use them to reach out to entirely new audiences, but also for smaller companies to help them gain more customers, launch a new product, and test out a plethora of marketing techniques.
Ok, now that we've established that there are multiple ways of looking at business partnerships, let's go back to analyzing how they can support your business growth. Here are some of the benefits of B2B alliances:
1. Sharing your partner's exposure
Yes, piggybacking off your collaborator's brand awareness and customer network can be a good thing, especially if you've partnered with a bigger company that focuses on supporting their business partners. This is definitely the case with our LiveChat Partner Program where we make sure our partners are successful too (you can read their stories on our blog).
Partnering up with a larger venture can also mean building your credibility and exposure. Most partner programs announce their partnership agreements through press releases or social media posts so that you can reach out new audiences through these as well. They will help you slowly grow trust among customers and potential future collaborators.
2. Help with documentation and processes
Depending on the size of your company and its growth stage, venturing into partnerships may not only mean including your newly found collaborators into existing workflows but also help you create entirely new ones. By getting in on a business partnership, you can also need to create i.e., brand-building assets and channels like a blog or press room on your website. These can be of value once you start creating other advertising campaigns.
3. A playground for your marketing campaigns
This is related to setting up proper work processes and creating relevant content that can be reused in your other day-to-day activities.
Once you're in a reliable business partnership, you can always count on your partner's support, so your marketing campaigns can become more bold and experimental. 'Tis the time to be employing latest growth hacking techniques and A/B test your campaigns. Try out different methods, evaluate your results, and then experiment some more.
As you could see from one of the earlier paragraphs about the collaboration between Selfridges and Headspace, the latter was able to test-drive different means of reaching out to customers. These included creating meditation pods, making videos, and leading self-awareness workshops.
Not all methods probably worked out for the app creators (Headspace haven't switched to exclusively producing meditation pods since), but without a doubt helped them improve their app by testing it on thousands of people who were using it in a real-life context.
4. Cut your costs
This may not sound like a growth-related factor at first, but business partnerships in most cases mean sharing the costs of marketing and sales processes. It implies that you can focus your spendings elsewhere: on training and supporting your staff, nurturing relationships with your existing customers, investing in new technologies, etc. The choice is yours.
Over to you
Now, you may be wondering how you can leverage all of this to grow your business and expand its scope. One way to go about it is to get involved in our own Partner Program (as an affiliate or a solution partner) and start sharing LiveChat with, i.e., your blog visitors or customers. If you need more inspiration and want to know how to put theory into practice, we've also written more on how they used the Partner Program to grow their businesses on our blog.
As I've mentioned before, great business partnerships are all about ensuring that both sides are benefiting from it. You should also always strive for creating something of value for both your and your partner's customers, instead of pushing for sales or lead generation. A mindful approach to business partnerships seems to be crucial for making them successful.
Have you been involved in business partnerships yet? What is most important when growing your business? It would be great to see your responses in the comments below or on Twitter.