Showing top

0

results

0

results found
Showing top

0

results

0

results found
11 Business Podcasts to Check in 2021
8 min read
May 17, 2021
People will remember a lot of things about 2020 – not all of them good. But from a positive perspective, it was the year in which podcasts transitioned from niche pursuit to mass-market hobby.
Google Trends shows us global interest in podcasts has been on a steep upward trajectory since early 2019, before reaching peak levels at the back end of 2020.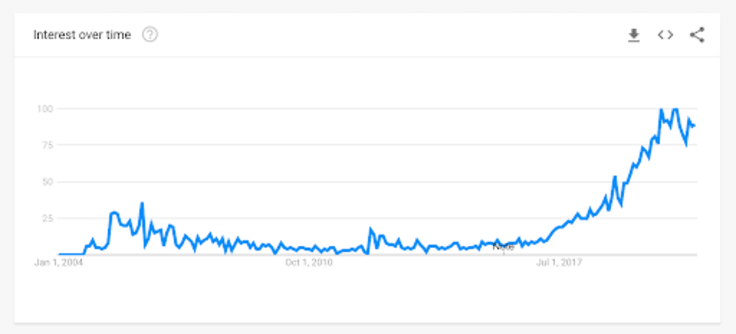 And there's no sign of that growth slowing down. By 2024, there will be an estimated 100 million podcast listeners in the US alone – equivalent to almost one in three Americans.
Unsurprisingly, this surge in interest has prompted a big upturn in total podcast volumes. As of March 2021, there are almost two million different shows available, with a combined 47 million episodes between them.
Given that the average episode lasts approximately 43 minutes, it would take almost 4,000 years of continuous listening to get through all that content!
Chances are, you don't have quite that long. You want to find the best and most relevant podcasts right now – but you don't know where to start.
Don't worry. LiveChat has compiled a list of the best business podcasts before, and now there is an updated list for 2021.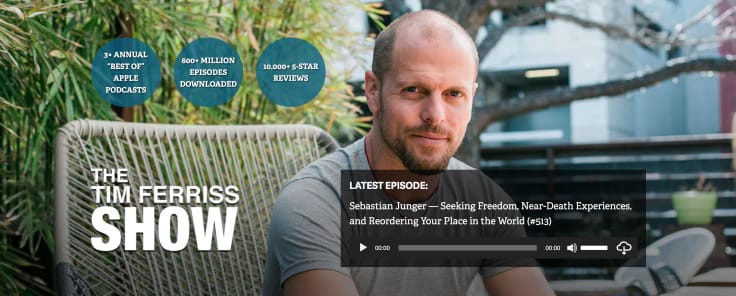 1. The Tim Ferriss Show
Not content with being a successful business guru, angel investor, and author of the New York Times bestselling book The 4-Hour Workweek, Tim Ferriss is also a highly accomplished podcast host.
His self-titled show has more than 500 episodes and has racked up over 600 million downloads, thanks in large part to a star-studded guest list including the likes of Matthew McConaughey, Jamie Foxx, and Dr. Jane Goodall.
In each episode, Ferriss digs into the personal and professional lives of people who are at the top of their game in various fields, discussing the routines and actions that have brought them success.
It's an upbeat listen – Ferriss doesn't go in for hacky get-rich-quick schemes, focusing instead on positive tactics.
As with all these podcasts, every single episode will teach you something. But a good starting point is his interview with Jerry Seinfeld, where they explore the comedy legend's systems, routines, and methods for achieving success.

2. Niche Pursuits
Spencer Haws is a prolific creator of niche websites and business ideas. Some have worked out, some haven't, and he's discovered a lot along the way. That persuaded him to share his learnings through the website and podcast Niche Pursuits.
Haws begins every episode with a positive affirmation: "It's time for a motivational kick to jump-start your next big idea." And that's exactly what the podcast is all about: real-world stories and practical advice designed to set your cogs whirring and spark new business ventures.
Whether it's explaining unique link-building strategies, running through how to perform SEO tests, or discussing how to rapidly scale a content site, Niche Pursuits gives you tons of actionable insights on the practicalities of making money online.

3. Side Hustle Show
The Side Hustle Show is exactly what the name suggests.
Host Nick Loper was a manager at Ford Motor Company before branching out into the world of side hustles. His first venture was the sneaker affiliate ShoeSniper, which generated $10 million+ of sales for his advertising partners.
As with Spencer Haws of Niche Pursuits, Loper has learned a lot of valuable lessons through experimenting with a bunch of side hustles. He shares ideas, actions, and results from himself and other successful online entrepreneurs in the Side Hustle Show podcast, building a captive audience of more than 100,000 listeners along the way.
Each episode is packed with concepts for new businesses and side hustle opportunities. Not sure where to start? Check out his episode on how 25 successful side hustlers made their first entrepreneurial income.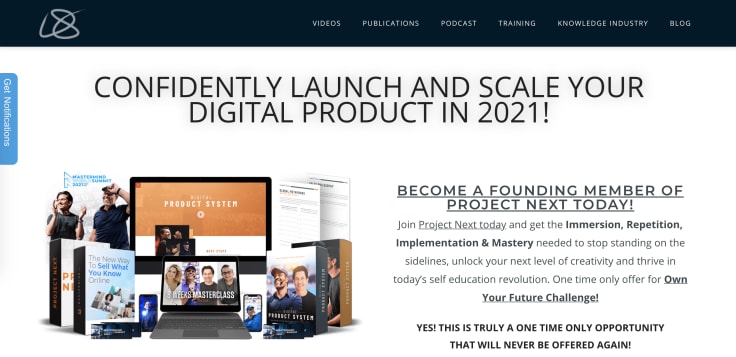 4.The Dean Graziosi Show
Having founded or played a key role in more than a dozen high-performing ventures, Dean Graziosi knows a thing or two about business.
Fortunately for us, he's happy to share his knowledge on the Dean Graziosi Show, from in-depth business strategies to the myriad ideas that pop into his head on a seemingly daily basis.
Graziosi is a prolific podcaster. At the time of writing, he's published 13 episodes in the last month alone!
Some are 10-minute chats on issues like dealing with anxiety and short lessons he's learned throughout his life. Others are hour-long deep dives into his past and recommendations for making your life more successful and fulfilling.

5. HBR IdeaCast
Hosted by Harvard Business Review senior editors Alison Beard and Curt Nickisch, the IdeaCast is a weekly podcast featuring insights and concepts from some of the leading thinkers in business and management. Launched back in 2007, it's now approaching 800 episodes.
As you'd expect from a prestigious brand like HBR, the list of previous guests is a veritable who's-who of the business world (don't miss Bill Gates discussing the role of business leaders in the fight against climate change).
But the most insightful and meaningful episodes often feature less high-profile speakers. One of the most powerful episodes sees Katina Sawyer, assistant professor at George Washington University, talking about how workplace diversity programs are failing transgender workers.

6. Do You Even Blog
Pete McPherson started out as a blogger and podcaster back in 2010. Since then, he's made it his mission to help his audience earn a living online.
A lot of people clearly share this interest. In fact, between 2014 and 2020, the number of bloggers in the US alone increased by 10 million.
McPherson's podcast includes interviews with some of the world's biggest and best-known entrepreneurs, bloggers, and self-professed online business nerds.
If you're a DYEB first-timer, start at the episode with Jim Harmer, internet entrepreneur and co-founder of Income School. The pair discuss the biggest opportunities for 2021, covering YouTube, SEO, and how to produce good content. That's basically everything you need to know in one place!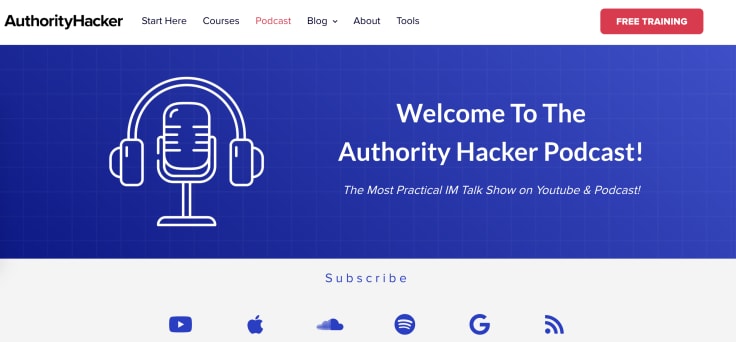 7. The Authority Hacker
Authority Hacker is a brand that creates actionable training courses and collateral for website owners.
Since launching the company back in 2013, co-founders Gael Breton and Mark Webster have built up a portfolio of high-performing authority sites that have driven millions of dollars in revenue.
In other words, they have a wealth of knowledge on creating successful, money-making websites. Their podcast, which now has more than 250 episodes, offers practical guidance on how you can do the same.
Expect to learn a lot about link-building, email marketing, affiliate programs, and how to build a high-performing website.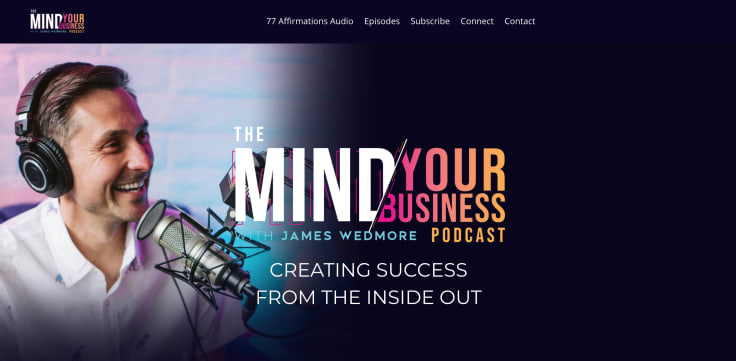 8. Mind Your Business
James Wedmore has spent the last 15 years helping more than 5,000 people build and scale successful online businesses.
As you'd expect, he shares some of those secrets on the Mind Your Business podcast, which now has almost 450 episodes.
Wedmore tends to go pretty heavy on the financial side of the business – which, after all, is kind of the most important part. You'll hear tips for selling a digital product, boosting revenue, and maximizing your profit margin, among lots of other things.

9. Entrepreneurs on Fire
Host John Lee Dumas is a genuine podcast fanboy, having been an avid podcast consumer since the late-noughties.
That led him to a realization. Even back in 2009, there were a ton of great business podcasts. But none of them focused on regular interviews with real-world entrepreneurs. From that idea, Entrepreneurs on Fire was born.
Over the years, Dumas has interviewed some huge names, from Tony Robbins and Seth Godin to Barbara Corcoran and Gary Vaynerchuck.
The best thing about Entrepreneurs on Fire? Rather than simply reeling off the many achievements of his high-profile guests, Dumas strives to learn about their worst moments in business, and the lessons they learned from those formative events.

10.The School of Greatness
Launched in 2013 and fast approaching its 1,100th episode, School of Greatness is among the top-rated business and self-development podcasts on iTunes, with over 150 million downloads (and counting).
Its success stems from wide-ranging interviews with some of the sharpest minds in business, covering everything from money and entrepreneurship to spirituality and human rights.
As with many of the other podcasts on this list, the School of Greatness has attracted plenty of big-name guests – think Tony Robbins, Julianne Hough, and Arianna Huffington.
However, one of the most consistently popular formats is 5-Minute Friday, where host Lewis Howes gives actionable, quick-fire tips on things like overcoming your fears and improving your morning routine.

11. The GaryVee Audio Experience
Love him or hate him, Belarusian-American entrepreneur, author, and speaker Gary Vaynerchuk – otherwise known as GaryVee – is one of the world's best-known internet personalities, with more than 30 million followers across his various social channels.
In the GaryVee Audio Experience, Vaynerchuk offers highlights from the #AskGaryVee Show and his DAILYVEE video series, plus speeches, interviews, and much more besides. Essentially, it's a window into his overactive mind.
Vaynerchuk famously produces a lot of digital content, but the best place to start is definitely The Airplane Project.
Recorded during a flight without Wi-Fi, it's part mixtape, part rant session. Between the occasional musical interludes, Vaynerchuk sets out his roadmap for how to make it in the modern business world.
Conclusion
Sure, podcasts are entertaining. They give us funny anecdotes and interesting stories.
But they're not just about entertainment. In fact, the most popular reason for listening to podcasts is to learn something new. And who better to learn from than some of the biggest and most successful names in business?
Not all of these podcasts will be for you. But with literally thousands of episodes between them, they'll definitely give you some fascinating insights and new ways of thinking that you can translate to your own business.