While you can simply share your affiliate link among your audience, we encourage you to use our Campaign Builder. Why? Because it's the best way to create a customized campaign and track its performance in real-time.
But what's the difference between using the short link or the Campaign Builder?
The short link allows you to grab a link and share it on your pages in almost no time. However, its downside is that it doesn't provide your audience with any extras: like a longer trial period or a discount for a good start. 
By creating a campaign through the Campaign Builder, you can incorporate these extras: change the trial length and add a discount. Apart from that, you can create the campaign's name and choose the landing page you want your audience to visit first. The name is especially important as it allows you to spot how the given campaign went.
To check y campaign's data, go to our Affiliate > Campaigns. Once you're there, you'll see the clickable list of campaigns created by the Campaign Builder.

After entering a certain campaign, you'll see data divided into three tabs: Overview, Sharing options, and Performance. 
Let's go through each of these tabs, starting with the Overview. 
This section lets you quickly check the campaign details, the most important metrics, and the campaign link. You can also archive it if you wish.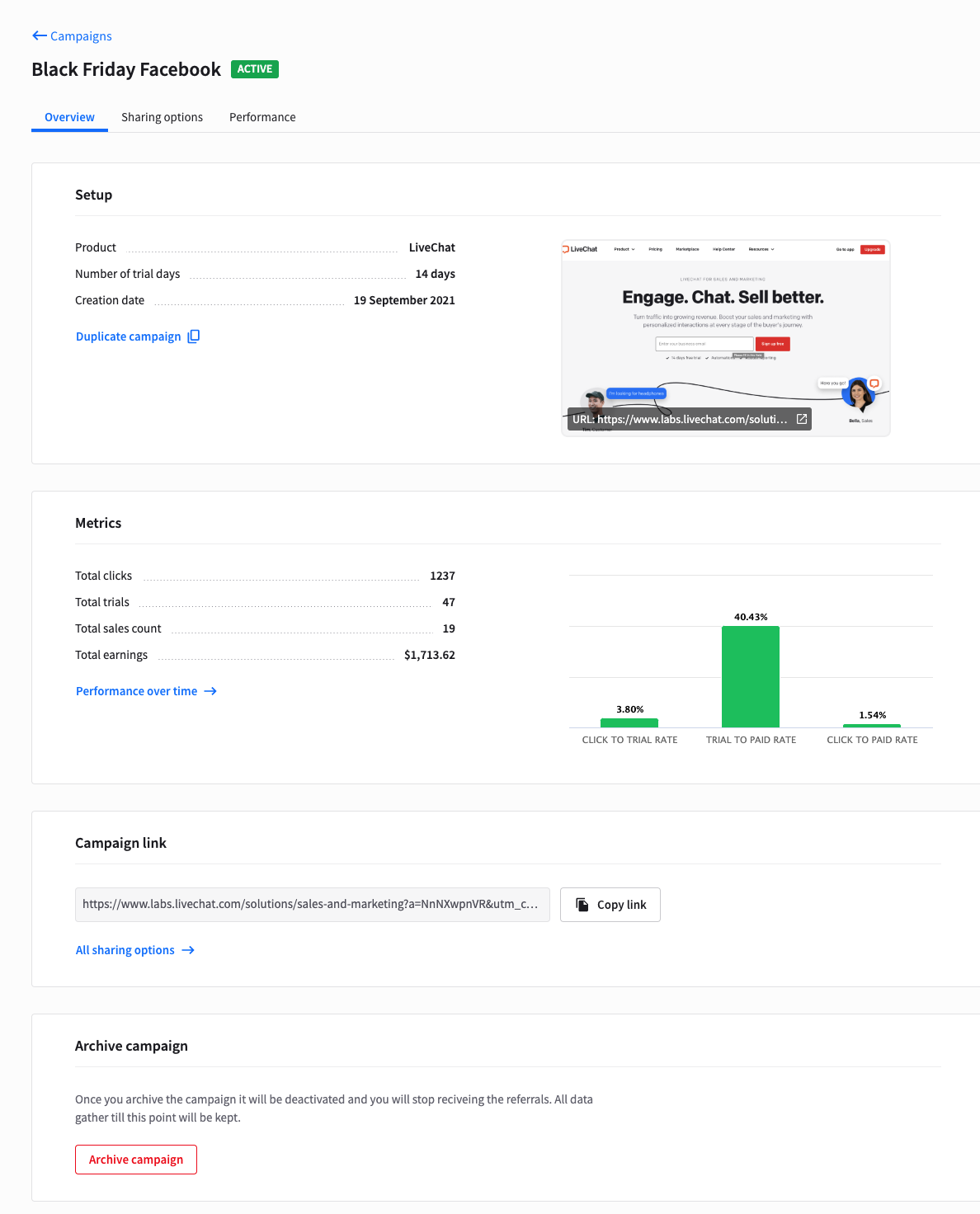 And here's the second tab: Sharing options. 
It's the place where you can quickly copy the campaign link and share the campaign on social media. You can also quickly go through the additional resources you might want to use when promoting your campaign.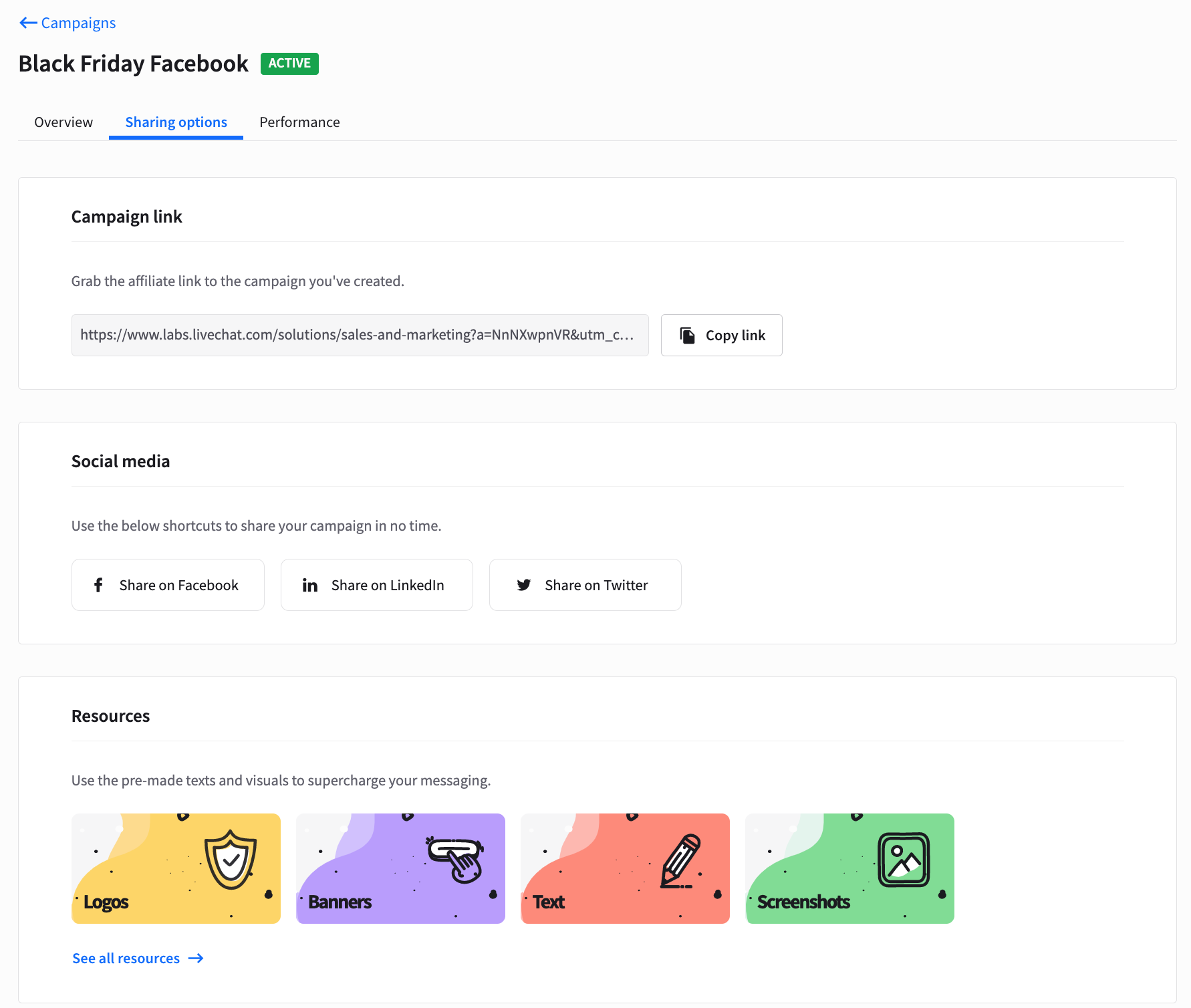 Last but not least, the Performance tab. We gather the most essential campaign data here so you can effectively monitor your performance.
Let's start from the first view: aggregated data. By choosing time filters, you can see how many clicks your campaign generated and how many new trials it brought (how valuable the traffic was). It also allows you to spot when your campaign was the most effective.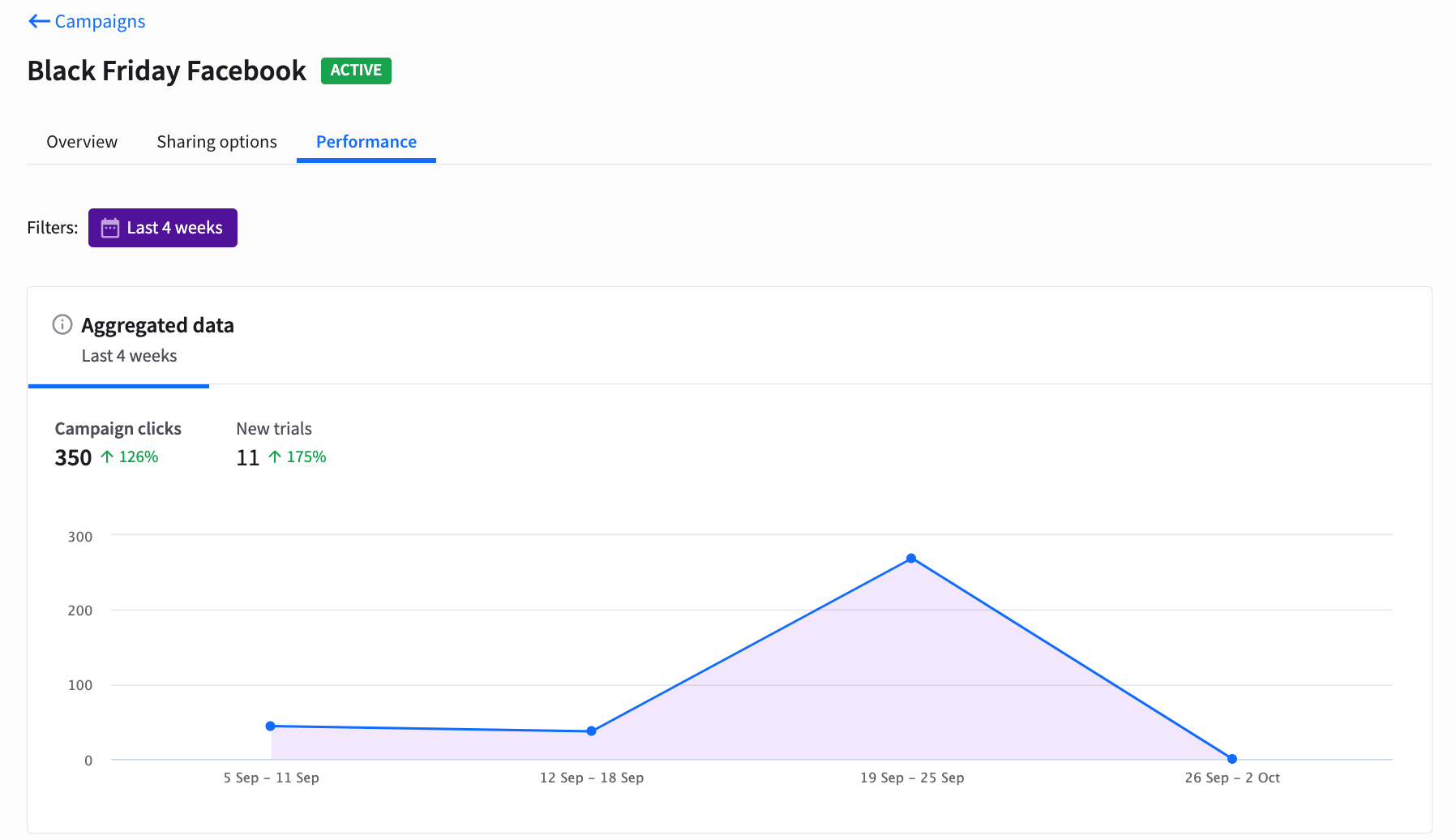 Here's the next chart, "Sales count."

Now, the "conversion rates" chart. 
It indicates how efficient your campaign is in terms of bringing valuable traffic and whether this efficiency changes over time.
This chart is available only when you choose the 12 months filter.
This chart is available only when you choose the 12 months filter.

The next tab, "Earnings", is self-explanatory. 
It shows the campaign's income and whether it changed over time. The total amount includes new conversions and recurring payouts from previously brought customers.

Total campaigns' performance
If you'd like to take a quick look at your campaigns, you can go to Affiliate > Performance. You'll find the following information:
campaign name, 
product,
clicks,
trials,
QLs (Qualified Leads - the number of licenses that actually installed our product on their website and tested it),
paid accounts (how many licenses purchased our products),
partners referred (how many Partners you brought with a particular campaign), 
earnings.
If you'd like to know more about your audience behavior, you can add your own UTMs and download your customized UTM-based report. 
Here are the UTMs you can add to your link:
utm_medium - see what channel brought you the most traffic. It can be an ad, email, blog post, or social media channel.
utm_content - this is great if you're using a few different versions of an ad or a newsletter. By tracking it, you'll be able to tell which piece of content outperformed others.
utm_term - this represents the keywords you tag your campaign with. It can be anything you find important, e.g., third-party tracking software's custom parameters. 
Once you have your links customized and the campaigns are up and running, you can check their performance by downloading the CSV report in the Affiliate > Performance section.