Customizing accounts you create
Creating LiveChat accounts in Solution Partner Program comes with a number of customization options:
You decide who will manage payments for created accounts
You decide where we should store clients' data
You decide whether to offer clients a special deal on LiveChat
Managing payments
Every time you create a LiveChat trial account for your client, you can decide who will manage the payments for it:
You - in the Partner App
Your client - in LiveChat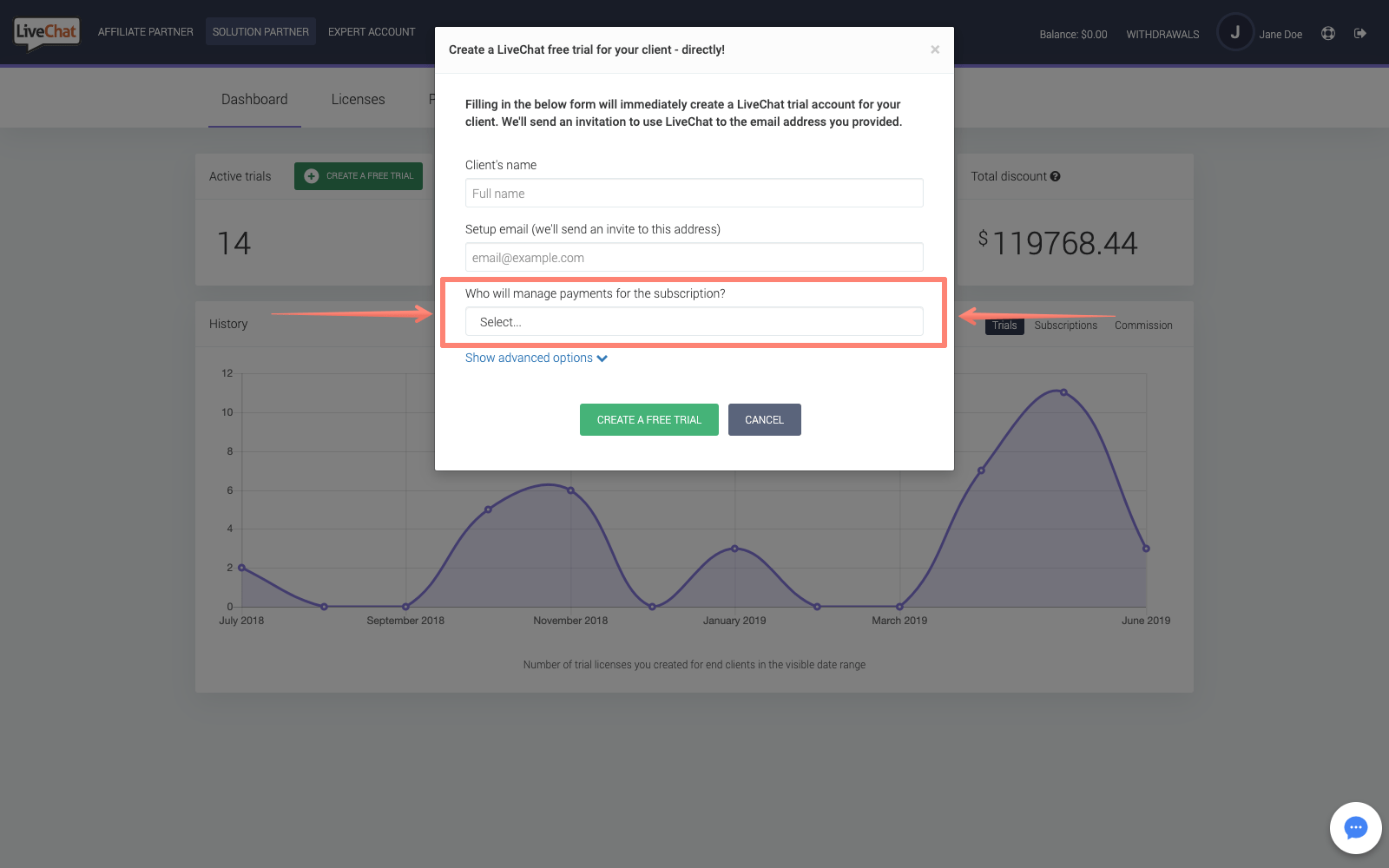 If you pick yourself:
We'll get you a 20% lifetime discount
We'll hide all the subscription details in LiveChat so that the client using it has no access to the details of our cooperation
If you point at your clients to manage payments:
We'll give them access to subscription section in LiveChat for them and disable it in the Partner App
We'll pay you a 20% recurring commission if clients subscribe for a full version
Each option has its advantages and covers different use cases. Not sure which suits your business needs better? Check this comparison:
AFFILIATE MARKETING PROGRAM
SOLUTION PARTNER PROGRAM
Who manages payments
Client
Partner
Client
Who creates LiveChat account?
Client
Partner
Partner
How is the LiveChat account created?
On LiveChat's website, with the use of Affiliate links
Directly in the Partner App
Directly in the Partner App
Major benefit for partner
20% commission
from every payment made by the customer
20% discount
on every payment a partner makes
20% commission
from every payment made by the customer
Where is the payment managed?
In LiveChat
In the Partner App
In LiveChat
Subscription details in LiveChat are..
Visible
Clients manage payments themselves
Hidden
Clients have no access to billing details
Visible
Clients manage payments themselves
Payment method
Credit card
Credit card or wire transfer(for high volume partners)
Credit card
Do clients know what version LiveChat runs on (trial or paid)?
Yes
Clients get to decide whether they want to subscribe to a paid version
No
Clients have no such knowledge since a partner manages subscription
Yes
Clients get to decide whether they want to subscribe to a paid version
Typical use cases

Publishing content about LiveChat on your website or blog (with affiliate links included)
Promoting LiveChat on social media
Marketing LiveChat via PPC ads
Earning a passive income from publishing reviews or product comparisons

Reselling LiveChat with your markup
Adding LiveChat to your product suite
Turning LiveChat into a feature of your platform
Including LiveChat subscription in a complex offer to your client

Earning commission from direct recommendations
Introducing LiveChat to a client of yours whenever you don't want to pay for their account
Important: If you decide to manage payments yourself, your clients won't get access to billing details (since you have access to billing from the Partner App). This means they don't know how much you are paying for their account and whether it is on trial or not. What customers do know is what features they have access to and how many seats they can operate on.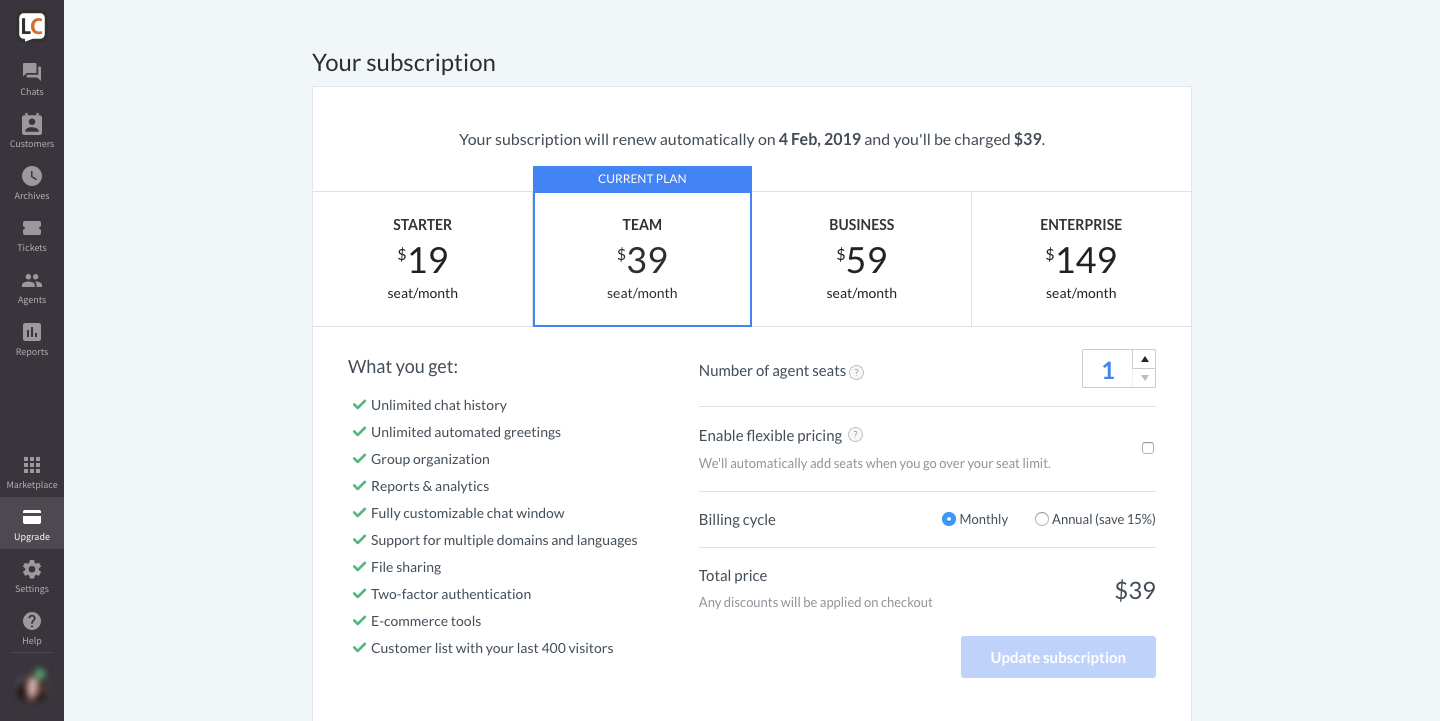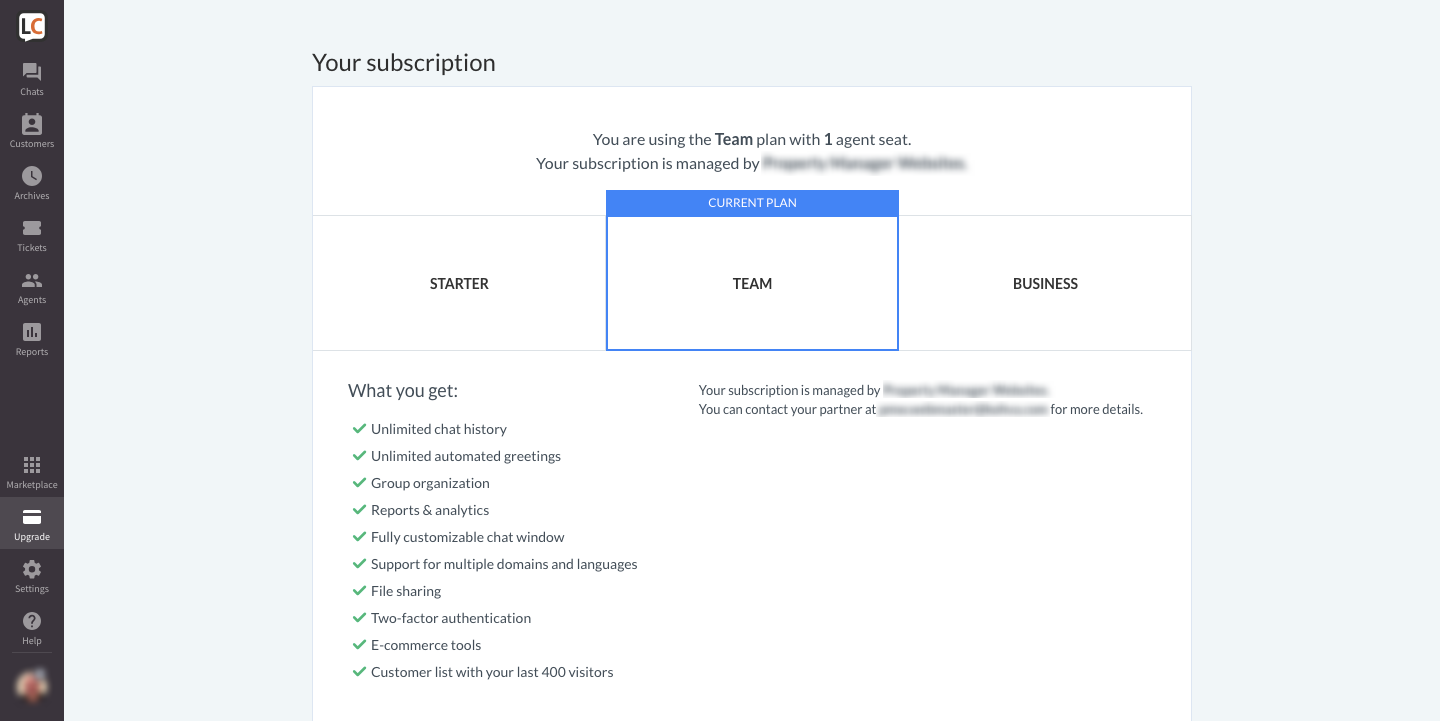 On the left: billing details of LiveChat subscriptions where client manages payments. On the right: billing details of subscriptions where Partner manages payments.
Storing clients' data
Setting up LiveChat accounts in the Partner App, you have the ability to choose the location of servers you want us to store data your clients will collect in LiveChat.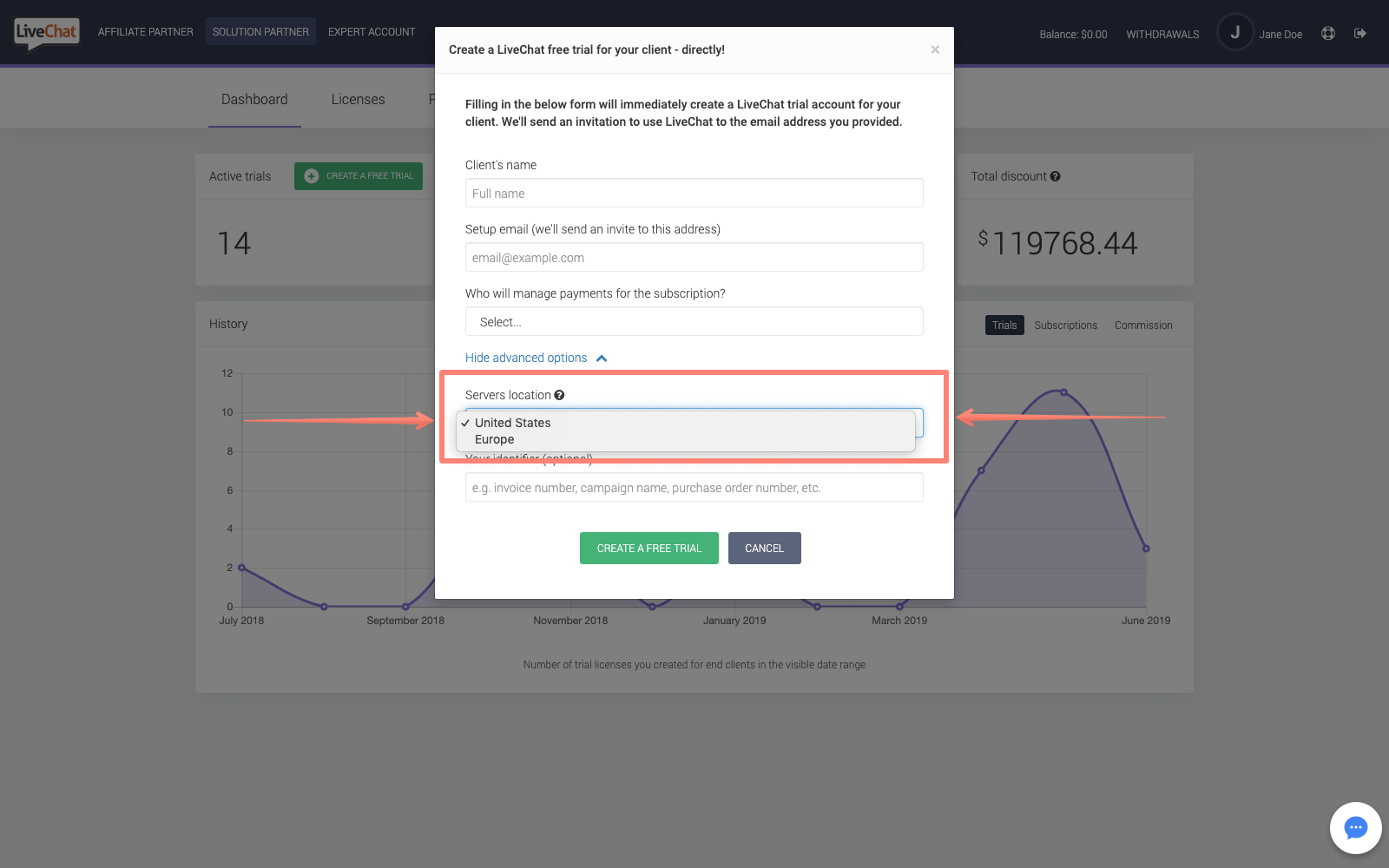 We have datacenters located both in The United States and in The European Union. While both are extremely secure, some companies may have specific requirements to use one rather than the other.
You can address their needs taking advantage of this option.
To give you an example; For a lot of European companies it's crucial to store all of their clients' information on servers located in the EU. They are simply obliged to use software which goes far beyond being GDPR compliant (which LiveChat is, of course).
Offering custom deals on LiveChat
To the form creating trials for clients, we've also added an option to attach a special deal to the account you created. Whenever you point at your client as the one responsible for managing payments for the account, you are given additional options to:
extend a client's trial up to 60 days
attach one of the available discounts to the account you create (see the screen below)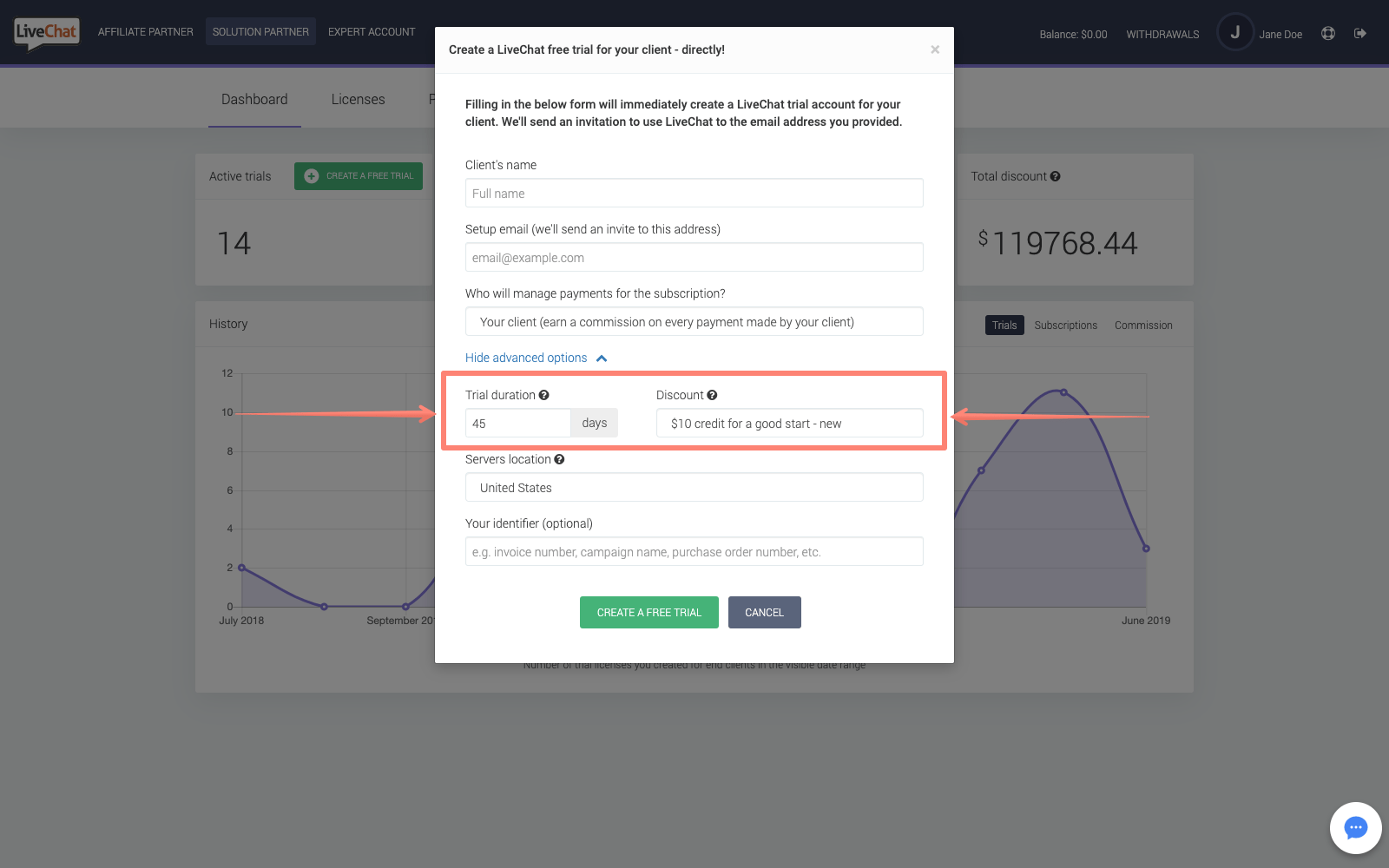 If you decide to include any of these, we'll add the info about the deal to the email invitation sent your customer's way. Here is how they look now: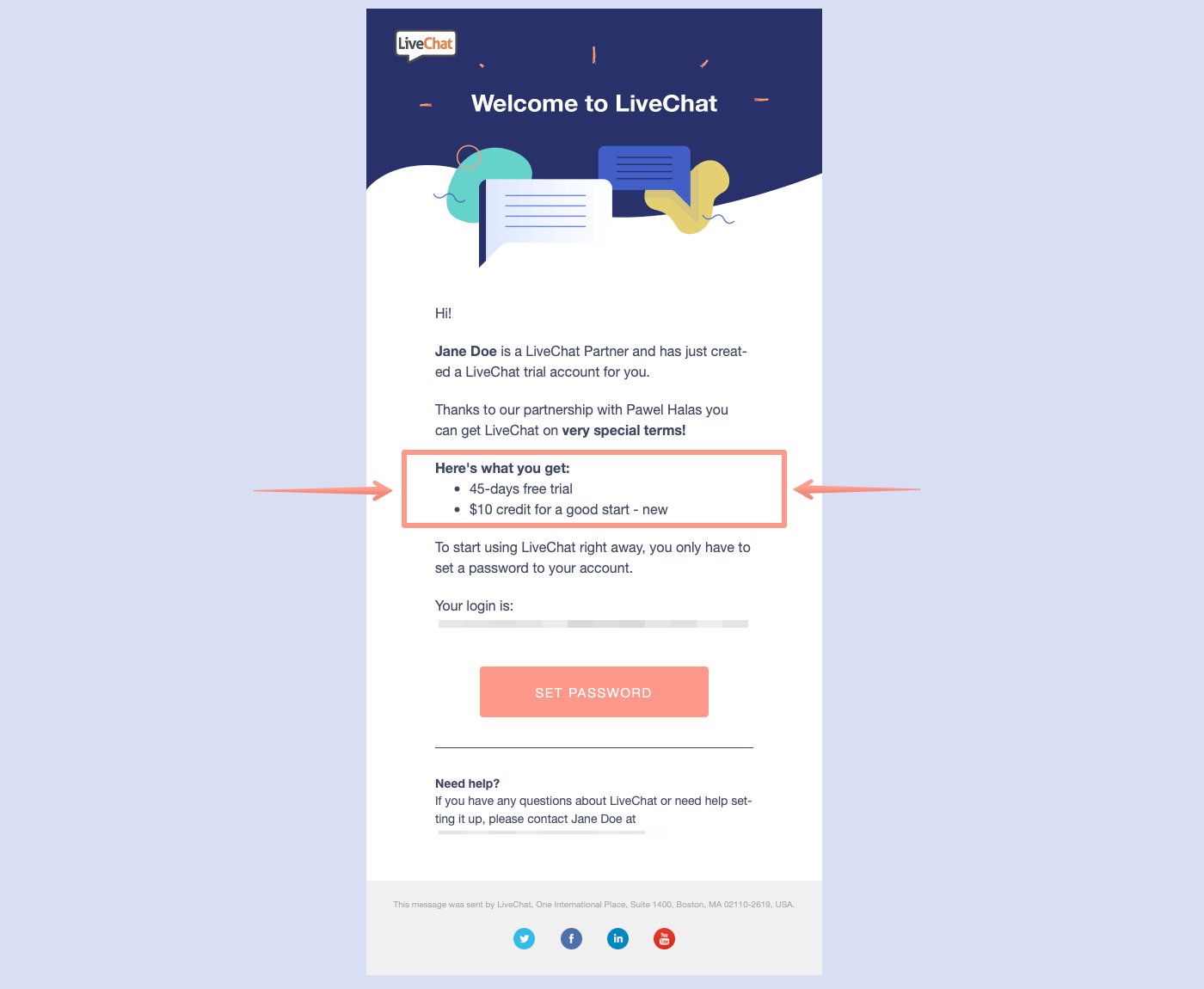 These customized invitations can encourage your clients to subscribe for a LiveChat paid version. After all, you can provide them with better offer to the one they can get signing up on our website.
However, whether you want to make use of it or not, is entirely up to you.