What's in the Partner App
To make your activity in the Partner Program as convenient as it gets, we built a simple yet user-friendly application. It allows you to keep track of your results in real time; create new campaigns; manage your customers' subscriptions (if applied), and unleash your full potential as a LiveChat Partner.
Once you sign up, you have access to all sections of the App, regardless of which collaboration you decide to adopt.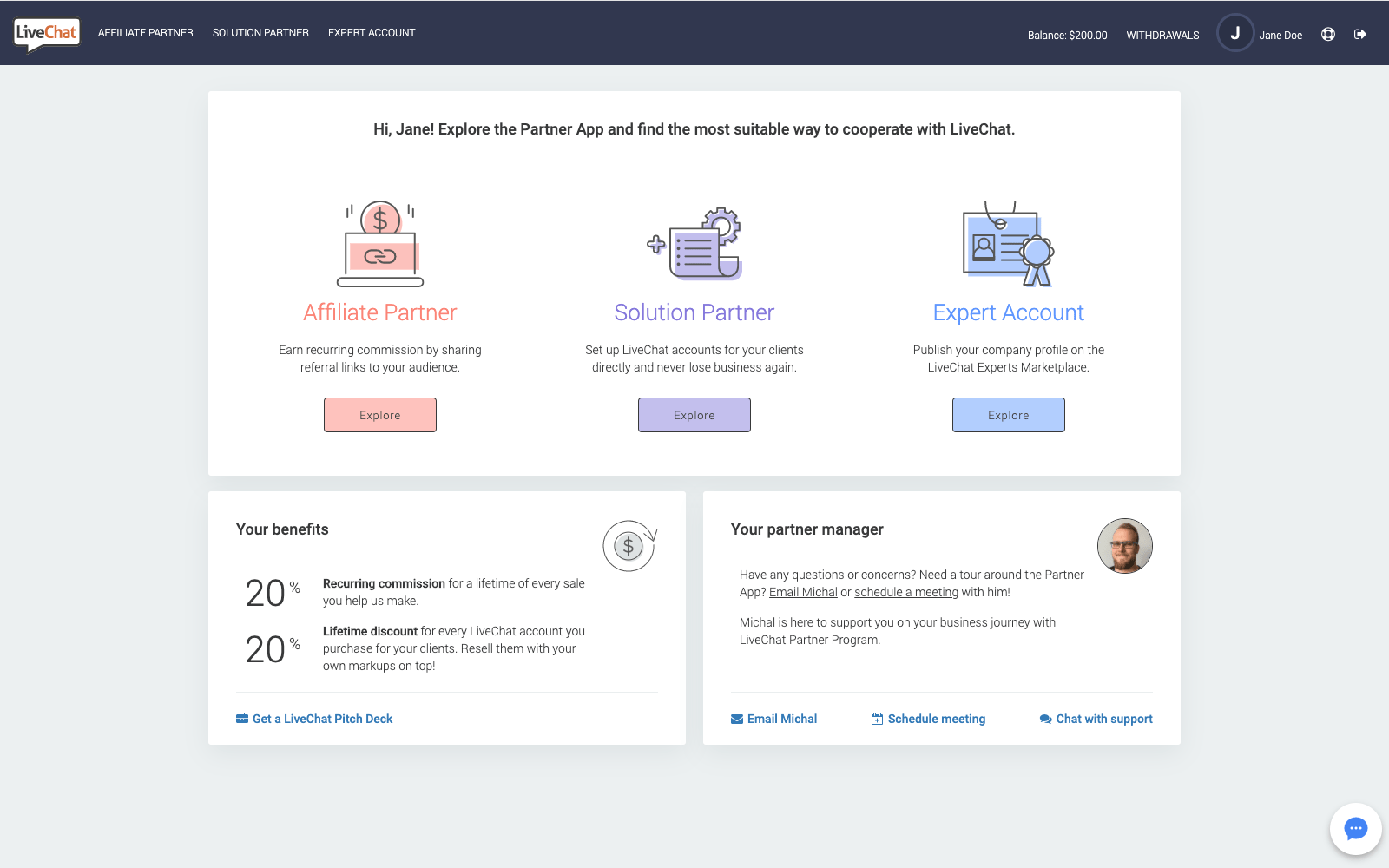 The App is divided into three sections that you can switch between. Each section has a separate dashboard which allows you to track your activity in it.
Affiliate Partner Section
Affiliate Partner section allows you to get access to various performance metrics of your activity as a publisher. These include the efficiency of your campaigns, a list of LiveChat licenses created thanks to the use of your referral links, as well as detailed info on your commission brought it.
Oh, and you can also grab your Second Tier affiliate link as well and refer other affiliates to our program!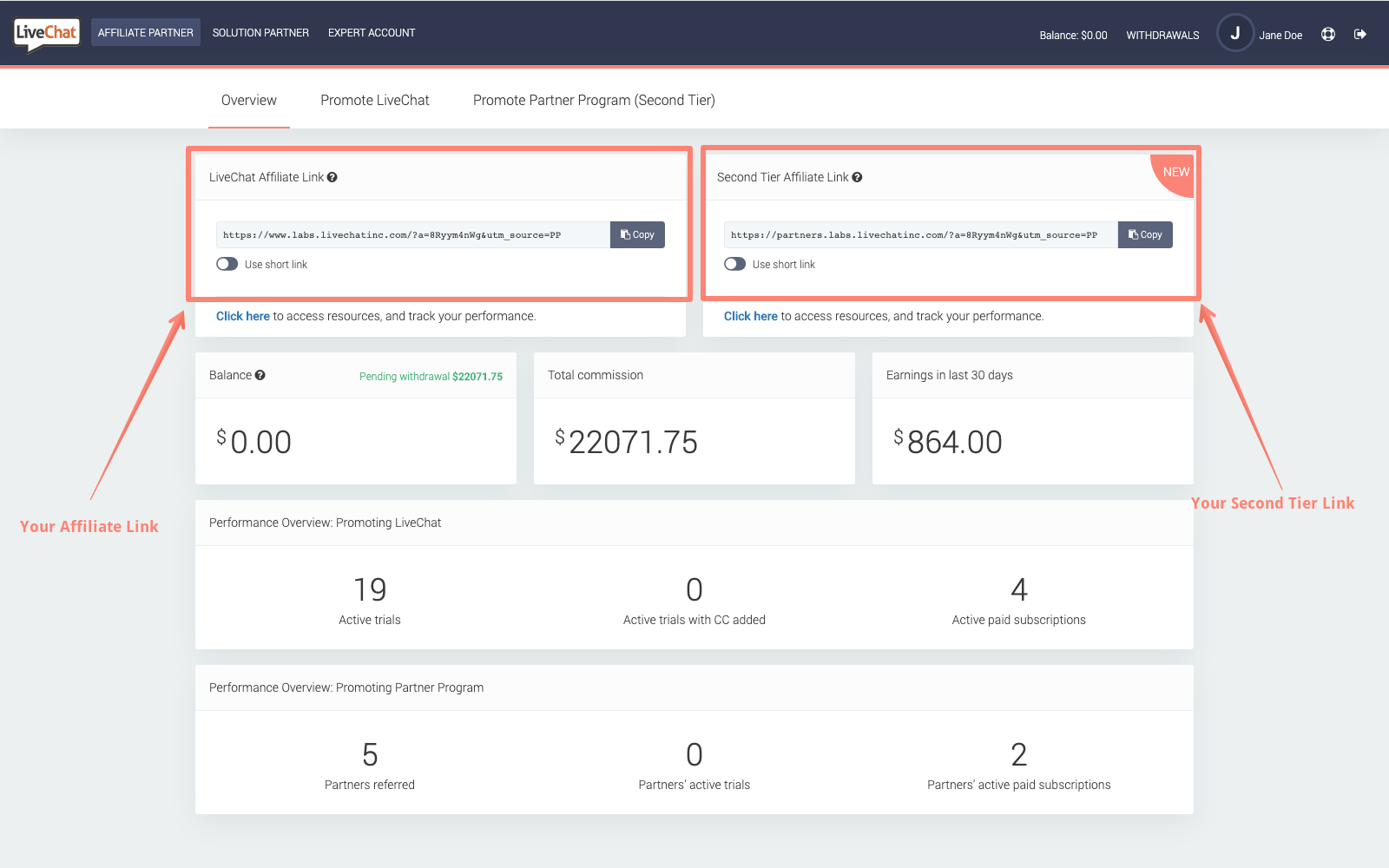 Along with all these tracking capabilities, Affiliate Section gives you access to multiple creative resources that should help you market our product. These include: banners, widgets, logos, tweets and other promo content.
Solution Partner Section
In Solution Partner section, you can set up new trial accounts for clients, customize some of their parameters and track performance of accounts you've already created.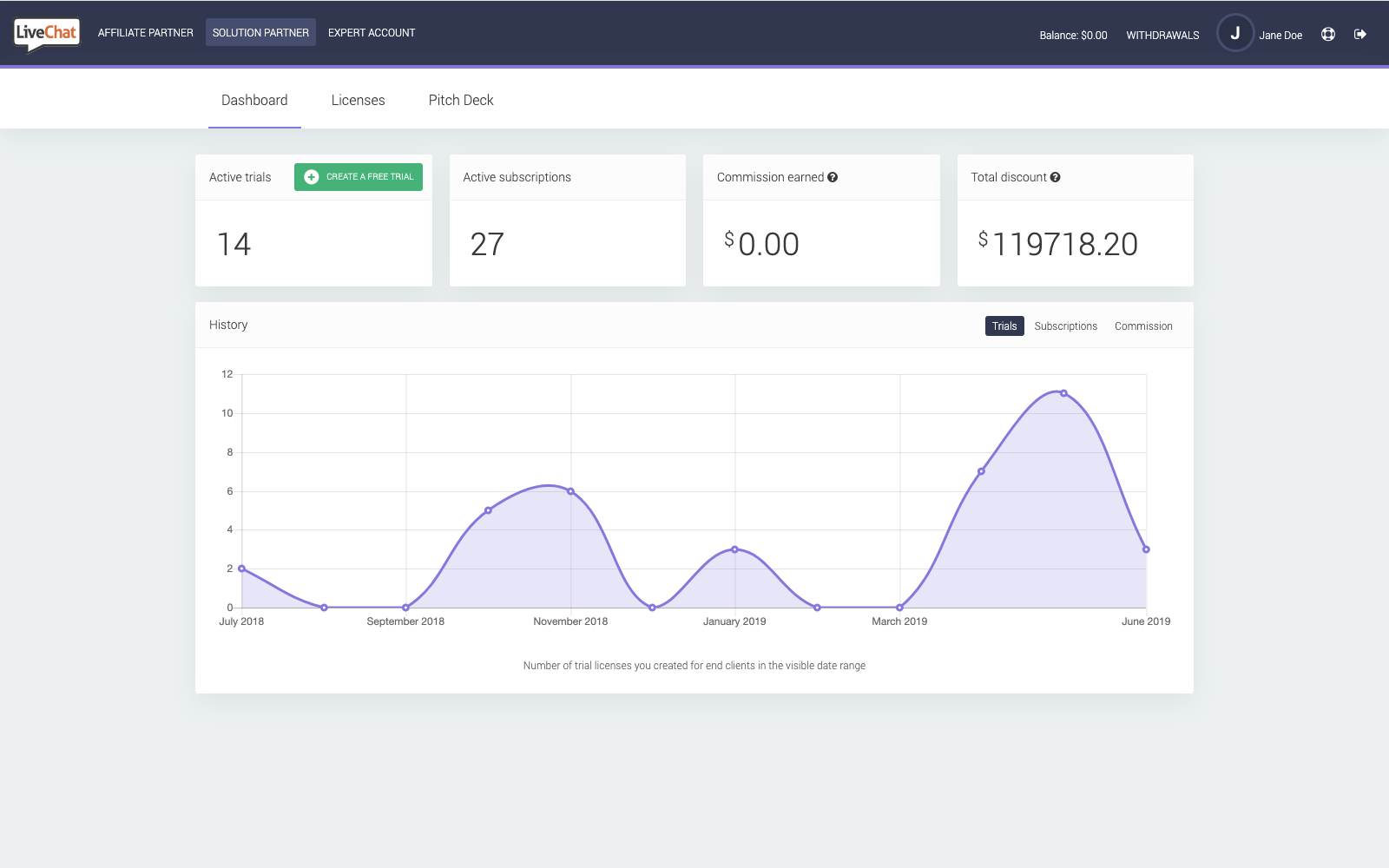 Here's what you can find in this section:
Create a free trial button, clicking which you'll start setting up LiveChat trials for clients (1.),
Manage buttons allowing you to access subscription section of accounts you've created (2, 3.) Manage buttons are deactivated whenever you picked your client to manage subscriptions. If that's the case, the client can access subscription in LiveChat.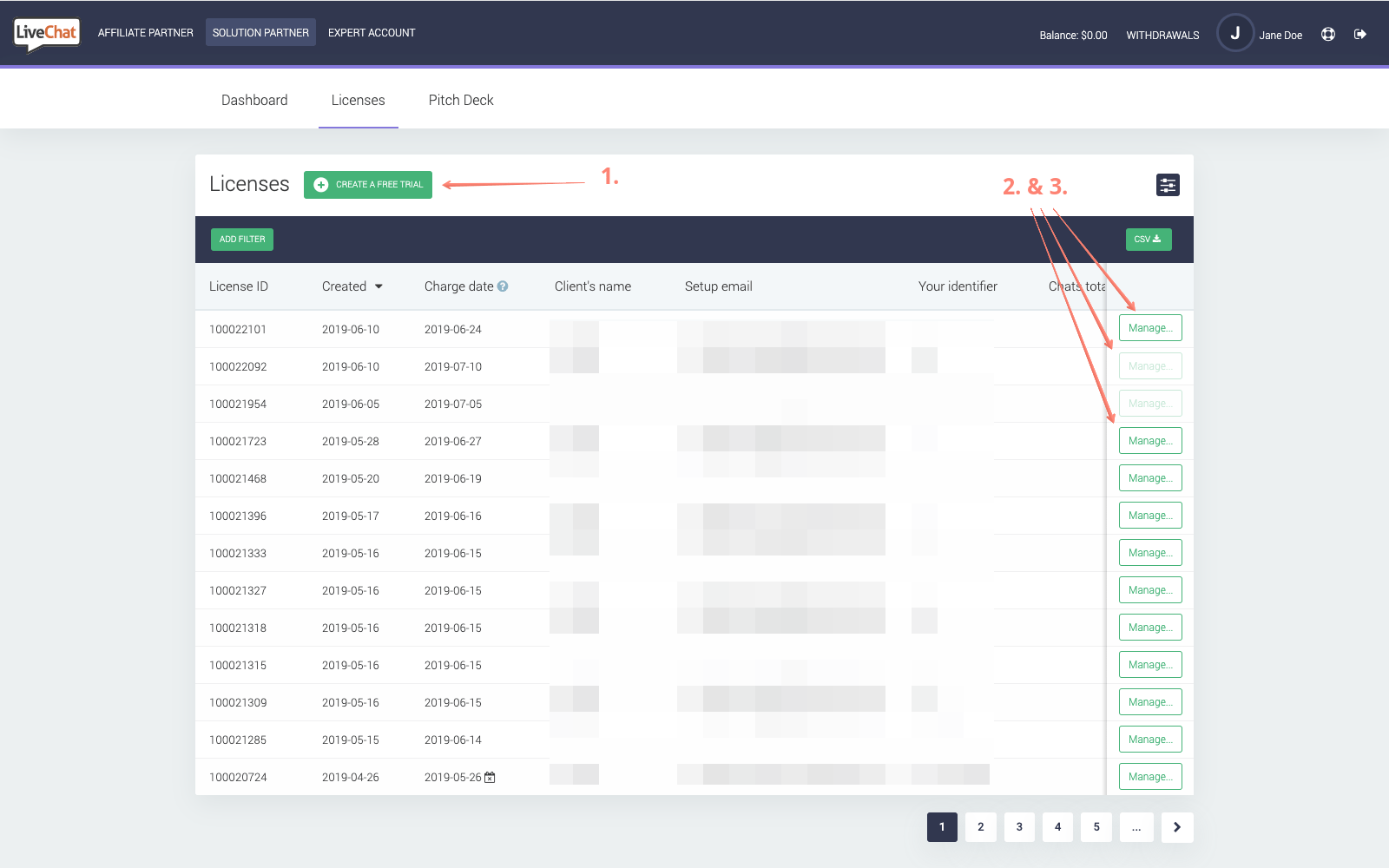 Solution Partner section - the list of licenses brought by the Partner
Solution Partner section also allows you to track performance of any licenses you set up. Data you can access include:
Billing status (who's managing payments, whether credit cards have been attached to accounts, have trials converted to paids version already, etc.)
Performance of every account (lifetime and within the last 30 days)
Location of the database (setting the trial up you can pick between one of the 2 server centers we have - in The US or in the EU
Important: The process can be fully automated with the use of our open API documentation
Expert Section
Once you become more familiar with our product and start bringing us new leads on a regular basis, you can apply for a LiveChat Expert status and get listed in LiveChat Marketplace.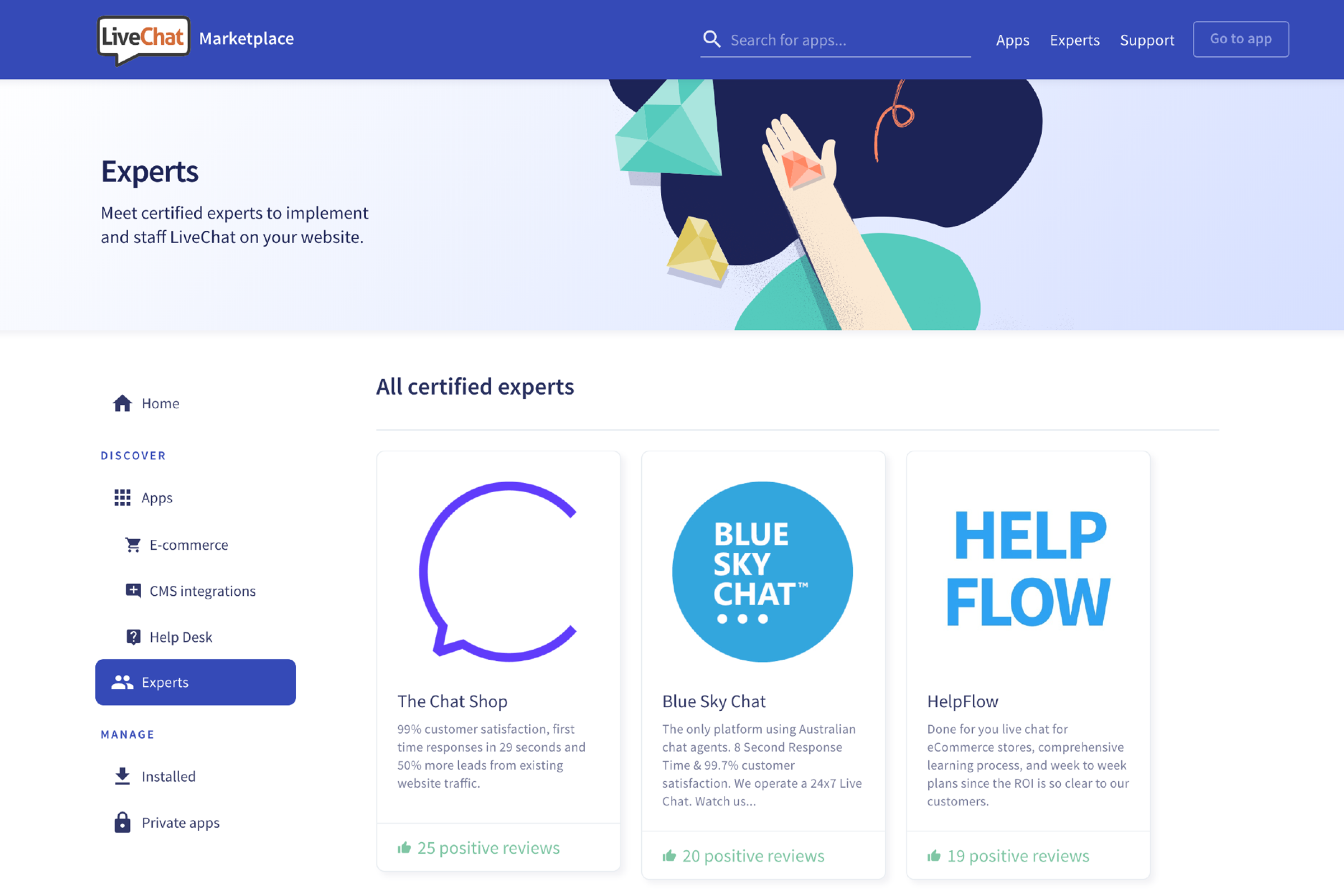 LiveChat Marketplace - Experts section
The Expert section of the Partner App is where you'll be able to:
set up the Expert profile which we'll display in the LiveChat Marketplace.
track customers visits on the profile, their reviews of your cooperation and quotes sent to you through the Marketplace.